Hot game melts ice
Greg Baum
The Age
newspaper, Melbourne
Sat September 10, 2011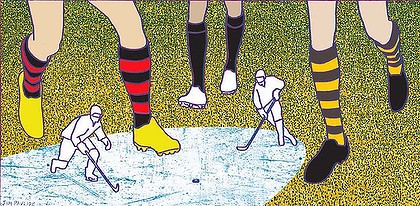 Illustration: Jim Pavlidis
ALEX, a lawyer, wore a bulky Richmond jacket and a Buffalo Sabres cap. He was rinkside at the Icehouse for the final of the Australian Ice Hockey League, but as soon as Melbourne Ice won, he was off to Etihad for the last rites of the Tigers' season. Here was Melbourne sport personified; there is a space and a place for every pursuit, and the pursuers all are prepared to wait for as long as it takes. It is not a town of fair-weather friends.

Ice hockey is a secret waiting to get out. Its roots here are old but shallow. The Goodall Cup is claimed to be third oldest in the world. But the national league is just 12 years old and still evolving. This year, for the first time, there were two Melbourne teams. Rinkside, you are just as likely to hear a Canadian accent as Australian. Yet hockey ought to appeal to Australia's sporting sensibility. Aficionados claim it to be the fastest game in the world. The puck, when well-struck, travels at more than 175km/h, the players merely at breakneck speed. It is immensely skilful, intensely physical, also with a madcap edge, susceptible to what you might call blue-line fever.

It demands a speed skater's acceleration and aerobic capacity, a tennis player's touch, a soccer player's vision and a footballer's appetite for rugged contest. It is luminously spectacular. The ice has its own brilliance, not just reflecting the floodlights, but seemingly emanating its own. What looks to the untrained eye to be gloriously chaotic is in fact intricately strategic. From its mazy movement, patterns emerge, as in AFL.

It is, as one watcher observed, with relish, ''violently beautiful''. This is its crossroad. In north America, it is a working man's sport, and the fighting is a given, as it once was in AFL. Here, conscious of a different latter-day sensibility, authorities have banned it. Also, the rinks are Olympic-sized, wider than in the NHL, making for a more open game, as in the old VFA. But, also as in the old VFA, that should not be mistaken for gentler.

Uniquely among team sports, hockey is played inside a kind of cage, like squash. This has two notable effects. One is to admit rinkside spectators deeper into the consciousness of the game than any other; at its fiercest frontiers, the players are only the width of a pane of perspex away. It also means that a game of ice hockey rarely pauses. Even at stoppages, players twirl and goalkeepers shunt up and down their goal lines as if on trolleys, energy without outlet. The big-picture effect is of constant swirling and eddying, and then where the currents wash up against each other, erupting. Somewhere in this turbulence, the puck skitters about, like the snitch in Harry Potter's quidditch. The pagan's eye cannot follow it, but learns to anticipate its next whereabouts; that is one of the joys of the live spectacle.

Hockey has its own noises: the scrape of the skates, the plink as the puck cannons into the perspex, the rattle as the players crash into it and one another, but above all, the thwack of stick on puck. A thwack is different from a whack; it speaks of a timing that is all the more remarkable because unlike in cricket and golf, every part is moving. Mostly, that thwack is aimed at the goalkeeper. Swathed and swaddled, he is in armour, and the whole game is a search for his chinks. His vigil is sport's most draining. I'm watching one this night when a siren sounds to end the second period; his head slumps forward involuntarily as the tension releases. But it is never for long.

One of those Canadian burrs rinkside belongs to Mark Weber. A geologist, he came for three years and now has stayed 30. He founded Melbourne Ice, which was first played out of a dingy rink at Oakleigh, with nets instead of perspex. Weber also helped to put the national league on its skates, and still makes pucks for it. Who says Australia can't make anything any more?

The national league's gamebreaker in Melbourne is the Icehouse. About 1500 jammed in for the final. Officials talk of the possibility of a 5000-seat multi-purpose stadium in the CBD, and dare to dream of a day when no less than Rod Laver arena will do. It is a long way off. The league is run by hobbyists and on a bootstring - its revenue is roughly what Callan Ward will get for a half of football next year. It is still a fledgling.

But weakness might ultimately prove to be strength. Basketball lost its grip on the public imagination in Australia, and soccer hasn't made the inroads the A-League first promised, and I think it is because the acme of both sports came within remote control range. Hockey is not there yet, and in the meantime has a chance to turn glancers into seers, and seers into believers. If hell freezes over in the meantime, the hockey people won't mind.