THEY LEFT THE HOTEL IN THE TYROLEAN CAPITAL to find a public phone booth, one making sure he had a pocketful of Austrian Schillings for the overseas call. He polished the eye-level condensation off the frosty panes of the booth until the jagged rock spires of the Nordkette range seemed close enough to touch. He picked up the receiver and dialed area code 418 and the number from the NHL media guide, while his brother nervously kept a look-out. 'Do you want me and my brother to play for the Nordiques ?" he said when the voice of Marcel Aubut, the name in the media guide, came over the line. "We only come in pairs. But hurry, the tournament ends on August 24". [1]
At midnight of the 24th, the team bus was scheduled to depart from the hotel parking lot and everyone was there except the Stastny brothers of the Slovan Bratislava ice hockey club in the Czechoslovak Extraliga. They were in Aubut's car on their way to Vienna, arriving early morning, August 25. "It was like being part of a John le Carré novel," Peter Stastny once said after defecting with his wife and brother Anton following the last game of the European Cup finals in Innsbruck, Austria, in 1980. [1] The Nordiques immediately became one of the most exciting teams in the NHL.

Six years earlier in 1974, ice hockey Olympian Václav Nedomansky had become the first hockey player to defect to North America to play hockey. An Olympian of eleven seasons with Slovan Bratislava, he went to Toronto via Switzerland and was not able to return home until after the fall of the Iron Curtain. The same circumstances had torn ice hockey players Ivo Vesely and Zdenek Tikal, brother of Frantisek Tikal, from their families in the 1950s and deposited them on Australia soil where, rather remarkably, they became ice hockey Olympians in 1960. All these shared the same circumstances, the same circumstances that also brought Slovan Bratislava's 25 year-old Vladimir Mihal here in 1982.

After the Communists seized power in February 1948, Bratislava became part of the Eastern Bloc. Several present-day cultural institutions were established and numerous factories and landmarks were built, sometimes at the expense of the historical cityscape. The city became the capital of the Slovak Socialist Republic in 1969, a part of federalized Czechoslovakia, and construction of the huge prefab panel buildings known as Panelák began in the sixties; a towering, highly visible reminder of the Communist era. Vlad Mihal could not say anything to anyone about his own plans to defect for fear of being found out and stopped. Not even to family and friends, who were shocked when they eventually found out. His family were denied travel visas to other countries for three years, but he restored contact as soon as he could after his arrival in Australia.

Mihal defected in 1982 with his best friend and his friend's young family. They went to Sydney where the sister of his friend lived with her family, but he did not want to become a burden and chose to follow his own path. He randomly ended-up in Adelaide, "I could have chosen any other city, but for some reason I chose Adelaide as my destiny". For the first couple of weeks it was very hard without the language, but there was no going back and the transition eased as soon as he met with the local Slovak community. The cultural differences between Eastern Europe and Australia was a huge shock initially, until a Czech player who played for the Adelaide Tigers invited him to have a go and the Club welcomed him. He commenced hockey four weeks after his arrival and things began to fall into place.

Born in 1956 in Bratislava Czechoslovakia, his father was a scientist who had played soccer in his youth, his mother a telephone operator. He grew up there until the age of nineteen, not far from the River Danube. His childhood was filled with sport and outdoor activities, soccer during the summer, street hockey during winter on outdoor rinks they built themselves. The first street world championship was played there in 1996 and still today the capital hosts the top of the world street hockey. He began ice skating around the age of six and joined HC Slovan Bratislava at the age of ten. They played at Ondrej Nepela Arena and all expenses such as food, accommodation, travel and equipment were paid by the club. His parents did not have to pay for anything.

He played in the top junior division against HC Kosice, HKm Zvolen, HK Dukla Trencin, Sparta Praha, Skoda Plazan, Zkl Brona and others. His Club won four Czechoslovakian Championships in the five seasons between 1974 and 1979. He won back-to-back in 1974 and 1975, his last two years with the team. He was alternate captain in 1975 and the top point scorer of the competition. That achievement was the first of his three most vivid hockey memories. He joined the army in 1975 where he played for HC Duckla Topalcany for 5 years in the second highest division. The middle order team played in the Slovakian National Hockey League and he represented Czechoslovakia in a junior tournament (U20).

Slovan's only senior mens ice hockey championship in the Czechoslovak league came under coach Ladislav Horsky in the 1978-79 season. Mihal remembers the director of coaching for his club as an iconic man, now among the IIHF Hall of Fame. The mainstays of the Championship-winning team were both older experienced players such as Sakác, Ku¬ze¬la, Bukovinsky, Ujváry, Miklosovic, Ziska and Mrukvia, and younger development players who went on to the national team.

Among the younger set were Rusnák, Pa¬sek, Cerny, Jasko and Pokovic and the brothers Peter, Marián and Anton Stastny who were to defect a year or two before Mihal. The second of Mihal's three most vivid hockey memories was winning two Czechoslovakian junior under-20 championships alongside Peter and Anton Stastny. Mihal played with all three, and all three went on to world championships with the Czechoslovakian national team and successful careers in the NHL with the Quebec Nordiques. Peter was the second highest scorer of the 1980s after Wayne Gretzky, playing his NHL career with the Quebec Nordiques, New Jersey Devils and St Louis Blues. Anton ranks ninth overall in NHL points by a Slovak player.
The Adelaide Tigers had long been a successful club in the A-grade of the South Australian league, having won six of the nine premierships between its first in 1973 and 1981. After Mihal joined in 1982, the Club continued its winning ways with five more straight from 1982 to 1986, then four more straight from 1990 to 1993. Among the players and coaches who influenced Mihal's game there were Craig Campbell, Gordie Cochrane, Arto Malste, John Botterill, Glen Foll and Rick Adams. "All of them were very different in their personalities," says Mihal, "but all had a great deal of knowledge and passion for ice hockey". [2]

The year after he arrived in Adelaide, he was top point scorer with the Tigers, a feat he repeated five more times — 1987, 1989, 1992, 1993 and 1994. It was true he often told teammates, "you get the puck, you give to me" because he always wanted the puck, always wanted to be involved in the game. Yet, it was also more than that. A fierce competitiveness. An irresistible urge to score. He was selected for the South Australian state team each year between 1982 and 1995, winning Goodall Cups in 1986, 1987 and 1991.

In 1983, the year after he arrived in Australia, he played for the NIHL's Payneham Flyers in the Slapshot 83 tournament in New South Wales. He was a representative player for Australia in the 1986 and 1987 World Championships. The very first game he played for his adopted country was in Canada against veterans of the Toronto Maple Leafs in 1986. It is the third of his three most vivid hockey memories. He won gold in Perth in 1987, a member of the undefeated team that won Australia's first international ice hockey medal and set a new scoring world record. "Honestly, to be able to represent Australia was one of the best feelings I could ever experience in my whole life," he has said "and I carry this feeling to the present day". [2] After a break, he returned to play for the Tigers once again between 2000 and 2002, when he was in his forties. And then he retired.



* * * * *



They start swinging at each other, slowly, hitting only the sticks. A pattern emerges, like a triplet on a snare drum. One-two-three. Four-five-six. Both pace and pattern speed up as each rotates from offense to defense. They focus on timing while defending the "snake," meaning the immediate threat, the stick in the opponents' hand. Unlike other traditional, Asia-based martial arts, they are fighting with weapons, sparring with sticks and several kinds of blades, including knives, machetes and swords. The weapons techniques translate into the empty-hand form and soon the weapons had become mere extensions of hand movements. They feint, parry and strike. They disarm, trap, wound or even incapacitate an opponent.

Martial Arts had always been in the back of his mind and after he stopped playing hockey he went looking for something slightly different to fill the void. He initially joined Wing Chun in 1994 and then moved into Doce Pares Escrima — Philipino Stick Fighting — which has since become the deadly art of choice for Hollywood movie characters such as Le Carré's Jason Bourne. Its deflections and counter-attacks make for great cinema, and in this Mihal has found his niche.

He practices under Grand Master, Vince Palumbo, an 11th Dan Black Belt, multiple World Champion and two-time Doce Pares Hall of Fame Inductee. Palumbo has also been inducted into the Blitz Martial Arts Magazine Hall of Fame and awarded Best Freestyle Martial Arts Instructor in Australia. Mihal has represented Australia in six World Championships, won three Silver and one Bronze medal. His team has been ranked No 1 in the world on two occasions and he was team captain on three occasions. He is still practicing under his Grand Master and he also teaches the art and enjoys it immensely. Currently a 5th Dan Black Belt under the title Guro, he has been an instructor for the past seventeen years and now works as a security guard.

Married to Meredith for thirty years, his son Alex has never had an interest in sport although he is exposed to the extreme level of human endeavour as a pilot with a skydiving business. His daughter Samara had played basketball most of her life and was quite good at it. Initially reluctant for her to play hockey, he was left "no choice" but to support her because she is so fanatical about it. He says the standout differences in today's elite game compared to the 1980s are its improved speed and more players of a technically higher standard. Even so, he believes his generation could successfully compete against the current generation.

After the breakup in 1993, Slovakia had to start international play in C-Pool. The way they moved through the lower pools to Pool A by 1996 was impressive. Vlad Mihal still follows his first team HC Slovan Bratislava in the Kontinental Hockey League where they are quite successful, along with all the Slovakian and Czech players in the NHL, past and present. He is still running trainings for C-grade ice hockey players each week. A little legendary in Adelaide where he is fondly remembered as a playmaker with good hands, his future plans are simply to remain involved in Hockey and Escrima, to keep practicing the art of sticks.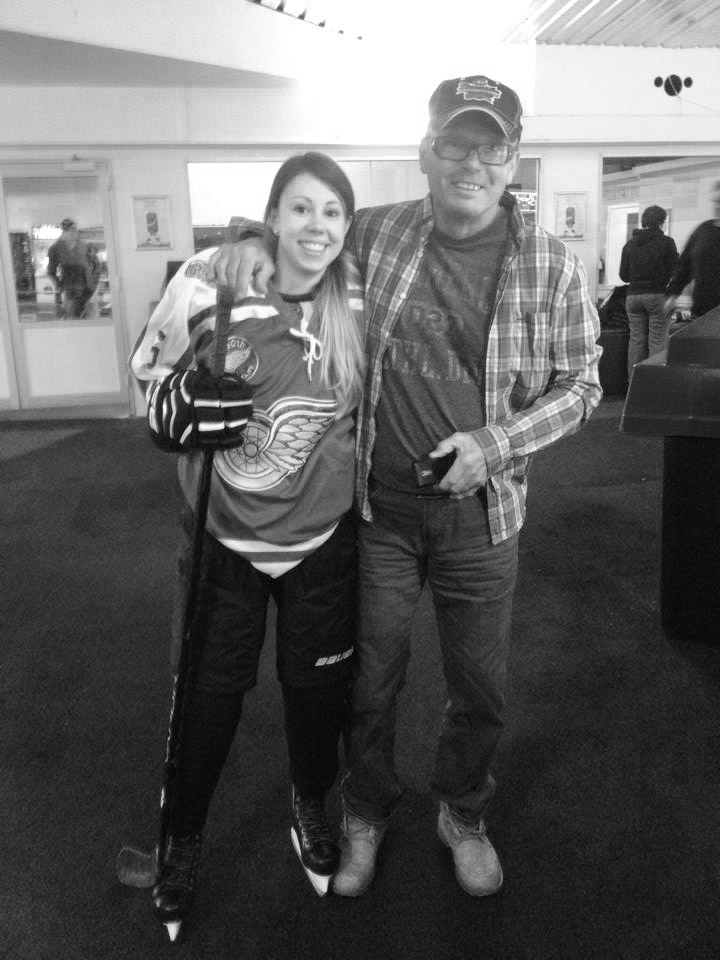 — Mihal and Samara