Melbourne Ice Academy
Concept Plans
The preliminary Melbourne Ice Academy (MIA) proposal is described at the NISC link above under the heading "So, what is going on?" and further developed in MIA Economics. Planning strategy is outlined in MIA Strategies. The architectural concept plans that follow were designed in 2007 to illustrate the proposed core facilities and reserved spaces for other income generators of the MIA proposal. Double height voids may also accommodate potential revenue generating spaces, as required. Create and keep it small and local. Brand it uniquely Melbourne. But selectively market it global. Keep it simple and boost it with basic but essential facilities for in-residence ice sports training and development. Think International, not just local or National. Get some paying partners, but don't hock the soul of local ice sports. Locate at or next to Melbourne and Olympic Parks where like-minded 'shoppers' pass your 'store'. Where there is already a range of related world-class facilities with about two million patrons and a wide variety of commercial opportunities from sponsorship, film shoots, supply rights, signage and superbox leasing. Determine the other income-generators according to what is already there. Measure costs and projected incomes precisely and least optimistically.
LEVEL 1

01 Entry
02 Foyer
03 Events Reception
04 Administration
05 General Office
06 Public Skating Reception
07 Skate Hire
08 Lounge/ Skate Fitting
09 Lobby
10 Dressing Room
10A Dressing Room or Lobby (09)
11 First Aid
12 Skate Sharpening
13 Admin 1
14 Admin 2
15 Coach
16 Referee Change Room
17 Storage / Plant (below stands)
18 IIHF Standard Rink (airtight zone)
19 22m X 4-lane Pool (Ice Bath)
20 Gymnasium Equipment
21 Gymnasium
22 Lecture Theatre (openable to gym)
23 Workshop / Cleaner (below)
24 Ice Resurfacer
25 Stair
26 Glass Lift + Stairs
27 Meeting - 12 persons
28 Meeting - 18 persons
29 Public Lockers
30 Plant
LEVEL 2

01 Glass Lift + Stairs
02 Void over L1 Foyer or Commercial
03 Public Lobby or Commercial Use
04 Commercial Use
05 Commercial Use
06 Void over Pool or Commercial Use
07 Pro Shop
08 Pro Shop Amenties
09 Pro Shop Storage
10 Female Toilets 1
11 Female Toilets 2
12 Male Toilets 1
13 Male Toilets 2
14 Cleaner's Store
15 Pantry / Dumb Waiter to L3
16 Kitchen
17 Bar
18 Cafe (120-150 seats)
19 Function / Kids Party 1 (50 seats)
20 Function / Kids Party 2 (50 seats)
21 Terrace
22 Stair
23 Concourse
24 Tiered Seating 1,070 people
25 Tiered Bleachers 1,200 people
26 Corporate - 11 seats X 2 (22)
27 Corporate - 28 seats X 2 (56)
28 Corporate - 36 seats X 2 (72)
29 Corporate - 40 seats X 2 (80)
30 Corporate - 32 seats X 2 (64)
31 Viewing Area
32 Temporary Events Cafe / Bar
33 Kitchen Bar Seating
LEVEL 3

01 Entry, Glass Lift + Stairs
02 Void over L2 Foyer
03 Hall of Fame [public access]
04 Roof Garden
05 Roof Lights over L2 Foyer
06 Terrace
07 Lounge (2 x 18, 1 x 36)
08 Dormitory / Bath - (24)
09 Female Toilets
10 Male Toilets
11 Cleaner's Store
12 Pantry + Dumb Waiter to L2
13 Work Stations (4 x 2)
14 Rink Control Room
15 Kitchen
16 Bar
17 Dining (120-150 seats)
18 Dining / Function 1 (50 seats)
19 Dining / Function 2 (50 seats)
20 Stair
21 Terrace
22 Sleep - 6 beds X 10 (60)
23 Sleep - 2 beds X 16 (32)
24 Corporate Boxes Below
25 Viewing Area
26 Laundry / Linen
27 Viewing Deck / Hall of Fame
DEVELOPMENT SUMMARY

Gross Building Area [square metres]
L1 Rink 11,228
L2 Spectator 3,311
L3 Residential 2,684
TOTAL Ã 17,223

Terraces: (100 X 6) 600

Number of Seats / Beds:

Tournament Seating
Stands 1,070
Corporate Box 147
TOTAL Ã T'ment 1,217

Community Seating
Stands 1,200
Corporate Box 147
TOTAL Ã Community 1,347

TOTAL Ã Seating 2,564

In-residence Training
Total Beds 116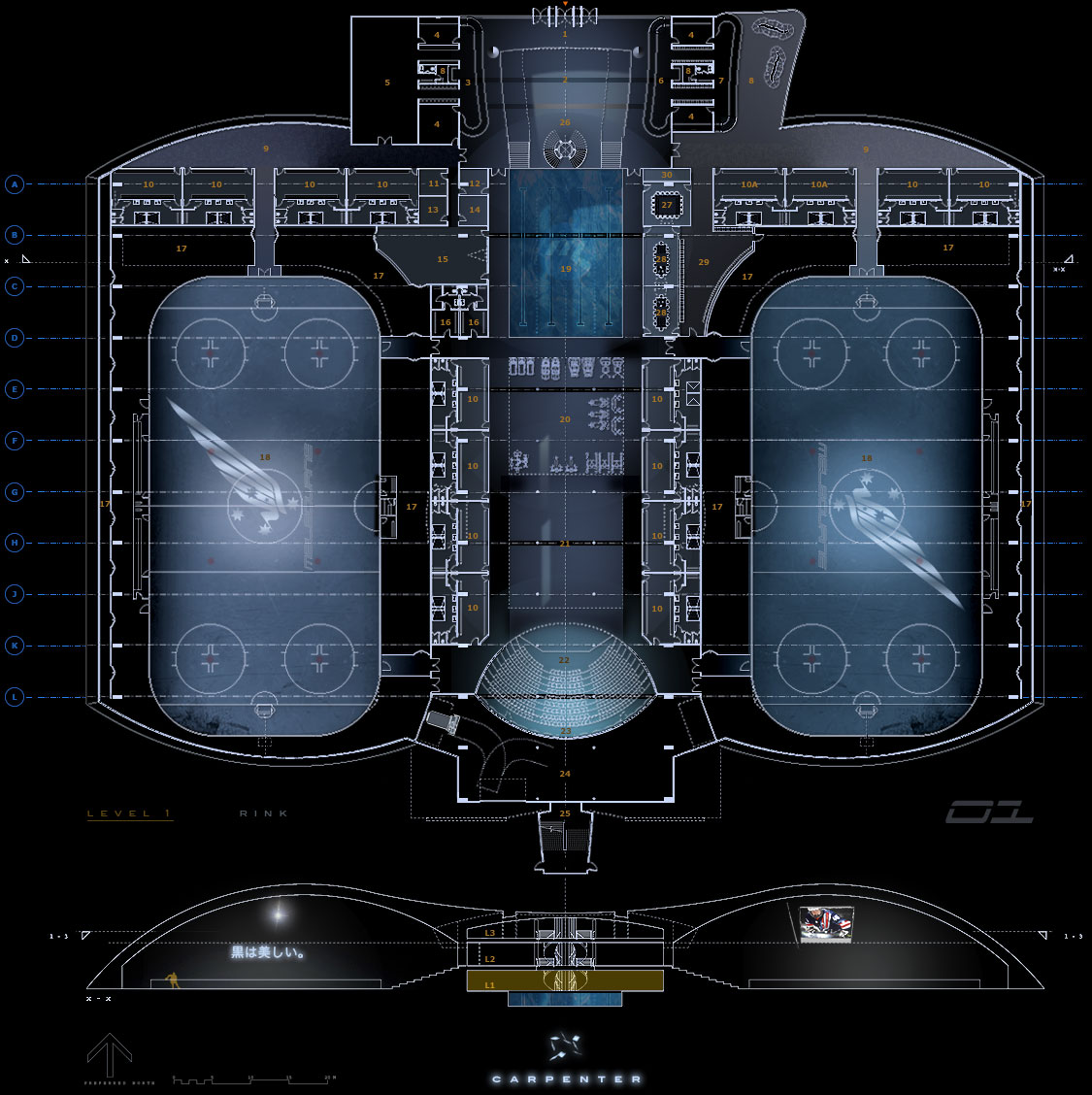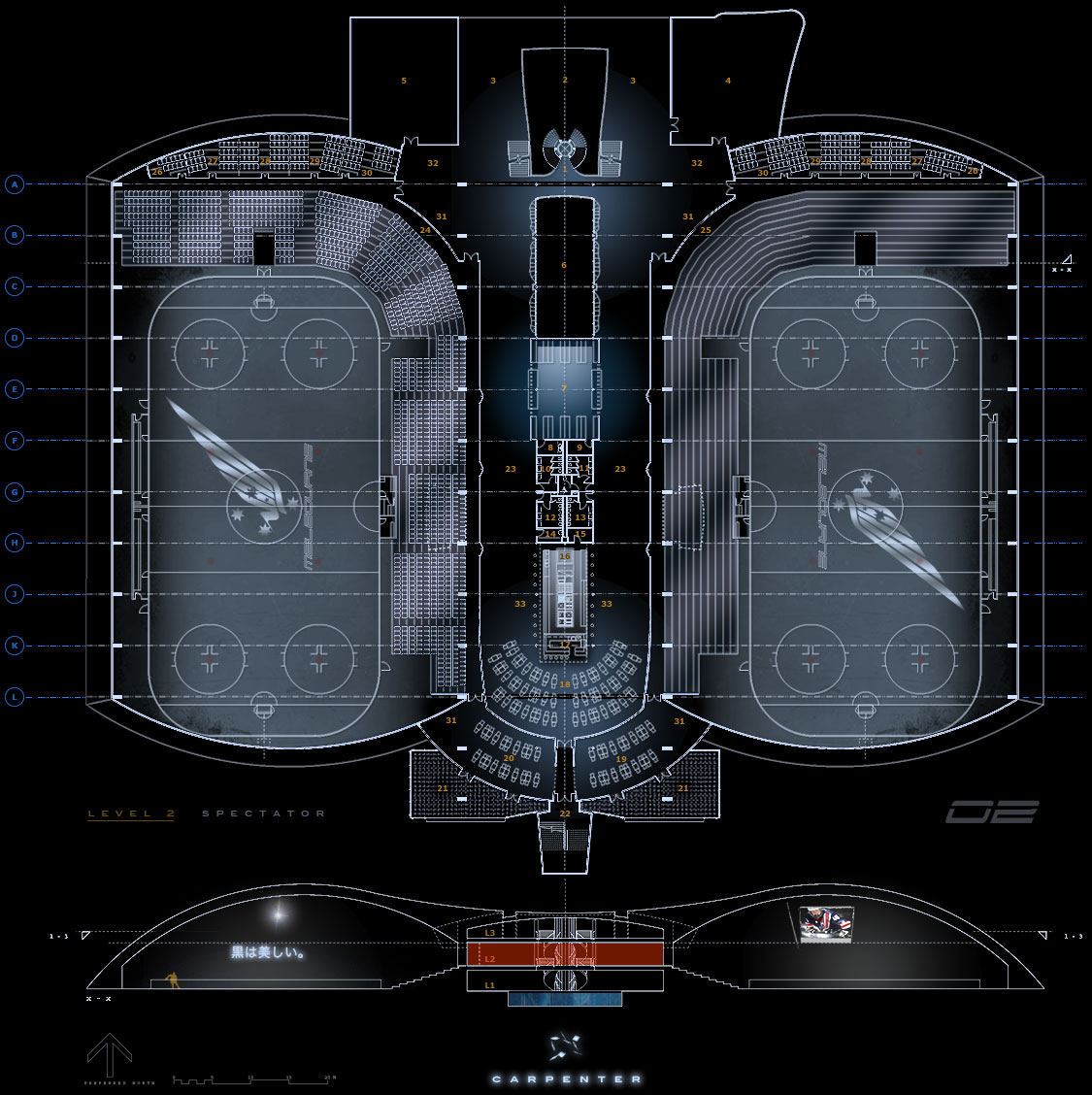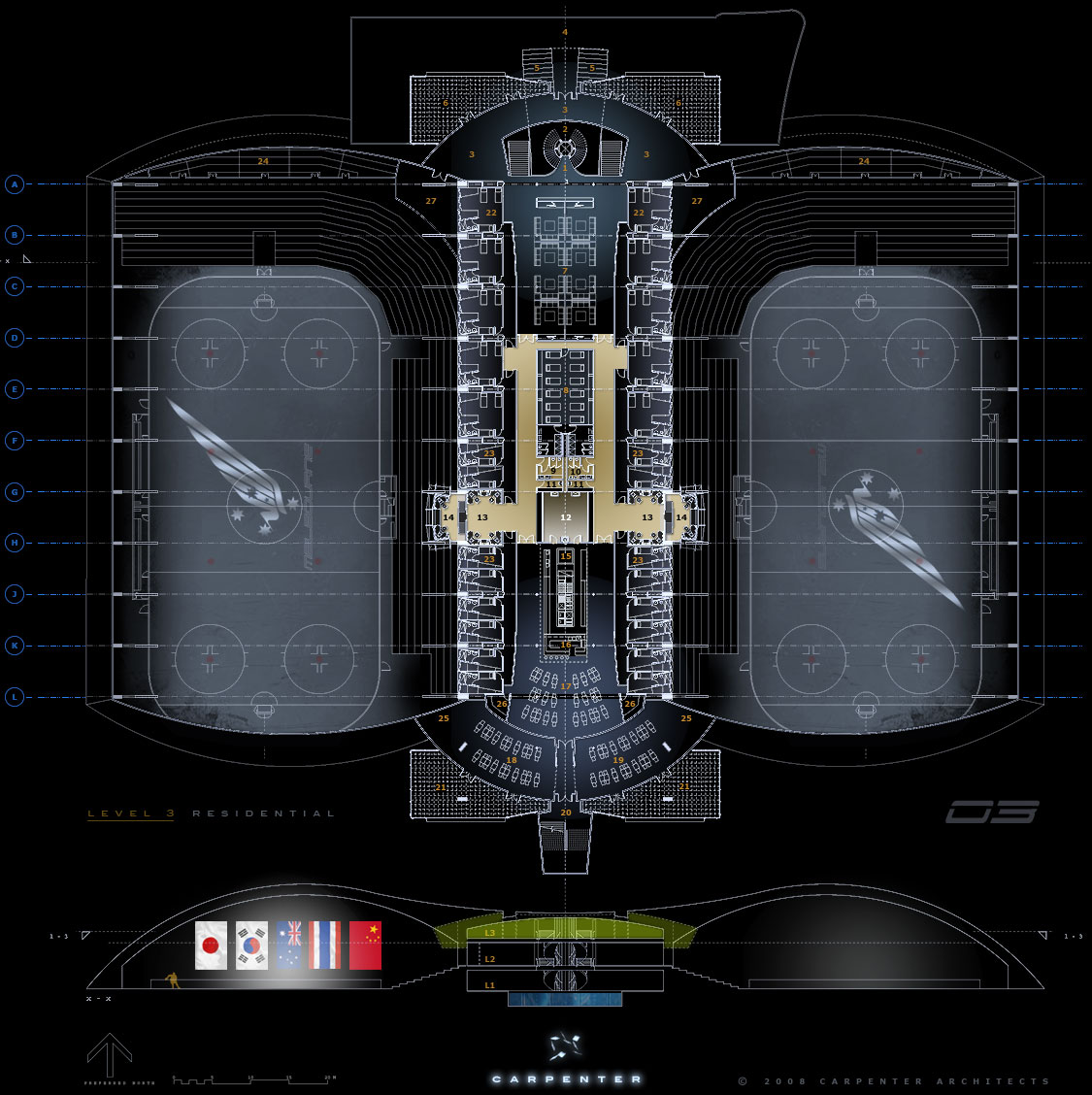 Site Feasibility - Physical Fit
Option 1: Melbourne Park
Key to Site Plan
Building envelope outlined white on green site areas. There are probably other opportunities at Melbourne, Olympic and Yarra Parks not identified here. New facilities must obviously be explored with the controlling authorities to avoid displacement of existing uses but a new ice arena will provide additional facilities for use by others during their major events, and changeover from ice to a timber floor can take as little as 3 hours using call-in workers; less to pull up.

1. Former Glaciarium Ltd International rink, 'The Academy of Ice Skating', established 1906 as 3rd largest in the world; closed 1957; building destroyed 1964. Also home to the basketball and gymastics competitions of the 1956 Olympics centred at adjacent Olympic Park.

2. Possible Replacement Opportunity- difficult fit. Reclaimed railyards adjacent Fed Square; gateway to Melbourne Park. Concept might be adaptable or the site might require a linear scheme (more building surface area and cost). Long side recieves sun all day; higher capital and running costs. Worth considering.

3. Possible opportunity. Old Scotch Oval, MOPT. Temporary marquees erected here duringTennis Open but, for example, facilities in a new rink arena could also be used for the Open.

4 and 5. Possible opportunities. Gosch's Paddock, MOPT. Now leased to rugby clubs for training but a new rink here could enable that to continue and also provide shared training facilities and other services.

6. Possible opportunity; requires linear layout (see Note 2 above). Running track, Gosch's Paddock, MOPT.

Existing Facilities: A. Rod Laver Arena B. Margaret Court Arena C. Vodafone Arena (former Old Xavierians Oval). Designed for major ice events seating many thousands. D. Lexus Centre, former 'Glasshouse' E. Olympic Park Stadium F. Sports Medicine Centre G. New Rectangular Stadium (Rugby/ Soccer), Edwin Flack Field. H. MCG in Yarra Park J. Federation Square K. Melbourne Park Function Centre L. Punt Road Oval in Yarra Park M. Flinders Street Station N. Richmond Station

The precinct including Yarra Park is run by the Melbourne and Olympic Parks Trust (MOPT). Until last year, the land was controlled by a range of bodies including the council, VicTrack, and several government departments. The Melbourne and Olympic Parks Amendment Bil 2007, brought all land under the control of the trust, which reports to Sport Minister James Merlino. The Government then offered leases of a minimum 21 years to the Demons AFL club, Victory A-League soccer club and Storm NRL club, who could previously only secure 3-year leases from the Council to train on Gosch's Paddock. The Government proclaimed parts of the land adjoining Gosch's Paddock as public open space, to offset the lengthy leases.

Historically, most current uses were established on former playing fields like Vodafone Arena on the Old Xavierians Oval. The Government now has control over the future planning of the precinct and its remaining site opportunities. A $2 million Government business study due at the end of 2008, will report on a new stadium and other improvements aimed at securing the tennis Open after 2016. There are opportunities for ice sports with flow-on benefits to existing users. If Melbourne is ever to replace it's International rink — historically, ideally and sensibly, it belongs somewhere here. The timing is similar to the prelude to the Vodafone Arena opening in 2001, when Victorian cycling finally succeeded in securing world-class facilities in a multi-purpose facility, almost 30 years after the Melbourne Olympic Velodrome was demolished in 1972. Melbourne lost it's original International rink in 1957 and St Moritz at St Kilda in 1981.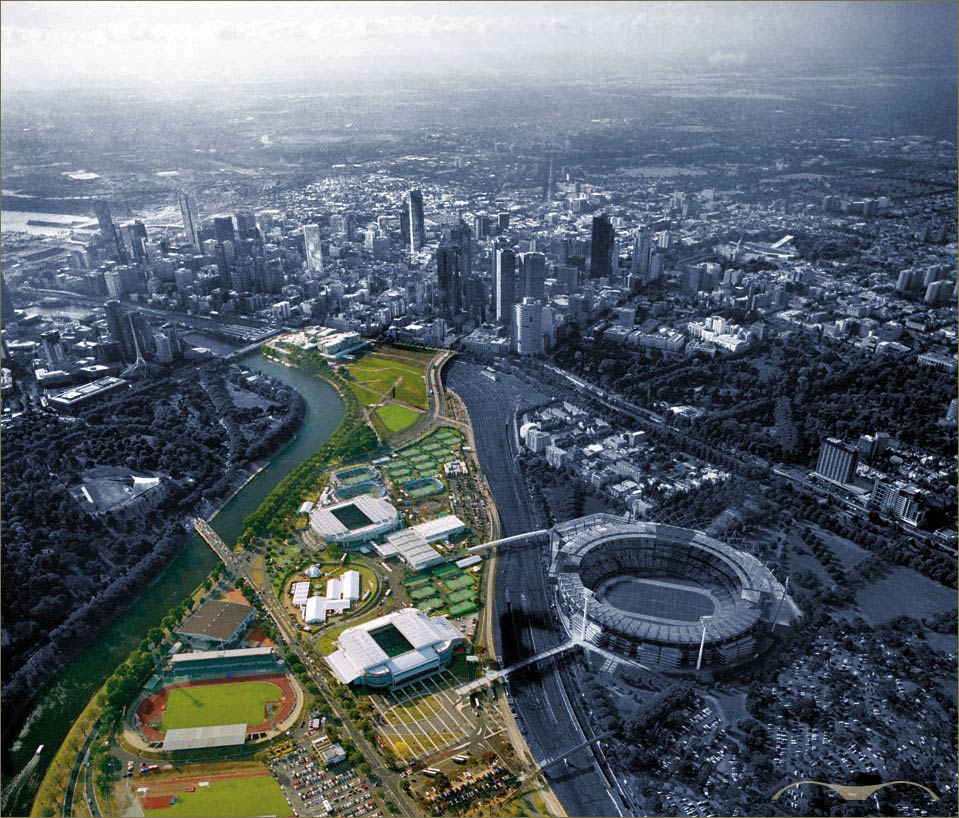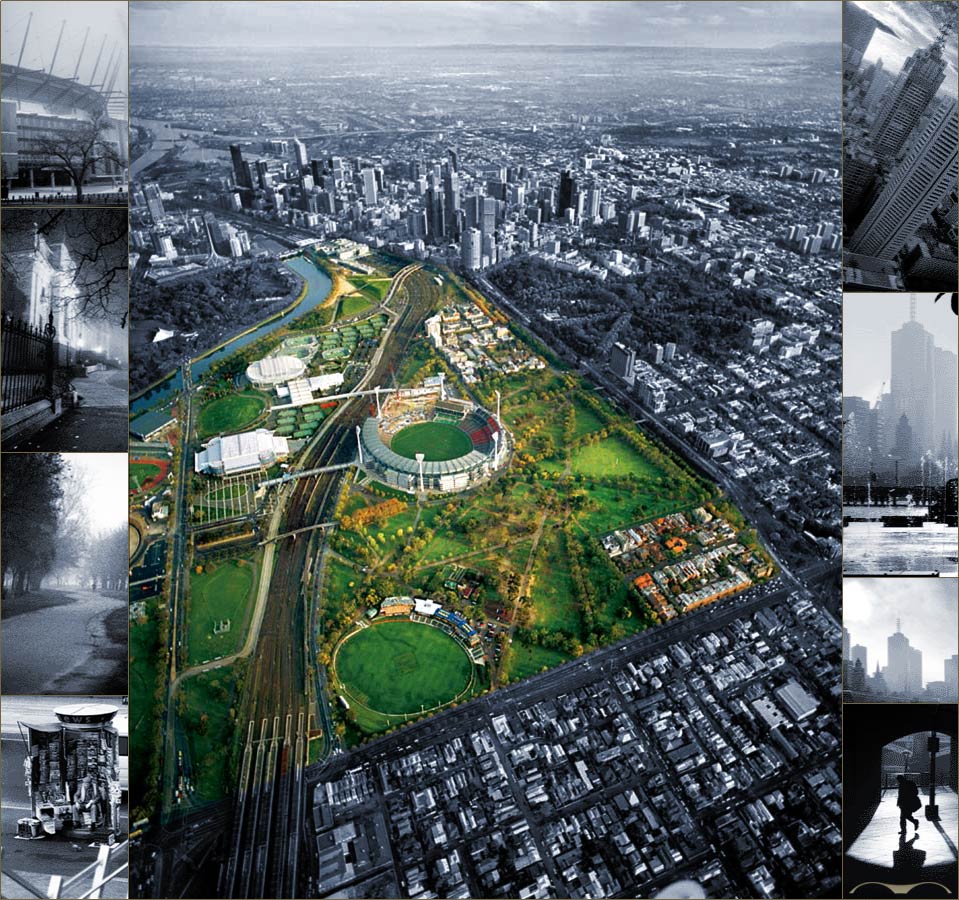 Carbon Neutral Design
Sustainable Ice
A combined heating and freezing system can provide comfort conditions in the public and residential areas of the complex. A heat recovery system recycling rink waste heat and geothermal heat (rock/ ground) uses 50% to 73% less primary energy compared to a conventional heating system. That means less cyclical running costs and less greenhouse gases. Typically, direct emissions of CO2 can be reduced from 370 to 19 tonnes p.a. per rink. Eco-efficient ammonia also avoids damage to the climate and ozone layer compared to R-22. North America and Norway have used similar systems since the late 90s. Additional plant capital costs can be recovered in 2 to 6 years but Sustainability Victoria have grants which may cover most of the difference producing sizeable running cost savings much earlier. The twin rinks alone will use over 100,000 litres of water at a cost of about $75.00 (0.075 cents / litre) each time the ice floors are formed. The 11,000 square metre rink roof can collect all but drinking water for free. Tank capital costs can be similarly offset by sustainability grants. Combined with similar strategies for building fabric, the ongoing running and replacement costs that commonly cause economic problems for ice arenas can be substantially reduced.