1947 1st International Figure Skating GOLD Medallist
1960 1st Australian Olympic and World Championship ICE HOCKEY Teams Squaw Valley California USA
1961-2 2nd AUSTRALIAN Ice Hockey World Championship Ice Hockey Team Colorado USA
1963-4 2nd OLYMPIC Qualification ICE HOCKEY Team Tokyo Japan
1987 1st International Ice Hockey MEDAL Perth Australia



OREVER ASSOCIATED WITH THE THIRD OLDEST NATIONAL
ice hockey trophy in the world, the Goodall name in Melbourne, Australia, traces its origin back three centuries to the village of Rodney Stoke in Somerset, England. This village, and the nearby hamlet of Draycott on the borders of the parish of Cheddar, are as ancient as the legends of Arthur which grew up around them. Originally known as Stoke Gifford, the manorial rights passed in marriage to the Rodney family in the 13th century, the most famous of whom was an admiral in Nelson's fleet. It was there in 1776 that John Goodall was born, his name finding its way down through five generations to a great- great-grandson in a distant land; John E Goodall, the name on the Cup. The patriarch of this family line went on to become the general manager of the estate of the Duke of Buckingham,
[303]
and so he is perhaps best remembered as John of Stowe, since the seat of the
Marquesses of Buckingham
from 1784 was
Stowe House
— one of Britain's finest eighteenth century houses. Set in one of the great gardens of the world, it has long been one of the most imitated estates in Europe. Living there during John's working lifetime were George Nugent-Temple-Grenville (1753–1813),
1st Marquess of Buckingham
; his son Richard (1776–1839),
1st Duke of Buckingham and Chandos
; and his grandson, also named Richard (1797–1861), the
2nd Duke of Buckingham and Chandos
. George was the son of
George Grenville
(1712–1770), Prime Minister of Great Britain between 1763 and 1765.
John was succeeded at Stowe by his son, Samuel, until 1841 when he sailed for New York on the clipper
Adirondack
with two nephews, Charles and Edwin
.
In January 1848, news of the California gold discovery broke, reaching fever pitch by the end of the year and throughout the early months of 1849. Hundreds of ships set sail from eastern ports for San Francisco by way of Cape Horn around the tip of South America. Among them were two more of Samuel's nephews — John (1930–1915), grandfather of the Cup's namesake, and his brother William. Their eldest sister, Mary (1828–1899), also moved to America where she married James Hill in New York in 1860.
[303]
Their uncle William (1806– ) visited San Francisco on
Bark Comet
in May 1851, arriving with three children. William was the Collector of Customs at Honolulu which had only just been declared the official capital of Hawaii.
[308]
Located in the middle of the Pacific,
Honolulu Harbor
quickly became the chief port of call for the trans-Pacific sandalwood, fur and whaling industries, and the foreign vessels that docked there poured vast amounts of wealth into the kingdom's coffers. William Goodall was no doubt known to each and every trans-Pacific shipping line. Some of the Goodalls were forty-niners, some had arrived earlier, but these generations were mostly sea-faring merchants, and so it is not surprising to learn that the plum trees widely cultivated in California originated from their home town. Rodney Stoke is renowned for its strawberries, asparagus and soft fruit. But within a few years, John moved on to hunt for the precious metal even farther afield, in the Bendigo and Ballarat goldfields of Australia. Their brother William (1837–1911) also eventually made his way to Australia, perhaps arriving in Victoria in June 1883 on
Somersetshire,
[303, 306]
where he died in 1911.
[303]
However, Charles and Edwin remained and became Californian entrepreneurs.
It was during the 1850s that Captain Charles Goodall (1824–1899) married and raised at least three sons in California; Samuel, Charles and Walter. His first wife, Serina Miner (1832–1893), was born in
Spafford, New York
, on May 11th 1932, the daughter of American and Canadian parents.
[303, 304, 312]
Goodall co-founded the shipping line Goodall & Nelson in 1860 along with his brother Edwin (1826–1909) and Captain Christopher Nelson. Known as Goodall Nelson & Perkins from 1872 when
George Clement Perkins
joined, it originated in a San Francisco Bay operation carrying water to ships in the harbor from springs in the upper reaches of the bay. The discovery of gold on the Fraser River in late 1857 helped the steamship service between San Francisco and Victoria to blossom. Captain Goodall became Harbour Master of San Francisco between 1861 and 1865.
[300, 317, 407]
The company operated two dozen ships from its base in Beale Street, San Francisco. It constructed the wharf at Monterey for regular passenger and freight service, shipping a variety of cargo such as vegetables, grain, lumber, coal and iron, and boasting modern, luxurious facilities for passengers. In 1875, the bankrupt
Ben Holladay
(1819–1887) sold out to the Goodall company, which expanded to become the
Pacific Coast Steamship Company
(PCSC), with head offices at 10 Market Street in San Francisco. The house flag was blue with a white lozenge charged with a red cross paty, and it dominated the coastwise traffic along the West Coast of the US from Mexico to Alaska for forty years. It employed over 2,000 men at its peak, and also held controlling interests in coal, railroads and the Pacific Whaling Company.
The PCSC was a rail-marine operation, the first predecessor of the Pacific Coast Company, which served the West Coast from San Diego to Alaska. The earliest part of the rail system began in 1873 as a horse-drawn rail line between Port Harford and Avila Beach near
San Luis Obispo
, roughly midway between San Francisco and Los Angeles on California's Central Coast. With the backing of the PCSC, it was extended to San Luis Obispo as the steam-powered San Luis Obispo & Santa Maria Valley Railroad (SLO&SMV), from which a full-fledged narrow-gauge railroad developed. It complemented their fleet of coastwise steamers, and together they dominated California's north-south transportation. Another horse-drawn railroad was located in San Diego, and a third rail operation was established at Seattle. In 1881, the SLO&SMV and PCSC became part of the
Oregon Improvement Company
operated by
Henry Villard
, and in 1882 the SLO&SMV was reorganized as the
Pacific Coast Railway
. Later it became a gateway to San Diego for Northern Pacific, the Milwaukee Road, and Union Pacific, as well as connecting with the company's steamships. The Seattle line, last survivor of the Pacific Coast Co, was finally absorbed into the Great Northern Railway in 1965.
[307]
This flourishing and extensive transportation empire reached its zenith in 1915, with rail feeders for a fleet of seventy-eight steamships ranging along the west coast and Alaska.
[307]
The PCSC eventually attracted the attention of investors from the eastern US, but the intense competition that developed following the Alaska gold rush kept profits down. Charles' son inherited the shipping line by 1916 when both his father and uncle Edwin had died, and it was around that time that a fire on its largest ship provided the grounds for the shareholders to sell the company to Hubbard F Alexander, who merged it with his
Admiral Line
, the Pacific Steamship Company. The Admiral Oriental Line was taken over by the
Dollar Steamship Line
in 1922, and later became the American President Line.
[307, 309]
But long before then, the Goodall family of San Francisco had become well-established, with diverse business interests and wealth.
The Goodalls' partner, George Perkins (1839–1923), was a California governor and the third-longest serving United States senator (1893–1915). He was elected as a Republican to fill the vacancy caused by the death of tycoon
Leland Stanford
, founder of
Stanford University
in 1885 at Palo Alto, California. Perkins sat on the 1912 Senate committee investigating the White Star Line's
Titanic disaster
,
[300, 311]
and Charles himself served in the California State Assembly 8th District, between 1871 and 1873, and as San Francisco Park Commissioner in 1885–6.
[300, 317]
He was a trustee of both Stanford University and the University of the Pacific. His second wife, Caroline (1840–1939) was sixteen years younger and they traveled to Europe during 1884. Edwin was president of the Oregon Coal and Navigation Co, and a director of the exclusive
Pacific-Union Club
of San Francisco. Located atop affluent
Nob Hill
, it has long figured prominently in the history of the west coast of the United States. The Hill itself became an exclusive enclave for the large mansions of the west coast's rich and famous. This included prominent tycoons such as Stanford and other members of
The Big Four
, the chief entrepreneurs of the
Central Pacific Railroad
. Charles and his son, Captain Charles Miner Goodall (1850-1922), were also members of the Pacific-Union Club, and both brothers had also joined the Merchant's Club, a social organization composed principally of wholesale merchants.
By 1899 they were living at Oakland, California, where their names appeared on the Oakland Social Register.
[301]
The first licensed Chinese-American dentist,
Charles Goodall Lee
(1881–1973), was named in honor of Captain Goodall, who freed his mother from a probable life of slavery in California. Lee later financed the lodge building of the
Chinese American Citizens Alliance
in Oakland. Captain Goodall Sr, or perhaps his son by the same name, was the second Lieutenant Commander of the first company of naval reserves on the Pacific coast in 1891, when California became the third state in the nation to form a Naval Militia. Ice hockey player, Charles Uksila, lived most of his life in California and served in this Naval Reserve. He was the first American ice hockey player to contest the Stanley Cup and the producer of the very first Ice Capades. He was also a very significant builder of Australian ice sports, and there seems little doubt his connection to the Australian game was through
Tommy Dunderdale
and the Goodalls. The elder Captain Charles Goodall and his wife returned to Europe via his birthplace of Draycott, England. It was there a month after he left that he took ill and died leaving a fortune which was divided amongst his wife and four surviving children.
[408]
His son Charles became vice-president of the company and he and his wife, Marian Cullen, later lived at 514 Cherokee Avenue in Los Angeles, where they were listed on the 1927 Social Register with Arthur Goodall. This avenue is located in the area now known as the
Yucca Corridor
lying along the north side of the busiest part of
Hollywood Boulevard
. Their 3,693 square foot house was built in 1925, with eight bedrooms and five bathrooms, and the 2007 property rates alone were about $10,000 per annum.
[316]
Dunderdale coached ice hockey in Los Angeles, possibly the PCHL's
Los Angeles Monarchs
of the 1930s, and Charles Uksila performed at the opening of the
Palais de Glace
in 1925, the first ice rink in California, on the corner of Melrose and Vermont Avenues in this now famous neighbourhood. It was there in 1927 that Al Jolson made
The Jazz Singer
, which audiences loved, and Warner Brothers received a special award for producing the first talking picture. And so it would not be at all surprising to find the Goodall name listed among the foundation investors and party invitations of the
Palais de Glace
, with the likes of American oil tycoon
Edward L Doheny
, and Hancock Banning, the son of
Phineas Banning
, who was known as "the Father of the Port of Los Angeles" (see
Charles Uksila
).
The voyage of John Goodall (1830–1915), the captain's brother, from San Francisco in 1853 was described in the
Stock Exchange Journal of Australasia,
and later reported in
The Argus
newspaper as
"one of the most eventful passages of the many which could be described by the early pioneers. Among the incidents which served to relieve the monotony of the trip were shortage of food and water, and the suspension of the skipper".
He eventually arrived in Melbourne in October 1853,
[306]
and made all haste to the centre of the stirring events associated with the early days of Bendigo and Ballarat. John Goodall & Co, the stock and sharebroking business he founded, is associated with numerous loan flotations in which he personally figured as a large underwriter. In a similar capacity, he was identified with the original issue of the
Mount Lyell Company
(1893), and the Seven Hills Estate Co (1875) gold mines near Creswick, on which the famous Berry Lead was located. Many other famous mining ventures of the halcyon days of Ballarat and district were included in his varied interests, including the Albion mines. At one time he was a director of the Ballarat Banking Company and of the Stock Exchange Company Limited. The directorship of his company passed down to his son-in-law, Colonel William Hammond Clegg, and it continued active involvement in major financing through the historic growth phases of mining giants BHP Billiton and the Collins House Group, and public utilities such as the Metropolitan Gas Company in Victoria, owners of Melbourne
Glaciarium
between 1925 and 1931.
John Edwin Goodall, the Cup namesake, followed in his grandfather's footsteps and became a Queen Street stockbroker with a seat on the ASX. But he was also involved with Australian ice sports since they had started, paving the way and becoming president of the Victorian Ice Hockey Assocation, then first president of the Ice Hockey and Speed Skating Council; the first National controlling authority for both ice hockey and speed skating. For years thereafter, you could always find him presenting his trophy in late August or September on the frozen floors of Melbourne's South Bank or Sydney's Central Square. But the Goodall name went deeper and farther back than that. Their contribution is yet to be fully explored, but John's family connections with his great uncles in North America, helped to position Australian ice sports at the forefront of developments occurring worldwide, not so long after the first wave of engineered ice rinks in the world were built in the 1890s. Capt Charles Miner Goodall and his brothers, Harry and Samuel, were roughly the same age as John's father who had died young and, like John, they had inherited considerable wealth and influence from their pioneering forefathers. They were well-established on both east and west coasts, in San Francisco, New York and elsewhere, long before skating and ice hockey became mainstream sports.
From 1877 to 1916, the vessels of their new Pacific Steamship Company plied the Pacific all along the West Coast, between California, British Columbia, Washington, and Alaska, and it was these centres that mostly influenced Australian ice sports. Danish sea-captain James Bendrodt (1859–1903) piloted ships on Vancouver Island where their shipping line operated, and his father-in-law, Captain John Swanson, worked with the
Hudson's Bay Company
for 31 years. His son,
Jimmy Bendrodt
, arrived in Australia in 1910, the year before
Jim Kendall
, with whom he served in German New Guinea during the Great War. He later accompanied
Lena Uksila
and
Louise Jackson
from Vancouver to Sydney in 1923, the third season of Australian hockey after the war interruption; the year it federated. American entertainment entrepreneurs also played less direct but no less pivotal roles in the start-up years of Australian ice sports, and they were similarly connected. New York's Hippodrome on the east coast figured prominently in the foundations of Australian ice sports, but it was owned by west coast entrepreneurs; the Phillips brothers from Seattle, Washington, and James Dixon Williams, founder of the forerunner to Warner Bros in LA. Their core businesses were theatres in Seattle and Los Angeles on the West Coast, and they had built many Australian entertainment venues during the early years of Australian ice sports, including St Kilda's Luna Park, and the nearby Palais de Danse with which Bendrodt was associated (see
Robert Jackson
).
The Goodalls had old ties to British statesmen and the Peerage of the United Kingdom through their patriarchal heads, John and Samuel of Buckinghamshire, and so too did the Reids. John Reid, Henry's father, tutored
Archibald Primrose
, 5th Earl of Rosebery (1847–1929),
[364]
whose father served as First Lord of the Admiralty under
Lord Melbourne
,
the Prime Minister of the United Kingdom when Queen Victoria came to the throne. Primrose had many residences but chief among them was
Mentmore Towers
in Buckinghamshire, a huge neo-Renaissance stately home (palace). He succeeded his grandfather as earl in 1868, became Foreign Secretary (1892–4), and then Prime Minister of the United Kingdom in 1894; the year Victorian senators Robert Reid and Sir Simon Fraser commenced bilateral relations with Canada. Although trade talks with Canada were not officially recognised until then, international enterprise based on careful family management on both sides of the Pacific was really business as usual for these families. John Reid had also lectured before notable men at Oxford, including
Dean Stanley
(1815–1881), a family member of the
Earls of Derby
to which
Lord Stanley
of Stanley Cup fame belonged.
[364]
Living next door to John Goodall's grandfather in St Kilda at this time was the family of
Stanley Melbourne Bruce
(1883–1967). After attending Melbourne Grammar with
Andy Reid
and
Simon Fraser Jr
, both of whom died young, Bruce went on to become the eighth Prime Minister of Australia (1923–9), and 1st Viscount Bruce of Melbourne. He was the second Australian ever granted an hereditary peerage of the United Kingdom parliament, the only one whose peerage was formally created, and the first Australian to take his seat in the House of Lords.
His prime ministerial appointment marked an important turning point in Australia's political history. Despite predictions Australians would not accept such an aloof leader, he won a smashing return victory over a demoralised Labor Party at the 1925 election. Bruce was the first prime minister who had not been involved in the movement for federation, who had not been a member of a colonial Parliament, and who had not been a member of the original 1901 federal Parliament. With his aristocratic manners and dress — he drove a Rolls Royce and wore white spats — he was also the first genuinely "Tory" Australian Prime Minister. After politics, he divided the rest of his life between London and Melbourne. He led the Australian delegation to the 1932
Ottawa Imperial Conference
. He remained Australian High Commissioner until 1945. He represented Australia on various United Nations bodies, and his name was considered for the position of United Nations Secretary-General. He was a man of two worlds, his middle-name was Melbourne and, in many ways, Bruce was the crowning triumph of its fabled old establishment, which swore undying allegiance to the cultural values and monarchy of the parent country. The Goodalls, Frasers and Reids were no less a part of it. Their city was named after the Whig statesman and prime minister, Lord Melbourne, whose favourite dictum in politics was "Why not leave it alone?", which is still quoted by those who object to change for change's sake.
The primary catalysts in the success of these families were imperial connections, social bonds, and access to capital, and they had been very well-placed to exploit pioneering transportation developments occurring in Canada, in the years leading up to the world's first engineered ice rinks. As the
Canadian Pacific Railway
neared completion in the 1880s, they and others like them envisioned a rail-marine network uniting Britain with its Australasian empire, in which the west coast of North America was integral. Importantly, for both this and Australian ice sports, about half the Goodall family lived in San Francisco, and some of their decendants no doubt still do. Some had been there since 1841, when the area was still controlled by Mexico, and they had built a significant part of the rail-marine network linking the west coast of America to the west coast of Canada at Victoria, Vancouver, BC, and well beyond. The Pacific Coast Line was an amalgam of many forerunners but, more than any other, the American Mail Line taken over by the Dollar family in 1922, was the product of a long line of companies, not so old as Pacific Mail, but with a parent company reaching well back into the nineteenth century, to John Goodall's great uncles. In reverse order, these were the Admiral Oriental Line (1922), Pacific Steamship Company (the Admiral Line—1916), the Pacific Coast Steamship Company (1876) and Goodall & Nelson (1860).
[309]
Today it is APL, or the
American President Lines
, the world's seventh-largest container transportation and shipping company, providing services to more than 140 countries through a network combining intermodal freight transport operations with IT and e-commerce. But long before, the Goodall shipping line and its related coal and railway companies was a pioneering arm of a loosely defined trade alliance sailing trans-Pacific routes during the formative years of organised ice sports worldwide. Incidently, but quite literally, it connected ice sports in America and Canada, then straddled the Pacific to Australia.
The Australian arm was the
Howard Smith
Line and associated companies, including Huddardt Parker, the shipping company originally formed in Geelong by Smith's former partner, T J Parker. It evolved into the Huddardt company that pioneered refrigerated shipping on
Strathleven
in the 1870s, and then the regular Vancouver-Sydney service (
Canadian-Australian Steamship Line
). Huddart had long been interested in the proposal made by the
Canadian Pacific Railway
Company in 1885 for the imperial "All-Red" route between Australia and Great Britain via Canada. In those days, countries that were part of the British Empire were always coloured red on world maps. Huddardt was inspired by this idea, and so too were long-time associates Fraser, Reid's uncle and Goodall. He landed the contract to carry mail between Sydney and Vancouver with this shipping line in 1893; the same year Fraser and Reid promoted it in London and Canada (see
Fraserland
). This was history in the making, and when Canada and Australia celebrated the centenary of relations between the two countries in 1995, it was this event both governments agreed marked the official beginning of bilateral arrangements between the two countries.
[310]
Reid and Fraser's diplomatic groundwork had actually commenced a few years earlier. The next milestone was the new trans-Pacific cable which followed soon after, establishing the key components of the trans-Pacific network — the "All-Red" route — little more than two decades after it had first been conceived. But it was a half-century earlier that the Australian companies were founded, and the Goodall company of California had commenced roughly six years later.
Harry Howard Smith
directed Reid's Melbourne Ice Skating & Refrigerating Co in its early years, and the shipping company he inherited outlived, at least in name, its American counterpart and, for that matter, its Canadian counterpart: the
Allan Line
.
Originally the Montréal Ocean Steamship Company, the Allan Line sailed the trans-Atlantic routes between ports in the United Kingdom and Quebec, Montreal, St Johns, and Halifax in Canada; and Portland, Boston, New York, Philadelphia and Baltimore in the United States. A member of an important Scots shipping family,
(Sir) Hugh Allan
(1810–1882) was born at
Saltcoats
in Ayrshire, Scotland, the birthplace of Australian master mariner and businessman,
Capt Archibald Currie
(1830–1914). He had been trained by his father's colonial associates and, as a young man, promoted to partnership in a prominent Montréal merchant house. His operations were characterized by internationalism: he did business in London, Liverpool, Glasgow, New York, and Chicago; he transferred the ships he purchased from Canada to Scotland; and his Merchants' Bank had some of its most profitable activities in New York. Combining capital, international ties, and a willingness to invest in new forms of transportation, he had built Canada's most important steamship company. Coal, the primary energy source for steamships, railways, and manufacturing industries, was Allan's most important mining interest. His investment in Nova Scotia's Pictou mines (see
Sir Simon Fraser
) rose rapidly in the 1860s, and he was the only Canadian director in 1865 on the founding board of the New York–based Acadian Coal Company.
Allan had built extensive railroads in Canada and was considered the obvious choice and frontrunner to win the tender for the Canadian Pacific Railway which later inspired the "All-Red" route. However, he lost that opportunity due to his involvement in the
Pacific Scandal.
In 1872 it was revealed he had bribed the government tender authority by contributing a large sum of money to the re-election campaign of the Conservative government. Allan's damning correspondence with his American backers, as well as his financial manipulation of the Conservatives, eventually became public knowledge and led to the collapse of the Macdonald government. Allan himself had returned from England to testify before the royal commission. In 1873 he was involved in the establishment of the Vale Coal, Iron and Manufacturing Company. President of the company until his death, his Montéal-born son
Sir Montagu Allan
(1860–1951) inherited both it and the Allan fleet of thirty-two ocean liners in 1890.
[318]
The Goodall's business associate and friend,
Capt Archibald Currie
, or perhaps a son or relative by the same name, had commanded Allan Line ships between Britain and the west coast of the United States between 1887 and 1896, and probably longer.
[320]
He was well-known to Montagu Allan and his brothers in Glasgow and Montréal, and it was connections such as this that had led to the inauguration of ice hockey in Australia, long before most other countries outside North America. The Australian game was directly connected to the Canadian and American games from conception in the 1890s. It remained that way, bound by powerful family, political and business alliances which circumnavigated the globe, until the passing of John Goodall.
Montagu Allan donated the Allan Cup for Canadian amateur hockey in 1908 and, that same year, both the Victorian Ice Hockey Association and the International Ice Hockey Federation were formed. John E Goodall did likewise, donating the trophy for the Australian amateur hockey competition, which commenced the following year. Allan's first cousin, Lady Isobel Brenda Meredith (Allan), donated the Lady Meredith Cup in 1920, the first ice hockey trophy to be competed for amongst women in Canada. Two years later, John Goodall's wife, Kathleen, donated the Gower Cup, its Australian equivalent (see
Women's Hockey
). It might have have come sooner except for a delay with the federation of ice hockey and speed skating as Sydney radically restructured. These were not unrelated coincidences. Allan's father and Captain Currie were born in the the same Scottish town; they commissioned and traded their ships through some of the same Scottish shipbuilders; and Currie, or relatives, had commanded Allan Line ships. Captain Currie was a business associate of the Goodalls, and both families were similarly associated with the Howard Smiths and
Thoneman
ns
. In fact, John Goodall grew up next door to the Captain in Dickens Street, St Kilda, when he was still very active, until his death there in 1914. These merchant shipping families were well-known to each other generation after generation; ice and refrigeration were integral to their businesses; and they were among the earliest patrons of ice sports in their respective countries.
The Goodalls were pioneers of imperial Melbourne and imperial San Francisco simultaneously, when each was propelled by gold at the same moment in history into rapid growth and wealth. Both were Victorian cities, and although San Francisco was destroyed by earthquake in 1906, the year Melbourne
Glaciarium
opened, it was rapidly rebuilt within a decade, celebrating its rebirth at the 1915
Panama-Pacific International Exposition
. The Goodall name was synonomous with international trade and ice sports on not one, but three continents; from the cold stores era of international trade in natural lake ice, to the dawn of the new era of engineered shipping refrigeration launched from Australia in the mid-1870s. From the grand era of engineered ice rinks in the northern hemisphere that flowed out of it in the mid-1890s, to the first ice rinks in the southern hemisphere that followed within a decade. These entrepreneurs and their enterprises also served as the North American base for some of the earliest pioneers of Australian ice sports.
Robert Jackson
,
Herbert Blatchly
,
Dunbar Poole
and others, had each spent an Australian off-season or two in New York, San Francisco and elsewhere along the west coast, and North Americans did likewise in Australia.
Despite the vast physical and psychological distances that separated them, Australia, Canada and, to a slightly lesser extent, the United States, were and still are parallel nations. The Goodall family of Somerset, England — of Melbourne, San Francisco, Los Angeles, Honolulu and New York — were indeed the flux for forging much of the first superstructure of organised ice sports in Australia, over the foundations laid by the Australian pioneers of commercial refrigeration and the Reids. Collectively, it is also fair to say, they symbolised at its best, the spirit of the Empire which gave rise to the world's first great alliance of free nations.

Captain Goodall's House | undated | Pacific Coast Steamship Co | undated | undated | undated | Millionaire's Row | 2008 |
Historical notes:
[1] In the last quarter of the 19th-century, the vast distances that separated Canada and the six Australian colonies suddenly narrowed. Victorian England's string of imperial successes in Africa and Asia — victories that gave London control over a quarter of the globe and over a third of its people — sparked a wave of romantic enthusiasm for the empire. This was particularly true in Canada, where economic stagnation, French-English tension, and the lure of easy American wealth caused some to doubt the young country's capacity to survive on its own. By the mid-1880s, as the Canadian Pacific Railway wove its final few miles through the Rocky Mountains to the edge of the Pacific, a number of influential Canadians began to envision the new railway as an integral part of a network that would unite Britain with its Asian empire. Throughout the decade, as Canada settled its western provinces and looked outward across the Pacific, popular support for an "All-Red Route" that would link Canada by cable and steamship to Australasia grew steadily.
[310]
[2] The Pacific Steamship Company succeeded the Pacific Coast Steamship Company in 1916 and went out of business in 1936. The surviving records of the company were offered to the Claremont Colleges. In 1940, Professor Kemble went to Seattle and sent to Claremont nearly half a boxcar of ledgers, logs, financial records, and correspondence dealing not only with the Pacific Steamship Company, principal steamship operator in the coastwise trade from 1916 until 1936, but to some extent with its predecessor companies, the Pacific Coast Steamship Company and the Pacific Alaska Navigation Company. This collection has had additions through gifts of materials from the grandson of the founder of the Pacific Steamship Company. Also see Gerald Best's book Pacific Coast Company: Ships & Narrow Gauge Rails.
[307]
[3] The shipping line registered by Australian James Huddart (1847–1901) in 1893 was originally known as the Canadian-Australian Steam Ship Company, and operated a service between Sydney, Brisbane, Honolulu, Victoria, British Columbia (BC) and Vancouver, BC. The Brisbane call was abandoned in late 1893 and replaced by Suva, Fiji. From August, 1897 the route became Sydney, Wellington, Suva, Honolulu, Victoria BC, Vancouver. The company was reconstituted as the Canadian-Australian Royal Mail Steam Ship Company under the joint control of James Huddart and the New Zealand Shipping Company who took complete control of the line in 1898. In 1900 the Union Steam Ship Company of New Zealand acquired a controlling interest in the company and assumed responsibility for outstanding contracts and agreements. In 1910 the purchase was completed and the Canadian-Australian Royal Mail Steam Ship Company became an integral part of the fleet of the Union Steam Ship Company of New Zealand. By the outbreak of the First World War in 1914, it was one of the largest shipping companies in the world, and dominated coastal shipping in both New Zealand and Australia. It survived as New Zealand's premier shipping company for 125 years, from 1875-2000. Uksila, Bendrodt and Jackson arrived on their ship Niagara; 13,415 tons and the first British liner to burn oil fuel (see Lena Uksila). This famous ship was later sunk by a German mine off the Northland Coast in 1940.
[4] Regarding the Whig statesman, Lord Melbourne: although the Whigs' origin lay in constitutional monarchism and opposition to absolute rule, both it and the "Tory" party might be termed "conservative" by modern standards. In general terms, the Whig tendency supported the great aristocratic families and non-Anglicans (the "dissenters," such as Presbyterians), while the Tories supported the Church of England and the gentry. Later on, the Whigs drew support from the emerging industrial interests and wealthy merchants, while the Tories drew support from the landed interests and the British Crown.
---
CAPT CHARLES GOODALL (1824 – 1899)
Great uncle of John E Goodall. The essence of the captain's entrepreneurial career is outlined above, but his entry in
"Methodism in California"
is also worth recounting. He was a major benefactor of the first methodist church in San Francisco from the earliest days of poverty and struggle, but the 1892 article below also pays tribute to the large investments he and his wife Serena made to other churches, schools and philanthropic enterprises, including the
University of the Pacific
in California, the State's first institution for higher learning. Affiliated with the United Methodist Church, it was
chartered
on July 10th, 1851 in
Santa Clara
, and first opened under the name "California Wesleyan College" (see
history page
at the university). The school's principal founders were Dr Edward Bannister from the Baltimore Conference of the Methodist Church, whose daughter married
Chester Adgate Congdon
; Rev Isaac Owen from the Indiana Conference; and Rev William Taylor, also from Baltimore. The Goodalls were members of other church-related organisations, such as the Ladies Seaman's Friend Society of the Port of San Francisco. Serena, was a founding member of its Board of Trustees on August 4th, 1958, and she and Charles were made Life Members. The
Mission to Seamen
was formally created through the Church of England in 1856, an international Anglican mission serving mariners and sailors through chapels in over three hundred ports around the world. The Port of San Francisco society was similar in outlook to the
Mission to Seafarers Victoria
established a year earlier at Port Melbourne, Australia.
[313]
The tribute below was written by Rev Dr A C Hirst, DD, LLD, president of the University of the Pacific, and it concluded with the stanza from Longfellow's poem reproduced at the top of this page. Hirst was also pastor of Goodall's local church, the first Methodist church in San Francisco, and later at Pittsburg; Chillicothe; Columbus, Ohio; Centennary Church of Chicago; and the First Methodist Church of Omaha. He died in Chicago on July 11th, 1902.
[315]
"CAPT. CHAS. GOODALL Preachers were not the only toilers who laid broad and deep foundations of Methodism in California. There were consecrated, self-sacrificing layman who wrought to give quality and quantity to the moral currents of the future of the State. The sheet anchor that held them amid the wild, rushing waves of secularity, was faith in God. To their thought, permanent prosperity was only possible through a quickened individual conscience, elevated morals, ascending the tides of pure life through all the social, commercial and political avenues of the people. Men thus equipped and ennobled must exert a purifying influence on the world-incrusted hearts of their fellows, and as artists chisel into unfading beauty the moral features of mankind. Brilliant genius and superior intellectual endowments do not alone win the highest prices possible in the arena of life; but highest purpose, firm will, true manhood, unwavering courage, all presided over by common sense and intelligence, although that intelligence may have no such potential sweep as that of an Aristotle or Bacon. These are the elements ensphered in the character of Capt. Chas. Goodall, a man's self-trained, self-taught. He reached the State in 1850, and became identified at once with Methodism by membership with Powell street church in those days of poverty and struggle. Since then every enterprise denominational or educational has felt the impulse of his wise and loving council, and secured vigor for successful aggressiveness through his large contributions. Greatly prospered in business, he has made large investments in churches, schools and philanthropic enterprises. This is notably true in reference to Howard street church, Simpson Memorial church, Van Ness avenue and California street church's and the University of the Pacific. As an honored and useful member of the Simpson Memorial Church the elements of his positive and symmetrical character are a crown to his mature manhood, purity of motive, sincerity of conviction, elevation of sentiment, brave loyalty to his friends, a chivalrous sense of honor in business, and an all-controlling desire for the triumph of Christianity. His noble wife has been harmoniously identified with him in all his philanthropic and Christian work. Beautifully their lives have blended in holy ministries."
[314]

Goodall's churches | 1850 on |
---
GEORGE CLEMENT PERKINS (1839 – 1923)
Born in Kennebunkport, York County, Maine on August 23rd, 1839; he became a partner of Capt Goodall in Goodall Nelson & Perkins. Born into a family with limited educational advantages, he went to sea as a cabin boy at the age of twelve, followed the sea for several years, and subsequently engaged in banking, milling, mining, farming, ranching and whaling. He became a partner of Goodall & Nelson in 1872, operating steamships on the coasts of California, Oregon, Washington, British Columbia, Alaska, and Mexico. He married Ruth Parker and became a member of the California State senate (1869–76); Governor of California (1879–83); unsuccessful Republican candidate for the United States Senate in 1886; appointed in 1893 and subsequently elected as a Republican to the United States Senate to fill the vacancy caused by the death of
Leland Stanford
. He was re-elected in 1897, 1903 and 1909 and served from July 26th, 1893, to March 3rd, 1915, when he was no longer a candidate for re-election due to ill-health. In that time, he served as chairman, Committee on Fisheries (Fifty-fourth through Fifty-sixth Congresses), Committee on Civil Service and Retrenchment (Fifty-seventh through Sixtieth Congresses), Committee on Naval Affairs (Sixty-first and Sixty-second Congresses), and Committee on Railroads (Sixty-third Congress). He retired to his home in Oakland, California, where the family of Captain Charles Goodall also lived, until his death there on February 26th, 1923. He was interred at Mountain View Cemetery near the Goodall family.
[311]
He was the third longest serving senator in California history, after
Hiram Johnson
and
Alan Cranston
, serving 22 years. He was criticized by some for supporting business too much during his time in the Senate. During his term as governor, former Civil War general
John Mansfield
served as his lieutenant governor. Johnson was an officer in the Union Army during the American Civil War, serving as the last colonel of the 2nd Wisconsin Volunteer Infantry Regiment of the famed
Iron Brigade
. In the omnibus promotions in 1866 following the cessation of hostilities, he was brevetted as a brigadier general of volunteers for "gallant and meritorious services during the war."

George C Perkins | c 1880 |
---
CAPT ARCHIBALD CURRIE (1830 – 1914)
Born on September 11th, 1830 at
Saltcoats
, Ayrshire on the west coast of Scotland, son of John Currie, shoemaker, and his wife Elizabeth Nicol. He was a master mariner and businessman, born in the same town as
(Sir) Hugh Allan
and his important Scots shipping family. He was also a neighbour of
John Goodall
from the time John was born until his death in 1914. He went to sea when he was 14 years-old, apprenticed to Mc Cunn & Co of Greenock America and China traders. He arrived in Melbourne in 1853 as third officer of the
Sir William Molesworth
when he was 23 years-old. After three months at the Bendigo and Heathcote goldfields, he shipped as mate in
Leven Lass
and in September he became master of the
George
. In 1854, with W A Boyd and Thomas Elder Boyd, junior, he bought
Elizabeth
and from January 1855, with T E Boyd only, traded in coastal, New Zealand and Chinese waters. The partners established a shipping company in Melbourne and bought at least nine vessels in the 1860s. He had early links with Canada; many of the same shipping connections as Hugh Allan. For example, he purchased his 256-ton brig
Isabella
in 1864 from Scottish shipbuilder, merchant, banker, and politician, Angus McMillan (1817–1906) of Prince Edward Island, and sold it in 1870 to the company of
Sir John Grice
, a very significant patron of Australian ice sports.
[198]
Sometime before 1864, within his first decade in Melbourne, Currie built
Moss Villa
in Tennyson Street, St Kilda, not far from the Goodall and
Thonemann
families. It was "one of the oldest of the better class houses of the suburb", and the family of
Harry Howard-Smith
later purchased it, when Currie moved to
Pladda
in Dickins Street, St Kilda; the street in which John Goodall grew up. In 1872, Boyd retired and Currie inaugurated regular trade with India as Archibald Currie & Co, shipping horses to Calcutta and returning with rice, oil, jute and tea (see
British India Steam Navigation
). He was no doubt associated with John Goodall's maternal grandfather, George Dougharty, who began the horse bazaar and auctioneering business of Dougharty & Company in the 1850s (see
John Goodall
). Currie visited Britain in 1883, returning in 1885 in the
Bucephalus,
which he then used to open a direct steam service to India. Other steamships were soon added to the line. He invested in salvage and personally supervised the removal of cargo from several wrecks. Through his efforts a lighthouse was erected at Currie Point, King Island.
Currie and William Brookes bought Ramsden's Melbourne Paper Mills in 1882, from Samuel Ramsden's eldest son, George. Brooke's son, future Wimbledon champion (Sir)
Norman Brookes
, joined the APM as a junior clerk after he matriculated in 1895, and by 1904 he was a director of the firm. He became the first president of the Victorian Curling Club, formed in Melbourne in 1933, the first in Australia. Also in 1895, Robert George McCutcheon, acting in trust for Currie and William Brookes, purchased the Barwon Paper Mill at Geelong. They leased land and spent £37,000 on buildings on the south bank of the Yarra River near Princes Bridge, where Melbourne
Glaciarium
was later built. The mills later expanded to Geelong and Broadford. Currie was also a founder of the Australian Lloyds and of the Australian Mercantile Union Insurance Co of which he was chairman for many years. He was chairman of commissioners of the State Savings Bank in 1892–93 and in 1901–14; chairman of the London and Lancashire Life Insurance Co; and a director of the Commercial Bank of Australia and the Australasian Mortgage and Agency Co. He was president of the Employers' Union, a member of the Lorimer Board (to report on the Defence Department) and the royal commission on the Metropolitan Board of Works.
Currie also co-owned ships with businessmen such as James Service, the grandfather of
James Service Thonemann
, who was also involved in intercolonnial trade. Their barque
James Service,
built for the Calcutta, China, and Mauritius trade, was wrecked off the Western Australian coast in August 1878. The fate of the clipper ship
Glenmorag,
reported in the
San Francisco Chronicle
on March 3rd, 1896,
[320]
also reinforces links between Australian ice hockey and the Canadian game through both the Allan family of Glasgow and Montréal, and the Goodalls of the west coast of the United States.
Glenmorag
was the last of the clipper ships built for the
Allan Line
, owned by R S and C A Allan of Glasgow. She was launched there in 1876; an iron, full-rigged ship of 1,567 tons register, built on the Clyde in Scotland that year. Captain Archibald Currie had reportedly been in command of her the past nine years when she was wrecked in a dense fog on the coast of Washington, USA, seven miles above Ilwaco, on her way to Portland from Shields in Britain in 1896. Two men were killed and four injured. The
Strathblane
, also owned by the Allans, was wrecked near the same spot four years to the month prior. It is possible
Glenmorag
was commanded by a different Capt Archibald Currie but, if so, he was probably a son or relative. These two families were from the same town in Ayrshire.
Fond of looking at things from 'a sailor man's point of view', Currie gave invaluable service to the Pilot Board and as chairman to its successor, the Marine Board. In 1898, his evidence before a Legislative Council select committee helped to secure the abandonment of the Victorian immigration restriction bill. He believed the employment of Asian labour was vital for northern Australian development and in 1901 led a deputation to the prime minister, representing steamship companies with a total capital of £30 million. Sturdy, bearded and fair, Currie was once described as a
'dour Scotch sea captain … who looked as though he had never laughed in his life'
. Certainly his greatest pleasure, sea-going, was often denied him in his last thirty years. In 1913, he sold his five ships to the
British India Steam Navigation
and retired in indifferent health. He died at his home on September 3rd 1914. His wife Jessie, whom he had married on April 3rd, 1866 in Melbourne, and by whom he had seven children, was the daughter of Ballantine Rollo and Janet Gray of Brunswick.
[319]
Many members of the Currie family were buried at St Kilda Cemetery. The town of Currie on King Island in Bass Strait was named after him.
Historical notes:
[1] See Flotilla Australia web site at these links for related images postcards and ephemera:
Howard Smith Ltd | 01 | 02 | 03 | Archibald Currie & Co | 01 | McIilwraith McEacharn Ltd | 01 | Huddardt Parker & Co | 01 | Allan Line | 01 |

[2] The Allan Line, more properly the Montreal Ocean Steamship Company, was founded in 1854 and began sailing in 1855. They continued to sail until about 1911 when negotiations with the Canadian Pacific Line took place. The company was merged with CP and became known as the Canadian Pacific Ocean Services Limited in 1915. However, it was not until 1917 that an official announcement of the merger finally became public. Fares in 1855 were 18 guineas outwards and $80 homewards. They sailed from Quebec at 9 am every alternate Saturday, and from Liverpool on Wednesdays. Hugh and Andrew Allan, with other Canadian partners, incorporated the Montreal Steamship Company in 1854. They were the second, and fourth, of the five sons of Alexander (Sandy) Allan (1780-1854). All the Allans were involved in the shipping industry. Alexander Allan had founded the Allan Line of Sailing Ships in 1819, with regular sailings between Greenock and Quebec in the brigantine Jean, commencing June 9th 1819. Sandy Allan died March 18th 1854, before the first Montreal Steamship Company steamship Canadian, sailed from Liverpool September 16th 1854, and arrived at Quebec September 28th 1854, on her maiden voyage.
---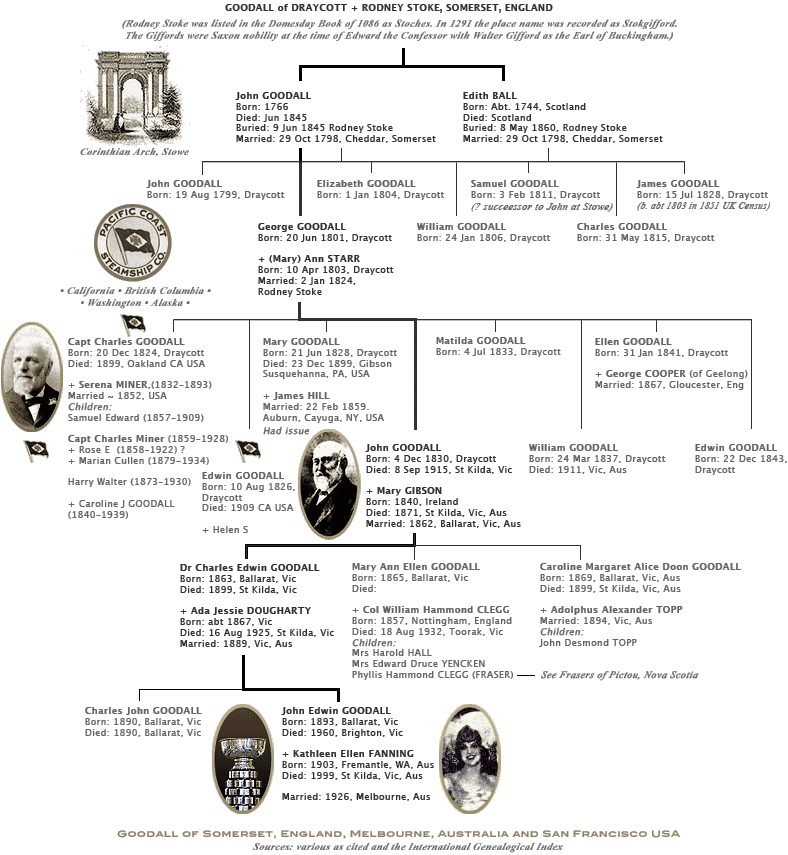 John Edwin GOODALL
(1893 - 1960)
BORN IN 1893 AT ST KILDA, VICTORIA, the son of Dr Charles Edwin Goodall (1863–1899) and Ada Jessie Dougharty (~1867–1925) of Dickens Street, St Kilda, who were married in 1889 at Melbourne, the year after Henry Newman Reid. This family was descended from Mary Gibson (1840–1871) and sharebroker John Goodall Sr (1830–1915), originally of Draycott, Somerset, in the south-west of England; then Ballarat in country Victoria; and later Stradbrook at 63 Grey Street, St Kilda. [160] The first of Goodall's family had arrived in Melbourne from San Francisco in October, 1853, during the gold rushes. This was eighteen years after Melbourne had first been founded, unlike every other State capital, as a free enterprise. [114, 155] Canadians were also quick to follow the gold rushes, and the best known was Henry (Charles) Ross who designed the Eureka flag and was killed in the attack on the stockade. His grandfather, John Ross, was a Sergeant then Quartermaster in the 26th Cameronian Light Infantry Regiment, who went to Canada in 1787 with his wife Elizabeth (Brooks) and their two children. He decided to stay when the Cameronians were recalled to Scotland. Two sons of Sir John Grice later served and died in this regiment.

John Edwin Goodall was the Victorian ice hockey player who donated the trophy for Australia's first Interstate series to the Victorian Ice Hockey Association. It commenced in the winter of 1909, and the trophy is still known as the Goodall Cup; the holy grail of ice hockey in Australia. It has been contested annually to the present time with few interruptions and, today, it is the coveted prize fought over by the elite, semi-professional teams of the Australian Ice Hockey League (AIHL). Very few winter sports trophies in the world are bathed in a comparable longevity or glory. The Gower Cup was first presented some thirteen years later in 1922 by "Miss K Goodall", who was probably Kathleen, the wife of John Edwin Goodall. This trophy was reportedly first established for the annual senior women's Interstate competition held either in Melbourne that year, or in Sydney in 1923. [132]

Goodall grew up in Dickens Street, St Kilda where Captain Currie lived and, like the Reid boys, he was educated at Melbourne Grammar School. [164] He was four years younger than Andy Reid and, like Hal Reid, he had first played for Melburnians IHC, which had formed in 1908 when Goodall was 15 years-old. His first game on record was with the second Victorian State team in 1910, when he was 17-years-old. This team was again captained by Robert Jackson, and its roster included Andy Reid, Cyril MacGillicuddy and Old Wesleyan, Keith Curwen-Walker (1888–1918) who, like Reid, later went to war never to return. In 1914, Goodall became the fourth NISAA National Mens Skating Champion following Hal and Andy Reid and Chas Maclurcan. [377] He played for Victoria until 1913, then resumed again in 1921 with Ted Molony in his debut game, and Gordon Langridge, a veteran of the 1st Australian Team of 1906. This, and the NSW State team of the same year, were the first to be formed after the sport had been interrupted by the Great War. Goodall became captain of Victoria in 1922, convincingly winning back the Cup in Melbourne after the 1921 defeat by New South Wales. Some sources credit defender Morrie Bilsborrow as captain of this team but, either way, Victoria won the first test, the second, 3–0, and the inconsequential third was drawn 0–0. Victoria won the 1922 Goodall Cup in the second test on Monday, July 24th, and The Argus newspaper in Melbourne reported it the following day:

ICE HOCKEY. Cup Won by Victoria. By brilliant play, in which all members of the team shared fully, the Victorians won the ice-hockey game against New South Wales at the Glaciarium last night, and so gained the cup presented by Mr J Goodall. The game was fast from the outset, with the Victorians displaying fine system. In the first half the home team scored a goal, the visitors having failed to break through the Victorian defence. In the opening of the second half New South Wales attacked strongly, but the goal was missed. The Victorian forwards then showed fine combination work, and two goals were secured in quick succession. When the final bell rang, the Victorians had secured 3 goals while the visitors had not "broken the line". V Langsford was responsible for two of the Victorian goals and E A Collins scored the third. The Victorians have won the two games played. The third game will be played tomorrow night. [128]

This was considered an upset and the result was probably mainly due to St Kilda IHC captain and defender, Morrie Bilsborrow, and top point scorer, 24 year-old Victor Langsford (1897– ) of Richardson Street in Middle Park, who was a salesman just returned from the war, and who also played for St Kilda IHC. [233]. New South Wales did not win a match and they did not score in the decider. Neither side scored in the inconsequential third. The sports carnival, including the speed skating championships and a fancy dress ball, had been held earlier that month, attended by Lady Stradbroke, wife of the Third Earl of Stradbroke, Governor of Victoria between 1921 and 1926. The countess was regal in appearance, informal in manner and the farewell to her at St Kilda in 1926 was enthusiastically attended by a wide representation of women. Ice hockey's rising star, Ted Molony, won the half-mile speed skating championship. [128] This was Victoria's fourth Goodall Cup win, and one more than New South Wales but, aside from at least one tie in 1932, it was to be the last victory for Victoria for a quarter of a century.

Earlier in Sydney, on June 12th, 1922, the New South Wales Association had resolved to defer further discussion on the formation of a national ice hockey association, until they had met with Victorian Ice Hockey Association (VIHA) delegates during the Interstate series that year. Goodall had become president of the VIHA and this conference took place on July 29th in Melbourne, a few days after the the last Interstate game. It was a conference in addition to the usual meetings held before each series to discuss tournament rules and referees, and its meeting minutes were subsequently confirmed by the NSW Association on August 22nd, 1922. [2] The following year, Goodall became the first president of the Ice Hockey and Speed Skating Council, the first national controlling authority for both ice hockey and speed skating, formed in Sydney when the Victorian team visited for the 1923 Goodall Cup series, which New South Wales won. Fittingly, in this inaugural year of the national association for ice hockey in Australia, New South Wales finished dead-level with Victoria on national premierships. Since its inception in 1909, each had won four series of the Goodall Cup apiece. Victoria was probably coached by former American ice hockey star, Charles Uksila, although it is also possible he had trained players in New South Wales. The final test results of the 1923 series were NSW 6–3, 2–1, 4–4, and the first test was reported as follows:

INTERSTATE ICE HOCKEY. NEW SOUTH WALES DEFEATS VICTORIA. SYDNEY, Saturday — The first of three test ice hockey matches to determine the holders of the J. E. Goodall cup at present held by Victoria, was played at the Glaciarium this evening, between teams representing New South Wales and Victoria. After a fast and exciting struggle, the home players were victorious by 6 goals to 3. The attendance was about 2,000. New South Wales attacked and after a few minutes of play, Kendall beat Dow, the Victorian goalie, with a lightning shot. This he repeated shortly afterwards from a pass by Reid. The visitors were back on the defensive and Dow had a strenuous time repelling constant attacks. After three successive shots at goal, Pike eventually scored, and the tally at half-time was New South Wales 3, Victoria, nil. The latter made the pace after resuming, but did not score. Pike, playing a brilliant game for New South Wales, placed another goal to his credit. Collins then scored first goal for the visitors. Kendall responded with two more goals in quick succession. Collins raised the hopes of the Victorians by scoring twice, but the effort was too late, and after Reid had scored again for New South Wales, the final figures were 6 to 3. [169]


Goodall Cup victories, pre-IIHF affiliation, Australian ice hockey

---

---

1909
'10
'11
'12
'13
'21
'22
'23
'24–'38
1932
'33–'38

---

---

V I C
NSW

---

---

For NSW: Pike from 1909, Kendall from 1911; Reid from 1921
For Victoria: Jackson from 1909; Goodall from 1910; Molony from 1921
NSW goal scores in the first test were Kendall 3, Pike 2, and Reid 1. Kendall was coaching and it was this 6-3 capability in their attack that gave NSW the series although, on this occasion, the second and third tests were very closely contested. NSW won the second test 2–1, and the third was tied 4–4, with Ted Molony scoring three goals for Victoria, equal to Kendall's first test score.
[169]
Goodall was succeeded as State captain in 1925 by Molony, who was captain and usually coach of Victoria, each subsequent year until 1936, excepting 1926 when he officiated, and 1934.
[1]
However, Goodall had continued to present the Cup and to play; he was selected for the 1925 Victorian Team, which played three tests in Melbourne and three in Sydney that year.
[135]
NSW easily accounted for Victoria, winning the first three of six tests. Goodall was in his early thirties by this time, and he had played ice hockey for at least fifteen years.
[135]
Subsequent cup clashes and the development of the game in Australia over the next decade are detailed in the biography of
Ted Molony
.
Goodall was also an accomplished skater who gave exhibitions in September, 1923, with
Jack Gordon
,
Enders and Cambridge
and
Lena Uksila
, sister of Charles who coached Victoria that year. Lena was a visiting professional skating instructor from New York, where
Robert Jackson
had earlier worked. She was attached to the instructional staff at Melbourne Glaciarium during the winter of 1923.
[146, 147, 269]
On her arrival in Melbourne in July 1923, Uksila had been met at Spencer Street Station by members of the National Ice Skating Association of Australia. She was described as the
'woman champion ice skater of the world'
from the
Hippodrome
theatre in New York,
[158]
and she became yet another of the many International skaters employed on the professional instructional staff of the Melbourne academy. She married in Sydney that year and settled in Australia for a while, before returning to America.
John E Goodall married Vera Frances Crowl in Melbourne in 1916, at the age of 23.
[114]
Vera was the daughter of Joseph Terrill Crowl, a Victorian-born clerk of the National Bank in Port Melbourne, and his wife Matilda Orr from Ireland. The vigoro administrator,
Ettie Dodge
(1885-1973) was a sister of Vera. Their brother Captain Joseph Terrell Crowl had been killed in action at Dardenelles the year prior; the year Goodall's grandfather also died. The couple played golf with
Hal Reid
and his wife at the Victoria course in Port Melbourne. They "took over" the mansion
Risdon
at 62 Alma Road St Kilda, between Crimea and Chapel Streets in October 1917.
[160, 261]
It was already in the Goodall family; the former home of Goodall's aunt, Carol Margaret Alice Doon Goodall (1869–1899), and her husband Adolphus Topp. Caroline had died young, but Adolphus and their son John Desmond Topp still lived there in 1916. Desmond served in the same Howitzer Brigade as Gerald Armytage, the younger brother of
Doris Armytage
.
[114, 262]
A real estate leaflet described
Risdon
as
"... a larg-ish single-storey villa with canted bay window and verandah".
During these years, the house had three large self-contained rooms that were separately sub-let from time to time. Goodall auctioned it in October 1918, exactly one year after he moved in with his new wife. It is doubtful the marriage lasted much longer.
Meanwhile, that same year in Perth Western Australia, the J C Williamson theatrical producer Charles Wenman heard a 15 year-old girl sing a song at the piano, and adopted her as one of his protégés. He offered theatrical training and work in Melbourne, but her father was horrified, fearing his daughter would abandon her classical piano training. He finally relented on Wenfield's second visit one year later, and the young soprano traveled back and forth over the next few years.
[406]
Kathleen Ellen Fanning (1903–1999) was born in Fremantle, Western Australia, daughter of Peter Joseph Fanning and Ethel Hilda Victoria Humble (1881–1919). Her grandfather,
Major George Bland Humble
(1839–1930), was born in Leyburn, Yorkshire and became Headmaster in 1860 of Wesleyan School Marylebone in England. He immigrated a few years later to become headmaster of Fremantle Boy's School (1864–1889). He was also Fremantle Town Clerk (1872–1904) and Deacon of the Fremantle Congregational Church.
[122]
Kathleen was also a niece of Senator
Sir Walter Kingsmill
[406]
with whom she eventually relocated permanently to Melbourne in June 1923. The West Australian Fannings may also have been related to the family of businessman,
Edward Fanning
, and his second wife Kate Moore. They lived at
Fairholm
(later
Holmwoo
d) at 61–67 Alexandra Street in St Kilda, on the south-west corner of Alma Road, not far from
Risdon
. Edward Fanning and his family had also lived at 8 Westbury Street in East St Kilda (1901), and
Charnwood House
at Charnwood Grove in St Kilda (1876–82). All were quite close to Goodall and the family of
Norman Joseph
in Charnwood Crescent.
[261]
Kathleen was a soprano and a well-known performer of her time. Her singing career began as understudy to
Gladys Moncrieff
(1892–1976) as Teresa in
Maid of the Mountain,
and ended with regular performances for ABC radio.
[116]
Maid of the Mountain
opened in the Theatre Royal, Melbourne, on January 2nd, 1921, and ran for twenty-seven weeks. It was Moncrieff's
first great theatrical success and the public and critics alike acclaimed both her and the musical. In the two years prior, Moncrieff had worked with
Robert Jackson
in the musical comedies,
Theodore and Co
and
Kissing Time
, and she dropped the first puck of the Goodall Cup test a decade later in the Melbourne winter of 1930.
[136]
She became a legend in Australia in her lifetime, respected by her professional colleagues and loved by her devoted public. By the second half of 1923, Kathleen was a permanent resident of Melbourne with the Kingsmills, under contract to J C Williamson Theatres. She performed in
Whirled into Happiness,
staged by J C W New English Musical Co, at His Majesty's Theatre in Melbourne in 1924, followed there by the
Snap
musical revue, which then moved to Adelaide commencing August 1925.
The man 23 year-old Kathleen fell for and married on February 23rd 1926 was Jack Goodall, then in his early-thirties.
[114, 154]
He was an ice hockey player, but also a well-known, independently wealthy, stock and share broker.
[155]
Kathleen gave away her stage career when they married and four years passed until she was again approached by Wenman. She returned to public performance during the Great Depression, even though the work involved long seasons away at interstate theatres. Kathleen told the press in 1944 John was proud of her and he had backed her up. She often sang for charitibale appeals; she sang prologues to plays such as
As Husbands Go
(1931); and she appeared in pantomimes, such as
The House that Jack Built
(1930) with
Roy Rene
,
[155]
and
Sinbad the Sailor
(1931). She was among the
Gregan McMahon
Players as well as
Francis W Thring
's Efftee Players performing in Williamson theatres and at the Garrick, the former Playhouse, near the Glaciarium in South Melbourne from 1933 (the venue chosen by the group of ice sports men and women to deal with the imminent closure of the Glaciarium in 1926). Kathleen sings three songs at the piano in the Efftee Studio film
His Royal Highness
(1932), directed by Thring.
Then came legitimate theatre mixed with plenty more musical comedies such as
The Barretts of Wimpole Street
, at the Criterion Theatre in Sydney in 1932 (one of the early vehicles for dancer
Sir Robert Helpmann
),
[119]
Musical Chairs
(Garrick Melbourne:1934);
Old Folks at Home
(Criterion Sydney: 1934; Comedy Melbourne: 1935); and
The Younger Generation
(Comedy Melbourne:1935). From 1934, Kathleen trained for eight years with Russian-born bass-baritone Adolf Spivakovsky (1891–1958) at the University Conservatorium in Melbourne, where his students also included the sopranos Glenda Raymond and Sylvia Fisher. Adolf was a brother of Tossy, Issy and
Jascha Spivakovsky
(1896–1970), better known as the Spivakovsky-Kurtz Trio.
[116]
Kathleen had always dreamed of being a "serious artist" but the musical comedy had gotten in the way. Then finally she sang in the Grand Opera
Rigoletto, Marriage of Figaro, and Aida,
produced by the National Theatre Company at Melbourne's iconic
Princess Theatre
in the late-1930s.
[117]
She went on to work with the Philharmonc orchestra and the conservatorium of music in Albert Road, East Melbourne; she worked with every major symphony orchestra in Australia; she accompanied classical pianists at concert recitals in Melbourne and interstate, and she later recorded songs with Linda Phillips including
"Orchard Zephyr"
, 1953 and the ABC recording "
Garden Secrets"
c.1956. Yet despite all this, she was probably best known to audiences as Miss Coy in
'The Village Glee Club'
radio show.
Kathleen played right through the heyday of theatre — over 3,500 performances — then broke into radio when F D Clewlow of the ABC heard her sing at a private party. For many years, she was a singer in the ABC Wireless Chorus conducted by the ABC Victorian Symphony Orchestra's
Joseph Mozart Post
, which also included Sylvia Fisher and Lorenzo Nolan. It was the backing for radio scriptwriter
Phil Darbyshire
's musical variety programme,
'The Village Glee Club',
which was broadcast on ABC radio from May 1942 to March 1971. These years were the golden age of radio worldwide, and this was one of the longest-running, weekly shows on Australian radio. It had a distinctly British flavour, presenting old songs and mild comedy set in an Australian country choir. Kathleen and other local actors including Colin Crane, Agnes Dobson and Patricia Kennedy spoke such roles as Mr Crump, Mrs Sharpp-Shott, Miss Coy and Miss Crump. The programme's combination of genteel comedy and sentimental music outlived many changes in radio entertainment.
[116]
Recorded songs included,
An Hour Never Passes
(1940s) and,
My lute and I
(1947) and others re-released in 2006 on the
Waltz time
CD featuring William Flynn and the 3DB Waltz Time Orchestra. In 1937, Radio 3DB's Smileaway Club hosted by
Charlie Vaude
boasted 37,000 members, including Prime Minister Lyons and his wife. Members received concession rates to Melbourne
Glaciarium,
which had hosted world famous bands, singers and most other forms of entertainment since its inception. It was a place for athletes and performers, but also for lovers.
Meanwhile, Jack Goodall worked with the company his grandfather had established. John Goodall Sr had a background in mining before he became a founder of the Ballarat Exchange. He then joined the Melbourne Stock Exchange in 1879, trading as John Goodall & Co, stock and share brokers, from Austral Chambers at 99 Queen Street in Melbourne. Henry Newman Reid had been a broker in the 1880s, and the Thonemann family, who later invested heavily in Reid's rink syndicates, had joined the Exchange in 1888. The Stock Exchange in Melbourne was the first to be formed in Australia (1861), and among its other early leading figures was
Edward Khull
(1805–1884), a printer from Glasgow. The beginning of the share market in Victoria is marked by the appearance of Khull's first share price list in
The Argus
in October 1852. Before they each immigrated to Australia, Khull had employed
James Harrison
(1816?–1893) in his Glasgow print works. Harrison later pioneered refrigeration at Geelong in Victoria in 1854, and he was co-founder of the Sydney Ice Co in 1860, with Sir
Peter Nicol Russell
(1816–1905).
Goodall's grandfather was one of twenty members with seats in the rebuilt Melbourne Stock Exchange building when it re-opened in 1880, and he did not retire until 1906, the year Melbourne
Glaciarium
was opened. A paid seat at the Exchange in the name of John Goodall was kept until 1920 according to the ASX, and so Goodall took it over when his grandfather retired. His grandfather's successor was his son-in-law, Nottingham-born Colonel William Hammond Clegg (1857–1932)
[231]
who held his own seat between 1888 and 1932. Goodall was a practising sharebroker at least until November 1920, when he was reported as a stakeholder in land fronting the main street in Dandenong, and he was still operating from Queen Street in Melbourne, where the offices of John Goodall & Co were located.
Frederick Thonemann,
who had also invested in the rink ventures, was a member of the Exchange between 1888 and 1937. The Goodall name was attached to a seat at the Melbourne Exchange for almost half a century, and John Goodall & Co continued to trade at least until 1933, a year after Clegg had died, and a few years after Glaciarium Ltd purchased Melbourne
Glaciarium
from the gas company during the Great Depression.
Clegg was married to John Goodall's aunt, Mary Ann Ellen Goodall (Clegg), and they lived at
Jura Villa
, 36 Grey Street, St Kilda, on the north-east corner of Dalgety Street, a few doors from Goodall's grandfather.
[262]
Both he and
Harold Luxton
were members of the
Athenaeum Club
,
[231]
which had lent the VIHA one of two Cobb & Co's coaches in 1930, to drive the NSW ice hockey team around Melbourne. Over the years, Clegg and his wife had attended many high society gatherings, including a Naval Reception for visiting American war ships at St Kilda Town Hall in August, 1925, with Prime Minister
Stanley Bruce
(1883–1967) and
Norman Brookes
, both former St Kilda residents.
[163]
In fact, Bruce was born at
Stradbroke
, a few doors up from the Goodall family home in Grey Street, and he had commanded the Melbourne Grammar cadets during Andy Reid's time. Bruce's father,
John Munro Bruce
(1840–1901), was a prominent business man of Scottish and Irish descent and Goodall's grandfather purchased
Stradbroke
from him in 1893, when he moved to South Yarra.
[160]
These Melbourne families had provided the commercial expertise necessary for floating the original Glaciarium ventures in three States, but it had not stopped there. John Goodall & Co was very closely associated with Broken Hill Proprietary (BHP) in which Jim Kendall was chief engineer, and also the Metropolitan Gas Company, owner of Melbourne
Glaciarium
between 1925–30.
The standing of the Goodall name in financial circles continued on after the death of John's grandfather, and it is well-illustrated by John's presence a few years later at the funeral of
Simon Fraser Jr
(1886–1919), the son of the Western Districts pastoralist and Victorian senator,
Sir Simon Fraser
KB
(1832–1919). Sir Fraser was the grandfather of
Malcolm Fraser
AC CH
(1930– ), Prime Minister of Australia from 1975 to 1983. His three sons from his second marriage to Anne Collins had attended Melbourne Grammar, and Simon, the eldest had married
Phyllis Hammond Clegg
(1892– ) in 1914,
[235]
a first cousin of John Goodall. Another,
John Neville Fraser
, inherited his father's property at Balpool in the Riverina district of New South Wales, and it was there that his son Malcolm Fraser grew up. Neville and Phyllis, and probably also Simon, were very proficient ice skaters. Phyllis was a regular ice dancer at Melbourne
Glaciarium
and she and John Goodall spent a good deal of time together, both on the ice and in other sports.
Goodall was one of eight pallbearers at the younger Simon's funeral at Brighton cemetery in 1919, with
William Lawrence Baillieu
MLC (1859–1936),
Russell Grimwade
,
Professor Lyle
, sharebroker Captain Rupert Wertheim, eldest son of
Hugo Wertheim
, M G Robb, F V Willis and E Cresswell. Rupert's sister, Gladys, married Willie Fanning, the younger son of Edward. The Old Melburnians Society was officially represented by two former presidents A S Austin and W R Grey Smith, and honourary secretary, sports journalist
Reginald Wilmot
, father of
Chester Wilmot
.
[164]
Smith was a son of
Francis Grey Smith
(1827–1900), and brother of
Sir Ross Grey Smith
(1901–1973). Austin was descended from the pioneering
Austin family
, originally of Somerset, England (Baltonsborough), where the Goodall family also originated. Simon's father died a few months later in July, and his funeral at Brighton Cemetery was attended by many members of the Victorian government.
[164]
Baillieu,
William Sydney Robinson
and
Sir Colin Fraser
, were the force behind the
Collins House group
, a loose but powerful alliance which took its name from Collins House at 360–366 Collins Street in Melbourne, where they shared offices from 1911 until 1951. This group had a significant impact on Australian mining history, and it rivaled Broken Hill Proprietary (BHP) in its contribution to Australian economic development between the wars. Baillieu, an Australian financier and politician, was a successful businessman, who had developed significant business interests from his relatively humble beginnings. He associated with many of the most influential people of his era, and served in the Victorian Legislative Council for 21 years, including stints as Minister for Works and Health and leader of the Legislative Council. Commencing in real estate, he began the Baillieu family dynasty, several members of which remain prominent figures in public life today. Henry Newman Reid had bought his residential land for
Locksley
, from Baillieu's first subdivision of Malvern, and Baillieu was also the agent for the sale of the
Glaciarium
in 1923.
[145]


From around 1911, when BHP general manager
Guillaume Delprat
, chief engineer Jim Kendall, and metallurgist Leslie Bradford, were deciding that the future of BHP lay in iron and steel and away from Broken Hill, Baillieu and the Melbourne-based Collins House group had entrenched themselves at the northern and southern ends of the lode. They drew the old Broken Hill South Silver Mining Co into their orbit, as well as North Broken Hill Ltd, and with new processes and new ore discoveries proved that there was more wealth in the famous Hill than had yet been removed from it (see
William Bailieu
). By 1915, the BHP board had approved a steel works in South Australia utilizing the Iron Knob deposit and, that same year, John Goodall & Co were sub-underwriters of the £300,000 debenture issue for the Collins House group (North Broken Hil Ltd) to acquire the BHP smelters nearby at Port Pirie. William Robinson and Baillieu founded Broken Hill Associated Smelters Pty Ltd (BHAS) for the purpose.
[157]
Baillieu was chairman (1915–33) and the works were rejuvenated and production greatly increased under Robinson and Colin Fraser.
Five years later, in September 1920, Goodall's family business, in association with the Commonwealth Bank and a Sydney sharebroker, were underwriters of a £2.5 million share issue, for extensions to the BHP steel plant at Newcastle, NSW.
[157]
It was easily the biggest float so far seen in Australia. A few months earlier, Kendall and Bradford
had both resigned from BHP to establish their own steel syndicate (see
Jim Kendall
). Bradford returned and eventually became CEO. Goodall & Co had also been the financial advisers to the Metropoiltan Gas Company for many years. In 1921, they recommended a £500,000 debenture issue to help navigate the gas company's financial problems, and they had raised amounts of up to £1 million for the company on previous occasions.
[161]
Later known as the Gas and Fuel Corporation, this was the State-owned gas company which purchased Melbourne
Glaciarium
a few years later in 1925 when
Sir John Grice
was chairman. In 1924 John Goodall, Henry Newman Reid Jr and his brother Leslie in Sydney, floated a public company with a capital of £15,000. They were the first directors of Galvanised Products Ltd at Glebe in Sydney, manufacturers of sheet metal products. Leslie Reid was Managing Director until his death.
[395]
In 1925, Goodall was among the amateur crew of Harry Howard-Smith's cruiser-yacht,
Bona
, of the
Royal Yacht Club of Victoria
(RYCV) at Williamstown, which left Port Phillip Bay for Sydney in April, 1925. Sailed by Captain J R Ditreitch on this occasion, they were pleasure cruising not racing, which was just as well, because they were becalmed.
They waited for wind at Eden, on the NSW central coast, although the yacht could run under it's benzine-driven Daimler engines for two days. Also among the amateur crew were Elwood Huon, Harold Hoyne, Arthur Peck, Garnet Soilleux, and two paid hands.
Harry Howard-Smith
was the chairman of directors of Melbourne Ice Skating & Refrigerating Co, which had managed Melbourne
Glaciarium
until it was sold in 1923.
[193]
IHV life member Harold Hoyne played for
Essendon
ice hockey club and Victoria, a joint-recipient of the 1931 Molony Cup, awarded annually to the best and fairest player of the Victorian ice hockey league.
[217]
Queen Street architect and yachtsman, Arthur Peck (1855–1945), lived at Hawthorn, but he was a parishioner at St Mary's Church of England in Caulfied for more than half a century. His son of the same name was reverend of St Johns Church of England in Toorak, and his daughter, Marjory, was Victorian women's skating champion in 1930.
[165, 214]
The elder Peck had crewed on the original RYCV gaff-ketch
Hurrica,
and he owned the 10-ton yacht
Maysie
for 33 years, one of the best-known craft in Port Phillip Bay. He had held every office in the RYCV; he was commodore of the Davey's Bay Yacht Club at Frankston; and he had founded the Port Phillip Yacht Club (now Sandringham YC). He also learned to fly, qualifying for his air pilot certificate at the age of 80.
[193]
Still to this day, a number of RYCV yacht racing events are named in honour of Elwood Huon, whose family were the French branch of the Doughartys, to which John Goodall's mother, Ada, belonged.
Garnet B Soilleux (1860–1935) was the father of architect Garnet Argyle Soilleux (1900–1959) who was born in Hawthorn in Melbourne where Peck lived.
[296]
Garnet the younger formed a partnership with H Vivian Taylor at 499 Little Collins Street in Melbourne specialising in cinema and auditoria design. The practice was known as Taylor Soilleux & Overend when Best Overend (1909–1977) joined after returning from London in 1933. Overend, who studied architecture at Swinburne Technical College and the University of Melbourne Design Atelier, is credited with introducing modernism to Australian architecture. Noteworthy among their many cinemas were the Windsor Theatre in Albert Street, Windsor (1936); the Padua Theatre in Brunswick (1937); Hoyts Park Theatre (1939) in Albert Park; and Rivoli Cinemas (1968) in East Hawthorn. However, although historians invariably overlook it, Soilleux's most notable achievement was his appointment between 1947 and 1952 to the eleven-member board of design consultants for the
United Nations Headquarters
in New York. The board included
Le Corbusier
(France), a pioneer of Modern architecture;
Oscar Niemeyer
(Brazil), another of the most important names in international modern architecture;
Sven Markelius
, one of the most important modernist Swedish architects who played a key role in the post-war urban planning of Stockholm; and
Ernest Cormier
, who spent much of his career in the Montréal area, erecting notable examples of Art Deco architecture including the
Université de Montréal
.
While contemporaries owned, raced or punted on horses, Goodall cruised and probably raced yachts with RYCV, but he was also a well-known member of the
Royal Automobile Club of Victoria
(RACV) and he raced cars. He owned a rare 1923
Aston Martin
Sports in the mid-1920s when he was in his thirties. Aston Martin's international racing debut was in 1923, when two cars competed in the French Grand Prix, rapidly establishing the marque's racing credentials. Later that year, the team went on to break ten world records at the
Brooklands
motor racing circuit, the world's first purpose-built motorsport venue in England. Goodall began racing the next year and four years later, on March 31st, 1928, he entered his 1923 Aston Martin-Anzani in the 100 Miles Road Race at Phillip Island. This event is now regarded as the inaugural
Australian Grand Prix
.
[120]
Goodall's driver was his cousin and yachting partner, Elwood Huon (wrongly recorded as 'E Houn' in Grand Prix records). Huon and Goodall, along with three other cars, did not finish the race. Goodall himself drove the car in the
Second
and
Third
Australian Grand Prix on March 18th, 1929 and March 24th, 1930, respectively. He completed only five of thirty-one laps in 1929, but he was placed sixth from eighteen starters in 1930, in a time of 3h 47m 30s.
[121]
These events were organised by the Victorian (Australian) Light Car Club, and Goodall's car competed in a wide range of other events including the Aspendale Park races in Victoria in April 1924, and the annual RACV Hill Climb at Terry's Hill in Belgrave in Victoria, in the years 1924 and 1926. Goodall's cousin, Phyllis Clegg, who was married to Simon Fraser Jr, raced it in the women's Hill Climb event in September 1924, while Goodall raced it in the Owner-driver and Open events. A few weeks earlier in August, the VIHA had entertained the New South Wales men's and women's ice hockey teams with a trip by car to Ferntree Gully, where these events were held. The (R)ACV hill climb was first conducted at Heidelberg in June, 1904, and it held the first motor race meeting in Australia on a special banked motor racing track at Aspendale on January 29th, 1906. The Club had organised the first 1000 Miles Alpine Rally (Reliability Trial) in November 1921, and their first cabaret ball at St Kilda Town Hall in 1925. The Aston Martin remained in the Goodall family for over fifty years.
John Goodall's cultural heritage was English, Scottish and Irish. His father, Charles, was born in Ballarat to English parents and became a physician. He died in 1899 when he was 35 years-old, and John was still a boy. Goodall's mother, Ada Jessie Dougharty (~1867–1925), was the daughter of stock and station agent
John George Dougharty
(1823–89) and Matilda Louise Brown (1830–1915). Matilda was born in Dublin, Ireland, arrived in Australia at the age of 7, and resided at Elwood for over 60 years.
[184]
Her husband, John Dougharty, was born at Hamilton, Clydesdale, Scotland, the son of a Scottish lawyer, and he arrived in Sydney in 1839, as assistant surgeon on an emigrant ship. He moved to Melbourne in 1842, just seven years after it was founded, to manage station properties, and then went to the California gold rush and returned, like Goodall's grandfather. He married Matilda in Melbourne in 1855; began the horse bazaar and auctioneering business of Dougharty & Company in the 1850s; then became an auctioneer for Kaye & Butchart (later Butchart & Dougharty), and a junior partner c.1861. He was later sole owner, until he took his son and Mr Parker into partnership c.1873. Described in a story by
Lewis Luxton
on veterans of the Old Newmarket Saleyards as,
"Suave and smooth, a polished old Irish gentleman, Mr John George Dougharty, was said to have kissed the "Blarney Stone" more than once. He had a silver tongue, and he was noted as the best blood horse auctioneer of those days".
[185]
John Dougharty was also a MLC (1880–88) in the Victorian parliament between 1880 and 1888.
[183]
In August 1871, Dougharty purchased Elwood House at 28, 30 and 30A Vautier Street in Elwood, from Frederick George Docker for £800. Originally built as two terraced houses for investment in 1854–55, Elwood House is the third earliest terrace surviving in Melbourne. From 1874, Dougharty combined the two terraces into one large, 20-roomed house. He added a single-storey wing on the south side, various outbuildings, and the canted bay window to the front of no 30. The 1906 MMBW plan shows a cellar to no 30A, hedges, a summerhouse and conservatory. In 1917–18, the Dougharty family and its purportedly aristocratic French branch, the Huons, converted Elwood house into five flats. In 1923, it was sold to James Griffith of Brighton.
[182]
The Huons of Elwood were descendants of Wodonga pioneer
Gabriel Louis Marie Huon de Kerilleau
(1769–1828), who were related to explorer
Hamilton Hume
(1797–1873), discoverer of the Murray River, and to the well-known pioneering family of John Francis Huon Mitchell of
Ravenshoe
, Ravensworth, and the Riverina, where the Fraser and
Armytage
families had built their wealth. Hume was also well-known to John Batman (1801–1839), the pioneer of Melbourne. Ada died on August 16th, 1925 at St Kilda, the year before John married Kathleen. She left a Will and she was interred with her husband, Charles, at St Kilda Cemetery.
[115]
Early left fatherless, Goodall followed in the footsteps of his grandfather, who was no doubt a guiding paternal influence until he died in 1915, when Goodall was 22 years-old. His grandfather was also interred at St Kilda Cemetery and his Victorian estate, excluding other assets in NSW and South Australia, was valued for probate after duty at £205,498; a purchasing power in excess of $20 million in today's money, and much more taking account of all the assets. The beneficiaries were his daughter, Mary Ann Ellen Clegg (Goodall) (1865– ) who was, of course, already wealthy, and his grandchildren, including John.
[160]
Mary was a well-known Melbourne socialite of Tintern Avenue in Toorak. Among her guest list for a luncheon party at the Menzies when her daughter briefly visited from England were Lady Argyle, wife of Victorian Premier
Sir Stanley Seymour Argyle
,
Richard Gavin Gardiner Casey
(Baron Casey),
Arthur Ferdinand Yencken
,
Kenneth Mansfield Niall
,
Edward Norton Grimwade
, and
Sir Geoffrey Syme
. She auctioned
Stradbrook
and its contents that year and it was converted to flats soon after. Among the auctions were "The Goodall Collection", her father's collected oils and watercolours, which included works by
Old Masters
, and dozens of famed British and American artists and designers. There was a Bechstein grand piano and a combined Ronisch piano and player. Among the furnishings were Chesterfield lounges; genuine silk Turkey and persian carpets; Louis XV, Sheraton and Flemish furniture and antiques; Art china, Sheffield plates, brassware and bronzes.
Mary had three daughters, all born at St Kilda, one of whom married Simon Fraser Jr, uncle of future Prime Minister Malcolm Fraser, and another who married Harold Hall, then moved to London.
[231]
It was Harold who had later sent John the Aston Martin;
[162]
Simon whose funeral John attended in 1919; and Simon's wife, Phyllis, who became the third NISA Ladies Skating Champion of Australia in 1913
[377]
; drove Goodall's Aston Martin in the Hill Climb at Belgrave in 1924; and danced on ice with Hilda Grice and others in the butterfly ballet by
Enders and Cambridge
.
[203]
The third daughter married Edward Druce Yencken,
[231]
brother of Melbourne Grammarian and merchant,
Edward Lowenstern Yencken
, who was known as the "father" of the hardware trade in Melbourne by 1903.
And so it was, that John Edwin Goodall personally inherited a share of this considerable wealth when he was 23 years-old. He and Kathleen had children including a son named John, who had a son named John. The Goodall family maintained their old Melbourne family ties. Jack attended the garden party in the Botanic Gardens for their grandson's third birthday on April 24 1946 with other young families such as Robin and Angela children of Gordon
Tait
, Jennifer and Virginia
Ham
, and Jennie
Winter-irving
. He was a 53 year-old great grandfather and reportedly exhausted! He died at Brighton in Victoria, about April 19th, 1960 when he was 67 years-old. He was interred at Springvale Botanical Cemetery in Clayton, Victoria, and his wife, Kathleen, was interred with him much later on October 17th, 1999, at the age of 96 (Acacia Rose Tree Garden 1–1–12).
[115]
Although Goodall is best remembered for the now famous Cup, the third oldest National ice hockey trophy in the world, he had been involved with Australian ice sports since they had started, paving the way and becoming president of the Victorian Ice Hockey Assocation, then first president of the Ice Hockey and Speed Skating Council; the first National controlling authority for both ice hockey and speed skating. But the Goodall name went deeper and farther back than that. The contribution this family made to Australian ice sports is yet to be fully explored and understood but, like the Thonemanns, John Goodall & Co were investors and brokers of Reid's rink ventures. Which is largely the reason why Australia's first ice rinks, and their associated cold stores and ice cream manufacturers, were listed on the stock exchange for decades. And probably also the reason why the Playhouse group, led by Molloy and MacGillicuddy, were eventually able to float Glaciarium Ltd in 1931, and buy back the facilities stripped from Victorian ice sports a decade earlier.
Australia's first rinks were not government assisted. Quite the reverse. They were public companies that returned to shareholders a portion of the wealth they created. This was never easy, because they were no gravy train. They were hugely costly to run, even when subsidised by other entertainments and the cold store operations. They demanded a good deal of promotion and business savvy in order to realise a profit year after year. But with the right protocols, promotions and people, people like Leo Molloy in Melbourne and Dunbar Poole in Sydney, they mostly did just that, and more. They had a long tradition of assisting charities and government benevolent institutions. One huge carnival held at Melbourne
Glaciarium
every year, gave all its proceeds to a different public hospital each season, and more to charities such as the Red Cross when in need. Melbourne had done a good deal of its business this way since its very foundation by free traders, there on the banks of the Yarra in 1835. The Sydney rink had done the same from the moment the Reids had arrived there in 1917. Both these first ice arenas endured for a half-century, through fires and ownership changes, and worldwide depressions and wars, and whatever else those most brutal of decades threw at them. But, in the end, Reid's
Glaciaria
were accountable to their shareholders much like any of today's ASX members. They either produced dividends or they were wound-up. So, it is unsurprising that it was John Goodall who donated the first trophy for Australian ice sports. Nor is it surprising that ice hockey in New South Wales had snapped to attention on the eve of its resumption after the Great War, when the Melbourne founders took up residence in Sydney; when BHP chief engineer
Jim Kendall
returned from Canada; when chemical engineer
Doc Murphy
, the great opponent of laziness, first arrived from New York
.
Little wonder then, that it was this grandson of a pioneering veteran of the Melbourne Exchange who, a few years later, became the first president of the first National association of ice sports in Australia, under the watchful eyes of the Reids and Thonemanns. These men controlled extraordinary resources, and they liked to get things done. It was in their blood. Andy Reid was gone, and they had waited long enough.

Newcastle Steel Works expansion float | 1920 | The Elegant Eight [Kathleen] | 1924 | 1944 | Old Melburnians | 1925 | Bona | 1925–6 | Terry's Hill | c1940 | Stradbroke | 2008 |
---
J
OHN GOODALL SNR (1830–1915) — Five Past Midnight

This obituary for John Goodall's grandfather, was published in
The Argus,
on September 8th, 1915:
DEATH OF MR J. GOODALL. Regret will be felt at the announcement ot the death of Mr. John Goodall, which occurred at five minutes past 12 this morning, at his residence, Stradbrook, Grey street, St. Kilda.

Mr Goodall was one of the veterans of the Stock Exchange of Melbourne who could look back over an eventful career of over 80 years. Though he retired from active business some five years ago, his personality became so impressed upon those who move in Stock Exchange circles that his death leaves a blank which it will be difficult to fill. Such is the tribute which his old associates pay to his unusual force of character, for part of the secret of Mr Goodall's success in building up the business conducted by the firm of John Goodall and Co., was his ability to make his clients appreciate his personal worth. In addition to making business associations into lifelong friendships, that trait of Mr Goodall's character was an invaluable asset.

Bom in Draycott, Somersetshire, in 1830, the adventurous spirit developed early in life, and in 1849 Mr Goodall set sail for California. After l8 months in that country, he caught the infection spread by stories of the Australian goldfields, and decided to join the throng of gold seekers. Mr Goodall's voyage from San Francisco, which was described in the "Stock Exchange Journal of Australasia" some years ago, may be classed as one of the most eventful passages of the many which could be described by the early pioneers. Among the incidents which served to relieve the monotony of the trip were shortage of food and water, and the suspension of the skipper. Mr Goodall eventually arrived in Melbourne in October, 1853, and made all haste to the centre of the stirring events associated with the early days of Bendigo. Rushes were then of almost daily occurrence, and Mr Goodall spent some time in the early search for gold. Eventually he settled in Ballarat, and engaged in mining. Later on he assisted in the formation of the Ballarat Exchange. In 1871, he decided to seek the wider sphere offered for his activity in Melbourne, and joining the Stock Exchange in that year, remained one of its most successful and popular members 'til 1906 when he retired, leaving his nephews Messrs S Cooper and R H Cornish, and his son-in-law law, Mr W Hammond Clegg, to carry on the firm.

Mr Goodall's success as an operator was chiefly due to his keen foresight and his pluck in backing his opinion. Among the important operations with which his name is associated are numerous loan flotations, in which he figured as a large underwriter. In a similar capacity, he was identified with the original issue of the Mount Lyell Company, while he was also fortunate in being one of the sharebrokers of the Seven Hills Estate, on which the famous Berry Lead was located. Many other famous mining ventures of the ? days of Ballarat and district were included in his varied interests, among which may be positioned the Band (?) and Albion mines. At one time he was a director of the Ballarat Banking Company and of the Stock Exchange Company Limited, which offices he relinquished some years ago. Throughout his life he was renowned as a generous and open-hearted friend, whose kindly interest had proved a matter of lifelong benefit to many of those with whom he was associated. Of his family of three, one daughter (Mrs W Hammond Clegg) alone survives. Another daughter predeceased her father by many years, as also did his only son, Dr C Goodall and the late Mrs John Goodall.
[155]

Argus original | 1915 | Goodall Collection | 1915 |
WILLIAM LAWRENCE BAILLIEU
MLC
(1859–1936), son of James who started the family fortune at Queenscliff in Victoria, had earlier established the family real estate business. Henry Newman Reid had bought his residential land for
Locksley
, from Baillieu's first subdivision of Malvern, and Baillieu was the agent for the sale of the
Glaciarium
in 1923.
[145]
His son, Lieutenant Tom Latham Baillieu, fought on the Western Front with
Leslie Reid
during the Great War and was awarded the Distinguished Flying Cross in 1919. By the time William was 28 years-old, he had become a noted figure in the Melbourne business world, which knew him henceforth as 'W L'. In 1897, Munro & Baillieu surpassed all others in the volume of business done, selling land worth more than £3 million. However, William was fascinated with mining, and Victorian gold-mining in particular, although he also had interests in mining ventures in Tasmania, New South Wales and Queensland. Yet, it was the silver-lead at Broken Hill to which he had committed himself with a bold vision. His principal associates included the Australian-born London sharebrokers Lionel Robinson and William Clark; Lionel's younger brother
W S Robinson
; Francis Govett, another London stock-broker, with extensive interests in Western Australia; John L Wharton, H J Daly and the American mining engineer,
Herbert Clark Hoover
.
In the early 1900s,
Guillaume Delprat
, the General Manager of Broken Hill Proprietary (BHP), had played an important part in perfecting a technique that brought enormous profits from the metal content of millions of tonnes of formerly useless tailings (
Potter
-Delprat flotation process).
Jim Kendall
's future business partner, the metallurgist Leslie Bradford, was also closely involved with these discoveries. Delprat pushed for the removal of the company's smelters to Port Pirie in South Australia, and for the construction of its Iron Knob railways, in preparation for the exploitation of its ore resources there, believing the Broken Hill mine to be nearly exhausted. In the years that followed, when Delprat, Kendall, and Bradford, were deciding that BHP's future lay in iron and steel and away from Broken Hill, the Melbourne-based Collins House group had entrenched themselves at the northern and southern ends of the lode. They drew the old Broken Hill South Silver Mining Co into their orbit, as well as North Broken Hill Ltd, and with new processes and new ore discoveries proved that there was more wealth in the famous Hill than had yet been removed from it.
In 1905-06, Baillieu joined Clark, Hoover and Govett in founding the Zinc Corporation there (later Rio-Tinto-Zinc Corp Ltd) to exploit another flotation process and it eventually became a great mine-owner, as well as a processor when it acquired the Broken Hill South Blocks in 1911. In 1912, a new company was formed with Baillieu as chairman, to develop flotation processes for other minerals with
A J F de Bavay
, the Belgian chemist of the Foster brewery, who had been introduced to
Baillieu in 1904 by
Montague Cohen
. W S Robinson later wrote that
'no metallurgical development of the last fifty years … added so much to the wealth of the world as the flotation process … The part our group played was mostly due to W L Baillieu, whose belief in the success of flotation never wavered'.
Baillieu was the entrepreneur who made a fortune. During his long life, he enjoyed his almost legendary status as 'Australia's Money King'. In 1953, his son Clive was created Baron Baillieu, of Sefton in Australia and Parkwood in Surrey, the first Australian hereditary peer with sons to succeed him. William Baillieu's estate was valued at almost £500,000 on his death in 1936.
Historical notes:
[1] John Goodall's intials appear as "J E" in The Argus newspaper on August 27th, 1923, linked directly to the name of the Goodall Cup (J E Goodall Cup, source 169); also on September 19th, 1923 (source 146), where he gave skating demonstrations; and occasionally again in later years.
[146, 169]
He was the only Goodall with the initials "J E" on record in Victoria at that time. Although he donated the cup, Goodall did not play in the first Interstate ice hockey series in 1909. It is possible that he was too young to play senior hockey until he turned 18, which would place his birth year about 1892. John Edwin Goodall was born in 1893 and first played in 1910. Like Andy Reid, he played his first game at age seventeen, a year earlier than the usual senior starting age. There is adequate biographical detail here, to demonstrate that John Edwin Goodall was connected to named members of the Victorian ice sports community from its start-up years, and to developments in the Newcastle steel industry with which Jim Kendall was closely associated. Goodall's wife, Kathleen, was also connected to the theatre world in which Robert Jackson, Victoria's first State ice hockey captain, was also active at the time. Goodall's birth day in 1893 will be available from his birth certificate, held by the Victorian registry.

[2] John Goodall's home Risdon was formerly the home of his aunt Carol Margt Alice Doon Goodall (1869–1899) and her husband Adolphus Alexander Topp, whose son Desmond lived there in 1916.
[160]
Carol died when she was only 30 years-old, and John was just 6 years-old. Adolphus was the son of Johann Friedric Topp and Maria Dorothea Sandmann nee Schultz, of Kalkallo and Woolert in Victoria.
This family was possibly related to educationist and civil servant Charles Alfred Topp (1847–1932),
journalist Arthur Maning Topp (1844–1916), and barrister Samuel St John Topp (1850–1902), sons of wool-importer and merchant, Samuel Topp. All educated at Melbourne Grammar School and then the University of Melbourne. Kathleen's father, was possibly the Peter J Fanning ( –1905) who built the mansion Balclutha at 17 Como Street in the Melbourne suburb of Alphington in 1888.
[262]
He was properous during the 1850s to 1878, and commenced his stay in the area when he leased part of Hawdon's Banyule Estate in the 1860–70s. He was elected to the Heidelberg Road Board in 1868, the Shire Council in 1871 and to the Shire Presidency in 1877. Balclutha is now classified by the National Trust and Peter Fanning apparently lived there until his death in 1905. He may have remarried to Kathleen's mother.
[261]
[3] Linda Phillips studied piano at the University of Melbourne with Edward Goll and composition with Fritz Hart at the Albert Street Conservatorium. From 1950-77 she was music critic for the Sun-News Pictorial newspaper in Melbourne, and adjudicator for the Sun Aria (linked with the South Street Eisteddfod, Ballarat) from 1950-78. She has presented many recitals for the ABC and spent many years as a music teacher. Phillips has written chamber music and songs, a number of which have been published and recorded, and she was awarded an OBE in 1975.

[4] The extradordinary history of musical theatre in Australia and New Zealand around the turn of last century can be viewed in brief at Mel Moratti's Gilbert & Sullivan website. Reviews are quoted and pockets of news are liberally spread throughout these pages. A more comprehensive history and database can be found at Lean Richard's History of Australian Theatre.

[5] Major Harold Wesley Hall, who had married one of Goodall's aunts, was an Australian philanthropist who later lived in England. He largely financed five expeditions to Australia that were launched by the British Museum (Natural History). The expeditions took place between 1962 and 1968, usually during the Australian winter, and visited all mainland States and the Northern Territory. Special attention was paid to remote areas including south-western Queensland, the Kimberleys and Arnhem Land. Cape York was not visited, despite plans to do so, because of reports of impassable roads. The aim was to make representative collections of Australian birds for study in the British Museum. This aroused some opposition from Australians, from the standpoints of conservation and nationalism, however, the expeditions worked closely with Australian ornithologists. Reference : "Birds of the Harold Hall Australian Expeditions 1962–70" edited by B P Hall, 1974.

[6] The 1920s saw a big increase in Australian motor activities, probably encouraged by the numerous intercity speed record attempts. Two ambitious commercial concrete saucer-shaped tracks were opened; one in Maroubra, in Sydney, and the other, the Motor Drome at Olympic Park in Melbourne. The 1920s and 1930s produced a unique era for motor sport which was almost completely amateur. Sponsorship deals seldom extended beyond the supply of petrol, oil and tyres, and most drivers owned or built their own cars. In 1927, a representative of the newly formed Light Car Club of Australia travelled to Phillip Island, off Victoria's Mornington Peninsula 80 miles from Melbourne, to inspect a circuit built by the local council as a draw to visitors. The Club had been searching for a suitable venue on the mainland for high speed motoring competitions without the success. Bill Scott was asked to design the circuit, using existing roads where possible he produced a 10 km rectangular course with a dirt surface and some blue metal stone chips rolled in. It used a high-speed rectangle of local closed-off public roads, with four incidental right hand corners, which was traditional at the time. The course length varied from the car course of about 6 miles per lap, to the motorcycle course of about 10 miles. Jack Day, driving a Type 37 Bugatti, took Bill Scott on a flying tour of the new circuit, and Scott named the various sections, such as Needle's Eye, a narrow cutting where overtaking was not possible; the Bridge of Sighs for the start and finish; Hell's Corner; and Heaven's Corner.

[7] References for the Huon branch of the Dougharty family: O'Sullivan, Kerstin. (1975). "So passed a gay and merry gentleman: the life and descendants of Gabriel Marie Louis Huon de Kerrilleau." [thesis manuscript]; Martin, Desmond (c1984) in association with Margaret Carnegie and Douglas Rolfe. "Gabriel and Louisa: an Australian ballad operetta: a somewhat frivolous version of the romantic history of Gabriel Louis Marie Huon de Keriliau and his wife Louisa, during the foundation years of Australia, 1788 to 1892". [NSW]
[8] In 1921 Francis William (Frank) Thring (1882 – 1936), the father of actor Frank Thring, leased the King's Theatre building a few doors from the Sydney Glaciarium (1921 Dension Ward Property Rates Assessment, City of Sydney). He began his Melbourne theatrical career a decade earlier as a projectionist at Kreitmayer's Waxworks. He opened the Paramount Theatre in 1915 and in 1918 became managing director of J C Williamson Films Ltd. After this company merged in 1926 with Hoyts Pty Ltd to form Hoyts Theatres Ltd, Thring became its managing director. Back in Melbourne a decade later, his Efftee Film Productions studio moved to Wattle Path Dance Palais, St Kilda, the building that became St Moritz Ice Rink in 1938, two years after his death. Among the Efftee Entertainers were Ada Reeve, whose daughter "Goodie" married Reg MacGillicuddy, and well known soprano Kathleen Goodall, wife of John Goodall, who donated the Gower Cup for women's ice hockey in 1922. Kathleen sings three songs at the piano in the Efftee Studio film His Royal Highness (1932), directed by Thring. The full movie can be downloaded here: Internet Archive
---
John Grant GORDON
(1894 - 1989)
THE SON OF JOHN GRANT GORDON and Jemima Porter, born in 1894 at Carlton, in Melbourne's inner city. J G Gordon Sr (1858–1951) was the son of George Gordon and Annie Grant, and he died at the age of 93 in South Melbourne. [107, 108] Jack Gordon was a businessman, skater and professional instructor at Melbourne's Academy of Skating, but perhaps his greatest contribution to Australian ice sports was his partnership with Ted Molony. They owned, leased and operated numerous rink enterprises in Melbourne, Sydney, Adelaide and Hobart over three or four decades.

Gordon was Victorian Men's figure skating champion in 1923, and probably earlier. [146] He won the last of the "Independent" Australian Men's Figure Skating Championships in 1930, [165] and the first three official men's titles, judged by the new council of the NISAA, between 1931 and 1933. He was Australian champion for many consecutive years until defeated by fellow Victorian, Frank Mercovich, in 1934. Gordon was runner-up followed by Sidney Croll and John Brown, brother of Jimmy Brown. In 1938, the year the National Dance title was won by Ted Molony, Gordon won the national pairs title with Betty Cornwell, Australia's first triple Ladies Champion from 1936 to 1938. Cornwall was just 14 years-old in 1936 and 16 when she won the triple championship, maintaining the precedent set abroad by Sonja Henie, Megan Taylor and Celia Colledge who became champions in their early teens. The couple usually competed against fellow Victorians, Ron Chambers and Edith Adams (1917–2006), who were the 1937 pairs champions of Australia over Gordon and Cornwall in second place.

A celebrated skating instructor in his own right, Gordon also employed many world-class instructors at the Academy of Skating in Melbourne, including Felix Kaspar; Dawn Hunter; Claude Langley, New York ice dancer, Lena Uksila; Swiss champion, Henry Witte; British professional champion, Daphne Walker; 3-time world's professional champion Joyce Macbeth; English champion Hope Braine; American skater Nate Walley; world champion and olympian Megan Taylor; Hall-of-Famer Howard Nicholson; and Canadian olympians, John and Betty McKilligan. His approach helped to create Melbourne's reputation as the centre for excellence in ice skating in the southern hemisphere, until the eventual demise of their Academy sometime before 1981 when the St Moritz rink in St Kilda closed. Gordon was the top skating instructor there and coach of Australian International, Nita Solomon, but he had also trained and tested a long line of Australian and New Zealand figure skating champions over several decades.

Jack Gordon was was an NISAA council member and judge in 1931 when the rival state associations finally found a way to cooperate, a major rink developer with Ted Molony, and one of Australia's pioneering professional skaters and instructors. John Grant Gordon died at the age of 94 on April 22nd, 1989 in Melbourne. He was cremated at the Springvale Botanical Cemetery in Clayton, Victoria. [108]

---
Edward James MOLONY
(1900 - 1975)
SPORTS BIOGRAPHY IN HOCKEY CHAMPIONS. THE MOLONY FAMILY was dominant for many years in the skating world. Like Jack Kennedy in Sydney, Molony was a boot-maker who established a flourishing business at 110-112 King Street, Melbourne, supplying equipment for ice skaters, winter sports in general and made-to-measure skating boots. It is possible his family also operated the famous Molony's ski hire outlets in the Victorian snowfields at such places as Mt Buller, Falls Creek and Dinner Plain. Molony played hockey with Gordon Langridge, founder of the Ski Club of Victoria. Molony and Gordon were very actively involved in the ice rink business over many years. They eventually took over Melbourne Glaciarium; they opened the West End Bootshop and a rink in Hobart in 1953, probably the first in Tasmania, then an indoor rink at Glenorchy with Charlie Keeble as manager. Both rinks were short lived, although another later opened at Glenorchy and still operates today. In 1959, they opened a studio-sized rink in Adelaide also named St Moritz, and located upstairs in Hindley Street, the same street in which Australia's first ice rink was built by Henry Reid's syndicate in 1904. In 1958, they were the first lessees of the Prince Alfred Park outdoor rink in Sydney managed by John Caruana, which they retained until 1964, and again in 1967-8. Glaciarium Ltd was delisted from the Australian Stock Exchange on 24th February, 1960 due to liquidation, but the rink had closed earlier in 1957 and the partnership took over management of the Saint Moritz Ice Skating Palais from Harry Kleiner which operated until 1981.

---
Kenneth George KENNEDY
(1913 – 1985)
SPORTS BIOGRAPHY IN HOCKEY CHAMPIONS. KEN KENNEDY WAS BORN September 6th, 1913 at Sydney, NSW; son of Jack 'Pop' Kennedy (bef 1895–aft 1949), vice-president of the NSW Ice Hockey Association. Jack Kennedy was a surgical boot maker who, like Ted Molony in Melbourne, made figure skating boots at his premises at 520 Kent Street, Sydney. He lodged an application in Canberra for registration of an ice hockey boot design in 1930. [62] Kennedy was a speed skater and ice hockey player with one of the highest profiles ever in Australian winter sports.

In 1950, the Victorian Ice Hockey Association was admitted to the Olympic Federation and long-range plans were discussed regarding the possibility of a touring Australian team. Kennedy was the first president of the Australian Ice Hockey Federation from 1952 until 1964, and its delegate to the Australian Olympic Federation, where he argued that overseas trips would be needed for Australia to reach world standard. He was succeeded by John Purcell, from 1976 until 1980, defenseman for Australia in the 1962 ice hockey World Championships and IHV Life Member; Phillip Raleigh Ginsberg OAM (1923–98) from 1981 until his death in 1998; and now Don Rurak.

His post-Olympic contribution to speed skating and ice hockey was life-long. In the 1980s, he still skated and owned an ice skating equipment shop near the former Glaciarium and Central Railway Station. He ran this family business into his seventies, serving the personal skate requirements of many Australian skaters. During his term of office as president of both the NSW and Australian Ice Hockey Federations, Australia sent its first ice hockey team to the 1960 Winter Olympics, and to the World Ice Hockey Championships in 1962. Kennedy was made a life Member of the NSW Ice Hockey Association in 1954 and the National Association in 1964. He died at age 72 on August 20th, 1985. He was the first inductee to the Australian Ice Racing (AIR) Roll of Honour and inducted as an athlete to the Sport Australia Hall of Fame on December 9th, 1986 for speed skating. To date, no ice hockey athletes have been inducted.

---
Felix KASPAR
(1915 - 2003)
BORN JANUARY 14TH, 1915 in Vienna, Austria, Kaspar was a 5-foot-4 figure skater, twice World champion, and 1936 Olympic bronze medalist. He began figure skating at the age of 9, training on the artificial ice rink of Austrian Eduard Engelmann Jr (1864–1944), who was a gold medallist three-times at the European Figure Skating Championships, 1892-4. The rink was built in 1912 in Vienna's Heumarkt district, the largest artificial ice rink in Europe at the time. It was further developed in later years and by 1932 it covered 3,000 square meters. Kaspar was famous for his high jumps and became an audience favorite when he appeared in exhibitions in the United States and Canada in 1937. Maribel Vinson, writing in The New York Times that year, said his jumps measured as much as 4 1/2-feet high and 19-feet long. After an appearance in Toronto, The Canadian Press reported, "On his jumps, Kaspar gained an altitude rarely equaled in Canada and bolstered his reputation as the greatest jumper who ever wore skates".

He won the world and European championships in 1937 and 1938 and the Austrian championships from 1936 through 1938. In 1938, US Time Magazine wrote, "Little Felix Kaspar won the world's championship in 1937, succeeding his fellow Viennese Karl Schaefer, who had held the title seven years running. Something of a blade, Kaspar often wears trousers rather than tights, always wears a grin on his dimpled pink face ... in last week's Carnival, for which his billings were changed (for diplomatic reasons) from "Champion of Austria" to "Champion of Vienna," he went through a routine of spurts, leaps, loops and spread-eagles that left his audience as pink as he with excitement." Kaspar won the bronze medal in the 1936 Winter Olympics in Garmisch-Partenkirchen, Germany and was considered an early favorite for the men's figure skating gold medal in 1940. He was on tour in Australia when Germany invaded Austria on March 12th, 1938 (the Anschluss), putting an end to his hopes. The war wiped out the 1940 Winter Olympics and he was interned in Australia as an enemy alien for the duration. He turned to coaching at Melbourne Glaciarium and met and married June, his wife of 54 years.

Kaspar's internment occurred on the eve of the establishment of the second world-class ice rinks in both Melbourne and Sydney and, although it is generally thought that he taught at Melbourne's Academy of Ice Skating for the duration of the war, he remained as a figure skating coach in Australia for many years, and he also taught at Sydney Glaciarium. He never competed again internationally but his contribution to Australian ice sports was highly significant. Among the many Australian skaters he coached were Mireylees Reid, Nancy Burley, Pat Gregory, Lois Thomson and Reg Park. In 1956 in Melbourne, the year after Austria finally regained full sovereignty, and the year Melbourne hosted the summer Olympics, Kaspar coached New Zealander Lynn Withey to Silver Medal, then Gold Wings standard, between March and May. She was New Zealand Senior Ladies Champion in 1954 and 1955, and she became National Pairs champion in 1957 with John Dowling. Whithey was the first New Zealander to pass the elite Gold Wings Test at the Melbourne Academy. [96] ISU-standard skating proficiency tests were not introduced to New Zealand until 1952, and most of their top skaters and National champions spent months in Melbourne during the forties and fifties, at both the Glaciarium and St Moritz, coached by Kaspar and other world-class Melbourne instructors, such as Jack Gordon, Dawn Hunter and Canadian Olympian, John McKilligan. Hunter was three times Australian Women's Champion between 1953-55, and a competitor in the 1955 World Championships (12th /21).

Kaspar probably coached Australia champion Lois Thomson at the 1958 World Championships. He had lived in Australia for twenty years, which was most of his life. He had married an Australian girl and raised his family there, but he left that year to take up the position of professional instructor at Hershey Figure Skating School in Hershey, Pennsylvania, USA, [456] with Thomson as his professional assistant. She gave exhibitions with Kaspar and skated in the Hershey Carnival directed by Kaspar, one of the few remaining big amateur ice shows staged in the nation with 275 performers. [459] Kaspar remained at the Hershey club until 1965, then moved with his family to Minneapolis, Minnesota working at the figure skating center in Golden Valley in the Twin Cities, where he trained a number of champion figure skaters and became renowned for his coaching. His pupils included Olympic skater Tommy Litz, who won the United States men's championship in 1963 and was the runner-up in 1964; and Emi Watanabe (1958– ), a Filipino-born Japanese women's champion in the 1970s.

In 1977, he moved with his family to Pasadena, California where he again worked as a figure skating coach. He later appeared in ice shows in the Netherlands and Germany. He retired from coaching in 1989 at the age of 74, and moved to Florida. He still played golf and tennis until 1998, the year of his last real public appearance, the year he was inducted into the World Figure Skating Hall of Fame. Kaspar suffered from Alzheimer's disease and died at the age of 88 on December 5th, 2003 in Bradenton, Florida, US. He was survived by his wife June and daughter Cherie, of Boston.

---
Hope BRAINE
(1915 - 1943)
BORN 30 JANUARY 1915 in London England to parents Major Horace Braine and his wife Evelyn. [538] He started skating for a hobby while he was still at school and achieved the gold medal standard of the National Skating Association (NISA). He completed a motor engineer's degree, but was offered a position as instructor at the Queen's Ice Club, Bayswater, London, in 1932. [536] He taught there in the European Winters, and traveled to Australia each summer from 1936. He said he hoped to settle down there as a farmer permanently. [533] He first exhibited and instructed in Australia at Sydney Glaciarium that year, with Swedish skating partner Friedi Meerkamper of Davos, Switzerland. They also performed solos in the La Fiesta ice carnival at the Glaciarium with Rona and Cliff Thaell, Sidney Croll, John Brown, and Mirey Reid. It was a gay and colourful event inspired by the annual sports day and revelry customary to the Spanish-American countries, and portrayed in traditional costumes outside a Spanish-American church. Ballets of swaying senoritas and the appearance of Indians and cowboys added to the bizarre effect. [533]

Braine is the 1936 and 1937 World's Professional Champion, the first British champion since championships officially commenced in 1931, and runner-up in 1935. He and Meerkamper were the 1934 and 1935 world's professional pairs runners-up to Enders and Cambridge. He said his first pro charnpionship was the first competition he had entered because he was too nervous while still an amateur; he got over it after several professional exhibitions. Friedi Meerkamper was also a NISA gold medalist who taught skating in England, Vienna and Budapest and specialised in the very fast Killian ice dance. The open professional championship for show skaters dates back to at least the 1930s, and was initially held in England under the auspices of the NISA. It was organized by the Imperial Professional Skaters Association (now BITA) and sponsored by the International Professional Skaters Union when it moved to Jaca, Spain in the early-1970s.

In 1937, Braine was the leading skater in Tom Arnold's Switzerland Musical Extravaganza on Ice, at the London Coliseum, the Alhambra Theatre Glasgow, Liverpool Empire Theatre and the rest of Arnold's British circuit. Australians Enders and Cambridge were also in the cast. Braine relinquished the lead role in Switzerland when it toured South Africa, Australia and New Zealand to perform at the Ice Palais in Sydney, Australia. [539] He succeeded Clarrie Hislop there as Chief Instructor in 1939 and coached skaters such as Australian pairs champion Cubby Lyons and Sidney Croll's partner Kath Kennedy, 3-time Australian dance champion. He was a favourite instructor with Sydney skaters, especially because his exhibitions included stilt skating and daring jumps over tables of diners. Braine's trick skating was filmed at the newly opened Ice Palais in the early-1940s. Nicknamed "Imp of the Ice" in the newsreel footage for Pathé News at the link below, he skates on stilts, then dances and jumps over tables and through a paper hoop.

On 9 October 1939, a month after Australia declared war on Germany, he married Sylvia Law at St John's Darlinghurst while she was in Sydney performing in J C Williamson's touring production of Switzerland. World champion and olympian Megan Taylor and her father, Phil, a speed skater and world-class trick skater, were the new stars. Braine was 24 years-old and he had first met Sylvia, who was from Cape Town, when he was the principal skater of the London production and she was in the cast. The newlyweds left for Canada a month or two later on what was probably a short honeymoon — Braine starred in Cracked Ice Follies at Winnipeg in February 1940. [534] They returned to Sydney in April where Hope was again Chief Instructor at the Ice Palais. Sylvia and he staged the Empire Ice Carnival there that year in aid of the Red Cross Society's war effort, and Braine also visited Somers Air Force base in Victoria.

Hope Braine skated on four continents but he had made a significant contribution to the development of Australian skating over five consecutive seasons by the time he enlisted in the Royal Australian Air Force on 4 January 1941, still only 26 years-old. War got in the way of his plans to permanently reside there and do more. He was a Flying Officer serving with 221 Squadron of Britain's Royal Air Force (RAF) when he was killed in action in a flying battle off Sardinia on 7 February 1943, age 28. [538] He is commemorated at panel 119 at the Australian War Memorial; on Panel 11, Column 1 of the Malta Memorial, Valetta, Malta; and St Margarets-at-Cliffe War Memorial in Kent, England.


Gallery | 1936 | 1937 | 1940 | 2 | 3 | 4 | 1943 |

[1] Imp of the Ice, Ice Palais, Sydney, rel 26 Nov 1942 [2] Megan Taylor, Melbourne, rel 3 Aug 1939.
---
Henry Hans KLEINER
(1887 - 1959)
BORN AT MELBOURNE IN 1887, the youngest of three sons of Chapel Street merchandiser Gottlieb Ferdinand Maximillan Kleiner (1853–1925) and Elisa (Johanna Hetta Elizabeth) Wendelberg (1858-1910). [17] His mother and older sister and brother arrived in Melbourne on the ship Sorrento in March 1882. He sister was Caroline Johann Kleiner (Leischen) (1880 - ) who married John Patrick Leahy (1874 - ), and his brothers were Gustav and Julius Leachen (1878 - ) who married Lena O'Brien. Kleiner's father was a German national who lived at 71 Richmond Terrace, Richmond in Melbourne's inner city, nearby the family of Robert Jackson. He owned the Direct Import Supply Stores at Swanston Street, and at Bourke street next to the Tivoli Theatre in the city. Harry operated a business at Wangaratta in 1917 [17] and, in 1918, he operated the Crystal Palace Amusement Parlour in Rundle Street, Adelaide; the street in which Reid's first ice rink had opened in 1904. It was named the same as the Cyrstal Palace Roller Skating Rink at Richmond in Melbourne, which had been established sometime before 1914 (see Robert Jackson). Kleiner took over the Direct Import stores on his father's death in 1925, and there he sold and auctioned price-discounted goods such as clothing, drapery, crockery, jewelry, trinkets and confectionary. [125] He lived at St Kilda Street in Brighton, Victoria, and he was also a showman, racehorse owner and an entertainment and sports promoter.

In 1928, Kleiner promoted buck jumping and vaudeville acts at the Exhibition Oval in Melbourne, and dancing at the Palais Royal dance hall in the Exhibition Buildings. In 1930, he purchased the racehorses The Wensum from A G Barlow, and Mystic Peak from C G Brown. Mystic Peak, carrying 64.5 kg, placed second to Phar Lap in the 1930–1 VATC Futurity Stakes at Caulfield Racecourse in Melbourne, when Phar Lap claimed the title of Australia's greatest stakes winner. The next year, Mystic Peak won the 1931 Australia Stakes at Moonee Valley Racecourse in Melbourne. It is likely that Kleiner and his Sydney counterpart, Jimmy Bendrodt, were well-known to each other for some time, if only because their business interests were almost identical.

Over the years, Kleiner's business activities had landed him in the courts and inquests for various reasons, including receiving stolen cases of tobacco in Adelaide, for which he was found not guilty (1917); the death of an employee in a shooting accident in Adelaide (1918); a dispute over the name of his Direct Import Supply Store (1925); an illegal lottery associated with his dance hall tickets in Melbourne, for which he was fined £10 (1928); alleged slander (1931); and even the suicide of his first wife at their home in St Kilda Street in Brighton (1932). Kleiner was cleared of wrong-doing in all but the most minor of these troubles, but it is also true, that some of his domestic and business dealings had received legal attention on more than the odd occasion and his business dealings were less than scrupulous. It was also in 1932 that Kleiner opened the Streets of Paris dance salon in the building at The Esplanade, St Kilda, that until then had been the Wattle Path Palais de Danse and Café for a decade since it opened in 1922. Film producer Francis William Thring Sr had bought the building designed by architects Beaver & Arthur Purnell. In late-1933 he transformed the building to accommodate his Efftee Film Productions studio, one of the largest in Australia. Despite all this, or perhaps because of it, this rather ordinary building was yet to become the St Kilda icon still fondly remembered by many. [392]

Kleiner claimed to have been a manager of a dance hall similar to his Streets of Paris at the Chicago World Fair in 1934. The Midway exhibit at the Fair was filled with nightclubs such as the Old Morocco, where future stars Judy Garland, The Cook Family Singers, and The Andrews Sisters performed. Charlie and Vida Uksila also performed at this Fair. They were professional instructors at the St Moritz Ice Skating Club of San Francisco, and they had taught and exhibited in both Melbourne and Sydney in 1920 and 1923. In May that year Kleiner applied to register the copyright of a literary work entitled, "The Hollywood Personality Register" [17] and then resurrected his Streets of Paris dance hall on the original site in December 1935 when Thring moved his activities to Sydney. It was soon to become St Moritz, St Kilda, and its namesake was probably the St Moritz ISC of San Francisco, founded in 1931 and still operating today.

Charles Miner Goodall, an uncle of John Goodall, had lived at 514 Cherokee Avenue in Los Angeles from the 1920s, located in the area now known as the Yucca Corridor lying along the north side of the busiest part of Hollywood Boulevard. Their 3,693 square foot house was built in 1925, with eight bedrooms and five bathrooms, and the 2007 property rates alone were about $10,000 per annum. [316] Tommy Dunderdale coached ice hockey in Los Angeles, possibly the PCHL's Los Angeles Monarchs of the 1930s, and Charles Uksila performed at the opening of the Palais de Glace in 1925, the first ice rink in California, on the corner of Melrose and Vermont Avenues in this now famous neighbourhood. It was there in 1927 that Al Jolson made The Jazz Singer, which audiences loved, and Warner Brothers received a special award for producing the first talking picture. The Goodall name was probably also listed among the foundation investors and party invitations of the Palais de Glace, with the likes of American oil tycoon Edward L Doheny, and Hancock Banning, the son of Phineas Banning, who was known as "the Father of the Port of Los Angeles". The American, James Dixon Williams, and the Phillips brothers from Seattle — Herman, Leon and Harold — had earlier established many Australian entertainment venues, including the Palais de Danse at St Kilda. Williams had personally directed the establishment of Melbourne's Luna Park on the St Kilda foreshore in 1912, before returning to the USA in 1913, where he founded First National Films which later became Warner Brothers (see Robert Jackson). The Phillips brothers ran the park until their deaths in the 1950s.

In late-1938, Kleiner commissioned architects Cowper, Murphy & Appleford to redesign his Streets of Paris building as an ice rink with Sinton & Bell Engineers. St Moritz Ice Skating Rink was built inside the original 1922 Wattle Path building when Kleiner was in his early fifties. The original building had been designed in 1922 by Beaver and Purnell, the architectural practice of ice sports patron, Isidore Beaver. Its owner Frank Thring Sr had died in 1936 and Kleiner held a 15-year lease over the property. His plan included hiring six overseas skating instructors. St Moritz opened in March 1939, the year after Bendrodt's Ice Skating Palais opened at the showgrounds in Moore Park, Sydney. They were the second ice rinks to be developed in their respective States after Reid's Glaciaria. Both developers aggressively marketed their rinks from the late 1930s, importing professional British and Canadian coaches and players, to develop and promote local ice sports talent, as the Reids had done during the foundation years. Bendrodt and Kleiner re-created a prosperous marketplace for new rinks, some 30 years or so after ice sports were first introduced to Australia.

The St Moritz facade was fancy architectural Orientalism, and inside the ceiling was painted dark blue with the moon and aeroplanes hanging down. Lights twinkled like the stars on the opening night beneath which 2,000 skaters danced or promended the rink to the music of the Harry Jacobs Band. Jacobs had married the renowned ballerina Madame Saranova and their 18-year-old daughter, Wendy Lee (Jacobs), was one of the featured skaters and produced regular ice ballet shows for over a decade, including Icecoppelia in 1948. Like Anna Pavlova, Madame Saranova was a pupil of Enrico Cecchetti. She headed a faculty from 1939 at the National Theatre Ballet School in St Kilda offering the Cecchetti Syllabus. Kathleen Goodall, wife of John Goodall, was among many singers who could thank the National Theatre headed by Gertrude Johnson for their early stage experience.

Kleiner's Sydney counterpart, Jimmy Bendrodt, had a long association with this part of St Kilda (see Robert Jackson). During the 1930s, Bendrodt presented his hugely popular dance bands at Palais de Danse opposite St Moritz, which became a part of the same circuit as his Sydney Palais Royale. St Moritz was one of the great social hubs of St Kilda and Melbourne where it is still fondly remembered by thousands of visitors and residents who arrived on the Esplanade to be greeted by the two glowing neon skating girls flanking the St Moritz sign, two-and-a-half floors above pavement. The rink could accommodate upwards of 2,000 people, with more than 1,850 square metres of ice, and it was enormously popular during the war years.

Kleiner hired Canadian Frank Chase from England to be his rink coach about 1950. Chase had played ice hockey in the British National League between 1930-9 [40] including Wembley Canadians in 1934-5. The prospect of a Junior Interstate Competition was discussed during a Goodall Cup series in Melbourne by Alwyn Smart, manager of St Moritz and president of Pirates IHC, and Syd Tange, Secretary of the NSW Association. The controlling bodies approved and NSW played Victoria during the Goodall Cup series at St Moritz on July 27th, 1951. It was a drawn match 2-2 and Stamina Apparel Co donated the Stamina Trophy for the competition. The Federation introduced a Junior National series a decade later.

St Moritz started to show its age from the early 1950s with poor ventilation and damp causing the structure to rot. Kleiner's 15-year lease expired in the early 1950s and it was taken over by Ted Molony and Jack Gordon by 1957, proprietors of the Glaciarium at Southbank which closed that year. Lindsay Fox Pty Ltd and Hudson Conway Pty Ltd bought the site in December 1980, although St Moritz continued to operate until Jack Norman and Bill Normoyne retired. Former Victorian ice hockey olympian Vic Ekberg was rink manager when it finally closed in 1982. The youth of the era were gradually turning to other forms of entertainment but the advent of disco was said to have finally sounded the rink's death knell. Former Melbourne Grammarian and ice hockey player, Lindsay Fox (1937– ), best known for his trucking company, Linfox, submitted plans for its redevelopment, but they were refused by the local Council. A suspicious fire ripped through the old building rendering it derelict on 22 September 1982. A similar fate awaited a project he later proposed for the St Kilda Triangle site opposite. In the hands of its new owners, the City of St Kilda, the St Moritz site remained vacant until its eventual development as a hotel, opening in 1991, with the original name, St Moritz. It then became Novotel Bayside in 1993 and more recently The Novotel St Kilda in 1999. Novotel St Kilda has decorated its bar in a similar theme to the old venue's original bar, even calling it 'The St Moritz Bar.' The neon female skater sign that graced the roof of the St Moritz all those years ago has in recent times been a feature in the hotels's restaurant, The St Moritz Brasserie.

Kleiner owned St Moritz until two years before his death in Melbourne in 1959. H H Kleiner was 72 years-old when he died at Brighton in Victoria, and he was interred privately at the Renowden Chapel of Springvale Botanical Cemetery on January 21st, 1959. His first wife, Josephine (née McCormick, 1884–1932), had fallen ill in the late-1920s, and committed suicide in 1932, at the age of 48. Nellie Kleiner, daughter of Francis Curnow and Margaret Ellen Prouse, was interred on February 2nd, 1975 (Columbarian Niche Room 4–B–15). [17, 18] Passports from 1932 in the names of Henry Hans Kleiner and Mrs Nellie Stuart are held by the National Archives of Australia. [17] Harry also had a daughter named Nellie. The Kleiner Cup was established in his honour and awarded annually to the State champions of senior ice hockey in Victoria. Prior to then it was known as the Sutherland Cup, since at least 1923, when the first National ice hockey association was formed. [133, 145] The IHV Premier A League Champions were awarded the Russell Jones Premiership Cup from 2008 until 2014 when IHV reinstated the H H Kleiner Trophy as the annual prize of their premier league.



Skating Lady | c.1938 | Argus, 13 Sep | 1945 |



Wattle Path Palais de Danse, The (Upper) Esplanade, St Kilda, Melbourne, c1925.
Historical notes:
[1] The neon skating lady, 1.53m wide by 1.78m high by 0.2m deep, still operates and is enclosed in a clear box. The light also still functions with an attached transformer. A fuller history of St Moritz is available from 'The History of St Kilda. The Show Goes On' by Anna Longmuir in St Kilda library. SKHS resource files contain a donated folder with original photos and documentation.
[2] The Sutherland Cup in Victoria, Australia. This trophy was quite possibly named after one of the new owners of the Glaciarium when it was sold in the early-1920s.

---
Leonard Charles Humphry DUKE
(1932 - 1982)
SPORTS BIOGRAPHY IN RACING CHAMPIONS. LEN DUKE WAS BORN AT MELBOURNE IN 1932 where he took up skating at St Moritz Ice Skating Palais, St Kilda in 1946. He became interested in speed skating and ice hockey. He played in the Juniors for the Monarchs IHC, but speed skating was his main interest. In 1948, Duke and long-time school friend David Morgan, became founding members of the Melbourne Amateur Speed Skating Club, for which he wrote the Constitution. He was later the first Secretary-Treasurer of the Australian Amateur Ice Racing Council (AAIRC). He won several Victorian and Australian titles over the years and at 17 he was a member of the 1951 Victorian team in the Australian Championships at Sydney. That week he won three Senior titles, quarter-mile, half-mile and 1-mile, setting new Australian records for all three, although still a Junior (Ampol Book of Sporting Records, 1951–87).

In 1954, Duke was vice-president and Racing Secretary of VSSU, president of Southern Flyers, Honorary Secretary-Treasurer of AAIRC, and VOC delegate. He retained his interest in the sport for many years and served in various speed skating organisations. As a young man he wanted to join the police force but he was under the regulation height of 6 foot, although he eventually joined the Commonwealth Police Force in his 40s when the height requirement was reduced. Duke died in 1982 from a brain tumour at age 49. His wife returned his trophies to the VSSU, one of which was modified to become the Best & Fairest trophy for the Duke Perpetual competition. [16]

Historical note:
The Olympic Southern Flyers Ice Racing Club Incorporated was founded in 1949 at the Melbourne Glaciarium. It was formerly the Southern Flyers Speed Skating Club prior to 1971, and the "Olympic" Southern Flyers Speed Skating Club, prior to 1987. In 2009, the club celebrated it Silver Jubilee; sixty years of continuous involvement in the organised sport of speed skating, and it is the oldest sanctioned club in Australia. It added "Olympic" to its name in 1971 after relocating from St Moritz Ice Skating Rink, St Kilda to the Olympic Ice Skating Centre, South Oakleigh. The club became an incorporated body in 1987, and it is affiliated with both the Victorian Ice Racing Association Inc (VIRA Inc) and the Australian Amateur Ice Racing Council Inc (AAIRC Inc); the State and National governing bodies.

---
Sir Norman Everard BROOKES
KBE
(1877 - 1968)
BORN ON NOVEMBER 14TH, 1877 at St Kilda, Victoria. Wimbledon tennis champion Norman Brookes not only competed in curling in Australia and New Zealand, he released the first stane to introduce curling to Australia in Melbourne in 1933 (image right). He was the foundation president of the Victorian Curling Club, formed in Melbourne in 1933, the first in Australia. They toured to New Zealand in 1934 where the sport had been played for 50 or 60 years, then New Zealand toured Australia in 1935 (see article at link below). Bobbie Jackson, the foundation captain of the Victorian ice hockey team, played in these first tournaments. Other foundation players included Captain Moffat-Pender, Captain McCormick, Roughton, Hattrick and Arthur Grenbury Outhwaite, husband of Ida Rentoul Outhwaite (1888 – 1960), the famous children's illustrator, whose drawings sometimes appeared in Glaciettes magazine produced by Glaciarium Ltd in Melbourne (pictured in 1925 article at link below). Her father Rev Jouhn Laurence Rentoul (1846–1926) was Presbyterian mininster of St George's, Southport, Lancashire, when the Southport Glaciarium opened coinciding with the foundation of the National Skating Association. The wealthy congregation of St George's on Chapel Street, East St Kilda neighboured Rev John Reid's church. When they sought to attract a minister from Britain and offered a stipend of £800 per annum, the noted London preacher Oswald Dykes nominated Rentoul.

Brookes' wife was president of the Queen Victoria Hospital of Women and Children (formerly in Lonsdale St, Melbourne), which received over £200 proceeds from the Glaciarium Gala on July 14th, 1932. The Melbourne Glaciarium had a policy of donating the entire proceeds of a Gala annually to one of the public hospitals. [124] Brookes was educated at Melbourne Grammar School from where he matriculated in 1895, then started work as a junior clerk with the Australian Paper Mills Co Ltd. His father was managing director and owner with Captain Archibald Currie, and Norman was a director of the firm by 1904. He had excelled at cricket, football and lawn tennis while at school, showing a precocious aptitude for all ball games. He was an AFL footballer and later took up golf, winning the Victorian foursomes championship once and the Australian twice. He often competed with Hal Reid.

Brookes' great enthusiasm, however, was tennis and he devoted much of his time to improving his game. He was the first foreign player to win the Wimbledon men's singles championship in 1907, which he won again in 1914. He was part of the Australian Davis Cup team that won the trophy in 1907 and held it until 1911, creating great interest in the tournament in Australia. He still holds the Grand Slam records for the oldest tennis champion, winning the Men's doubles in 1924 at the age of 46 years and 2 months, and one of the few left-handed singles champions (1911). He was president of the Lawn Tennis Association of Victoria from 1925 until 1937; it was largely due to his enterprise that Kooyong, purchased in 1919, was developed as a tennis centre. In 1926 he became president of the Lawn Tennis Association of Australia, holding the office for twenty-eight years. He married Mabel Balcombe Emmerton, author and community worker. Brookes died at his home, Elm Tree House, South Yarra, on September 28th, 1968 and was buried in St Kilda cemetery. Mabel and two daughters survived him. [87] The trophy for men's singles at the Australian Open is named in his honour and he was inducted into the International Tennis Hall of Fame in 1977.



Ida Rentoul Outhwaite + A S Outhwaite photo | 1925 | Australia v New Zealand article | 1935 |

Historical note:
[1] Curling was first played in Australia ar the Melbourne Glaciarium. The first curling club formed in 1933 and was subsequently disbanded in 1939. The Australian Curling Association formed in 1984 and established links with the World Curling Federation in 1986. The Australian Curling Federation was formed in 1993 as the national governing body for the sport in Australia. It had three State members: Victoria, South Australia and New South Wales. Since then, the South Australian Association has closed, and the Queensland Curling Association was formed in 2005. Today the ACF continues with its initial goal of supporting the state members and liaising with international bodies in an effort to propel the sport towards gaining national and international recognition. Curling is now played every winter in Melbourne, from March to November.

---
Robert Bruce BLACKBURN
(1938 - )
BORN ROBERT BRUCE BLACKBURN IN 1938, he first skated in 1954 at Melbourne Glaciarium when he was 14 years-old. In 1955 he joined the newly-formed Arkana Ice Hockey Club managed by Kurt Defris AM. They merged with Hakoah after Melbourne Glaciarium closed and Blackburn was awarded Best First Year Player. His first A-grade game for the Club was in 1957. Awarded Best and Fairest and Best Clubman over the years, he competed in both A and B grades until 1963. He served on the committee, as the club's honourary treasurer, and as delegate to the state association.

Blackburn's last season with Hakoah saw the Club win their first VIHA premiership, and top it off with their first national. They were coached by Australian hockey Olympian, Ivo Vesely, who also organised his national champions to play New Zealand teams on tour there later that year. In those years, the Australian Club Championship was contested each season by the premiers of New South Wales and Victoria to determine the national champion.

Hakoah won the second tournament in 1963, the championship having commenced the year prior in 1962. They were the underdogs against Glebe Lions (NSW) coached by Australia's first Winter Olympian, Ken Kennedy. Glebe had two former Swedish national team players, and players from Switzerland, Finland and Germany. Hakoah had Swiss centre, Albert Studer, and such locals as John O'Brien, Kevin Harris who had represented Australia at the 1962 Worlds, and Vesely's 1960 Olympic teammate, John Thomas.

Hakoah were also back-to-back VIHA champions in 1964, but Blackburn had by then joined the Pirates IHC. He captained the champion Brown Trophy interstate teams that year, and again in 1965, then in 1966 he was voted Most Valuable Player (MVP) of the club's senior A-grade. He was appointed delegate to the Victorian Ice Hockey Association (VIHA), now Ice Hockey Victoria; awarded Best Clubmen for a second time at a new club; and became its vice-president and life member.

In 1973 he was awarded the VIHA Trophy for services to junior ice hockey between 1967 and 1969; the years he was Junior Development Coach at Ringwood. The work was also recognised in a trophy donated by Pat Burley for the Bob Blackburn IHV Bantam Championship. He was appointed president of the state association and delegate to the Australian Ice Hockey Federation (AIHF). He served as AIHF vice-president and president in 1973-4 when he became general manager of the Australian ice hockey team at the 1974 World Championships in Grenoble in France coached by Elgin Luke.

In 1979 he joined Rangers IHC at Ringwood ice rink, the year they won their second premiership and went on to win back-to-back premierships in 1981 and 1982. He served as junior coach, team manager and president. He was awarded Best Clubman for the third time at a different club. He was VIHA Tribunal chairman member; a foundation member of the Victorian Ice Hockey Development Council; and later the Australian Ice Hockey Development Council. He was awarded life membership of the VIHA in 1985 and the AIHF in 1988. He was the recipient of the Hudson Trophy (SM + HC Hudson Sportsman of the Year) in 1989, awarded by the national association for continuous service to Australian ice hockey for a period of ten years.

A foundation member of the Oldtimer Ice Hockey network (OIHAN) in the early 1970s, he became its treasurer, vice president and delegate. He joined Nite Owls IHC and played veteran hockey in Australia, America, Canada, Germany, Czech Republic and New Zealand. He was awarded Veteran Player of the Year in 1988. He broke his leg skating at Medibank Icehouse at Melbourne Docklands in his seventies over 20 years later, but he returned and in 2013 he was again an IHV executive member, a Nite Owls IHC committeeman, and OIHAN vice-president. His other awards include the Jim Brett Award for the Player with the Best Old Timers Spirit (2002); the Canberra Challenge Bullwinkle Award (2011); and the OIHAN Legend of Oldtimer Ice Hockey (2012).

Blackburn was a recipient of the Australian Sports Medal in 2000. It was a commemorative award in the year of the Sydney Olympics to over 18,000 Australians nominated by their national associations as contributors to the nation's sporting success. Recipients included former competitors, coaches, sports scientists, office holders, and people who maintain sporting facilities and services.




Images | 1956 | 1963 | 1960s | 1960s |
Ross NOGA
(1964 - )
TO MANAGE THE ADELAIDE AVALANCHE IN 1999, Steve Oddy and Jim Thilthorpe chose a 35 year-old native of Vancouver who had arrived here in 1993 married to an Australian. He was accountable for the international signings and the day-to-day operations of the Club such as travel arrangements, training and meeting scheduling, and sponsorship. He was also focused on continuing the relationship between the Club and the Junior Development Program which was the breeding ground for future Avalanche players. There were five development players in the 2000 squad, all 18 or 19 years-old: Henry Keane, Jarrad Chester, Scott Chandler, Duncan Lecornu and Ryan Murray. They all benefited from a few games in the new League and they all played international tournaments. [622] The co-founders of the Adelaide club were grateful. In 2016, Steve Oddy said publicly, "Jim (Thilthorpe) and I will never forget what you did for the Avalanche, Ross. Without you, the team would have folded after the first year. You are a legend".

Noga was born in 1964 in North Vancouver. A player, coach, administrator and referee, he helped bring 3 Goodall Cups to Adelaide in 1997, 2000, and 2001; managed the National Junior Team between 2002 and 2007; and the Mighty Roos between 2008 and 2013. [621] He received three gold medals in World Championships — the first in Bulgaria in 2004 as manager of the U20 Division 3 team; the win and promotion to Division 1 in Newcastle in 2008 as manager of the National senior men's team; and then again in Melbourne in 2011. [621] He signed-off his address in the Avalanche program in the inaugural year of the AIHL with, "As the late Bob (Badger) Johnson used to say, 'It's a great day for hockey.'" And that's how he finished this interview with theaihl.com on his retirement after 21 years in the game.



Images | 2000 | 2008 | 2009 | 2010 | 2011 | 2012 |

© 2007 - 2015 Ross Carpenter B Arch (RMIT) M Des (Urban Design) ARAIA.
All Rights Reserved. Original Research Nov 2007.
Reproduction prohibited without prior written permission of the author except for the inclusion of brief quotations in a review.