1947 1st International Figure Skating GOLD Medallist
1960 1st Australian Olympic and World Championship ICE HOCKEY Teams Squaw Valley California USA
1961-2 2nd AUSTRALIAN Ice Hockey World Championship Ice Hockey Team Colorado USA
1963-4 2nd OLYMPIC Qualification ICE HOCKEY Team Tokyo Japan
1987 1st International Ice Hockey MEDAL Perth Australia

"With the celebration of the centenary of Canada's relations with Australia in 1995, both countries could look back at 100 years of social, economic and political partnership and the evolution of two distant but very similar nations. Throughout the relationship, the two cooperated, fighting side-by-side in the terrible wars of the 20th century and working together to build important multilateral institutions like the modern Commonwealth and the United Nations. Despite the geographic distance, trade and commerce has grown."
— Greg Donaghy, Parallel Paths: Canada-Australian Relations since the 1890s [310]


---


ADY SALTOUN, HEAD OF THE SENIOR BRANCH of the Fraser family, noted recently "...Although the Lovats never cleared their people from the Glens to make way for sheep, there was small prospect of advancement in life for younger sons unless they went south to one of the cities or emigrated, which is what many of them did. They went to Edinburgh, Glasgow or London, many went to America, Canada, Australia or New Zealand and prospered and founded families there, especially in the eighteenth and nineteenth centuries." [295] The Clan Fraser Society of Canada, a part of the wider Clan Fraser, was first established in the Province of Québec on February 8th, 1868. In addition to electing a Chief for the Dominion of Canada, the meeting recommended election of one hundred and eleven subordinate chieftains of provinces, electoral divisions, counties, localities and townships to represent all the Frasers. John Fraser de Berry estimated they numbered about 12,000. In the Spring of 1894, Alexander Fraser (1860–1936) set out to revive the clan with a less pretentious and more practicable structure. Invitations were sent to members in Ontario, Montreal, New York, Buffalo and Detroit, to attend the first annual dinner of Clan Fraser in Canada on May 5th, 1894, and three hundred replies were received, expressing hope for its successful revival.

Victorian senator Sir Simon Fraser KB (1832–1919) was in Ottawa at the time of this reunion. [293] One of the earliest and best-known patriarchs of this Scottish-Canadian family line in Australia, he had immigrated from Canada in 1853, where he eventually became a leader of the wealthy wool-growing class known as the squatters. During the 1860s and 1870s, the Frasers and other leading pastoralists in Victoria, New South Wales, Queensland and the Northern Territory, were closely involved with pioneering developments in refrigeration as it related to shipping their meat (see Next Wave). Fraser first toured Europe and America in 1883, after helping to arrange the Service-Berry coalition. He later became a minister in the cabinet of James Munro and a Victorian delegate to the Imperial Conference in Ottawa, held seven weeks after the first Clan Fraser dinner, between June 28th and July 9th, 1894. [294] Robert Reid, an uncle of Henry Newman Reid, was also in Ottawa as a trade ambassador in May 1894, but he had earlier arrived in London late in 1893, traveled to New York in April, then onto Vancouver, Montréal, Ottawa and Toronto. [293]

The now famous Stanley Cup had arrived at Rideau Hall (Government House) in Ottawa in May 1893, a few months before Reid departed Australia, but Lord Stanley was already making plans to leave Canada for England. He was forced to conclude his term as Governor General of Canada several months prematurely because he had become the Earl of Derby, immediately succeeding his brother, Edward, who had died unexpectedly on April 21st, 1893. He never witnessed a Stanley Cup championship game, nor the presentation of his Cup. It was first awarded by a trustee, Sheriff John Sweetland, to the president of the Montréal Amateur Athletic Association (MAAA) during the MAAA annual meeting on May 15th, 1893. However, disputes between the Montréal Hockey Club (MHC) and the MAAA kept the Cup in the MAAA hands until it was finally accepted by the MHC on February 23rd, 1894. Two months later, Reid and Fraser met with Lord Stanley's successor, Lord Aberdeen; Edinburgh-born John Hamilton-Gordon (1837–1934). Lord and Lady Aberdeen were enthusiastic supporters of outdoor sport in Canada, and personally participated in curling, hockey and sleighing at Rideau Hall. In his five years as Governor General, he transformed the role from an aristocrat representing the King or Queen in Canada, to a symbol representing the interests of all citizens, largely by meeting Canadians in all regions of Canada and discussing their concerns. He had also sought to strengthen communication and trade links with the overseas Dominions, seeing the future benefits of openness between countries.

Reid and Fraser were in Ottawa as a direct result of joint efforts by the Australian and Canadian governments to extend trade. The initial step had been taken on May 18th, 1893, when the first ship of a new steamship service between Vancouver, BC, and Sydney, NSW, sailed from Sydney, operated by James Huddart. Huddardt started his shipping line in the 1860s from a coal and shipping business at Geelong in Victoria and, like Robert Reid, he had established his head offices in London in 1873, and fitted his ships with refrigerated capacity for New Zealand meat in 1881. Reid commenced the Canadian leg of his mission in Vancouver that year and returned to Australia from Vancouver on Huddart's new line. In September, the Canadian government sent Mackenzie Bowell, the Canadian Minister of Trade and Commerce, "to Australia as soon as possible to confer with the several colonial (State) governments there, with a view to promote the extension of trade between Australia and Canada, and also to confer with those governments on the subject of a telegraph connecting Canada with Australia." [294] This, in turn had led to the Ottawa Conference attended by both Reid and Fraser. Reid had promoted the importance of refrigerated shipping on his tour, and Fraser went on to London where he also "paid a large amount of attention to the frozen meat and butter trade", returning to Australia late in 1894.

A decade later, the first ice rinks were established in Australia by Reid's nephew and, by the close of the following decade, the Fraser and Goodall families were related through the marriage of Simon Fraser Jr and Phyllis Clegg, the daughter of John Goodall's aunt, Mary Ann Ellen Goodall. Huddardt's Canadian-Australasian Line was taken over in 1910 by the New Zealand Shipping Co, together with Shaw, Savill and White Star Line. Bendrodt and Kendall arrived in Australia on the White Star liner Runic around the same time. Until his early death in 1919, Simon spent a good deal of time with John Goodall, and so too did Phyllis, including skating at Melbourne Glaciarium. During these years, the Frasers holidayed at their home in Oban, the largest port in the west of Scotland, about eighty miles from Beauly in Inverness, from where Sir Simon Fraser's parents and grandfather had immigrated to Nova Scotia in the early-1800s. Beauly in Inverness is the ancestral seat of the Frasers of Lovat, a major branch of Clan Fraser. It was as far back as 1757, that fifteen hundred clansmen had been raised under Royal Warrant by the Hon Simon Fraser, Master of Lovat, to comprise a Highland regiment. Like Fraser himself, many had fought against the English in the failed Scottish rebellion just over a decade earlier, but they went on to fight for the Crown in the distant lands of North America. The sieges and battles of Louisbourg on Cape Breton Island, the Plains of Abraham, Ste Foy, Montreal, and St John's saw the honour and bravery of the "Fighting Frasers". Jim Kendall's friends, the McLennans, dreamed of one day securing the Fortress of Louisbourg as a national site, and their work later formed a major part in its restoration, aided by unemployed coal miners from the industrial Cape Breton area where Kendall grew up. The 78th Fraser Highlanders distinguished their regiment in the Seven Years War, a war which shaped the nation of Canada as it is today, but that was only a beginning. Disbanded in 1763, many of the soldiers married into French-Canadian families and settled along the shores of the St Lawrence where many of their descendants still live today.

For centuries, the Frasers have played pivotal roles in the history of trade in both Canada and Australia. The Western District of Victoria, where fine colonial homesteads stand amid prosperous pastures, is about the closest that Australia knows to the traditions of the English 'landed gentry'. Successive generations of Australian pastoral wealth and conservatism descend from Sir Simon Fraser, including parliamentarians and a memorable prime minister. He had family and other ties to both Scotland and Canada for the seventy-two years he lived in Australia; a period which spanned the earliest development and inauguration of both refrigeration and Australian ice sports.


Notes:
[1] Alexander Fraser (1860–1936), organiser of the revival of Clan Fraser Society, was the son of Hugh and Mary (Mackenzie) Fraser. He was a native of Inverness-shire who emigrated to Canada in 1886, on the recommendation of Sir Charles Tupper, to take up a position on the editorial staff of the Toronto Mail (later the Toronto Mail and Empire). He also served as editor of the Scottish Canadian, Massey's Illustrated, Presbyterian Review, and Fraser's Scottish Annual. He helped to organize the Gaelic Society of Canada, the 48th Highlanders of Toronto, the Clan Fraser in Canada, and the Toronto Historical Society. A prolific author, Colonel Fraser was also the first Archivist of Ontario (1903–35).

[2] The Frasers of Lovat, a major branch of Clan Fraser, descend from Sir Simon Fraser [younger brother of Sir Alexander Fraser, the Chamberlain], who married Lady Margaret, sister of the Earl of Caithness. Documents, dated 12th September 1367, connect a Fraser with the lands of Lovat and the Aird. Among the lands acquired by the Lovat Frasers, the prominent ones were in Stratherrick, which was very dear to the hearts of the Lovat chiefs, the church lands of Beauly Priory in Inverness-shire, part of the south shore of Beauly Firth, and the whole of Strathfarrar. Beauly was founded in about 1230 by John Bisset, who also built Lovat Castle. About 1460 Hugh Fraser, laird of Lovat, became the 1st Lord Lovat. [ The Charters of the Priory of Beauly, with notices of the Priories of Pluscardine and Ardchatten and of the Family of the Founder John Byset, edited by Edmund Chisholm Batten, 1877]. Several generations later, Hugh Fraser, 9th Lord Lovat, who had four daughters but no son, willed his estates to his grand-uncle, Thomas Fraser of Beaufort [fourth and only surviving son of Hugh, 7th Lord Lovat] instead of his eldest daughter Amelia. Thomas Fraser's second son Simon, later 11th Lord Lovat, had planned to marry the Lovat heiress Amelia, but the plan failed and, in retaliation, Simon forcibly married her mother, the dowager Lady Lovat [the marriage was later annulled]. The 11th Lord Lovat was beheaded on Tower Hill in London in 1747, following which the Lovat title was attained and the estates were forfeited to the Crown. In 1774, some of the forfeited lands were granted to his eldest son, Simon Fraser of Lovat, by then a major general, in recognition of his military service to the Crown, but the title remained attainted. The original line ended on the death in 1815 of the general's younger half-brother Archibald, without legitimate surviving issue. The estates passed to the nearest collateral heir-male, Thomas Alexander Fraser, 10th laird of Strichen, Aberdeenshire, who in 1837 was created Baron Lovat in the Peerage of the United Kingdom, and the Scottish title having been released, in 1857 he became 14th Lord Lovat, but for the attainder. With the death of the 17th Lord Lovat in 1995, aged 83, his eldest son and heir having died the previous year, his grandson, Simon Fraser, born in 1977, became the 18th Lord Lovat and 25th MacShimidh in descent from Sir Simon Fraser (k. 1333, Halidon Hill, Berwick) and the chief of the Highland clan Fraser of Lovat, based in Inverness-shire. Castle Dounie was home of the chiefs of Lovat from 1511 until it was burned following Culloden. The current Beaufort Castle, built in the 1880s, was sold in 1995. The Lovat family seat is Beauly in Inverness-shire.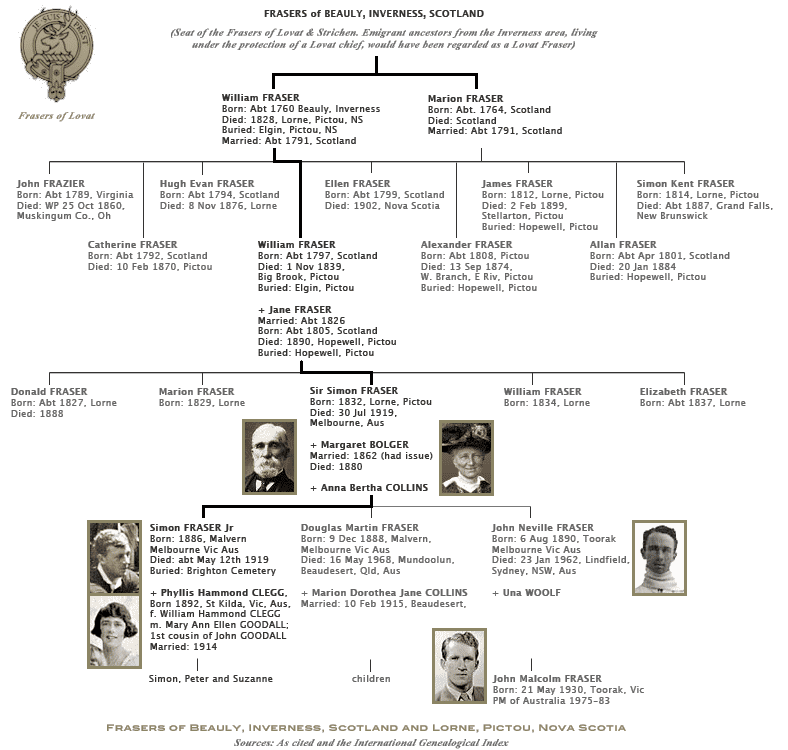 Sir Simon FRASER
KB
(1832 - 1919)

ORN ON AUGUST 21ST, 1832 AT PICTOU, Nova Scotia, Canada, the youngest surviving son of William Fraser and his wife Jane Fraser of Beauly near Inverness in the Scottish Highlands, who emigrated to Nova Scotia after 1791. Raised at Lorne in Pictou were the family farmed and milled flour, Fraser attended the East Run Seminary and Pictou Academy, then emigrated to Melbourne with three relatives in 1853, after hearing about the discovery of gold. His mother, sisters and brothers remained behind. [164] Interestingly, Fraser had attended Pictou Academy about a decade after John William Dawson (1820–1899). Dawson was also of Scottish descent and he attended the University of Edinburgh, graduating in geology in 1842 and returning to Nova Scotia in 1847, the first British North American trained to be an exploration geologist. He did practical work on coal, iron, copper, and phosphate deposits and evaluated coal mining prospects for the government of Nova Scotia in 1848 in southern Cape Breton Island, where the family of Jim Kendall lived. From 1855 to 1893, he was professor of geology and principal of McGill University in Montréal, during the years the world's first organized hockey club was formed there. Fraser eventually became a leader of the wealthy wool-growing class known as the squatters, which included the Armytage family. These men became closely involved with pioneering developments in refrigeration, as it related to shipping their meat.

Described by John Atchison in The Australian People (Jupp: 2001) as a "right-wing, free-trade, imperialistic capitalist", Fraser was also the grandfather of Malcolm Fraser AC CH, Prime Minister of Australia from 1975 to 1983. He lived at Norla, Irving Road in Toorak. His three sons from his second marriage to Anne Collins attended Melbourne Grammar; and one, Simon Fraser Jr, had married Phyllis Hammond Clegg in 1914, [235] a cousin of John Goodall. Another, John Neville Fraser, inherited his father's property at Balpool in the Riverina district of New South Wales, which is where Malcolm Fraser, his son, grew up. Neville and Phyllis, and probably also Simon, were very proficient ice skaters. Phyllis was a regular ice dancer at Melbourne Glaciarium and she and John Goodall spent a good deal of time together, both on the ice and in other sports.

Fraser arrived in Australia in 1853, the same year as John Goodall's grandfather. After two years at Bendigo he had enough capital to move into business. From his shop in Elizabeth Street, Melbourne, he traded in horses and produce from Sydney and soon began tendering for bridge, road and then railway construction. He helped to promote the firm of Collier, Barry & Co which completed the Sandhurst-Echuca railway in September 1864; Fraser's suggestion to use Bendigo gravel as ballast instead of the blue metal specified in the contract enabled the company to clear £100,000, of which Fraser's share was £30,000. He was later a director of the Deniliquin-Moama railway built in 1876 with William McCulloch. Next year he contracted to build a section of the line from Port Augusta to Farina in South Australia with Barry and Brookes. In 1865, he went to Queensland where he formed the Squatting Investment Co with George Simmie, Thomas Craig and William Forrest, and bought properties on the Dawson River which were later consolidated under the name of Mount Hutton. The company also held Thurulgoona in the Warrego district where Fraser engaged the Canadian J S Loughead to drill for artesian water in 1886–7. They struck the first water in February 1887, and this led to the first government bore by John Baillie Henderson and Loughead at Barcaldine in Queensland. Fraser's True Story of the Beginning of Artesian Water Supply of Australia was published in Melbourne in 1914. It is also probable he was involved with Alfred Deakin and the Canadian Chaffey Brothers in Mildura (see Reg Boyden). He became a partner in Collins, White & Co which also had Queensland properties. Later he bought Nyang near Moulamein in New South Wales. In 1869, he returned to Melbourne and next year with Simmie and Craig bought stations near Echuca.

In 1874, Fraser was elected for Rodney in the Legislative Assembly but it is said did little for Echuca in parliament, confining himself to such metropolitan affairs as the Chamber of Commerce. His biographer was probably unaware of his connection with Mildura, but in 1883 after helping to arrange the Service-Berry coalition he toured Europe and America, and it was no doubt there that he met Loughead, and probably the Chaffey brothers. On his return in 1885 he was defeated for the seats of West Melbourne in the assembly and Northern Province in the council, but in August 1886 won South Yarra Province in the council. In 1890–92 he was minister without portfolio in the cabinet of Scottish-born James Munro. He was a a Victorian delegate to the Imperial Conference in Ottawa, Canada in 1894, and at the Australasian Federal Convention in 1897–98. Fraser's passion was Federation. He was one of the Victorian representatives at the Federal Constitutional Convention (1897–98) along with William Trenwith (q.v.); a conservative and ardent imperialist he opposed the move to enfranchise women at federal elections. In 1901, he topped the Victorian poll for the Senate where he opposed Labor attacks on private enterprise and stood for re-election in 1906 as an anti-socialist. He supported the Canberra site for the federal capital and advocated private ownership of railways. His term expired in 1913. As grand master of the Grand Lodge of Port Phillip he often defended the Orange cause in parliament.

Fraser was a director of the Australian Widows' Fund Life Assurance Society and of the Melbourne Evening Standard. A shrewd judge of men and affairs, his common sense and vigour brought him success in business, not least in the 1890s when Fraser & Co survived despite the crash of the City of Melbourne Bank, of which he had been a director. After 1885 Fraser lived at Norla, Irving Road, Toorak. In 1862 he had married Margaret Bolger who died in 1880 survived by two daughters. In 1885, he married Anna Bertha Collins and they had three sons. Fraser was knighted in 1918 and died at a private hospital in Ivanhoe from asthma on July 30th, 1919, survived by his wife, a daughter and two sons. He was 86 years-old and he had been at the forefront of Australia–Canadian relations long before they "officially" commenced in 1895. Early the next year, Lady Fraser, established a memorial for Sir Fraser at Queenscliff which was reported in The Argus newspaper in Melbourne as follows:

Memorial to Sir Simon Fraser. The authorities of the Presbyterian Church of Victoria have been notified by Lady Fraser of her intention to transfer Picton, her residence at Queenscliffe, to the church as a memorial of her husband, the late Sir Simon Fraser, to be used as a rest home for ministers of the Presbyterian Church and their families. Lady Fraser is handing Picton over fully furnished. It is now ready for occupation, and ministers desirous of having the use of the residence for two or three weeks rent free, should apply giving particulars to the Rev D A Cameron, Assembly Hall, Collins street. [290]

Queenscliff was the starting point of the Bailieu family in Victoria (see John Goodall), and Rev John Gardner (1809–1899) had been the Presbyterian minister there from 1874 until 1888. He died at Toorak at the age of ninety in 1899 (see Kate Gardner).

---
ANNA BIRTHA COLLINS ( – ) Lady Fraser's parents, John Collins and Anne (Martin), had arrived in Australia from Ireland in 1839 — four years after Melbourne was founded — the same year that the closure of the Moreton Bay penal colony made way for settlement of the area within a fifty mile radius of Brisbane. Anne's cousin, William Humphries, had taken up 17,000 acres at Mundoolun in 1842, a venture the Collins followed with great interest. In 1844, they joined him as partners and by 1847 the Collins had bought Humphries out. The family went on to be prominent pastoralists, eventually owning Tamrookum, Rathdowney and Nindooinbah, as well as the home station of Mundoolun. The couple had five children including Anna Bertha, Robert Martin (1843–1913) and William (1846–1909).

From 1863, when John Collins' sons joined him in the family business, they began to acquire properties further north and west. In 1877, Robert and William formed the North Australian Pastoral Co in the Northern Territory with other shareholders and their interests and influence were wide-ranging. In 1878–9, Robert and William undertook a world tour which was to have a profound impact on Robert, in particular. In the United States, he was deeply impressed by the National Park movement and upon his return, began a serious campaign for the establishment of a national park in the McPherson Ranges. He continued this campaign until his death, becoming the Independent Member for Albert in the Queensland Legislative Assembly in 1896, and Queensland branch president of the Royal Geographical Society in order to further his goal. He did not live to see the proclamation of Lamington National Park which eventually took place in 1915, however, he has been credited with the title of Father of the National Park Ideal.

At about the turn of the century, Mundoolun and the Collins family were at the peak of their success, and the five children decided that a memorial to their pioneering parents should be built. They selected a site on a ridge of the Birnam Range, near the small cemetery overlooking the homestead and the Albert Valley, and commissioned architect John Buckeridge to design a chapel. Buckeridge had gone to Queensland in 1886 to supervise the construction of St John's Cathedral in Brisbane. Work began on June 22nd 1900, and took nearly eighteen months to complete, with fifteen men employed almost continuously. The Archdeacon of Brisbane A E David formally dedicated the church on St John the Evangelist Day, December 27th, 1901 and it was consecrated August 1904. A tower was added in 1915 as a memorial to Robert Martin Collins who died in 1913. Services at that time were held in the church every second Sunday. More recently, the church has been used for weddings and other public events. [299]

This church, together with All Saints Church at Tamrookum, and ten windows in St John's Cathedral, Brisbane, commemorate the contribution to Queensland of three generations of the Collins family. The pastoralist, skier, horseman and aviator, John William Fitzclarence (1906–1941), was left the sole male Collins descendant of the Mundoolun pioneers in 1919. Female lines continue among the descendants of Sir Simon Fraser, but also among those of De Burgh Persse, Sir Robert Philp, and under other names. Lady Fraser was a member of the Committee of the Austin Hospital for Incurables in Melbourne, and she appears to have dedicated herself to her family, and to charitable works for decades.



Eastern Nova Scotia - Prince Edward Island | Map | Simon Fraser Sr and Norla | 1898 |


Queenscliff Presbyterian | undated | Ayr, Scotland | 1911 | Lady Anna | 1912 | Obituary | 1919 |

Notes:
[1] Parts of this biography are from 'Fraser, Sir Simon (1832–1919)', by Elizabeth M Redmond, Australian Dictionary of Biography, Volume 4, Melbourne University Press, 1972, p. 216.

[2] The Orange Order is Christian with a belief in the Protestant Reformed Faith. It is loyal to the monarchy of Great Britain and strongly supports its continued connection with Australia and Canada. The name of the association is taken from King William III, Prince of Orange, who defeated James II in a military campaign in 1690, making he and his wife Mary (the daughter of James II) co-monarchs of Great Britain. This ended the oppression of the Protestant Faith which existed under James II.

---
Simon FRASER Jr
(1886 - 1919)

ORN AUGUST 25TH 1886 AT MALVERN IN MELBOURNE, eldest of three sons of Sir Simon Fraser and his second wife Anna Bertha Collins. He attended Melbourne Grammar School with Andy Reid, a few years his junior, and captained the school's boats in 1905. [291] He was a member of the schooi athletic team the same year when they won "The Argus" and "The Australasian" Challenge cup. Like Reid, he was a lieutenant in the school cadet corps and in 1906 went on to Trinity College, University of Melbourne from where he graduated with a Bachelor of Mining Engineering degree in 1911. He was stroke of both the Trinity College rowing crew and the University eight, winning a University Blue in 1908 for rowing.

Fraser was the goalie for the VIHA Beavers IHC captained by Andy Reid, one of the original four ice hockey teams in Australia. In 1905, he was recruited from Melbourne Grammar to Essendon Football Club in the Victorian Football League (the forerunner of the Australian Football League) based at East Melbourne Cricket Ground. He played full forward in twenty-one games in the 1905–6 season scoring eight goals. In 1909, he played two games for University during the years it also competed in the Victorian Football League (1908–14). [297]

However, Fraser's real passion was rowing. In 1912, he was placed fourth from eighteen in the rowing eight event at the fifth Olympic Games in Stockholm. Although an Australian had earlier represented Oxford at the 1908 London Games, this was the first ever Australian Olympic rowing team and it included Sydney Middleton, an Australian national representative rugby union player. They first raced at Henley in England for Olympic selection, where they defeated the Argonauts crew from Canada in the first round by 1.25 lengths in 7:04. They defeated New College Oxford in the second round by a length in 7:10. Then, in the famous race final in July 1912, they defeated Leander in the Grand Challenge Cup before a crowd of 150,000 spectators. This Australian eight was one of the strongest crews of the Games and with better luck might have won the event. [292] The official Report of the Games recorded their efforts as follows:

The perfectly trained visitors, who rowed like one man, took the lead at the 200 metres and never lost it. In the semi-final, Australia met the champion British number one eight from Leander. Australia led by 1.5 lengths at the 1000 metre mark but the British crew managed to catch them 100 metres from the finish. Regrettably the Australian crew had a sharp curve to negotiate at this point in the race which was a significant disadvantage.


The British crew won by three metres and went on to win the gold with Australia eliminated. Britain's time of 6:10 was the fastest over the course. The official report of the games noted, "Those who had the pleasure of seeing this race will probably never forget it" and other publications record it as the highlight of the regatta. Some of Fraser's family were at Henly and Stockholm. They holidayed in Ayr and stayed in the family home in Oban while in Britain. They also holidayed at Adelboden in the Bernese Alps in Switzerland. [292]


On his return, Fraser managed "Nyang", his father's station, near Moulamein in New South Wales. He married Phyllis Hammond Clegg (1892– ) in 1914, [235] a cousin of John Goodall (1893–1960) of Goodall Cup fame. They had three children, Simon, Peter and Suzanne. Fraser died of pneumonic influenza at Penshurst, Victoria, after attending the Warrnambool races on 11th May 1919. John Goodall was one of eight pallbearers at his funeral at Brighton cemetery, with William Lawrence Baillieu MLC (1859–1936), Russell Grimwade, Professor Lyle, sharebroker Captain Rupert Wertheim, eldest son of Hugo Wertheim, M G Robb, F V Willis and E Cresswell. The Old Melburnians Society was officially represented by two former presidents A S Austin and W R Grey Smith, and honourary secretary, sports journalist Reginald Wilmot, father of Chester Wilmot. [164] Smith was a son of Francis Grey Smith (1827–1900), and brother of Sir Ross Grey Smith (1901–1973). Austin was descended from the pioneering Austin family, originally of Somerset, England (Baltonsborough), where the Goodall family also originated. A short service at Norla, his father's residence, was conducted by the Rev Dr Marshall. Simon's father died a few months later in July, and his funeral at Brighton Cemetery was attended by many members of the Victorian government. [164]

In 1920, the Simon Fraser Scholarship was established at the University of Melbourne in memory of the younger Simon by his mother, Dame Anna Bertha Fraser, and members of the family. It was originally open only to students who had qualified for matriculation at the University, and who had completed a course in a diploma of engineering at one of the technical schools recognised by the University in Victoria. The holder was also required to reside at Trinity College. [289] Many early recipients were from the Working Men's College (now RMIT University). It is still awarded to a student of engineering, one of several scholarships established by the founders of ice sports which are still current at the University, including the R Grice Scholarship (1879) established by Sir John Grice in memory of his father Richard Grice, and the L Armytage Scholarship (1883) founded by Mary Armytage in 1883 for students in Arts, Law, Medicine or Engineering. Then, in 1921, Simon's mother and family established a boathouse memorial for him as a gift to Melbourne Grammar; his alma mater. Located on Jeffries Parade, on the opposite side of Princes Bridge to Melbourne Glaciarium, the original building was destroyed by fire in 1951, and the present boathouse replaced it in 1953-4. Still remembered as the Simon Fraser Memorial Boathouse, The Argus newspaper in Melbourne reported the presentation in 1921 as follows:

Simon Fraser Memorial. Boathouse Presented to School. Through the generosity of Lady Fraser and family, the Melbourne Grammar School now possesses the finest boathouse on the river. It is a memorial to the late Mr Simon Fraser, captain of the school's boats in 1905, who died of diptheria. The building was formally opened yesterday. The head master of the school, Mr R P Franklin, said that the late Mr Simon Fraser gained the rower's greatest honour — that of rowing for Australia at the Olympic Games. (Load applause). "I am not going to try to tell Lady Fraser how grateful we are," he concluded, "but I would like to say that there could be no more fitting memorial to her son." (Applause). Archdeacon Hindley said that the name of the Fraser family was widely known and they had many evidences of Lady Fraser's kindness of heart. On behalf of Lady Fraser he handed the key of the boathouse to the captain of the boats (Mr Grey Smith), who called for cheers for Lady Fraser. "I hope," said Lady Fraser, "that the boats of the school will always be in the lead, but I know that this cannot be so. When you are not in the lead, I hope that you will take your defeat as true sportsmen." (Cheers) Amid cheering, Lady Fraser hoisted the school flag, and watched the first boat leave the sheds. [291]




Endowments | 1919 | Simon Fraser Memorial Boathouse | 1921 |
---


PHYLLIS HAMMOND-CLEGG, Simon's wife, was born in St Kilda in 1892, the daughter of Nottingham-born Colonel William Hammond Clegg (1857–1932) [231] and Mary Ann Ellen Goodall. Her mother Mary was the daughter of John Goodall's grandfather, who first established John Goodall & Co, stock and share brokers. William became its managing director on the retirement of his father-in-law. Mary was thus an aunt of John Goodall and Phyllis, a year older, was his first cousin. She was known to her friends as Billy Clegg and she became the third ladies' skating champion of Australia in 1913. She had two sisters, both also born at St Kilda. One married Edward Druce Yencken, [231] brother of Melbourne Grammarian and merchant, Edward Lowenstern Yencken, who was known as the "father" of the hardware trade in Melbourne by 1903. The other married Harold Hall, then moved to London. [231] Harold later sent John Goodall the Aston Martin which he raced in the first three Australian Grand Prix; [162] and which Phyllis drove in the RACV Hill Climb at Belgrave in Victoria in 1924. She became the third NISA Ladies Skating Champion of Australia in 1913, at the age of 21. [377]

Phyllis often stayed with her mother, Lady Fraser, at Nylands in Sorrento and attended many of the same social events, including meetings at Government House, Flemington and Caulfied Cup meetings, and bridge parties at Salisbury in South Yarra, the Toorak home of Canadian-born Mary Helen Fraser (MacNamara), wife of (Sir) Colin Fraser, a leading figure in the Collins House mining group with William Baillieu and William Robinson (see John Goodall). She and her mother often visited Fraser relatives in Queensland, and they were also well-known in other States. The Frasers were friends of the Armytages of Como, and owned property nearby them in the Western District. They attended some of the same social events and helped to organise and run various fundraising appeals, including a Golf Gymkhana held in October 1924 at Royal Melbourne Golf Club, Australia's oldest and most celebrated. [181] Its founding captain was John Munro Bruce, father of Prime Minister Stanley Bruce, who had lived a few doors from Goodall's grandfather in St Kilda (see Goodall).

Phyllis played golf from around the time of her marriage, and she was a member of the Sorrento Golf Club. A National champion ice skater, she danced on ice at Melbourne Glaciarium with Hilda Grice, daughter of Sir John Grice, and others in the butterfly ballet by Enders and Cambridge. Phyllis was also a friend of Doris Armytage (1894–1947), the inaugural winner of the Sir John Grice Cup in 1918, and another of the earliest "Ladies Champions of Australia". Like Lady Fraser, Phyllis frequently contributed to charity fundraising, and continued to be known as Mrs Simon Fraser for many years after her husband's death. [203]




Homecoming | 1931 | Phyllis Fraser (Clegg) | 1920s | 1943 |

---
Douglas Martin FRASER
(1888 - 1968)

BORN ON DECEMBER 9TH, 1888 AT MALVERN in Melbourne, second of three sons of Sir Simon Fraser and his second wife Anna Bertha Collins. Educated at Melbourne Grammar he became a pastoralist and company director, he was fond of cricket and football, and educated at Melbourne Church of England Grammar School and Trinity College, University of Melbourne (LL B, 1911). On March 3rd 1913, he was admitted to the Bar. At Tamrookum station, Beaudesert, Queensland, on February 10th, 1915 he married his cousin Marion Dorothea Jane (d. 1963), daughter of R M Collins, with Anglican rites. They built their first home at Mundoolun, on the Collins's 12,000 acre (4856 ha) property near Beaudesert. Enlisting in the Australian Imperial Force on March 7th 1918, Fraser reached Egypt in July and briefly served with the 5th Light Horse Regiment in Palestine. He was discharged on March 21st 1919 in Egypt, then returned to Queensland and his pastoral responsibilities.

In 1919–36 Fraser was managing director of the family company, John Collins & Sons, which, from the 1860s to 1941, owned fourteen stations. He was also successively a director, managing director and chairman of Collins, White & Co Pty Ltd which owned Eulolo, Beaudesert and Strathfield stations until 1968. His most significant involvement was with the North Australian Pastoral Co (NAP); his uncle, William Collins, had been an original partner in that concern. In May 1878, Collins and his brother Robert had set out on a long-postponed tour which took them across North America to Europe. While in Britain, they watched experiments with the Bell-Coleman system of refrigeration, and later took part in the purchase of a machine and in the successful shipment of frozen meat from Australia to England (see Next Wave). Fraser was a director (1932–68), managing director (1936–56) and chairman (1936–67) of NAP. The company owned Alexandria cattle-station in the Northern Territory and, during Fraser's time, purchased several Queensland properties (Marion Downs, Monkira, Coorabulka and Glenormiston). A director (1924) and chairman (1951) of Moreheads Ltd, in 1956 he administered its amalgamation with Elder, Smith & Co Ltd, of whose Queensland board he became chairman. He was, additionally, chairman of the Queensland Meat Export Co, a director of the Australian Stock Breeders Co, and a member of the advisory council of the General Accident, Fire & Life Assurance Corporation Ltd.

Known as 'DM', he had an enormous capacity for work. He distrusted machinery, and was no judge of cattle and horses. His strength lay in the legal training that enabled him to negotiate favourable technical conditions for his companies' properties, as in the case of proving the NAP's 'residency' in the Northern Territory which brought taxation concessions. Five ft 7 ins (170 cm) tall, Fraser was forceful, arrogant and pigheaded—a dynamic person 'who could tell you a lie with a twinkle in his eye'. Nevertheless, he could also be warm hearted and generous, and was remembered as 'always a good touch for broke ringers and drovers' recovering after a binge in the 'big smoke'. He commuted weekly to Brisbane, but also contributed to his local community as a Beaudesert shire councillor and member of the hospital board. Fraser was president (1947) of the Queensland Club, chairman of the Society of St Andrew and a member for thirty-seven years of the board of Emmanuel College at the University of Queensland. Survived by his two daughters and one of his two sons, he died on 16 May 1968 at Mundoolun and was buried in the family cemetery.
Notes:

[1] Parts of this biography are from 'Fraser, Douglas Martin (1888–1968)', by Margaret Kowald, Australian Dictionary of Biography, Volume 14, Melbourne University Press, 1996, pp 217–218.

---
John Neville FRASER
(1890 - 1962)

BORN ON AUGUST 6TH, 1890 AT TOORAK IN MELBOURNE, the youngest of Sir Simon Fraser's six children from two marriages. Educated at Melbourne Grammar and Oxford University where he played first class cricket between 1912–14. The Magdalene College Memorial Album (1909–14) held by the University of Melbourne contains prints of the college, Oxford, students and sporting events. At the beginning of World War I, Neville joined the Royal Field Artillery and went on to fight at the Somme, Ypres and Messines Ridge, keeping a detailed diary from 1913 until 1918 which is also held by the University of Melbourne. Professor Peter Pierce (Professor of Australian Literature at James Cook University) has written that the diaries, which amount to nearly 100,000 words, 'are written with panache and intelligence and are clearly of a publishable standard'. Another diary and photo collection records a car trip from Oodnadatta to Katherine undertaken by Neville Fraser and others in 1924. A non-practising lawyer, Neville Fraser inherited his father's large grazing property at Balpool-Nyang in the Riverina district in 1919, before buying another grazing property, Nareen, in 1943, situated in the Western District of Victoria. He married Una Woolf in 1926 and Nareen later passed to their son, Malcolm Fraser (1930– ), former Prime Minister of Australia between 1975 and 1983. John Neville Fraser died when he was 71 years-old on January 23rd, 1962 at Lindfield in Sydney, New South Wales.



Father and son | 1930 | At Nareen | c 1944 |

© 2007 - 2013 Ross Carpenter B Arch (RMIT) M Des (Urban Design) ARAIA.
All Rights Reserved. Original Research Nov 2007.
Reproduction prohibited without prior written permission of the author except for the inclusion of brief quotations in a review.