From a desert, from the driest continent, from this land at the opposite end of the globe ...
... as remote as could be in the hockey world ...
... came one of the world's oldest winter sports trophies.
A cool tradition, a dream of champions, and a story we owe it to our children to tell.
Legends of Australian Ice.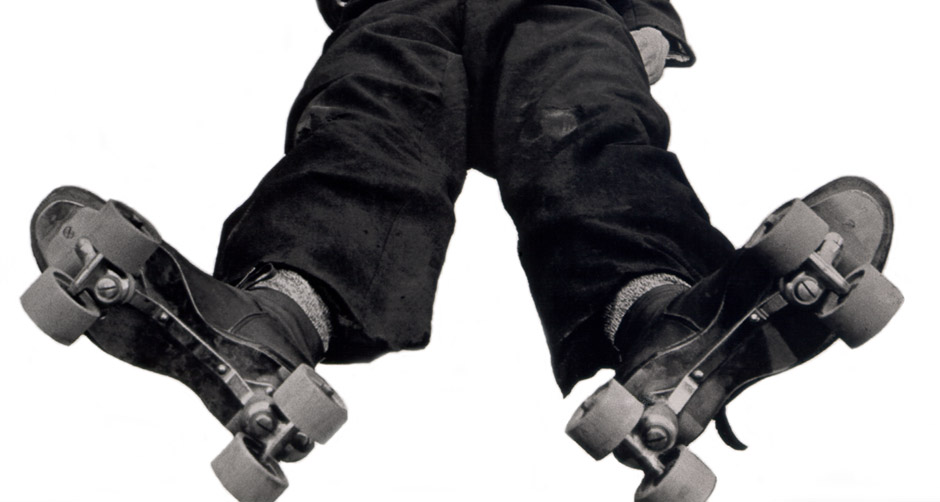 [ INTERNATIONALS ] Little Tramp Learns to Skate
Bobbie + Louise in New York for the birth of Ice Shows and the NHL.

I had no idea of the character. But the moment I was dressed, the clothes and the make-up made me feel the person he was. I began to know him, and by the time I walked onto the stage he was fully born. " — Charlie Chaplin, My Autobiography, 1964.
No one actor or filmmaker has had a greater impact on the world of cinema than Charles "Charlie" Spencer Chaplin. And no one comedian has contributed more to the art of comedy. Hailed as a comedic genius and the master of slapstick, this icon of early cinema often infused his work with an undertone of pathos and sentimentality. It was one hundred years ago that Charlie Chaplin started in films. The world won't forget the Little Tramp but let's also remember the two Australians who taught him to ice skate.
Professor Robert Jackson and Louise Larrson were his instructors during their time in San Francisco. Jackson was Victoria's first ice hockey captain but he was also a stage dancer and skating instructor, and Larrson was his wife and dancing partner. Together they performed, exhibited and taught skating on four continents, including North America for 3 years from late-1916.

"A very nice little fellow, quite unassuming," they said of Chaplin. "He could not even manage roller skates when he had the picture done and, when we were teaching him ice skating, he used to convulse us by showing us all the falls he managed for the film." The Chaplin picture they were talking about was The Rink made in 1916, a 2-reel laugh parade based on Skating, a sketch Chaplin had previously performed while a member of the Fred Karno stage troupe back in London where he was born. This segment of The Rink took Chaplin eight days to film.



It was in 1909 that Jackson had captained Victoria in ice hockey and by 1916 he had been a professional skating instructor at Melbourne Glaciarium for "several seasons" . He and Louise left Melbourne for New York late that year where he had been offered a position as a professional instructor at the Ice Palace rink in Riverside Drive, Manhattan, and a season at the Hippodrome Theatre, aka New York Hippodrome.

Jackson said on his return "...you do not see such skilful skaters among the Americans as the Australians. They can skate easily and gracefully, but you do not see them doing the fancy movements and dancing skilfully as they do on this (Melbourne) rink. We did not see any startling skating experts, except a troupe of German skaters at the Hippodrome. This is a huge theatre, with a stage all in the centre, so large that I can give you no idea of it. These Germans were the celebrated company from the great rink in Berlin and, when that was closed, upon the outbreak of war, they went to America. The whole stage of the Hippodrome was flooded and frozen and they gave their celebrated pageant there. It was magnificent. They were Germans, and we did not want to admire them (because of the war), but we could not help it, for their skating was superb."

The German troupe was the famed Berlin Ice Ballet and the Jacksons had joined the rush to New York, along with many other champion skaters from Europe, where ice sports were in disarray as a result of the war. The couple were also stage dancers and Broadway must have been an irresistible magnet from the moment the first 'ice show' in the world was born there the year before they arrived. It was the show that ignited America's love of theatrical skating and its star Charlotte is now considered the first great show skater.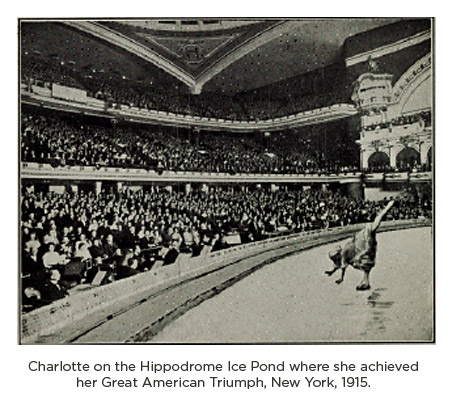 She taught at the Hippodrome Skating Club where the Jacksons were also instructors. The Hippodrome Skating Book she wrote was released in 1916 and, like Jackson, she was not at all complimentary of American skating. "The serious study of the fundamental theories of skating strokes is almost unknown in this country," she lamented. "Most American skaters have not the slightest idea of what they are doing, how they do it, or how they would do it ever again." She did add: "the energy and enthusiasm of the American skaters is wonderful."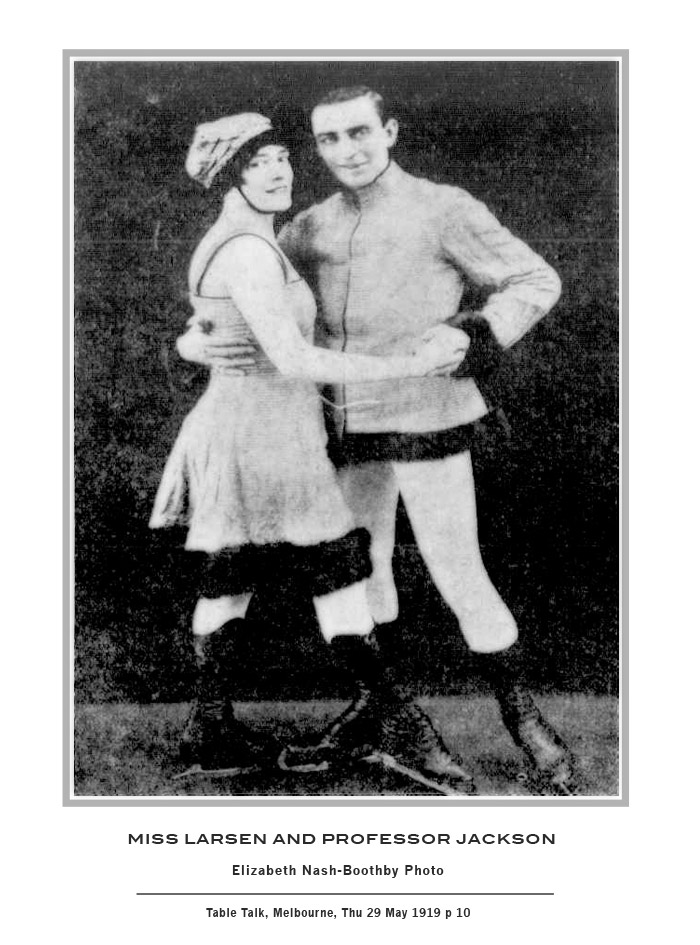 The Jacksons danced in other Broadway theatres and probably also the spate of New York 'tank shows' which had just become hugely popular. They said they saw no better ice rink than Melbourne Glaciarium in their travels, except one in South Africa which was so large and luxurious that it was too costly altogether to maintain, and had to be sold. Just before they returned they were the principal dancers with Mitzi in the touring Broadway ice show Pom-Pom and the critics said they were "excellent". Mitzi Hajos, the diminutive prima dona from Hungary, performed on Broadway from 1911 to 1942. In Pom-Pom she was billed simply as "Mitzi" on her way to becoming the future Ziegfeld superstar. "She is wonderful only about as high as that," Jackson said, indicating a height between four and five feet, "but such an artist."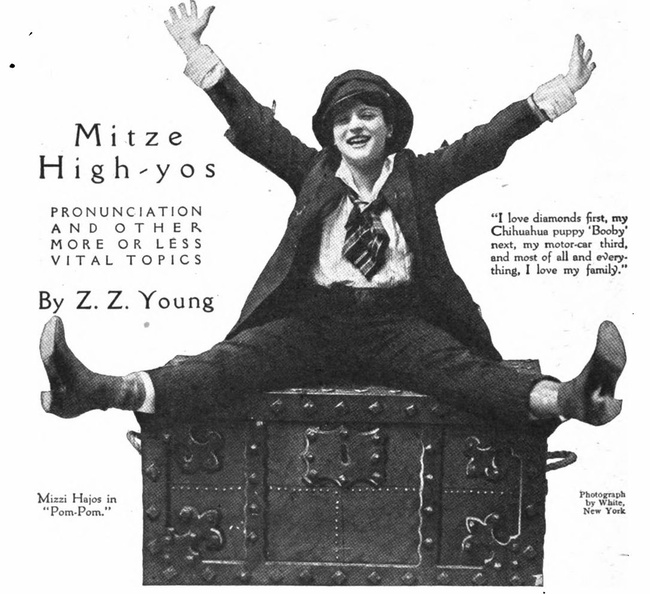 The Jacksons also taught Mae Marsh, an American film actress with a career spanning over 50 years, and Douglas Fairbanks who was then making comedies, but who is best remembered for his swashbuckling roles in silent films such as The Thief of Bagdad, Robin Hood, and The Mark of Zorro. Then there was the "lovable" Bill Hart who became one of the first great stars of the motion picture western and, according to the Jacksons, the biggest favorite among fellow-workers and a universal favorite everywhere. Most of these silent film stars have a star on the Hollywood Walk of Fame.



Bobbie and Louise even became American army camp entertainers by joining Muriel Window's troupe. Window was a well known opera singer, a vaudeville star between 1910 and 1920, and a 1913 Peacock Girl of the Ziegfeld Follies. She played the RKO and Orpheum circuits, the Place in New York and Drury Lane in London. "The camps in America were huge," said Jackson, "and accommodated many thousands of men. Each had its own theatre hall, almost as large as the ice part of this rink. Miss Window was the first to organise a company to give up their whole time to entertaining the soldiers, and made a big sacrifice in doing so. We did, also, for the matter of that, and the other members, too: but we were all glad to do it. We lived in camp and gave an entertainment each night. It was a wonderful experience."

Bobbie and Louise went on to perform in many stage productions in Australian states. They were Australia's first professional ice show performers and skating instructors at the international level. Bobbie was a judge and council member of the National Ice Skating Association of Australia (NISAA) formed in 1931, and he remained active in skating and curling for many more years. He died at the age of 63 in London in 1955, and his wife Louise died in Melbourne three years later at the age of 61.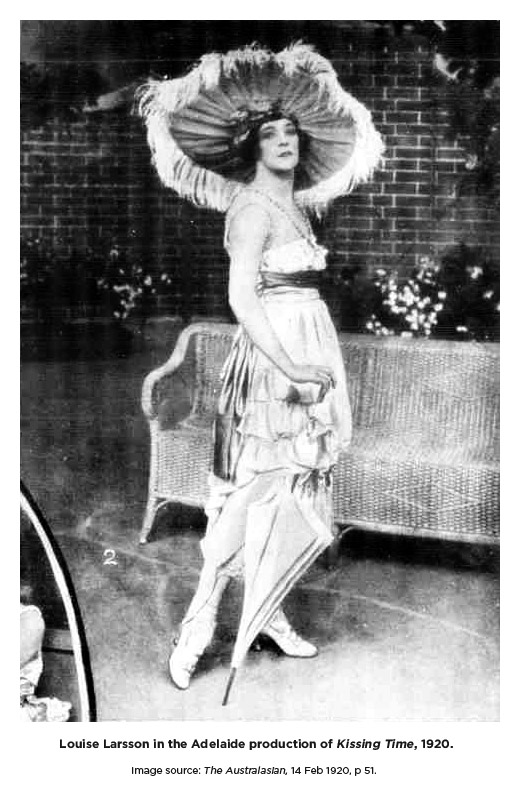 1. Table Talk, Melbourne, "Professor Jackson and Miss Louis Larsen, Now at the Glaciarium", Thursday 29 May 1919, p 10. Interview, Melbourne Glaciarium.

2. Robert Edward Jackson and Louise Larsson biographies, Legends of Australian Ice.