From a desert, from the driest continent, from this land at the opposite end of the globe ...
... as remote as could be in the hockey world ...
... came one of the world's oldest winter sports trophies.
A cool tradition, a dream of champions, and a story we owe it to our children to tell.
Legends of Australian Ice.


As senior ice hockey referee the closing of the rink was a blow to me, because I know the big interest shown by young men in the sport. In a little more than a year Hobart built up an ice hockey team which was equal to a Victorian representative side. Despite their loss in the fire at the rink many young men were willing to keep the sport going. — Reg R Wilson, ice hockey referee, The Mercury newspaper, Hobart,1952

There are many disappointed and disillusioned young people who have had a sport and relaxation taken away without reasonable explanation. Surely something could be done to restore the rink. Visiting clubs from other States were unanimous in praise of the rink, and the people of Hobart should act to prevent the loss of the Glaciarium. — Speed Skater,The Mercury newspaper, Hobart, 1952
THE STORY OF ICE SPORTS in Tasmania has its roots in the Mount Field National Park in the 1920s. Dr W D Counsell and his sister Florence were members of the Tasmanian Ski Club and often stayed at the Club's hut at Twilight Tarn to ski Mt Field West. The hut was built by club members in 1927 and used very regularly until the late 1950s. Access was by horseback from the entrance to the Park for about 9 miles. Members could then walk up the hill behind to Lake Newdegate, and ski on the wide open bowl above. Tarn Shelf in front is an ancient glacial landform and was commonly used for ice skating.



Counsell was the prime mover in the formation of the Ice Skating Club of Tasmania on 25 March 1938 with Dr Stuart Gibson as its foundation president. Gibson was also president of the Tasmanian Council of the British Medical Association. Counsell, an honorary ophthalmologist at Hobart General Hospital, was its foundation secretary. During these years Counsell was investigating blindness in Tasmania with John Bruce Hamilton (1901-1968), the grandson of parliamentarian, company director and merchant, John Hamilton (1834-1924). Their research published in 1939 was awarded the Royal London Ophthalmic Hospital's Gifford Edmunds prize.



The Ice Skating Club of Tasmania was formed in response to a long-time need for a "definite body" to approach the Government to develop a skating pond which would freeze naturally at the pinnacle of Mt Wellington in Hobart. Tasmania had roller rinks, but never an ice skating rink, and this was just one of several development ideas that had been talked about for some years prior. In May 1939, Hobart City Council decided to lay down an experimental ice floor which was completed in July. A small area of ice 6 inches thick was used to determine whether that would be strong enough for skating. However, nothing further eventuated until October 1940 when a proposal surfaced to construct a "glaciarium" at Hobart City Hall as a way "for the City Council to reduce the annual loss which is incurred on the building". Yet, again, nothing happened.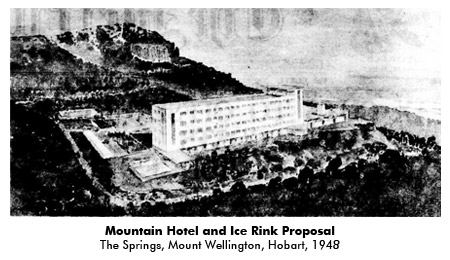 A decade later in 1948, a Sydney developer proposed a 150-room hotel with an ice rink at The Springs on Mount Wellington, but it also fizzled. However, a company established earlier that year, named The Tasmanian Glaciarium Pty Ltd, had a proposal before Council for a Australia's first open-air ice rink, which was estimated to cost just one-fifth of a covered rink. The Cosgrove government subsequently lent £22,000 to "build a factory in the Hobart district which would manufacture ice for public sale". This was sixty percent of the estimated development cost of £37,000. The local promoters were A J Flach and Rowland Leonard Worsley MLC, a former policeman and newly-appointed Minister for Forests, in association with Victorian, Ted Molony. Worsley was managing director of Glaciarium Pty Ltd by the time the rink opened. They were, of course, actively supported by the skating and skiing community who had long campaigned for a rink in the city.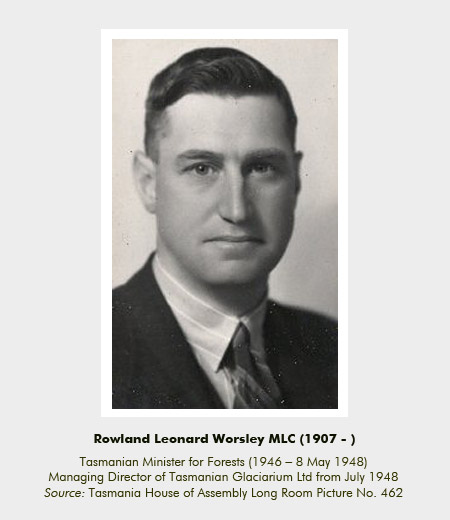 Flach was a major shareholder who claimed to have developed seven similar ice rinks in Europe, perhaps even the open-air rink in Prague on which Moonah was modeled. It was originally proposed to be built in the Hollow in the Queen's Domain which was then a popular centre for speeches, political meetings, band concerts and visiting circuses. Instead, the rink was built on a site at Main Road, Moonah, and the Hobart pool was built in the Hollow in 1960, today's Tattersall's Hobart Aquatic Centre. The rink was designed by a Melbourne architect and its ice pad was large enough at 185 by 85 ft for international hockey. It was proposed to be used for ice sports from April until October, and tennis and roller skating for the remainder of the year.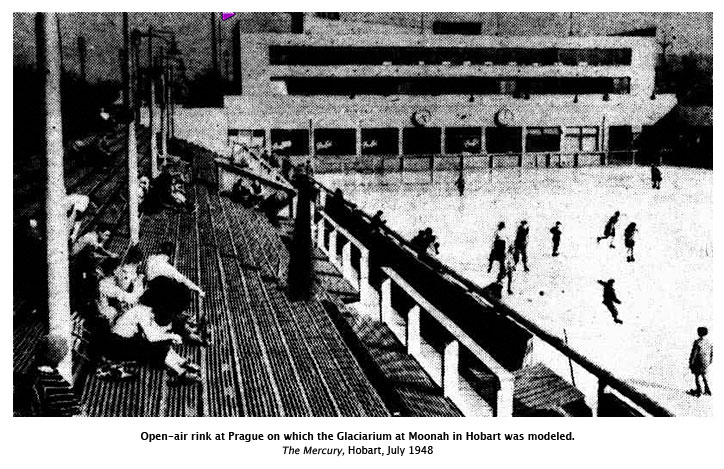 On the 24th August 1950, sports administrator Max Lyall Moore (1897-1979), head of the Tasmanian branch of the National Fitness Council, elected two ice sports committees "to further the promotion of ice skating and ice hockey in Tasmania". [1] The directors of Glaciarium Pty Ltd were present, as was Ted Molony representing the Victorian branch of the ISU-affiliated National Ice Skating Association of Australia (NISAA).

Molony outlined the Victorian experience in an advisory capacity and suggested the division of the committees into two sections; ice skating and ice hockey. They would later report to a general meeting at which the Tasmanian controlling authorities for each sport were to be formally appointed. F J Ellis was convenor of the ice hockey committee with R W O'Toole, T. Hope, A W Kelly and former Polish player, Alfred Chwalczyk, who applied for naturalisation in 1949. [2] Chwalczyk of Bronte Park was also the Tasmanian lightweight boxing champion who became captain of one of the new ice hockey teams. O'Toole also went on to play and ice race.
Dr Stuart Gibson was convenor of the ice skating committee with five other members. Later, in November 1950, the Tasmanian section of the NISAA formed with C. Wessing as president; C. W. Smith as secretary; and Miss Eve Masterman as treasurer. The first council were B. Leitch, L. Latham, V. Thomas, Mrs. Wessing and 20 year-old Jean Fidler, the first women's speed skating champion of Tasmania. She was a nurse at the Royal Hobart Hospital and played for the women's Baptist hockey team.

A few months later the Glaciarium ice skating rink was opened by Premier Robert Cosgrove. Thousands attended on the evening of Monday 24th October 1950. They were treated to performances by Australian skating champions and future Olympians, Gwen Molony (Henke) and Adrian Swan, among others. The company reported 37,459 patrons passed through the gates in the first three months, and declared a profit of £1,059 up to December 31 which continued to improve over the first 6 months.

Earlier in January that year, Czech tennis star and Davis Cup player Jaroslav Drobny visited Hobart traveling as an Egyptian citizen after having left Czechoslovakia. He had been a silver medallist with the Czech team in the 1948 Olympics and a gold medallist in the 1947 IIHF world championships in Prague. So it was not surprising he was promptly offered an ice hockey position following his remark that he thought the Hobart climate suitable for skating and would like to live there. Although that did not happen, there were many among the new wave of European immigrants who could not only play ice hockey, but play it at a world class standard.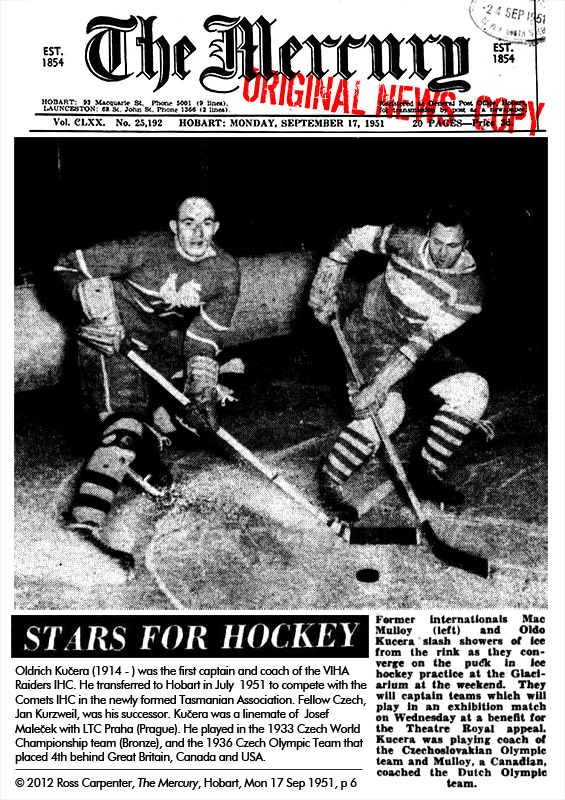 The first ice hockey match played in Tasmania took place almost 64 years ago, on the evening of Friday 29th December 1950. One team played in the colours of the Mustangs, the first Tasmanian team to be formed, and the other team, drawn from Hobart ice skaters, called itself the Red Devils. The Mustangs won, 4-3. A third team named the Comets was soon formed and for two full seasons the rink attracted players such as Zenon Kasperowicz who had played for HSV Hamburg in Germany, the Swiss International Wally Vaterlaus who first captained and coached the Mustangs, Swiss right wing Charlie Thalman, Swiss left wing Albert Metzler, Polish-born Alfred Chwalczyk who also captained the Mustangs, Tedy Kubiak the Mustangs goalie, and Oldrich Kucera (1914-1964), Czech Olympic medalist and captain of the VIHA Raiders in Melbourne, who had transferred in August 1951 under contract to Hobart Glaciarium.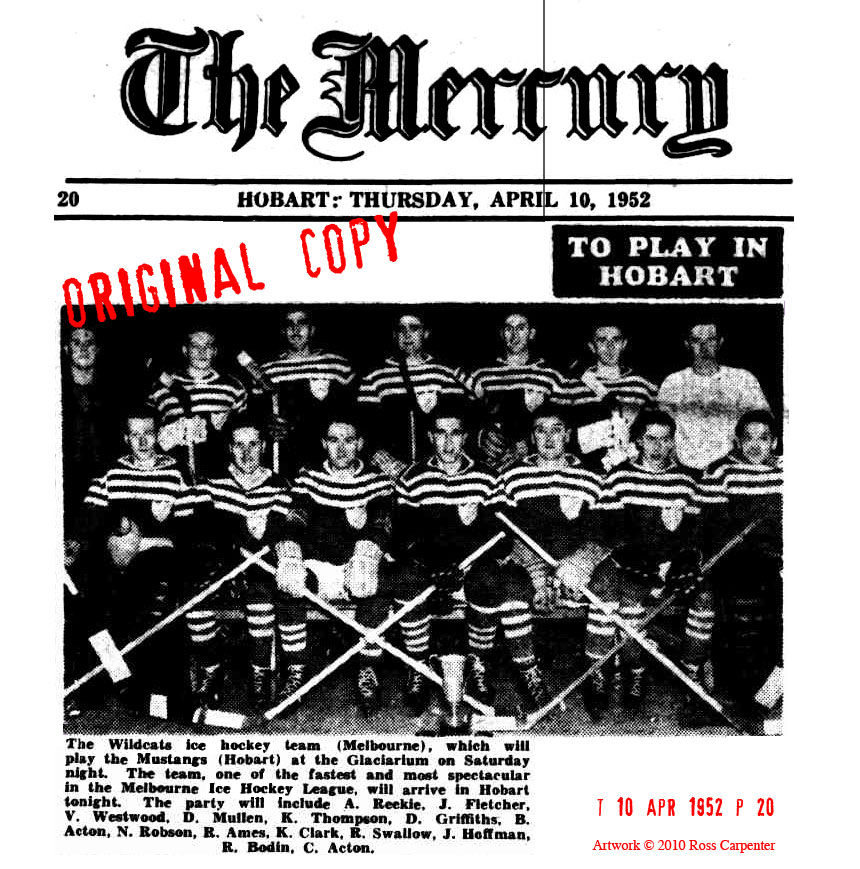 More than 3,000 people watched Tasmania's first ice carnival and hockey matches on the 30th December 1950. The Australian Amateur Ice Racing Council (AAIRC) inaugural championships were held there in 1951 (the Duke Trophy). Fifteen hundred people watched a team from HMCS Ontario defeat a Tasmanian team, 9-3, on Anzac Day, 1951. The 100,000th patron, Yvonne Dingle of North Hobart, was rewarded with a pair of skates and boots on July 23rd 1951. Lois Henty, a well-known international skater who had recently toured Australia with Ice Follie and appeared in ice shows in England and Europe, was chief instructress for the 1952 season. Victorian ice hockey teams regularly visited, including the Wildcats, the Flyers, and the Red Arrows. The first Goodall Cup interstate series outside of Melbourne and Sydney was contested there in July 1952 when Tasmania and Victoria tied a best of three series, 4-4, 3-4, 2-3.

It has been said that the Glaciarium at Moonah burnt down twice in twelve months. The first fire caused £15,000 damage in the cool stores, a storage room, offices, a changing room, the ice hockey players' equipment room, the roof of the machinery room, and part of the engine room. A public appeal was launched by the Tasmanian Ice Hockey Association to replace £1,500 worth of equipment owned by the three teams, including goals, padding, boots, sticks and uniforms. The second fire partly destroyed a large wooden locker room causing £3,000 damage. Many players lost everything.

The CIB investigated, the local press carried the public outcry, but Tasmanian Glaciarium Ltd, the company mostly funded by government loan, and administered by the government's defeated Minister for Forests, did not reopen the rink for the 1953 season, much to the dismay of locals. A solicitor told shareholders negotiations were in progress that may enable the company to carry on, but late in 1952 the directors moved a motion to go into voluntary liquidation. It was all auctioned in April 1953. In September the Treasurer of Tasmania said the loan of £16,406 to Tasmanian Glaciarium Ltd under the Industries Establishment Act had not yet been repaid in full, but the balance of £3,013 was expected almost immediately from the company liquidators. The original amount was reportedly £22,000.

It had been just four years earlier in 1948 that Flach had become a director and major shareholder of Tasmanian Glaciarium Ltd, retiring as managing director of a company that he had co-founded. It was renamed Oerlikon Manufacturing Ltd (formerly O + F Co) when it went public that year, operating on a license from the Swiss electrode manufacturing company of the same name. Flach had also proposed a rink in the centre of the York Park Speedway in Launceston In December 1951, but it was unsuccessful and he soon disappeared from prominence.

Rowland Worsley tried unsuccessfully for the seat of Franklin and returned to his farm. He had been an apple and pear grower from one of the oldest families in the Channel district before becoming a police constable at Franklin, Dover and Margate for several years, and licensee of the Wheatsheaf Hotel in South Hobart. He contested his old seat of Huon as an Independent in 1954, again unsuccessfully. Molony and Gordon later opened an indoor rink at Glenorchy managed by Australian champion figure skater, Charlie Keeble. It too was short-lived, although another later opened at 327 Main Road in Glenorchy with a 30m by 15m ice surface, half International size, which still operates today. Ice skating and Ice hockey there are alive and well.



Images | 01 | 02 | 03 | 04 | 05 | 06 | 07 | 08 | 09 |

Notes:
1. The Mercury, Hobart, Thu 24 Aug 1950 p 6.
2. The foundation of the first controlling authorities for ice sports in Tasmania was reported in The Mercury in Hobart and The Examiner in Launceston.