From a desert, from the driest continent, from this land at the opposite end of the globe ...
... as remote as could be in the hockey world ...
... came one of the world's oldest winter sports trophies.
A cool tradition, a dream of champions, and a story we owe it to our children to tell.
Legends of Australian Ice.

[ ICE HOCKEY ] The New Australians
Chalwin's Business Model and the Barnstorming Bombers

If Australians have learned one lesson from the Pacific war ... it is surely that we cannot continue to hold our island continent for ourselves and our descendants unless we greatly increase our numbers. We are but seven million people and we hold three million square miles of this earth's surface. Our coastline extends for 12,000 miles and our density of persons is only 2.5 persons per square mile. Much of our land is situated within a rain belt of less than 10 inches per annum and this area is, therefore, largely uninhabited. In those parts more favourably situated, much development and settlement are yet to be undertaken. Our need to undertake it is urgent and imperative if we are to survive. — Immigration Minister Arthur Calwell, Canberra, 2 August, 1945.

They (immigrants) should be made welcome, not driven in upon themselves by epithets such as 'Pommy', 'Scowegian' and 'Reffo', and then blamed later for creating little colonies of their own. — Recommendation of a fact-finding mission on immigration, Canberra, early-1946. Immigration Minister Arthur Calwell said it was this recommendation which caused him to coin the expression 'New Australians'.
Commercialisation of ice hockey in this country began in the Hall of Industries at Sydney Showgrounds in 1938; Jimmy Bendrodt's Ice Palais. Harry Kleiner in Melbourne quickly followed suit, foreshadowing the war of a more tragic kind that intervened. Rebuilding the sport took a few years and it was not until Melbourne businessman, Jack Skolnik, formed an ice hockey team of New Australians in 1950 that the question of financial viability was revisited. Skolnik was also president of Melbourne's Hakoah Soccer Club in the 1950s and its early driving force.

The Raiders Ice Hockey Club went on to win five championships in a row, 1950 to 1954, the first as premiers of the break-away Victorian Ice Hockey League (VIHL), and the next four as premiers of the Victorian Ice Hockey Association (VIHA). It was a feat Glebe IHC had already achieved in New South Wales between 1925 and 1929, but it was a first in Victoria.

Perhaps then, it was not so astounding. Especially considering the Raiders' first coach was Oldrich Kucera, a prominent forward for LTC Praha (Prague), the 1933 Czech World Championship team (Bronze), and playing coach of the fourth-placed 1936 Czech Olympic team. Kucera was a member of the hockey elite in pre-war Europe. Not so unexpected, given his successor in 1951 was Jan Kurzweil, another Czech National League player who also led the Melbourne Hakoah soccer team, helping to promote it from second to first division in the Victorian league.

Perhaps even downright inevitable, given the Raiders captain was Hungarian Tommy Endrei among other notable European players such as Czech defender Miro Roznetinsky; Czech forward Ivo Vesely (later an Australian ice hockey Olympian), and Britain's Carol Martin. Plus a few of the talented local players, including Russ Jones and Geoff Henke.

Both states had been recruiting imports since before the war, and their attempts to get them on the ice ahead of each other had led to considerable acrimony. Five years earlier, Victoria had tied the 1946 Goodall Cup series, then finally broke New South's quarter-century stranglehold in 1947. One year after the Raiders were formed, New South Wales formed the Bombers Ice Hockey Club, a new team of New Australians in Sydney.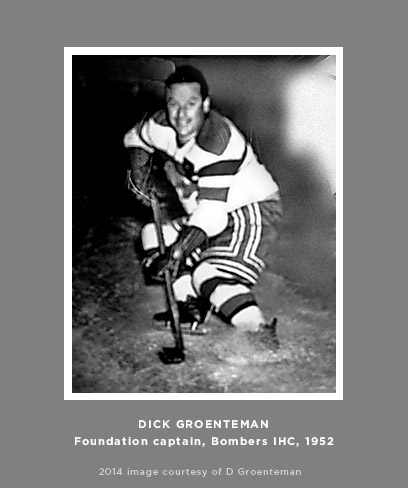 Viv Chalwin, the new Club's president, had moved to Sydney from England the same year. [1] He was chairman of British Oil Engines (Australia) Pty Ltd, the personal representative in Australia of A P Good, chairman of the parent company, Brush Electrical Engineering Co, the world's biggest diesel and electrical manufacturer. The New South Wales Government had agreed to buy diesel electric equipment worth almost £500,000 from the parent company in England. [9]

Fluent in French, German, Italian, Spanish and Russian, Chalwin was 35 years-old when he immigrated with his wife, two daughters and chaffeur. [7] The Bombers were Hungarians, Czechs, Austrians and Swiss led by a Dutch captain, Dick Groenteman (Mann), who had represented Holland in the 1950 World Championships and played against visiting Canadian, American and European teams.

Chalwin and Groenteman were foundation members along with Emil Butchatsky (player coach), J Berlicky (Benicky), goaltender C Huegell, S Slavic, H Garden, Gerry Chladek, Mike Mueller (Muller) and Roman Drexler. Among the objects of the club constitution was "...promoting goodwill between newcomers and the Australian public to help in the assimilation of immigrants". Although the Bombers lost 3-1 to a combined Australian team on October 28th 1951, [6] it was not the shape of things to come.

There had been 45 years of competitive ice hockey in Sydney by the time Chalwin, a wealthy businessman turned aeronautical engineer, formed the first supporters club there that year. Members contributed £1 (about $50) and received reduced admittance charge to matches. [3] The club finished the season with a "kitty" of £1,000 (about $50,000). No local ice hockey club had ever had a credit balance of more than £100 (about $5,000) up until then, according to an investigation at that time by journalist, Hugh Dash. Amateur ice hockey was so tight, players had to turn-in their guernseys and knee pads to equip their successors. [4]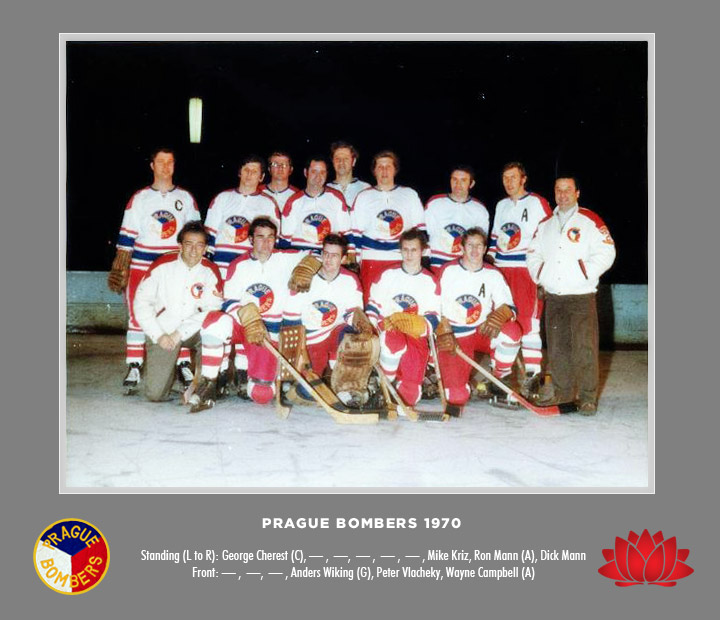 1970 Prague Bombers, by then coached by Dick Groenteman (Mann).

Yet, the Bombers had a financial membership of nearly 2,000 by the start of their inaugural 1952 season, each member again contributing £1. They entered the club competition odds-on to finish the most successful club in the history of the sport in New South Wales, both on and off the ice. [4] And that is exactly what happened. The Bombers won their first championship, the first of six from their next seven seasons. Chalwin became patron of the New South Wales Ice Hockey Association, donating the prize for the state championship in 1954. The Chalwin Trophy was contested for over a quarter century until superseded by the CP Air Cup in 1981, the year after Chalwin died.

Vivian James Chalwin was born in 1916 at Epsom near London, the son of James Adolphus Chalwin (1887-1970) and his wife, Rose Rosita Rowley, [2] who were shopkeepers. [7] He had represented his school in the Public Schools eleven at soccer 11 times and at cricket 4 times. He was best all-rounder on two occasions at athletics and held the schoolboy championship for boxing. He had also represented his school in tennis and swimming and later played County cricket and football for leading FA clubs Hull City, Notts County and Yorkshire Amateurs. In 1937, he represented England in the FA eleven, he became a qualified FA coach in 1949, the coaching examiner at Leeds, [10] and manager of the English professional team in 1953 and the Olympic Games team in 1952. [5]

Sir Stanley Rous, secretary of the Football Association in England and later the 6th President of FIFA, had recommended Chalwin to the Australian Soccer Football Association soon after he arrived in Australia in 1951. Walter Winterbottom, FA Director of Coaching and coach of England, was also a close friend. Chalwin had access to all FA coaching material and he brought over films and literature for use in his State coaching programs. [8] He was also the official coach of Granville Soccer Club, APIA Leichhardt Tigers FC (playing coach), the NSW Soccer Association, and the Socceroos — the Australian national team — appointed in 1954.


However, he had a wider interest in all sports, both administratively and "as a means of recreation for both body and mind". In addition to football and ice hockey, he was president of Sydney University Sports Union, a member of the NSW Sports and Recreation Committee, executive of the NSW Sports Federation, member of the NSW Olympic Council, president of the Australian Sporting Car Club, and Council member of the NSW Amateur Swimming Association. [5] He was manager of the fencing team at the 1958 Commonwealth Games in Cardiff and Governor of the All Nations Club in Sydney, an organisation of more than 1300 members whose aim was to build a bridge between "old" and "new" Australians.

He gradually converted his conventional waterfront home in Shellbank Avenue, Cremorne, on the lower North Shore of Sydney, into the grand residence known as Chalwin Castle. It included a private 300-seat theatre which was used as a venue for chamber music performances staged by Musica Viva and other music organisations. The Sydney Mozart Society moved operations there and among the many others who performed there were Dame Joan Sutherland and Roger Woodward, Pete Seeger and The Renaissance Players. Around 1982 the ABC made a 10-minute documentary about Chalwin Castle which provides a brief glimpse into the grand residence (video at top of page).

Chalwin was made a Paul Harris Fellow of the Rotary Club of Sydney in 1976; an Officer of the Order of the British Empire (OBE) in 1977 for services to the community; and awarded The Order of Merit of the Italian Republic in 1980. He died in Sydney that year survived by his wife, Pauline, two daughters and the Bombers. He left instructions that his castle continue to be used for the arts with any income not spent on maintenance to be given to the Australian Elizabethan Theatre Trust and Sydney University. But a lack of parking in the narrow suburban street, fire protection requirements and major maintenance problems prevented large public events. In 1992 daughters Josephine Thomson and Rosalind Dorsman put the castle and its 1,900 square metre site up for sale. It was demolished in January 1993. [1]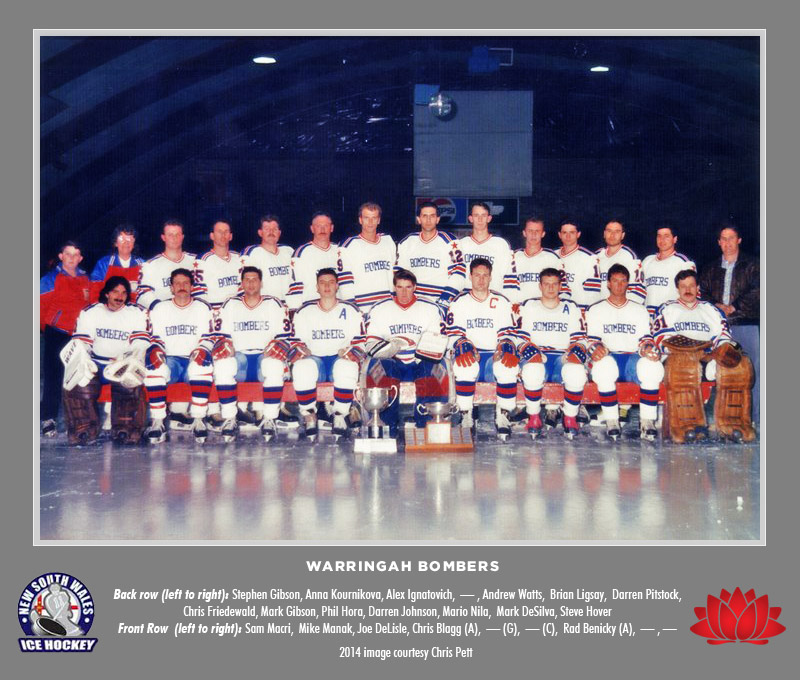 Coach lines and car parks added to Chalwin's fortune in Australia and it was not until 1971, a decade before he died, that he obtained his first academic qualification as a part-time student in Sydney. Yehudi Menuhin, one of the 20th century's greatest violinists, once said: "Vivian, you should have been a Medici prince". His philanthropy extended beyond the rent-free use of his castle. In 1965, he gave the Department of Music at Sydney University £250 pound to establish a foundation and other university arts departments received similar amounts. He had helped start the New South Wales Ballet by paying everyone's wages for 10 weeks, and in 1977 he gave the Australian Opera a 5-year sponsorship worth $100,000. [7]

The enduring legacy Chalwin gave Australian ice hockey is his members contribution scheme. Clubs and state associations may not have magically prospered from adopting his business model, but they were at least viable and endured. The Bombers and their other incarnations — Prague Bombers, Newcastle Bombers and Warringah Bombers — were New South Wales Premiers no less than 15 times from 39 seasons. In 1990, they outstripped St George's 12 championships to become the most successful New South Wales ice hockey club of all time.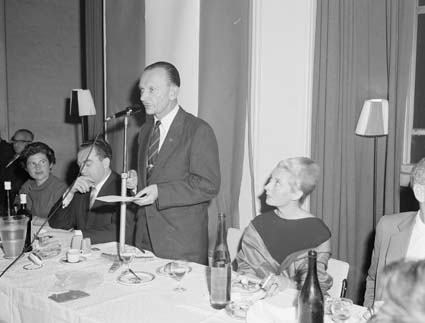 Viv Chalwin, Governor of All Nations Club Sydney in 1963, introducing Stefan Haag (1925-1986) as guest of honour on the fifth night of Austria Week. Hagg was a singer, director, designer and arts administrator. National Archives.




Press Articles: | 1952 | 1953-1 | 1953-2 | 1954 |


References:

[1] Sydney Morning Herald Jan 13 1993 "One Man's Foreshore Folly Farewelled" by Richard Macey
[2] NSW Public Records Office, BDM Reg No. 23332/1980 and 19605/1983
[3] Sydney Morning Herald NSW 13 Mar 1952 p 7
[4] Sydney Morning Herald NSW 28 Feb 1952 "Sports Front" by Hugh Dash p 8
[5] The Cumberland Argus Parramatta NSW 6 Jul 1955 p 20.
[6] Sydney Morning Herald NSW 29 October 1951 p 3
[7] Australian Broadcasting Commission "Chawin Castle" documentary, c 1982.
[8] Illawarra Daily Mercury Wollongong 24 Feb 1953 p 7
[9] Newcastle Morning Herald and Miners' Advocate NSW 15 June 1951 p 1
[10] The Newcastle Sun NSW 23 March 1953 p 13