From a desert, from the driest continent, from this land at the opposite end of the globe ...
... as remote as could be in the hockey world ...
... came one of the world's oldest winter sports trophies.
A cool tradition, a dream of champions, and a story we owe it to our children to tell.
Legends of Australian Ice.

[ ICE HOCKEY ] How Australia Got Britain's Top Scorer
Robbie Stevenson

"The game is simple — you all represent the country's population and everyone in the country has a chance to become wealthy and move into the ruling class. To move into the ruling class, all you must do is throw your wadded-up paper into the bin while sitting in your seat."

The teacher gave each student a scrap piece of paper and asked them to crumple it up. He moved the recycling bin to the front of the room. The students in the back of the room immediately piped up. "This is unfair!" They could see the rows of students in front of them had a much better chance. Everyone took their shots, and — as expected — most of the students in the front made it, but not all, and only a few students in the back of the room made it. The teacher concluded by saying:

"The closer you were to the recycling bin, the better your odds. This is what privilege looks like. Did you notice how the only ones who complained about fairness were in the back of the room? By contrast, people in the front of the room were less likely to be aware of the privilege they were born into. All they can see is 10 feet between them and their goal." — Author unknown, but it simplifies a story deliberately made complex by those hell-bent on retaining an iniquitous status quo.
THE SKATING AND HOCKEY RINK looked like the bombed-out centre of Beirut in the early-1980s. A homeless Zamboni had to be parked on the ice during morning games, yet the two curling rinks at Crossmyloof were in pristine condition, a lesson in privilege and social mobility. All a young hockey player could do was sacrifice summers fixing it up in the hope of pleasing the owner sufficiently to re-open it next season. The swoosh of vulcanised rubber hurtling into hyperdrive there was swapped long ago for the clatter of Morrisons trolley wheels. Now you buy haggis pies where opposing keepers used to waffleboard tastier treats.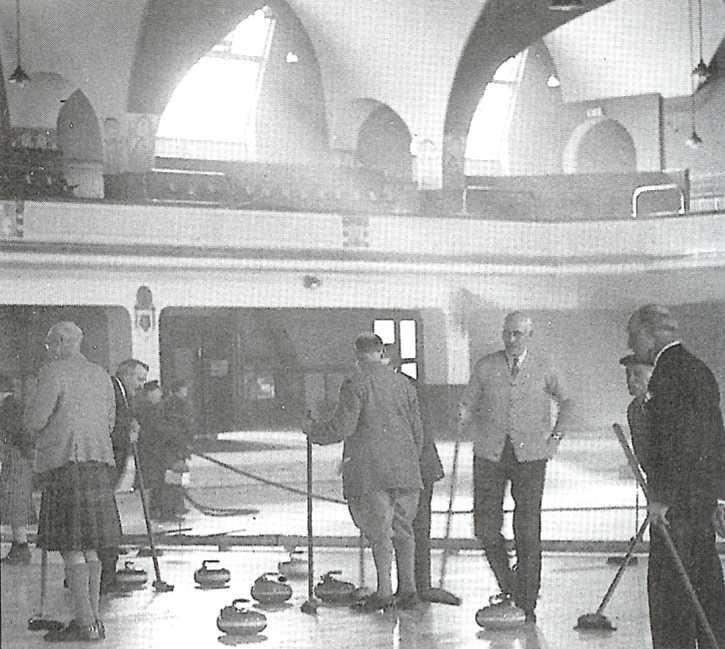 Curling at Crossmyloof's twin rinks

But there was a time way back when a 15-minute walk from the Crossmyloof rink would place you at the frosty front gate of the Stevenson family home. And while it's true Robert Alexander Stevenson was born on the 20th February 1939, a good 19 km away at Hamilton, he was raised at Langside Road on Glasgow's southside, that short walk from the rink I speak of. His father Sam spent half a century there and would have done more had the rink been able to keep up. He almost lived to be a centenarian. First, he was centre-ice in the Scottish National League for Kelvingrove, Dennistoun Eagles and Glasgow Mohawks from 1929 until 1938 when he last played for Glasgow Lions. Then manager-coach of the amateur Mustangs, Glasgow Mohawks and finally the Glasgow Dynamos where he remained until the age of 82, coaching his grandson Doug in the 1980s. [2]

You see, Sam was inducted to the Ice Hockey Journalist UK Hall of Fame when it was revived in 1986, where he is referred to as "the Grand Old Man of British, and especially Scottish, ice hockey". Robbie was introduced to hockey when he was just 7 years-old, and so it is only surprising he still sat the entry exam for London's Royal Academy of Music. He could play the piano as well as the puck it seems. But it was inevitable, of course, that the conservatoire should miss out and Robbie should instead attend Calder Street Secondary and Strathbungo Senior Secondary schools in Glasgow, from where he would become an apprentice joiner. This was a respectable career pathway for the self-sacrificing devotion demanded of every wee thoroughbred hockey player soon after he can breathe. Known as "Stevie" over there — not so creative a moniker as "Robbie" like his mates pronounced him over here — he was only 13 when he made the Mohawks in 1952, mentored by Canadian-born Jim Kenny, a former player turned rink manager at Crossmyloof.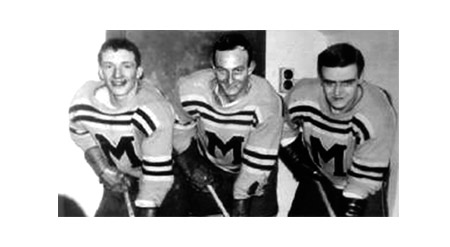 Robbie Stevenson (centre) in the 1960s.

But it was Billy Brennan who Stevenson has credited with developing his aggressive competitiveness — Mohawks coach from 1959, the year after they moved to East Lane Arena at Paisley in Strathclyde. Under Brennan, Stevenson became the fine all-round player and prolific goalscorer fans remember. He represented Great Britain in B-Pool when they were ranked 14th in the world — at Stockolm in the 1963 Worlds, Finland in 1965, and Zagreb in Yugoslavia in 1966 — until his country dropped-out for some years. He was a Paisley Mohawk when they won the 1964-5 Scottish League title and then the 1965-6 BBC Grandstand Trophy, defeating Fife Flyers in the final at Kirkcaldy, 4-1. But in 1966 he returned to Crossmyloof to be the foundation player-coach of the Glasgow Dynamos in the new Intermediate League that was soon to evolve into the Northern League, one of British hockey's successes.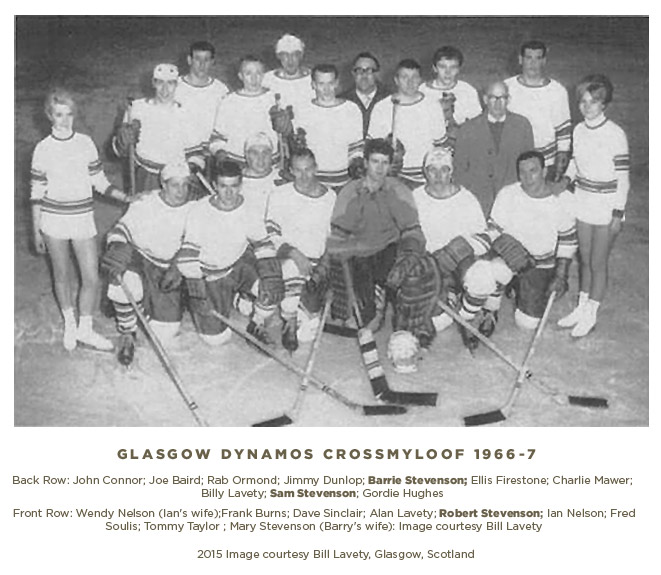 The first Dynamos were young and inexperienced but Stevenson's coaching more than compensated. Acknowledged as a key factor in the club's success he developed forwards such as John Hester (1950- ) and Martin Shields (1954 - ) who went on to become future Northern League champions and national team players. Under his tutelage the Dynamos quickly advanced to championship play-offs for the Icy Smith Cup. They were 1967 British Champions in just their second season, and two-times runners-up in their fourth and fifth seasons. They won the Spring Cup in 1969-70 and Stevenson himself was top point scorer there for the first four seasons, 1966 to 1970, and an All-Star 5 years straight, 1967-71. He produced 253 goals and 168 assists in 5 seasons, averaging just under 4 points per game, well ahead of his nearest rivals. [3]

After a 4-year absence, Great Britain re-entered the international arena at the 1971 C-Pool World Championships with Stevenson as captain. He combined on the power forward line with two other UK Hall-of-Famers, the wingers Jackson McBride and Les Lovell. They finished fourth behind Romania, France and Hungary but it was Stevenson's crowning glory. Because by then he had played against some of the world's top-15 hockey nations, collecting 31 points from 26 world championship games along the way. He worked as a carpenter in a shipyard on the QE2 liner during those years with teammate McBride, then his own heating installation company in Glasgow. He had married Eleanor and had four children by the time he accepted the position of player-coach of the Melbourne Tigers IHC in Australia, on the recommendation of former Dynamos' right-winger, Dave Sinclair, who had emigrated 3 years earlier.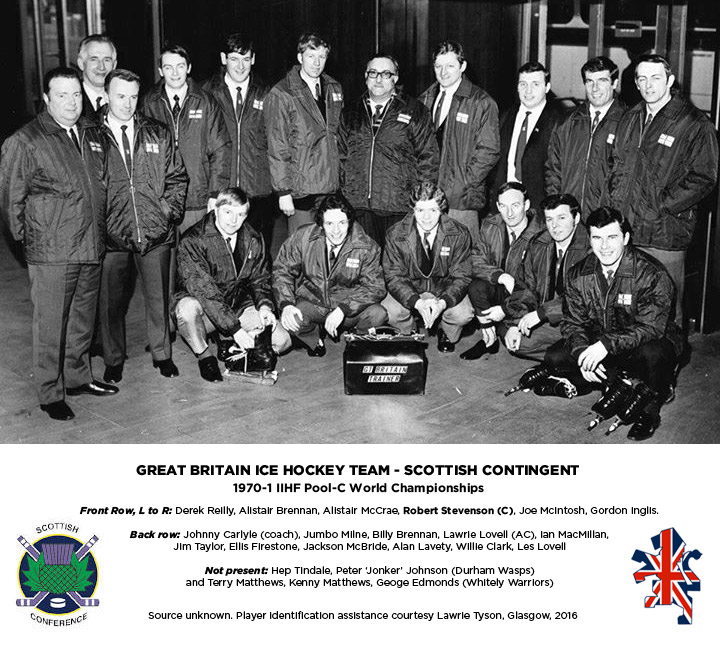 "Dynamos Star To Emigrate Soon", screamed the Hockey Herald that month, "... An outstanding stickhandler and playmaker, Stevie will perhaps best be remembered in the years to come as the man to whom scoring goals was as easy as falling off a log. Even as a thirteen year-old with Glasgow Mohawks he received frequent tellings-off from the late Jim Kenny for scoring too many goals and not concentrating enough on playmaking". [3] He emigrated with his family at the age of 32 in April 1971, leaving the Dynamos the third most successful team in the circuit since 1966, after having begun the least experienced. In a letter back to the Glasgow Hockey Herald that year, Stevenson explained how he missed the first five games in Melbourne, then played a scoreless first game within 24-hours of getting off the plane. But he did go on to say he was top goal scorer by the end of his third game, and "had 23 goals in his first seven outings." [4]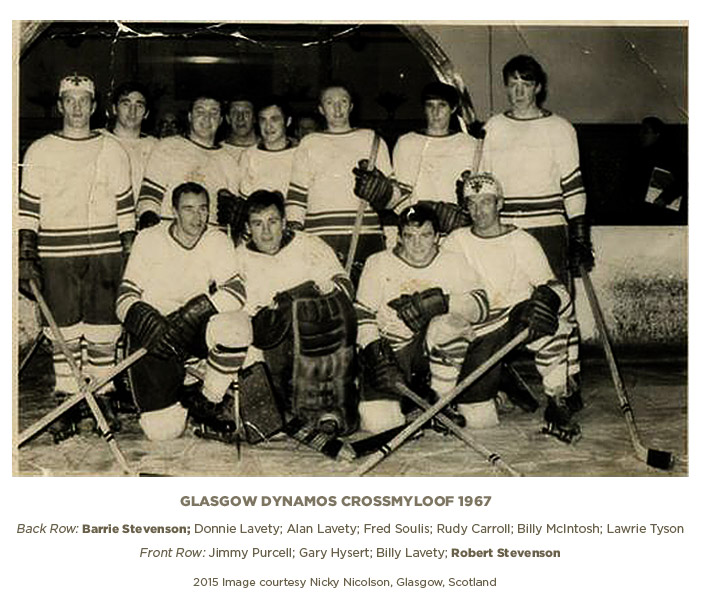 "Any hockey player who is interested in seeing this side of the world wlll be helped in every possible way, job, flat and friends," added Stevenson in his letter to the local hockey press back home. "They will earn twice as much money here as at home. Flats are plentiful and modern. Food and clothes are about the same prIce as at home, but the food is superior. Cars are reasonable, and petrol nearly half the prIce, roughly 5 gallons for £1. The weather is just great and very healthy. If anyone is interested they can write to me and I will sponsor them. Davie SinclaIr is coming home, and looklng forward to playIng for Dynamos once again - he can tell anyone the details of life and hockey here." [4]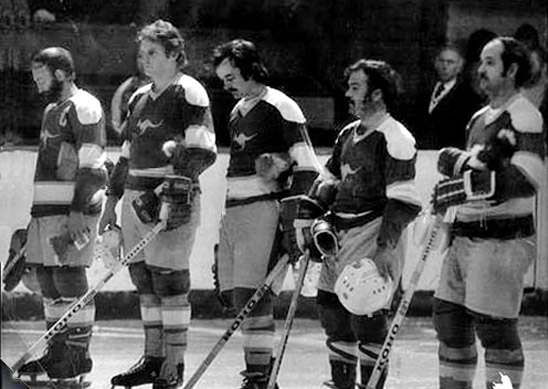 Stevenson (far left) captain of Victoria representing Australia against the touring West German team at Olympia 80 in Melbourne, 1977. Then left to right are Malcolm Heath, Gary Croft, Grove Bennett and Trevor Gardner. Image courtesy of Paul Rice.

Stevenson won at least 3 Goodall Cups in 1972, 1973 and 1976 during the years Elgin Luke was coach, the last when he was 37 years-old (1975 is not confirmed). He played for the Rangers IHC in 1972 and won both the VIHA President's Medal and the John Nicholas Trophy (Goodall Cup MVP) for a record two consecutive seasons, 1972 and 1973. The former was awarded each year to the Best and Fairest player of the Victorian league by the votes of referees. In 1977, he was captain of Victoria representing Australia against the touring West German team at Olympia 80 in Melbourne. Yet, he did not represent Australia at the Worlds in 1974, even though his club sponsor here had insisted upon a full clearance from the International Ice Hockey Federation. "It was a prominent condition of the agreement", reported The Glasgow Hockey Herald, "suggesting Australia may be planning a return to the World Championships spear-headed by Britain's top scorer". [3]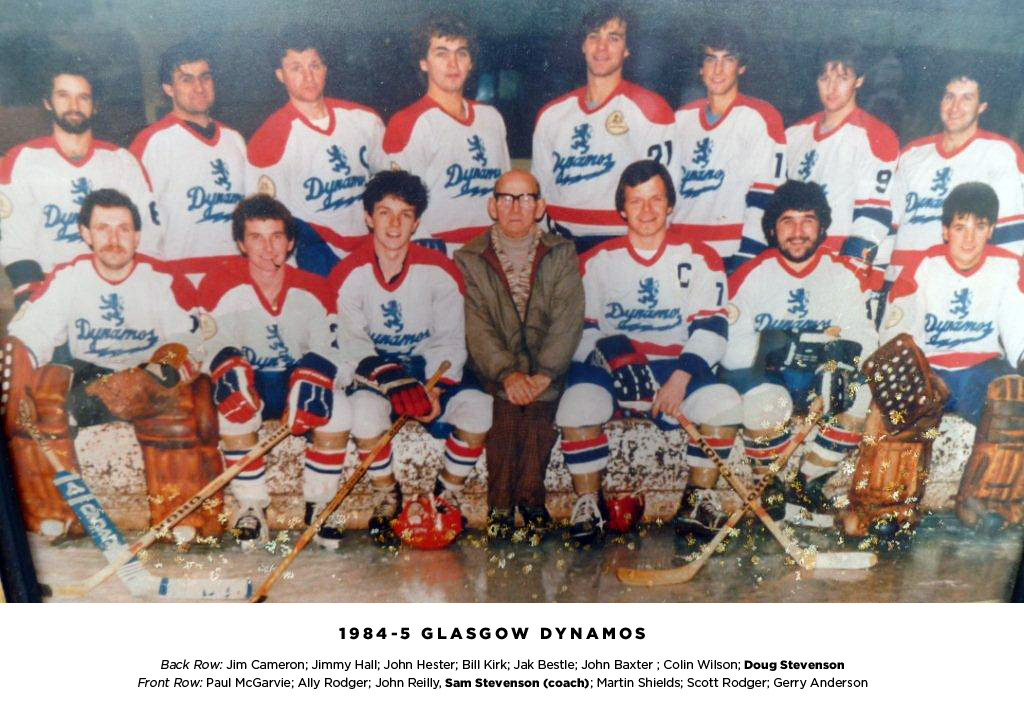 Australia did return, but without Stevenson, and the reason was unlikely to have been age-related. He was the same age as Charlie Grandy, for instance, who had played in 1974 and then again in 1979 at the age of 40. Stevenson had just changed continents with a young family, making it unlikely he would have paid to play and subsidise officials as required here. His father Sam lived through all of this until his death at Glasgow in 1995, at the age of 92, and his son seems set to similarly endure. He plays veteran hockey with the Melbourne Nite Owls winning MVP of the AJAS Cup, the 55-years and over category of the OiHAN Australian Masters Tournament. It earned him the Rocky Padjen Trophy in May 2011 at the age of 72.


With the Rocky Padjen Trophy from IHA president Kevin Brown, May 2011.

Robert Stevenson was small in stature for his heyday but during the 1960s and early 1970s he was an outstanding centre-ice for Paisley Mohawks and Glasgow Dynamos, a captain of Britain who scored 18 goals for his country, a coach of champions. His career as both player and coach in local and state ice hockey in Victoria is longer than in Britain, spanning over 4 decades. He was inducted to the Ice Hockey Journalist UK Hall of Fame in 2003. His son Allen played for Great Britain Under-19s at the 1983 European Junior Championships in Sarajevo. His son Doug represented Australia at Barcelona in Group C of the 1979 Ice Hockey World Championships and went on to play in the Heineken League of the mid-1980s with Glasgow Dynamos, Ayr Bruins and Dundee Rockets. [2] Doug returned to Australia and played A-grade hockey for Melbourne Blackhawks into his late-forties and the AIHL Melbourne Ice in 2004-5. He then briefly coached the AIHL Melbourne Mustangs, and is presently coach of the IHV Melbourne Demons and the AJIHL Melbourne Glaciers.

Father and son were still active in Australian hockey circles in 2015.

Images | 01 | 02 | 03 | 04 | 05 | 06 |



Parts of the story form the biography for Robert Stevenson soon to be added to the Hockey Legends section of this site.



Notes:

[1] It was a decade after the closure of Glasgow's original Crossmyloof Ice Rink (1907-18) before a larger rink of the same name was built there. The Scottish National League was based solely at Crossmyloof until the 1936-37 season. The original was Scotland's first indoor rink. Its 1928 replacement closed in February 1986.
[2] Ice Hockey Journalist UK, based on research by Martin C Harris and Nancy Chisholm in April 1996 and David Gordon in 2005. Parts of the Stevensons' overseas hockey experience are based on their entries in the UK Hockey Hall of Fame and source material.
[3] Icy Hockey Herald No 24, Glasgow, Scotland 3 Apr 1971. Article: "Dynamos Star To Emigrate Soon".
[4] Icy Hockey Herald , Glasgow, Scotland, 1971. Article: "Stevie Starts with a Bang".