From a desert, from the driest continent, from this land at the opposite end of the globe ...
... as remote as could be in the hockey world ...
... came one of the world's oldest winter sports trophies.
A cool tradition, a dream of champions, and a story we owe it to our children to tell.
Legends of Australian Ice.

[ ICE HOCKEY ] Blomberg Theory
Axel Lennart Blomberg (1911 - 1993)

Sweden and Its 'Ice Hockey'. Blomberg, the Swedish goal keeper, who played so admirably for St George Ice Hockey Club in Sydney this season, tells of a Swedish game, played on ice like ice hockey, but with differences. The grounds which are as large as football fields are covered with natural ice in winter so hard that the skates of players do not cut Into it. 'Bandy,'' the name of the sport, is far more dignified in Swedish than in English. But in that land of snow, it denotes a popular and spectacular game. Finland and Norway take part in it also. A ball (smaller than a cricket ball, but larger than a golf ball), is used instead of ice hockey's rubber puck. Sticks of the same shape as field hockey sticks are lighter and flat on each side, so that players can use either side to hit the ball with. Speed enters into the game with greater prominence than in ice hockey, which confines its players to restricted areas. The fields quite as large as hockey or football fields, are suited for real speed, instead of the twisting and turning as seen on ice hockey rinks. Goalkeepers in Sweden are not equipped with sticks, and must catch the ball, or stop it with their bodies. — Referee newspaper, Sydney, NSW, 1934.
LENNART BLOMBERG WAS BORN JULY 11TH 1911 at Stockholm in Sweden, the son of Axel Hjalmar Blomberg and Johanna Matilda Blomberg. He played bandy in Sweden in the early 1930s which, although very popular there, did not become a world championship sport until the 1950s. On the other hand, his country's ice hockey team ranked 6th in the world at that time, and it remained there in the top-10 worldwide for the duration of Blomberg's playing career. It is perhaps not surprising he decided to travel.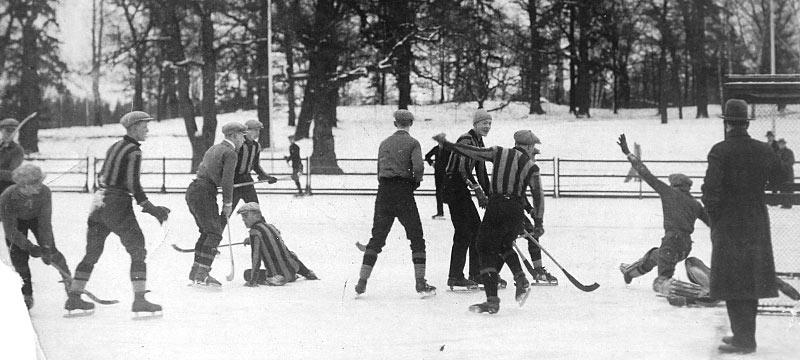 Hammarby's juniors defeated Reymers in 1932 DM-finals. Image courtesy Hammarby IF History Archive.

When the ship Bullaren from Gothenburg docked in Sydney in mid-1933, the 21 year-old clerk who disembarked probably had no idea he was about to become netminder for Sydney's St George IHC for the next few years. But it was indeed Blomberg, who the young Syd Tange had seen in the St George cage on his very first visit to the Glacarium to join the St George juniors. The Sydney journalist who published Blomberg's description of Swedish bandy in 1934, also observed he had "only played our ice hockey for two seasons, and has risen to heights already as St George's goalkeeper, [and it] would not surprise if his native ability took him to representative New South Wales honors". [3]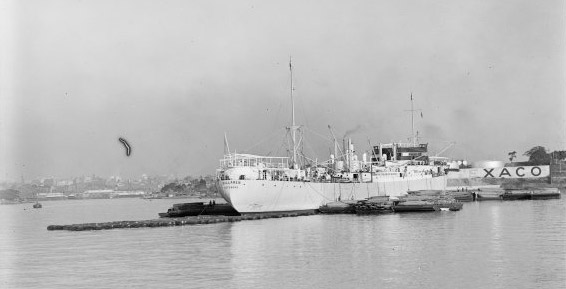 Swedish motor ship, Bullaren, docked in Sydney Harbour, 1 July 1931. National Library of Australia

But although state keepers in those years did change regularly, they were usually locals. Harry White in 1932, Jim Barnett the next year, Fred McCabe in 1935 and 1936, Norm McMillan in 1937 and 1938, Scotty Fraser in 1939. In fact, local New South keepers had so dominated Goodall Cup competition for the two decades between the wars, it is doubtful a foreign goalkeeper had ever represented the state. Blomberg would have been the first had he succeeded, and the opportunity arose twice while he was here. The first in 1934 on the retirement of the 30 year-old Glebe and state goaltender, Jim Barnett.

Barnett was the honored fifth life member of the New South Wales Association in 1937, along with Kendall, Poole, Norm Joseph and Carl Kerr. Rather inexplicably, neither he nor Kendall are listed on the association's honor roll today, but he was a founding member of Glebe IHC who played every year of Glebe's first decade until his retirement. [9] He missed just 3 games in the club's first 7 years [8] and helped his club to a record 5-straight premierships, 1925 to 1929, then again in 1933. He played 19 games against Victoria winning six Goodall Cups in the same years, and was assistant secretary of the NSW association for 9 years.

The honor from the state association was ostensibly in recognition of "his many years of work for the game", but it might have equally been a celebration of his unequalled achievement in net during the halcyon days of New South Wales hockey, the state's first golden era. [6] A state team selector in retirement, his spot in the state side was filled by the Easts local minder, Norm Macmillan. [6] It happened to be the first Australian game conducted under British international rules, three 15-minute periods during which time either captain could change the side. Macmillan had two shutouts from 3 games, allowing only a single goal. Wicket keeper for the Eastern Suburbs Cricket Club in the Sydney Grade Cricket competition, he wore cricket leg pads and gloves in goal, and came to be regarded as the better state goalie. [7]

The next year, the New South Wales' keeper changed again, and Blomberg probably had a second chance. Melbourne tender Harry Darke played the 1935 season for Glebe IHC and met Blomberg when Glebe played St George. Darke was the Victorian keeper for 7 seasons, 1927-33, without ever winning the Cup. Blomberg helped St George to both the minor premiership and the state premiership that season, [3] but it was Freddy McCabe, the popular Wests keeper, who debuted in the 1935 state team. He was small but very active and fearless.

Bill Fraser succeeded Blomberg at St George when he returned to Sweden. "Scotty", who was born in Scotland and arrived here in his early teens, was coached to succeed McMillan and McCabe in the State team, probably the first overseas born player to do so. [7] Back home, Blomberg played reserve league (B-grade) for Hammarby Hockey, a professional ice hockey team with bandy roots in the Hammarby IF sports club. [1] They were giants in the early history of Swedish hockey, playing in its top league from its birth there in 1922 until 1957. They were Swedish champions 8 times in 13 attempts (1932, 1933, 1936, 1937, 1942, 1943, 1945 and 1951), earning them a place among the Top-5 most successful Swedish clubs of all time.

Blomberg published the story of his Australian adventure in an article in Hammarby-Bladet in 1937, appropriately called "Sport in Australia". [2] It included introductory demography intended to benefit his roving countrymen, a "population only slightly over seven million, yet a land area almost as large as Europe ... and for the most part white, not black as the Swede seems to believe. Only 80,000 have dark skin and throw boomerangs, a very noble sport". [2]
Well, that was true before the khaki-clad, crocodile-wrestling type. He mentioned Jack Metcalfe who set a new world record in the triple jump in 1935, Gerald Backhouse who finished eighth in the Olympic 800-metre event at the 1936 Olympics, and Olympic swimmer, Boy Charlton, the long time rival of Sweden's Arne Borg.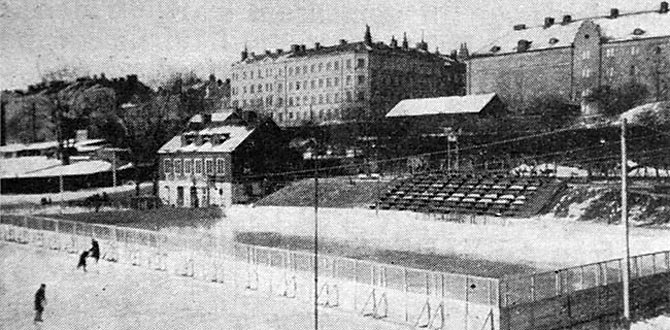 The rebuilt rink at Hammarby IF, 1937. Image courtesy Hammarby IF History Archive

He talked about the weather, "One might think that these favorable climatic conditions would produce athletes of exceptional class, as is the case in California with its similar climate." Corrected common misapprehensions, "This is not the case. Tennis is the only Australian sport that can be called great, because it can be played outdoors year round, and thus the country has become internationally renowned". Spared the Kingdom boring details such as Australia's founding membership of the International Cricket Council and its world class cricket team. It took a further 60 years for Sweden's cricket team to join the ICC.

Over a century of Australian cricket, Don Bradman, and the bodyline series of the early-1930s remained a mystery to Blomberg. But not the Sydney newspaper report that showed Australia, not the USA, was the best sporting nation per capita at the 1932 Olympics in LA. Clearly a statistical manipulation which was further distorted by the selection of only those athletes with a high probability of victory. Australia did win only 5 medals compared to the USA's 103. Yet the nation still ranked higher than the USA per capita and still does. So too does Sweden. Per capita metrics are common and Australia's all-time olympic medal count is higher than Sweden's today, although both have long been among the top-10 nations in the world.

According to Blomberg, Sydney ice hockey clubs did have a few "exceptionally good" players who could hold their place in any team in Sweden's elite leagues — especially those born and developed in Canada who had then settled in Sydney. He thought those expats and the constant stream of Canadian players on short-term visas had helped raise the standard of play way back then, 85 years ago. But "the general quality of the game's stars is not a particularly high level," he said. "Partly because of the narrow rink, partly because of the lack of training sessions, [and partly because] fewer teams mean players and teams know each other so well that the best are prevented from performing at their best, in the best interests of the team".

It was true, Sydney Glaciarium was narrower than Olympic dimensions; more like an NHL rink. And since the other problems did not exist in Swedish pro leagues, Blomburg theorized the quality of Australian amateur leagues might improve if players occasionally changed teams, like pros do between seasons. St George captain, Jimmy Brown, was his model. Brown had developed his game here, not Canada, but he played in different teams in Canada, England and Europe. Other players similarly followed, such as Ken Kennedy who started with Eastern Suburbs in 1930, became the league's top point scorer in 1932-33, then departed for England after the 1934 season to play for Warwickshire, Worcester and Birmingham Maple Leafs (1935-7). Kennedy was the only non-Canadian player in the team at the time, [7] although his real interests were international speed skating [4] and the lucrative show skating he performed as part of the Enders and Cambridge troupe.

Blomberg was taken by the exciting crowds in Sydney, noisily cheering on their team. They were a stark contrast to the Swedes who were "cool as a cucumber even in the most thrilling matches". He encouraged his teammates to "travel to Sydney, but be warned. The art of shoving your opponent into the boards and over is alive and well there". Lennart Blomberg married Brita in 1940 at the age of 29 and they had two children. He died in his eighties on January 25th, 1993 in Enskede or Huddinge, Sweden.



Notes:

[1] Hammarby IF:s Historia Page cited: online

[2] Hammarby-Bladet No. 1, 1937, Sport Och Idrott i Australien (Sport in Australia), pp 41, 42. Copy courtesy Birger Nordmark, Swedish hockey historian.

[3] Referee, Sydney, NSW, 27 Sep 1934 p 12

[4] The Sydney Morning Herald, NSW, 5 June 1935, p 19

[5] Tange once mentioned this to Birger Nordmark, the Swedish hockey historian.

[6] Referee, Sydney, NSW, 6 May 1937, p 13. Former Ice Hockey Goalie Honored. Honoured Life members online: http://www.nswicehockey.com.au/about.aspx

[7] Syd Tange, 1999, Ice Hockey: The NSW Ice Hockey, Association Inc. Australia - Facts and Events 1907-1999

[8] Referee, Sydney, NSW, 29 April p 21

[9] Referee, Sydney, NSW, 9 Aug 1934