From a desert, from the driest continent, from this land at the opposite end of the globe ...
... as remote as could be in the hockey world ...
... came one of the world's oldest winter sports trophies.
A cool tradition, a dream of champions, and a story we owe it to our children to tell.
Legends of Australian Ice.

[ ICE HOCKEY ] The Glass Slipper
Australian Ice Hockey at the Olympics

AUSTRALIAN ICE HOCKEY followers have long cherished the hope that we would one day be able to send a team to compete at the Winter Olympics. Biggest bar to the fulfilment of those hopes has, of course, been the tremendous cost of such a venture. In recent years, individual skaters have represented Australia at the Games, but these all paid their own way. A team of skiers also carried the Australian colors at the last Olympics under the same conditions. The impossibility of getting a worthwhile hockey team together on a pay-your-own way basis is obvious, so the finance has to be raised if we are to see the Australian flag flying over the ice hockey arenas at Cortina in 1956.

Committees have been in existence in both NSW and Victoria for some time, charged with the sole responsibility of raising that money. It is a big job, but long range plans have been adopted and it should not be impossible... The exact amount needed to send a team away is a little difficult to assess, but the ideal team would consist of fifteen players, a manager, and a baggage man-masseur. Travelling by boat they would be away at least three months. Fares alone for this party would be about £3,000. Incidentals such as gear and replacements could easily amount to another £500. Accommodation may not be an expensive item, so we may be able to say that £4,000 would start to get somewhere near the mark. But it could be a lot more.

It is probably too early to be thinking of the possible personnel of a team, but when you remember that players like Dave Cunningham, Noel Derrick, Rus Jones, Johnny Nicholas, Vic Ekberg, Dave Campbell, Geoff Henke, Basil Hansen and a host of other players among our Victorians alone will still be comparatively young players in 1956, it is obvious we have the makings of a good side. It would only be wishful thinking to suggest our team would be a mighty success. Canadians, Americans and teams like Czechoslavakia and Sweden would naturally be far too good for them, but what a wealth of experience our fellows would gain and it is only by competing in these tournaments that we can hope to raise our standards to anything approaching overseas. Doc Carson, AIHF Secretary-Treasurer, Sep 1954. [6]


Walt Disney and Decor Director John Hench. — Disney.

WALT DISNEY AND HIS TEAM awoke to a raging Sierra Nevada blizzard on February 18th, 1960. The week before had been perfect. Whiteout conditions presented several difficulties for their VIII Winter Olympics ceremony, and their plans for the first ever coast-to-coast television coverage scheduled to begin at 10 am. CBS host Walter Cronkite looked like he was broadcasting from the Arctic wastelands. Ten inches of snow fell that morning. High school musicians stood freezing to their instruments during dress rehearsal, not dressed for a blizzard, and not able to see the conductor through the snow. Pigeon wranglers were unlikely to release their birds. The Vice President of the United States was forced to drive in from Reno because his helicopter was grounded. No-one knew if the man who was going to open the Games would even make it on time. The perilous drive up the mountain was worsened by snow on the road. It stopped people dead in their tracks, and hindered the network crews and announcers from reaching their locations. Someone had to decide what to do.

The alternative to Disney's outdoor ceremony was a much smaller indoor ceremony, which the TV crews favored, but which the choral director did not, because it squeezed out many of the young musicians who had worked so hard to get there. Walt Disney, Chairman of the Pageantry Committee, remained unfazed throughout. He simply said they would go on, and the weather would hopefully clear up. Visibility was almost zero while athletes were gathering to march out onto the arena but, when everyone was assembled and ready to go about an hour later than scheduled, that's exactly what happened. The snow stopped and the sunshine began as if it was scripted. The creator of the Magic Kingdom punctuated the first made-for-TV opening gala with music and thunderous sounds for two hours. He drew on 3,680 high school students, 1,322 muscians and a 2,358 voice choir, the United States Marine Band, thousands of balloons, and 2,000 white pigeons taking flight as cannons fired the flags of nations into the air. Speeches, the Olympic oath, and the lighting of the Olympic flame were capped by a spectacular daytime fireworks display. Then, five minutes after it all ended, the snow resumed falling and continued for most of the day and night. The next day was bright and sunny and it stayed that way for the rest of the Games. Many writers later referred to the miraculous break in the weather as "The Miracle of Squaw Valley".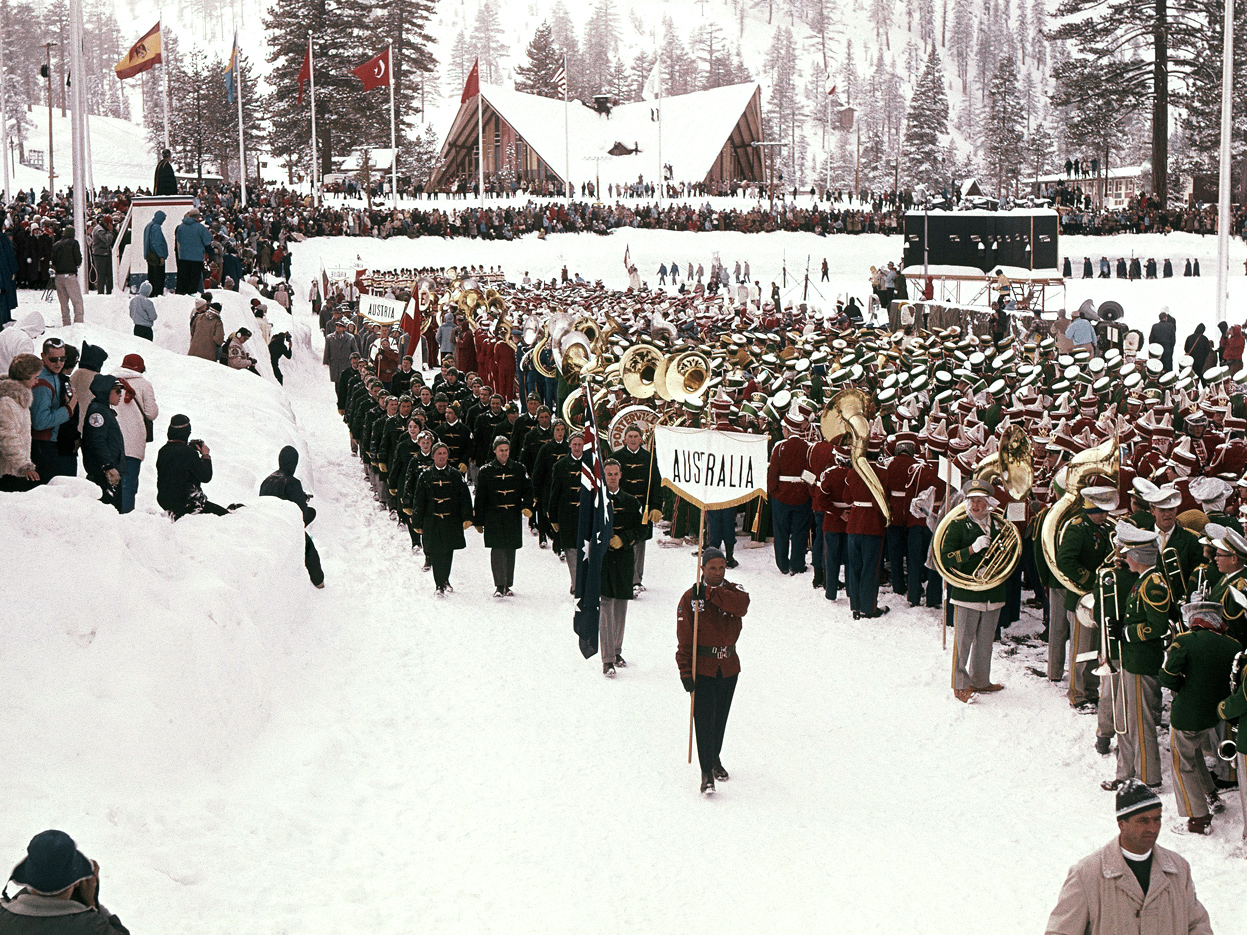 Vic Ekberg, bearer of Australia's national flag at the 1960 Winter Olympics

The man who led out the third contingent after Greece and Argentina in the opening ceremony was Canadian-born, Vic Ekberg. Australia's flag-bearer was one of seventeen of the nation's very first ice hockey olympians. Although two Czechs had immigrated many years earlier, most were homegrown. The squad really was Australian without a single player import. Ekberg had commenced hockey at St Moritz in St Kilda in the Summer of 1949. He had developed his game in Australia for three and a half seasons, then sailed for England where he earned a place on the Streatham Royals in the Intermediate League London under the prominent Canadian coach, Red Stapleford. Ekberg said he learnt more in that one season than he would have done in a lifetime at home.

In those days there were more than a few homegrown elite players like Rus Jones, Dave Cunningham and Noel Derrick but, unfortunately, Ekberg's experience in the Australian player development system was the emergent pattern, rather than an odd occurrence. Still today, locals reach the point where the development they require is unavailable here. They are forced to live on the other side of the globe, if only to get a competitive advantage over their peers, and that involves considerable social and financial cost. Those players could instead be developing with their national team line-mates, in- and off-season. Not only in national leagues, but also in competition with equal or higher ranked nations in our region. The system here is leaking some of its best talent along with the support and resources their families would otherwise provide local leagues. It was the reverse in the fifties.

The Australians got to the Games with an invitation and financial help from the USA, [5] but they were not the only North Americans helping the Australians in the late-1950s. The development of the nation's first winter olympian and its first olympic team also required a little imagineering, especially from three Canadian-born Australians — Jim Kendall, Doc Carson and Bud McEachern. In reality, their stories started decades earlier, back in 1923, when Australia's first national authority was officially established to control both ice hockey and speed skating through delegates from New South Wales and Victoria. This was largely achieved by John Goodall working with Leslie Reid in Sydney. Reid had access to the valuable skill and experience of ex-pat North Americans, Doc Murphy and Jim Kendall. Kendall retired as a player in 1925, and was already coaching a new generation of ice hockey players who were also ice racers. In 1937 he coached the new Sydney University ice hockey team. Unlike almost anywhere else in the world this decade, the Australian game was about speed, with an offside rule and minimal checking to keep things moving. It was four years later, in June 1929, that the NSW Ice Hockey Association was granted affiliation with the NSW Olympic Council. The move was recognition of the local association's cultivation of "ice hockey, speed and figure skating, with a view to sending competitors to the next Games" in 1932.

The third winter olympics at Lake Placid in New York in 1932 were not attended by Australians. However, two of Kendall's protégés, Jim Brown and Ken Kennedy, were now representing New South Wales in both ice hockey and speed skating, and winning the quarter-mile and half-mile championships. Brown was the first Australian to break British ice racing records, and the first to play hockey in the British National League when it was the biggest amateur league in the world. Kennedy followed suit in both speed skating and ice hockey. He also became the first Australian winter games olympian at Garmisch in Bavaria, Germany, competing in the 500m, 1500m and 5000m speed skating events. The fastest British Empire representative at the Games, he remained in England as a professional skater in a team that included Australian world professional figures champions, Enders and Cambridge, and British figures olympian, Hope Braine, who intended to become an Australian resident. Kennedy was officially sanctioned by the Australian Olympic Federation, but supervision and support were relatively minimal.

A few years later, in June 1939, the Australian Ice Hockey Council proposed that Australia be represented for the first time in that sport at the 1940 Games. The main difficulty was finance, but the AIHC had opened a fund with the object of raising the required £1,500 jointly between the NSW and Victorian associations. The Games in 1940 and 1944 were cancelled due to the world war. Kennedy returned in April 1946 and, within the week, the Australian Ice Hockey Association announced it was considering sending an Australian team to the 1948 Winter Olympics at St Moritz in Switzerland. A month later the NSW Association withdrew, announcing it was "not considered practicable because of the cost involved". However, the Victorians thought otherwise and Kennedy, the new AIHF president, supported them.

New South Wales' dominance of interstate hockey had been ended by Molony's Victorians just before the war. The VIHA were admitted to the Australian Olympic Federation in 1950, and they re-established an Olympic Fund in 1954. It received at least some support from the NSW Glaciarium management. The man who was to coach, Bud McEachern, arrived permanently from Norway where he had coached the national team to their first World Championship and Olympics. It was almost two decades in the making, but at last everything was in place and the Australian team lodged their request with the AOF seeking permission to compete at the 1956 Winter Games in Italy. They had even offered to pay their own way, yet they did not even receive a reply. They were unable to attend, and they criticised the AOF for their disinterest.

The ice hockey squad that had been developing in Victoria's league for the past decade was performing at its best then, if not a little earlier, with the core of the team in their mid-twenties. This sad antipathy was the key factor that set Geoff Henke AO on the path that eventually ended the neglect of winter sports in Australia, at least in the skiing and skating events. [3] Henke was a player with the VIHA Raiders IHC comprised mostly of talented New Australians, and a member of the unsuccessful 1956 olympic squad. There are other instances of this, such as speed skater Colin Hickey who once revealed he did not even receive clothing from the Australian Olympic Federation, except for a black armband and tie for the 1952 Olympics, to mark the death of King George VI. He also said that Australian officials had, "no control over me ... all they'd do was tell me what times I had to do". Ice hockey here had suffered a body blow as a direct result of that lost opportunity in 1956. Most of the proposed team made the 1960 Games, with one New South Welshman, at a personal cost of about £600 each (about $16,000 in today's money), but they were all 4 years older and Henke was not among them. The average age of the 1960 squad was thirty, and a minority of only seven of the seventeen players were in their twenties.

Ice hockey was probably the most spectacular of all events at these Games and the fact that the USA won by upsetting both Canada and the defending champions from Russia undoubtedly added to the sport's popularity. The victory came to be known as the "Forgotten Miracle," with reference to the more famous 1980 gold medal known as the Miracle on Ice. A documentary entitled Forgotten Miracle was produced in 2010 on the 50th anniversary of the Games. This first international showdown for Australian hockey was made possible due to fewer participating countries than usual. Some teams in Group A did not compete, among them Switzerland, Norway, German Democratic Republic and Poland. In the Preliminary Round, teams were divided into three pools and each played two games against others in the pool. Australia was unfortunate to open against Czechoslovakia (CSSR) and then play the home team (USA). Coach McEachern was rotating two defensives pairs with three lines of forwards and two utility players who could play both ends. Two teams survived each of the three pools to play in the championship tournament. The three losers in the preliminary round, including Australia, played in the consolation tournament.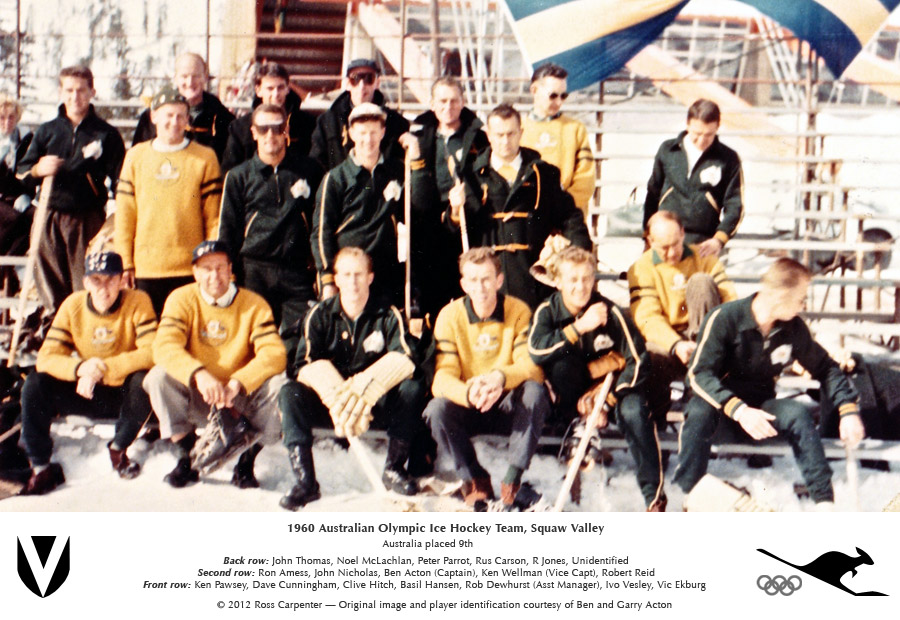 Australia Olympic Ice Hockey Team, Squaw Valley, 1960. Image courtesy Ben and Garry Acton.

Australia were defeated by Czechoslovakia 18-1 (7-1, 3-0, 8-0). The Czechs went on to finish fourth at these Games. Rob Reid in net played the entire 60 minutes making 64 total saves, facing over twice the average shots on goal (17 in the 1st, 21 in the 2nd and 26 saves in 3rd). The CSSR goalies Nadrchal and Dvoracek combined for 14 total saves, facing about half the average shots on goal. Cunningham scored Australia's only goal in the first assisted by Jones and Ekberg. Wellman was penalised for two minutes in the third and Kasper for Czechoslavakia took three 2-minute penalties, including the penalty for spearing Steve (Zdenek) Tikal in the shoulder. Tikal was the brother of Frantisek Tikal, a defenseman for the Czechs for seventeen years, who later helped capture the bronze medal in 1964, and was inducted into the IIHF Hall of Fame in 2004.

Steve had defected 12 years earlier and this was the first time that two brothers from opposing nations had faced each other in Olympic hockey. Steve was speared in the shoulder as he skated down the left wing and hit the ice hard. His Olympic campaign ended this game after a collision with his brother left him unable to compete with a separated shoulder. They were reunited under cover of darkness after the Czech secret police had tried to keep them apart. "That Czech game was pretty brutal," recalled Basil Hansen. "We had two Czech players in our team. The other was Ivan Vesely, and both died several years ago. They were naturalised Australians but it was a big deal as far as the Czechs were concerned because they were classed as traitors to their country, and they wanted to kill." [5]
In the second game, Australia was defeated by the USA, 12-1 (6-0, 3-0, 3-1). Reid in net saved eight shots but allowed six goals in the first period. Noel McLoughlin saved 16 shots and allowed 3 goals in the second and, in the third, he saved nine shots and allowed three more goals. The total shots on goal were USA, 33 - 9, a much better defensive performance, and against the home team that ran out victors. McLoughlin had never seen a face mask, but he made sure he got hold of one after standing in front of the net, completely exposed, against the US. It was a miracle, he said fifty years later, that he didn't wear a puck in the face. He just couldn't believe the speed at which the Americans were shooting. [5] Australia's only goal was scored in the third by Rus Jones from Dave Cunningham. Captain Benny Acton was penalised for 2 minutes in the first, and Ivo Vesely took two in the second.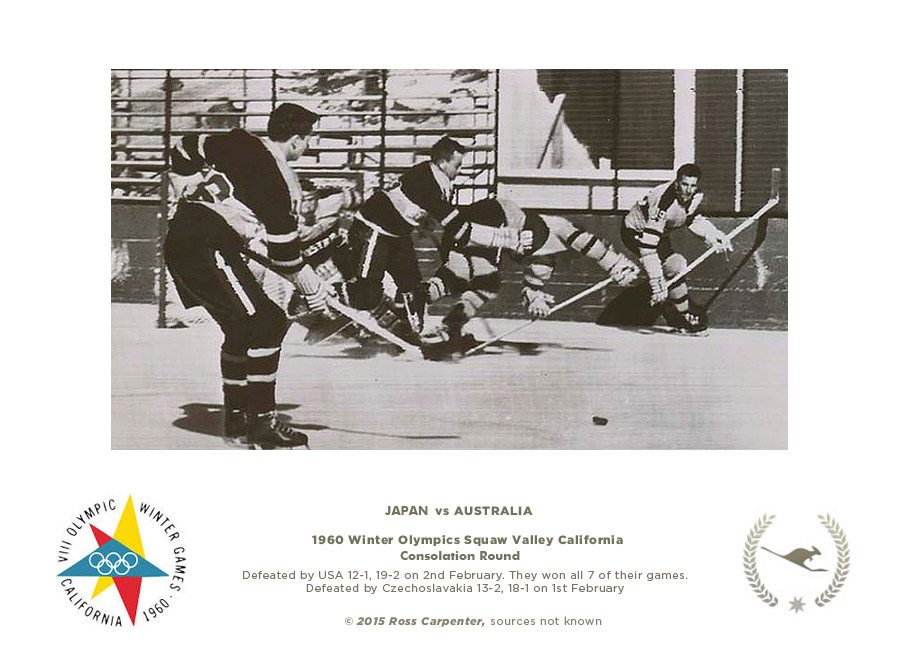 USA vs Australia, Squaw Valley, 1960. The line-up of the team that won the gold included Tommy The Bomber (Tom Williams) who commenced an 8-season career with the Bruins after this, and keeper Jack McCartan who was on trial with the New York Rangers. Herb Brooks, the future coach of the 1980 US "Miracle on Ice" team, was cut from this team a week before the Games began.

In the consolation tournament, Australia played Finland twice losing 14-1 and 19-2, and also Japan twice, losing 13-2 and 11-3. They finished last with just 8 goals and 58 goals against. Ivo Vesely smashed his head into the crossbar when scoring Australia's only goal against Finland and was carried unconscious from the rink. [4] Overall, Australia finished 9th and last, scoring ten goals and conceding eighty-seven from their six games. David Cunningham had six points (4 + 2) from six games, and Rus Jones scored five points (2 + 3) from six games. Defender Bas Hansen told a newspaper in 2010, "We got over there and within a few days we were supposed to be playing hockey. We didn't have any time to acclimatise and the valley was 5000 feet [1500 metres] above sea level, which we weren't used to. The air was a bit rarefied, the ice was a lot faster than what we were used to, and we were all amateurs in the true sense. When we got over there we found that most of the other teams were not what you would call true amateurs, they were either army or air force and they played hockey seven days a week."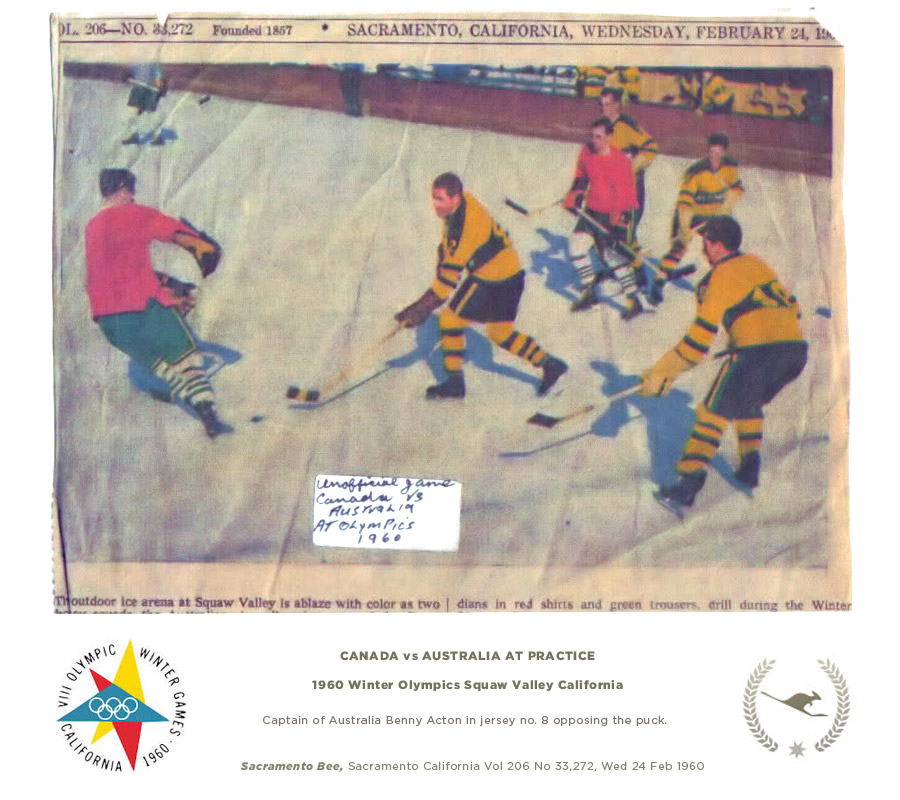 Canada vs Australia at Practice, Squaw Valley, 1960. This was the Kitchener-Waterloo Dutchmen and they finished with the silver. The line-up included Bobby Rosseau, who first played for the Habs this year, Cliff Pennington who went on to play 101 games for the Habs and Bruins, and Harry Sinden, long-time general manager, coach, and president for the Boston Bruins.

The team didn't return in the 1961 world championships where they might have entered the new B-pool, yet the story of the Australians who danced on ice with hockey royalty in 1960 seems like it was taken from the same fairytale as the Squaw Valley bid itself. Both were true Cinderella stories, and the most unlikely characters waved the wand that made dreams come true. Perhaps that sounds like pure fantasy today, but it is likely to mean more than that because the same tale has emerged too often, over too many centuries, in too many languages and mediums and cultural traditions for it to be meaningless. It somehow connects with universal truths. The Squaw Valley bid started as a publicity stunt by Alexander Cushing, the Harvard-educated owner and only resident of the struggling ski resort. Yet, it shocked the world by beating-out some of the great ski resorts of Europe in the vote by the International Olympic Committee (IOC) in 1955. The Australians didn't beat-out opponents to win even a single game on the ice, but they did do exactly that off the ice, by participating and scoring olympic goals, despite the shocking antipathy leveled at them by their own Olympic federation. "We were very, very amateur. We weren't going over there to win anything, we went over there to learn," said Rus Jones 50 years after the event. "It's going to be difficult for an Australian team to get there again." [5] What if the sport here was all the richer for it precisely because it was not about winning? What if it had set something in motion?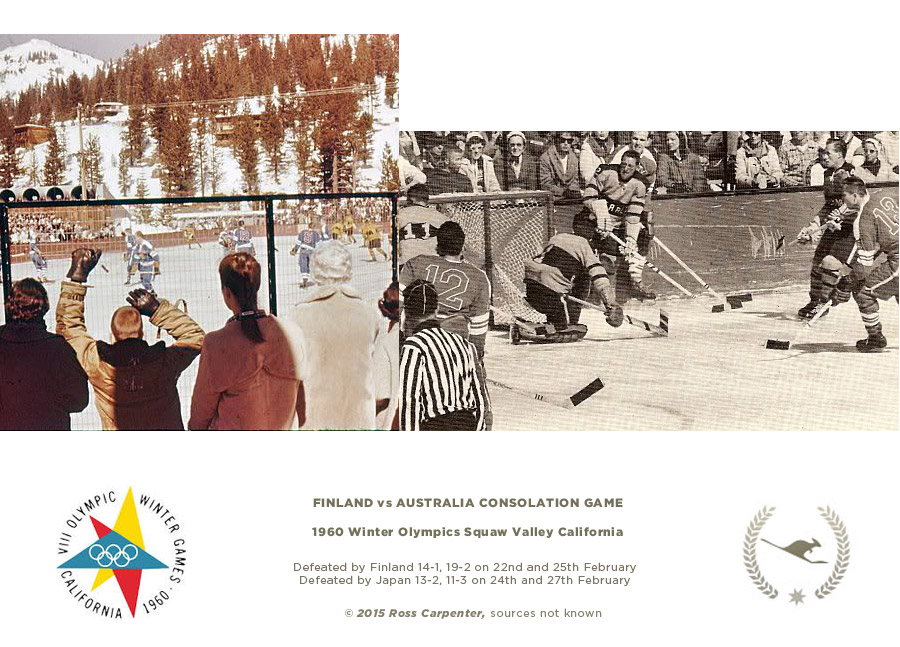 Finland vs Australia in the Consolation Round, Squaw Valley, 1960

With one chairlift, two tow-ropes and a fifty-room lodge, Squaw Valley was far from prepared to host an international sporting event back then. When IOC President Avery Brundage heard about the bid, he told Cushing, "The USOC has obviously taken leave of their senses" and you are "setting the Olympic movement back 25 years." Yet, in just four years, Squaw Valley was transformed into a stunning example of American ingenuity, perseverance and dedication. It dazzled the world. Similarly, Australia was unprepared to compete at the world class level, although it certainly would have been more prepared four years earlier. Yet, Australia did compete, returning again for another go at the elimination round for the 1964 Games. Australia didn't dazzle the world with its performance, only its presence, the magic required just to get there. Pumpkin carriages don't grow on trees. Someone once said a fairytale's message to children is "that a struggle against severe difficulties in life is unavoidable, is an intrinsic part of human existence — but that if one does not shy away, and steadfastly meets unexpected and often unjust hardships, one masters all obstacles and at the end emerges victorious." [8]

The look of these Games was heavily influenced by Disney Imagineer, John Hench. Good examples of his work there were the thirty sixteen-foot "snow" statues that were positioned along the Avenue of the Athletes and other signification places. Walt Disney suggested the idea, inspired by the ancient Greek custom of commemorating Olympic champions with marble sculptures, but it was Hench who designed the statues after visiting Winter carnivals at Dartmouth College and Quebec to study snow sculpting technique. Disney made very sure of its Hollywood touches for the Californian Games, with the first live entertainment for athletes every evening, Bing Crosby, Roy Rogers, Red Skelton, Danny Kaye and Jack Benny. Actress Marlene Dietrich posed for pictures with the German hockey team, and the media was well tended to, thanks to "official press hostess", Jayne Mansfield. The Academy of Motion Pictures Arts and Sciences delivered films for the athletes, which were presented nightly in the enclosed Olympia Theater. Similarly, California's Silicon Valley supplied cutting edge IBM automated systems and IBM itself provided 26 technicians to operate them without charge. This made the scoring of events the fastest in Olympic history. For the first time athletes knew the results of their efforts, and those of their competitors, while the events were still in progress.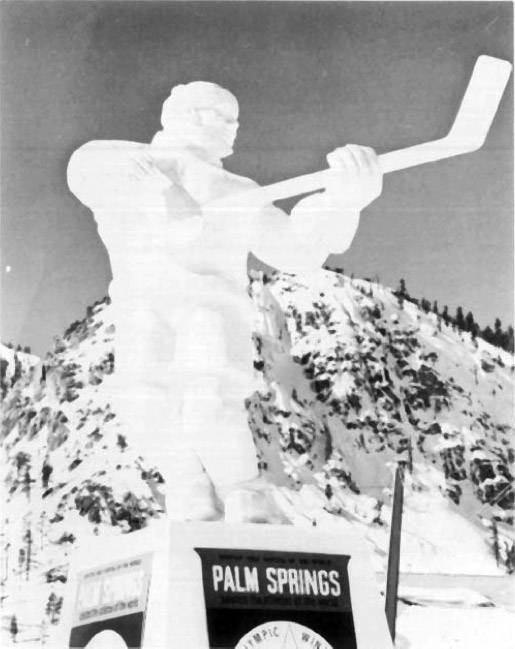 Disney's Snow Scupltures, Squaw Valley, 1960 [7]

Disney's Olympics, the largest Winter Games held to that point, received rave reviews. The once-skeptical IOC chair called them the "greatest games ever staged." Army Archerd in Variety called Disney's opening ceremony "the greatest show on Earth," and a reporter for the Los Angeles Times proclaimed, "it is my conviction that you'll never see anything of that kind so well done in your lifetime." The Russians wanted to know the chemicals used to control the weather during the opening ceremony. These Games cast a long shadow, influencing the look and feel of the Games up to this day. But at the time many simply wondered how Walt Disney had managed to make things work out so perfectly. Was it divine intervention? If it was a miracle, claimed Disney's own press materials, it was a well-planned miracle. Walt himself said, "It's just that if you live right, things happen the way they're supposed to."

Some are critical of the Cinderella story for presenting the heroine in need of a prince to escape her unhappiness. But that is not quite true, as Walt Disney had said, "She believed in dreams, all right, but she also believed in doing something about them. When Prince Charming didn't come along, she went over to the palace and got him." And there is certainly not much from the fairy godmother that doesn't change back to rags when her magic reaches its use-by date. Just enough, it is said, to make a dream come true.



Team | 02 | Poster | Rink |

Video (slideshow above). (1) Opening Ceremony and (2) Lake Tahoe Olympic Heritage

Notes:

[1] Sydney Morning Herald, 13 Jun 1929 p16; 25 Oct 1935 p17; 18 Mar 1938 p 17; 27 Jun 1939 p15; 18 Apr 1946 p9; 23 May 1946 p9

[2] The Walt Disney Family Museum, "New Heights: Walt and the Winter Olympics" by Michael Crawford, 2012

[3] Wikipedia entry for Geoff Henke, online

[4] Canberra Times, 24 Feb 1960 p 24 Australian Ice Hockey Side Trounced

[5] Sydney Morning Herald, 21 Feb 2010. The rink outsiders who made the big time, by Chloe Saltau

[6] Ice Hockey Guide, VIHA, Goodall Cup Issue, Sep 1954, Edited by Russ Carson

[7] VIII Olympic Winter Games, 1960, Final Report, California Olympic Commission

[8] Bruno Bettelheim, 1976, The Uses of Enchantment: the Meaning and Importance of Fairy tales.
AUSTRALIA: Ice Hockey Player Summary 1960 Olympic Winter Games, Blyth Arena, Squaw Valley, California, 19 - 21 Feb 1960
| | | | | | | | | | | | |
| --- | --- | --- | --- | --- | --- | --- | --- | --- | --- | --- | --- |
| # | KEEPER | YOB | NAT | State | Club | GP | GA | SVS | SOG | SV% | GAA |
| - | Noel McLOUGHLIN * | 1929 | | | Demons | 2 | 21 | 44 | 65 | 67.7 | 10.50 |
| - | Robert REID * | 1932 | | | Blackhawks | 2 | 35 | 62 | 97 | 63.9 | 17.50 |
| # | PLAYER | YOB | NAT | State | Club | Pos | GP | G | A | Pts | PIM |
| - | Basil HANSEN | 1926 | | | Monarchs | D | 4 | 1 | 0 | 1 | 4 |
| - | Ivo VESELY | 1926 | | | Hakoah | F | 5 | 0 | 0 | 0 | 2 |
| - | Russell JONES (VC) | 1926 | | | Demons | F | 5 | 2 | 3 | 5 | 2 |
| - | Noel DERRICK | 1926 | | | Blackhawks | F | 3 | 2 | 3 | 5 | 4 |
| - | Ben ACTON (C) | 1927 | | | Monarchs | F | 2 | 0 | 0 | 0 | 11 |
| - | Ronald AMESS | 1927 | | | Hakoah | F | 5 | 0 | 0 | 0 | 2 |
| - | David CUNNINGHAM | 1928 | | | Blackhawks | F | 5 | 4 | 2 | 6 | 4 |
| - | Kenneth WELLMAN | 1930 | | | Blackhawks | D | 4 | 0 | 0 | 0 | 6 |
| - | Zdenek TIKAL | 1930 | | | Demons | F | 5 | 0 | 0 | 0 | 0 |
| - | Clive HITCH | 1931 | | | Blackhawks | F | 5 | 0 | 0 | 0 | 0 |
| - | Victor EKBERG | 1932 | | | Tigers | D | 4 | 0 | 2 | 2 | 0 |
| - | John NICHOLAS | 1936 | | | Pirates | D | 5 | 0 | 0 | 0 | 14 |
| - | John THOMAS | 1936 | | | Hakoah | F | 5 | 1 | 0 | 1 | 6 |
| - | Peter PARROT | 1936 | | | Blackhawks | F | - | 0 | 0 | 0 | 0 |
| - | Kenneth PAWSEY | 1940 | | | | F | - | 0 | 0 | 0 | 0 |
| | | | | | | | | | | | |
| | TOTALS | | | | | | | 10 | 10 | 20 | 55 |
* Both the second games against Japan and Finland are excluded because shots on goal were not published. Robin Dewhurst does not appear in official stats published in the final report of the Games. [7]