From a desert, from the driest continent, from this land at the opposite end of the globe ...
... as remote as could be in the hockey world ...
... came one of the world's oldest winter sports trophies.
A cool tradition, a dream of champions, and a story we owe it to our children to tell.
Legends of Australian Ice.

[ ICE HOCKEY ] Delirious Chicago
The House that Harry Built, 1939 - 1982

It would be fatal for the Centenary Council to decide against a large international fair with sideshows, tableaux, and illuminations. The Chicago Exhibition was perhaps the most amazing sight on my tour. There were hundreds of amusements and countless sideshows, many of the educational exhibits being accompanied by lectures from university men. Scores of exhibits were primarily for children, who had a special session between 10 am and noon. Some of the historical and industrial pageants were performed by 3,000 people. The daily attendance at the Chicago Exhibition was estimated at 350,000. H H Kleiner in The Argus newspaper, Melbourne, May 8th 1934. [1]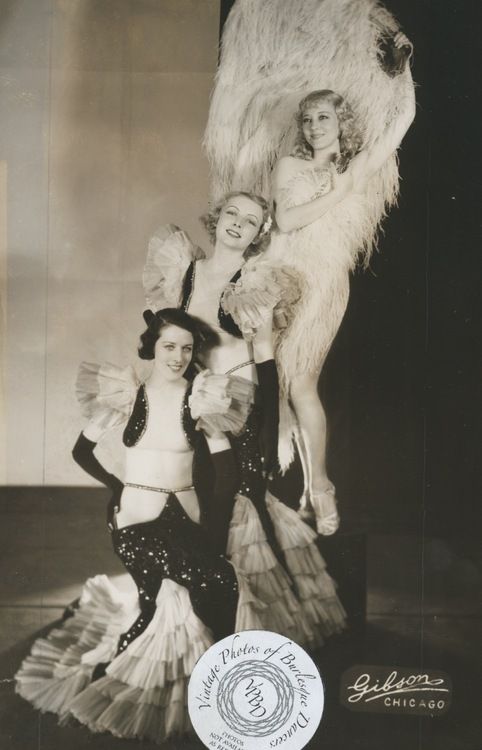 Sally Rand (back) with two other dancers from her show at the Italian Village at the Chicago World's Fair. The fair spanned the years of 1933 and 1934. In 1933 Sally performed her famed fan dance at the Streets of Paris Exhibit when it was managed by Kleiner. In 1934 she moved her show to the Italian Village. News service photo, 18 July 1934. Image courtesy of Vintage Photos of Burlesque Dreams.

THE LADY RIDER looked sensational traversing the Chicago fairground naked on a steaming white horse like Lady Godiva. Sally Rand, the 29 year-old, out-of-work, silent film actress turned burlesque dancer, bridled-in her unauthorized stunt with a chink of metal, at the same time winning star-billing at the Streets of Paris concession on Midway at the 1933 Chicago World's Fair. As Chicago legend has it, those chastened tresses, her long blonde hair, had done precious little to protect her honour. But it was there, in-between countless arrests, that Miss Rand re-booted a stalled career, most famously with an ostrich-feather fan dance to Debussy's Clair de Lune. She was arrested for indecent exposure four times on one particularly busy day — twice after her fan dance; once riding the white horse down the streets of Chicago with only the illusion of nudity; and once again in Hollywood body paint applied by Max Factor Snr, no less.

Inextricably linked to Al Capone and gangsters, to the mafia and speakeasies, there were parts of Prohibition-free Chicago that thrived in the dark and gloom of the Great Depression. The theatre scene was among them and struggling musicians found solace in the city's blues and jazz clubs, many remaking a name for themselves. It was a time when many people in the city were unemployed and dependent on food hand-outs to get by, yet the fair reported 22 million paid admissions, two million of which were attributed to Streets of Paris, managed by Melbourne showman, Harry Kleiner, the namesake of the H H Kleiner Trophy of Ice Hockey Victoria. [1] The Midway exhibit was filled with nightclubs such as the Old Morocco, where future stars Judy Garland, The Cook Family Singers, and The Andrews Sisters performed. Ice skating stars exhibited on the frozen mill pond of the Black Forest Village, among them Charlie and Vida Uksila, the professional instructors at the St Moritz Ice Skating Club of San Francisco, who had taught and exhibited in both Melbourne and Sydney in 1920 and 1923. The picturesque houses and shops surrounding the frozen pond sold the products of German home industries.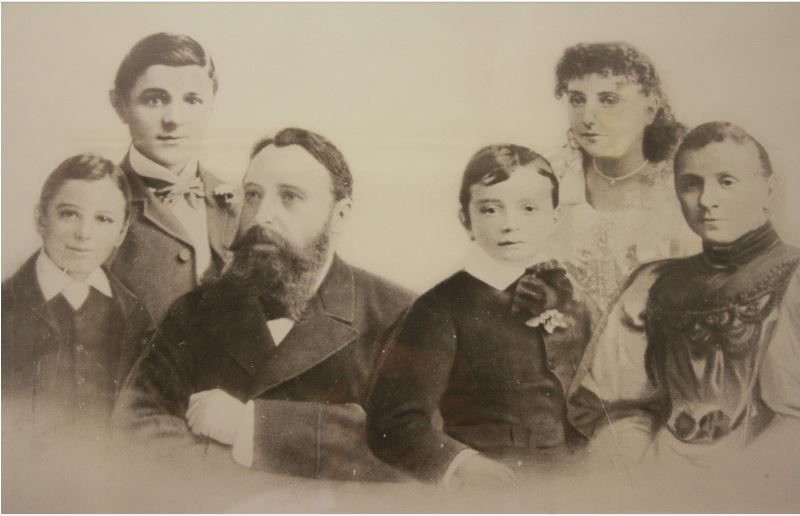 Kleiner family, 1890s. Harry is the youngest son.

The sign at the entrance to Streets of Paris read: "Here's where you'll get your real French atmosphere. Caf"?s, bars, artist quarters, shows, dance plazas, shops, street scenes, free continuous entertainment, champion diving, dancing, music. No cover charge." Inside, faithful building reproductions formed thoroughfares named after the streets of Paris. The dancing floor beside the Lido swimming pool burst into life between four to six in the afternoon and every evening. Fifty dancing girls and entertainers performed the floorshow. Catwalk parades by Parisian mannequins, diving exhibitions by Olympic champions. There were seven "artist studio" entertainments set against a backdrop of old walls and small cafes from the streets of the Montmartre quarter of old Paris, famous for the Moulin Rouge. Cigarette girls, flower girls and other Parisian characters. A French wine and liqueur exhibit in a special building, Cafe de la Paix, indoor and outdoor tables, table d'hote and a la carte service. The effect was completed by an orchestra, floor show and dancing for guests in the afternoon and evening. [2]

Some months earlier, many miles away in Melbourne Australia, the inquest into the death of Josephine Kleiner heard evidence of the domestic differences between she and her husband. Also evidence of her upset when he left their Brighton home at No 302 St Kilda Street, for Sydney on September 14th 1932. She had been in ill-health for five years during which time she had threatened to poison herself several times. The city coroner did not allow her letters to be published, although a weekly had already done so. He found that Mrs Kleiner committed suicide on September 24 by taking poison. [3] Passports registered that year in the names of Harry Kleiner and Nellie Stuart are held by the National Archives. The couple had departed in time for the opening on May 27th of the Chicago World's Fair, billed as "A Century of Progress 1833-1933".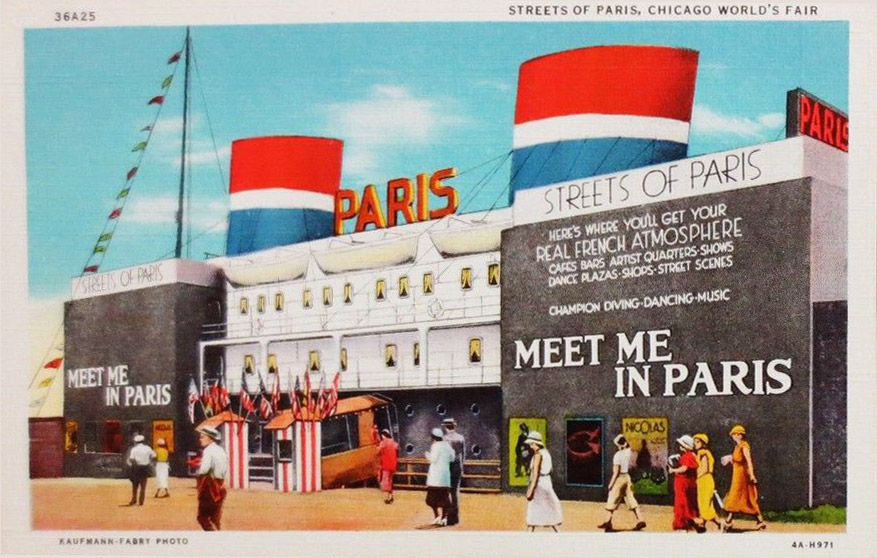 Streets of Paris, Century of Progress Exposition, Chicago World Fair, 1933. [Top] Entry on the Midway [Beneath] Streets of Paris Nightlife

Henry Hans Kleiner had inherited the varied interests of his Hamburg-born father, a decorator for the German Court, who became supervisor of the decorative work at the Melbourne Exhibition of 1880-8 from the early 1880s. As licensee of the Sydney Hotel at Wangaratta in rural Victoria from 1889, he redecorated, cultivated a keen interest in many local activities, and acted as marshal for St Patrick's and other processions for many years. [4] Then he became a Chapel Street merchandiser living at Richmond in Melbourne's inner city, and the owner of the Direct Import Supply Stores at Swanston Street, and at Bourke street next to the old Tivoli Theatre in the city.

So, well may you say it was in young Harry's blood to promote buck jumping and vaudeville at the Exhibition Oval in Melbourne in 1928, and dancing at his Palais Royal dance hall in the Exhibition Buildings. You may even go so far as to say he was following in his father's footsteps when he told the The Argus newspaper on his return to Melbourne in May 1934, that he had travelled 68,000 miles through America and Europe inspecting national and international fairs and exhibitions in search of ideas for Melbourne's centenary celebrations. Impressed by the necessity of having some type of international fair, H H Kleiner intended to apply for permission to stage one in the Exhibition grounds during the city's centenary. [1]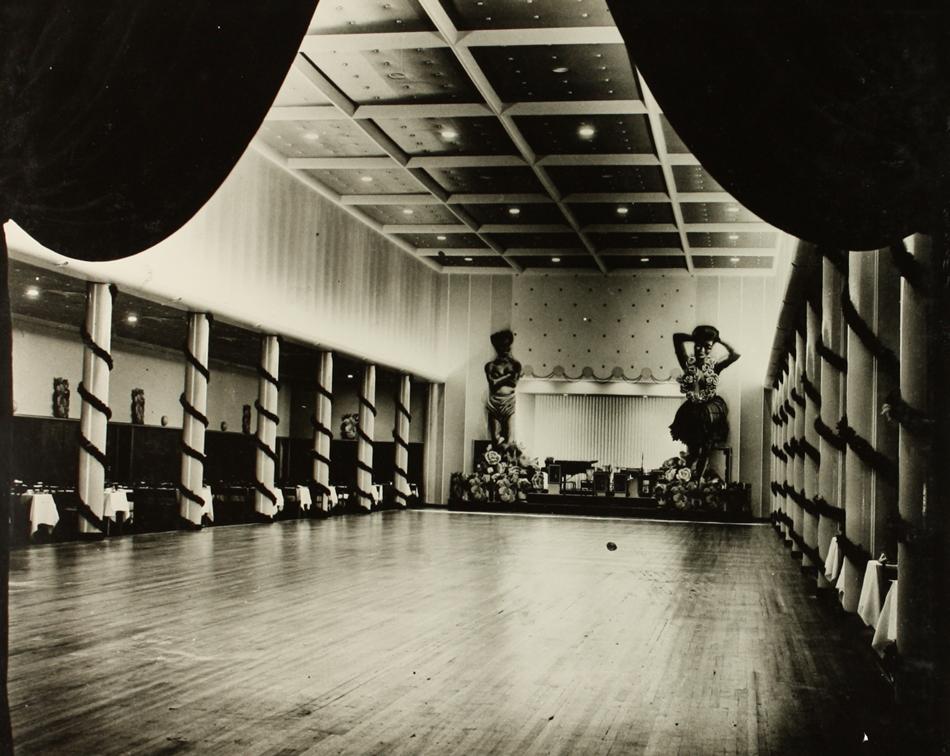 Interior of Royale Ballroom, Exhibition Building, Melbourne, 1952. Originally a machinery annexe, in 1885 it became the Aquarium Hall and art gallery. Apart from the period of the Centennial Exhibition (1888-1889) it operated as such until 1919, when it became nurses quarters during an influenza epidemic. Retaining its previous role until 1926, it became a ballroom operated by Mr H Kleiner.

Yet, most Melburnians did not feel they had much to cheer about at the dizzy height of the Great Depression. Vandalism, sly-grog dealing, drug peddling and prostitution were reshaping the seedier side of St Kilda, the seaside playground of the rich, imbuing it with the kind of notoriety that eventually came to define it. The Centenary People's Fair named Joyland at Yarra Park late in 1934, did have sideshows and entertainments, but only a few thousand revelers were expected. [6] Kleiner may well have been involved but it was the Streets of Paris at the Wattle Path Palais on The Esplanade in St Kilda that "made full use of his experience as manager of a similar entertainment at the Chicago World Fair in 1934". [5] The dancing, cabaret turns, games, and scenic effects were enjoyed by a large gathering at its opening on Boxing Day 1935. The scenes and dress of the attendants gave the hall a Continental air. The former theatrical dancer, Phillis Glen, supervised the ballets and the scenery was painted by the London scenic artist, W R Coleman, whose theatrical career here had since spanned over three decades and countless productions in every state. [5]

The building had been the Wattle Path Palais de Danse and Cafe for a decade since it opened in 1922, designed by architects, Beaver and Purnell. Isidor Beaver, a partner in the firm, was a patron of Victorian ice sports and the namesake of the Beaver Ice Hockey Club (1908), one of the original four ice hockey teams in Australia. The onion domes of Purnell's early designs were influenced by Islamic architecture, quite unlike the resulting orientalism. Kleiner's interest in the Palais was certainly its design and location in the heart of St Kilda's pleasure precinct, but also its size and history. It was one of the world's largest dance halls, built at the height of the dancing boom, the record crowd of 5,000 jamming themselves in during the visit of the American Fleet. Two famous American bands had played there at different times, the Yerkes S S Flotilla Dance Orchestra and Walter Rudolph's Syncopaters. And, perhaps most importantly, it was fondly remembered by dancers as the hall where representatives from all States contested the first Australian Championship. The prize on both nights worked out at more than £50 a minute (about $3,600) and the winning couple were sent to England. [7]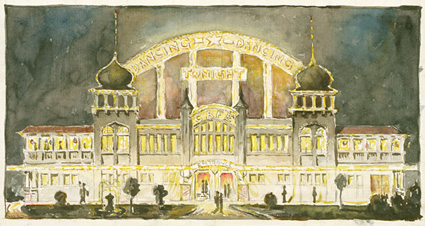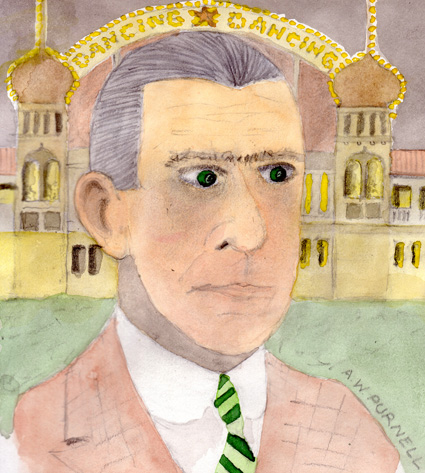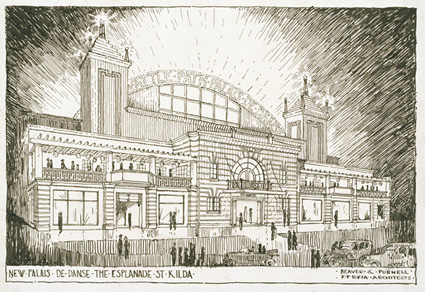 Wattle Path Palais De Danse and Efftee Studios, later St Moritz Ice Skating Palais (1938-1982). Images courtesy Durham Groves.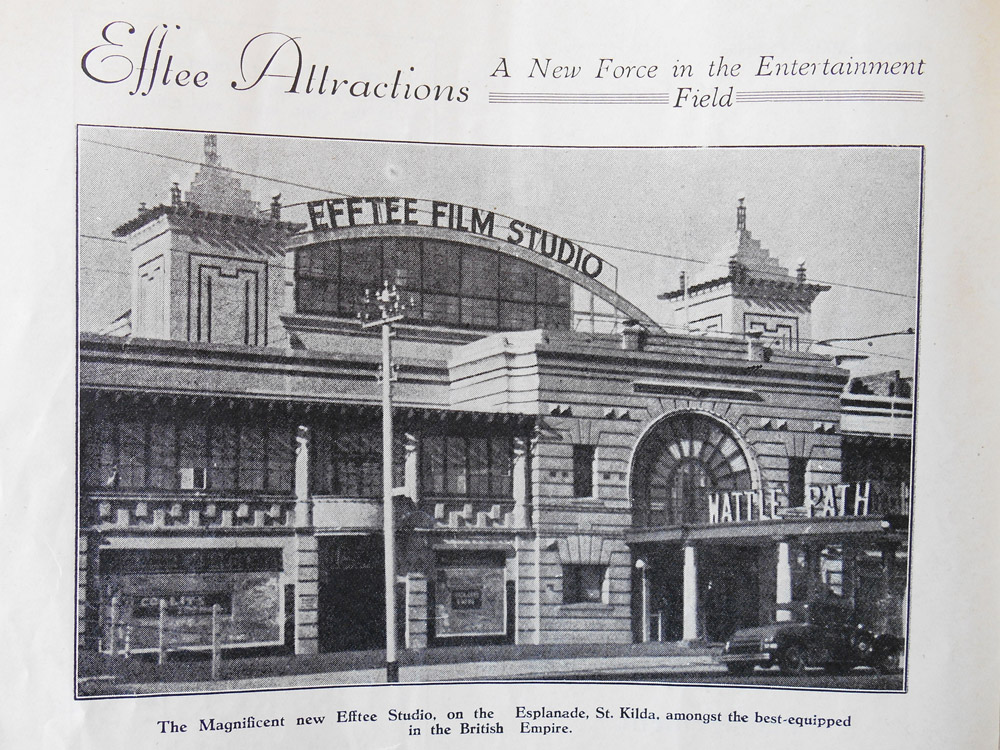 Frank Thring's Efftee Studios, just prior to its conversion to St Moritz Ice Skating Palais (former Wattle Path Palais De Danse).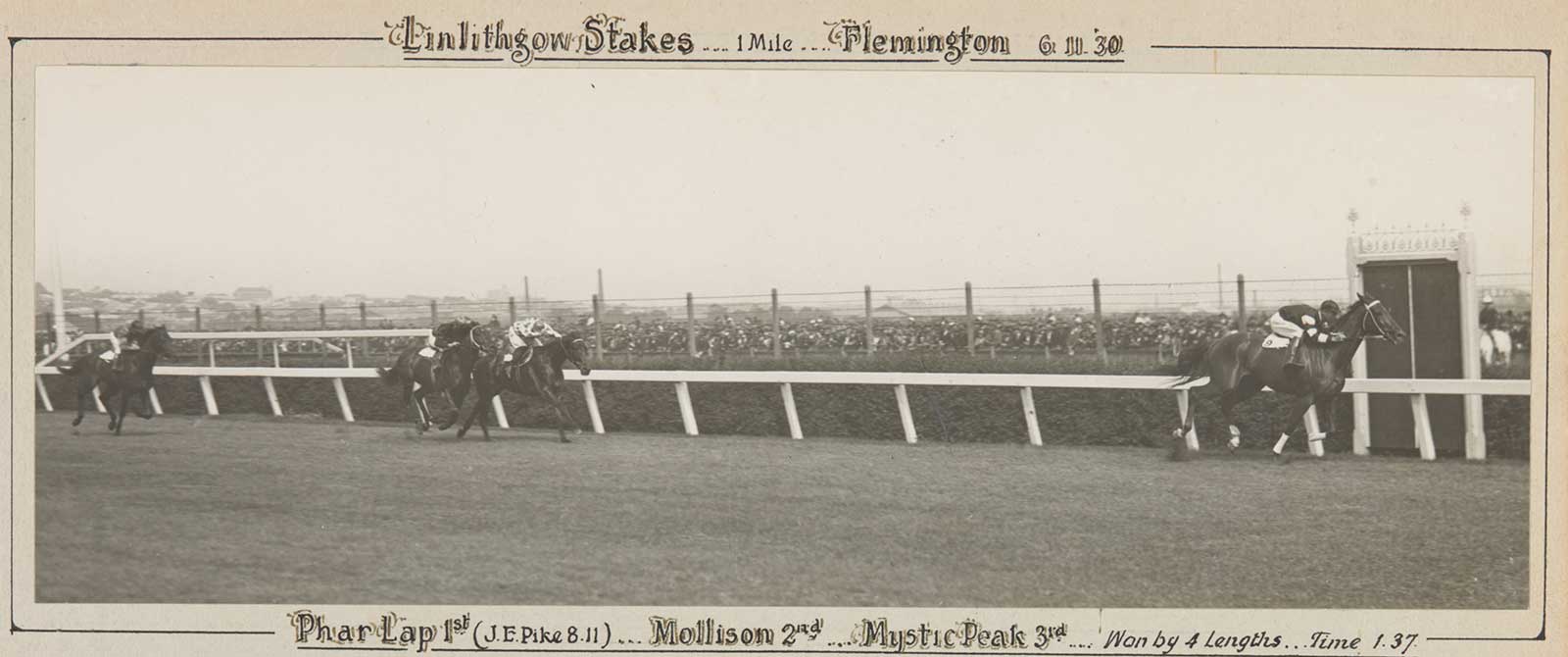 Mystic Peak, Linlithgow Stakes, Flemington, 1930 David Davis Phar Lap Photograph Album, National Museum Australia
In 1930, Kleiner purchased the racehorse, Mystic Peak, which placed second to Phar Lap in the 1930-1 VATC Futurity Stakes at Caulfield Racecourse in Melbourne, when Phar Lap claimed the title of Australia's greatest stakes winner. The next year, Mystic Peak won the 1931 Australia Stakes at Moonee Valley Racecourse in Melbourne. It is very likely that Kleiner and his Sydney counterpart, Jimmy Bendrodt, were well-known to each other for some time, if only because their business and sporting interests were almost identical. With war imminent, Bendrodt's conversion of his Sydney dance hall into the new Ice Palais might have raised an eyebrow, but it was a red flag to a bull to announce in the local press the imminent construction of an ice skating rink at Wirth's Park in Melbourne. Yet, that was Bendrodt's approach. His proposal for a rink entered from St Kilda Road was directly opposite Melbourne Glaciarium. It was to be a 280-ft by 180-ft (85.3m x 54.9m) and constructed by Royal Ice Skating Palais, controlled by his Ice Skating Palais Ltd Sydney, and operated by a new company to be formed with "a preponderance of Melbourne directors". [8]

Some weeks later, Kleiner quietly announced preliminary work had begun on the conversion of his dance palais known as the Streets of Paris, formerly the Wattle Path St Kilda, into a modern ice skating rink. There was no fanfare, no awards for originality, but he did have a 15-year lease over the property, and he did intend to float a public company to take over the St Morltz Ice Palais as soon as it was established. Powered by the Bell system of refrigeration, the 190-ft by 79-ft ice pad had facilities for a balcony dance floor extending around its interior, a Swedish cafe, electric and Turkish baths. [10] Now, as Kleiner's luck would have it, Bendrodt's proposed rink opposite the Glaciarium never proceeded, and war brought to St Kilda an influx of sailors. In their wake came the prostitutes, the trannies, artists, freaks and assorted weirdos. Australia's longest-running gay bar that began life there in 1937, was later given new impetus by long-running drag nights such as Pokeys at the Prince of Wales and the famous Sydney drag troupe, Les Girls, at the Ritz Hotel. Les Girls was the first official drag performance ever staged in Melbourne in 1970 and their arrival caused a sensation.

More than 1,000 skaters thronged the new St Morltz Ice Skating Palais on March 10th 1939. It was officially opened by the Mayor of St Kilda, the president in waiting of the St Kilda Football Club. Exhibitions of skating were given by the Canadian experts, Gladys Beauregard and Ed Ruska, and by the Australian skaters, Betty Cornwell, Edith Adams and Jim Paxton. [11] Inside the ceiling was painted dark blue with the moon and aeroplanes hanging down. Lights twinkled like the stars on the opening night beneath which skaters danced or promended the rink to the music of the Harry Jacobs Band. Jacobs had married the renowned ballerina Madame Saranova and their 18-year-old daughter, Wendy Lee (Jacobs), was one of the featured skaters. She went on to produce regular ice ballet shows for over a decade, including Icecoppelia in 1948. Like Anna Pavlova, Madame Saranova was a pupil of Enrico Cecchetti. She headed a faculty from 1939 at the National Theatre Ballet School in St Kilda offering the Cecchetti Syllabus. Kathleen Goodall, wife of John Goodall, was among many singers who could thank the National Theatre headed by Gertrude Johnson for their early stage experience.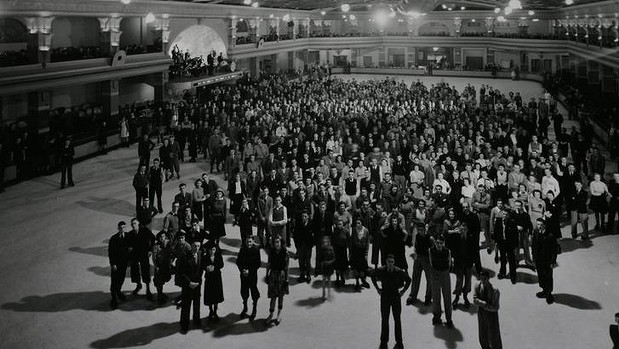 Opening night at St Moritz, 1939. Photograph by Lyle Fowler. [Beneath] St Moritz on The Esplanade, St Kilda, c 1940.

"Another ice skating rink has been born," announced the Referee newspaper in Sydney. "The St Moritz Ice Palais and the Melbourne Glaciarium are linked up with the Australian Amateur Ice Hockey Association. It is possible that Sydney will have a third rink in the near future. At this juncture details cannot be announced. It is possible that a rink will be built at Orange." Even that did not happen, but the same article also reported "the NSW association will probably have two referees in action for their matches this year instead of one. This is a step in the right direction". Jimmy Bendrodt's simple request of the previous year was finally fulfilled, confirming the breakaway association and player suspensions were nothing more than an official disaster that was entirely avoidable.

The NSW state association had been in negotiations with Bendrodt, and hoped to see the game played under their banner at the Ice Palais once again. [15] Exams for referees were instituted and "the association was seeking neutral offices, in other words, it does not want its headquarters to be at any rink, now that there are two rinks in Sydney. The neutral layout would be in the best interests of the game". [12] The association admitted "great strides were made last year" and it had learnt a lot from the Canadian visit, particularly about the need for player team work and combination. There was even discussion of developing a team for the next Olympics. [15] Ted Molony, president of the Victorian association, said "ice hockey in Victoria had received its greatest lift since the game was introduced to the State. The association had been handicapped in trying to build up public support as it was very hard getting people interested in watching the same teams playing at the same rink each night. Attendance at the association's AGM was fully 300 percent greater than the previous year." [16]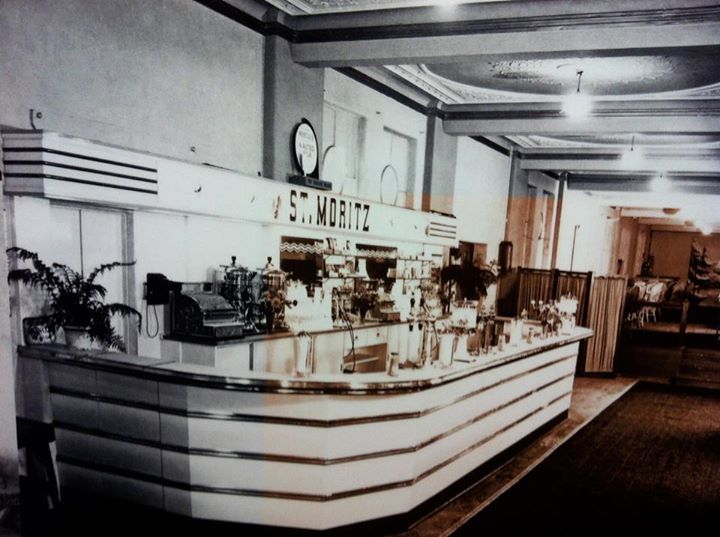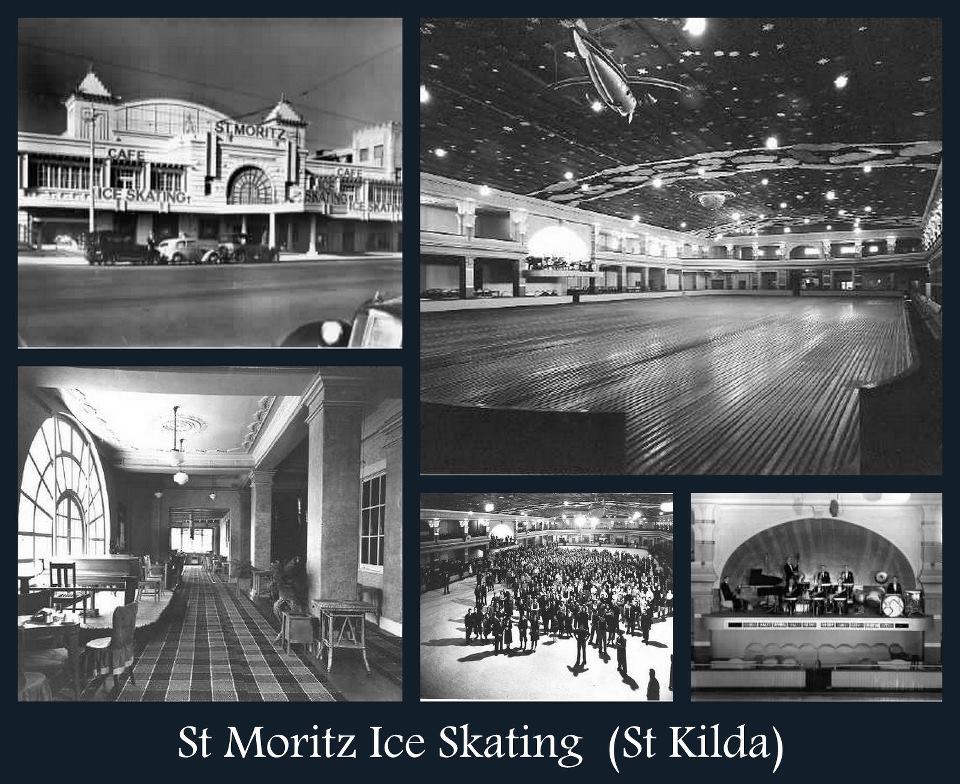 St Moritz Ice Skating Palais [Top] St Moritz Bar, 1939. [Beneath] Exterior and interior views

That year, the new St Moritz Bombers battled the new Glaciarium Rangers and Foy's Gibsonian Flyers. The following year, they were joined by Russ Carson's Rhodes Topliners until after the war when all four morphed into the Red Arrows, Tigers, Demons and Monarchs; two of which survive to this day. As if to celebrate, St Kilda set the pace for Melbourne's 1939 New Year celebrations. More than 150,000 people witnessed the fireworks display there on the waterfront when £300 went up in smoke (about $23,000). Luna Park opened its doors at midnight. The St Moritz ice carnival began at midnight with a floor show and skating until dawn. The Palais de Danse gala New Year's Eve party also began at midnight. The Palais Pictures opened its doors at 11:30 pm, but the picture programme did not begin until shortly after midnight. There were massed band performances and all other sideshows also opened at midnight and continued until daylight. [14] During the war years, St Moritz held numerous events and galas, donating all the proceeds to various charities. This continued after the war, for instance, Kleiner presented £529 or about $31,000 — the proceeds of the St Moritz ice carnival on Melbourne Cup night to the Lord Mayor's Olympic Games appeal in 1947. [17]




Ice Hockey Victoria H H Kleiner Cup

By 1946, Sydney skaters Pat Gregory and Margaret Macdonald were engaged as instructors at St Moritz, and Sydney ice hockey players such as Percy Wendt coached there. Junior hockey programs and interstate tournaments were fostered, and national ice racing commenced there. Looking outward, Kleiner formed a partnership with theatre-owners Sir Thomas Coombe and Sir Benjamin Fuller to build a rink in the old Electric Supply Company building at the corner of Grenfell Street and East Terrace in Adelaide. It was to seat 2,500 with an international size ice pad but it did not proceed even though Kleiner had purchased the land. Fuller went on to develop the first rink in Perth which opened in 1950, by converting the Tivoli Theatre on the same model as St Moritz. The VIHL formed in 1948 and by 1949, there were nine ice hockey clubs in Melbourne, an all-time peak. St Moritz was well on its way to becoming one of the great social hubs of St Kilda and Melbourne. It is still fondly remembered by thousands of visitors and residents who arrived on the Esplanade to be greeted by the two glowing neon skating girls flanking the St Moritz sign, two-and-a-half floors above pavement.

H H Kleiner owned the rink complex until two years before his death at Brighton in Melbourne in 1959. There were no more Lady Godivas, just a brave new era of Victorian ice sports, culminating in Australia's participation in Olympic ice hockey. Kleiner was 72 years-old and survived by his second wife, Nellie, and a daughter also named Nellie. He and his wife are interred at the Renowden Chapel at Springvale. The Kleiner Cup was established in his honour and awarded annually to the State champions of senior ice hockey in Victoria. Prior to then it was known as the Sutherland Cup, since at least 1923, when the first National ice hockey association was formed. The IHV Premier A League Champions were awarded the Russell Jones Premiership Cup from 2008 until 2014 when IHV reinstated the H H Kleiner Trophy as the annual prize of their premier league.

The Ice Palais in Sydney and Melbourne were the second ice rinks to be developed in their respective States after Reid's Glaciaria. Both developers aggressively marketed them from the late 1930s, importing professional British and Canadian coaches and players to develop and promote local ice sports talent, much like the Reids had done during the foundation years. St Moritz itself survived as Victoria's flagship ice arena for over four decades, and dozens of rinks followed throughout all the Australian states, although too often on a lesser model. Former Victorian ice hockey olympian and flag bearer, Vic Ekberg, was rink manager when it finally closed in 1982. On the eve of another world war, Bendrodt and Kleiner had not only re-created a prosperous marketplace for new rinks, some 30 years or so after ice sports were first introduced to Australia, they raised the bar by exploring the best the world had to offer and acting on it back home.





Video (slideshow above): Streets of Paris, Century of Progress Exposition, Chicago World Fair, 1933. Includes Sally Rand's fan dance.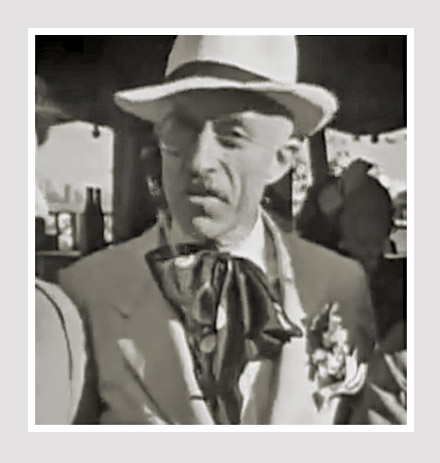 H H Kleiner in 1933 (yet to be confirmed), extracted from the 1933 Streets of Paris video included in the slideshow above. Harry's biography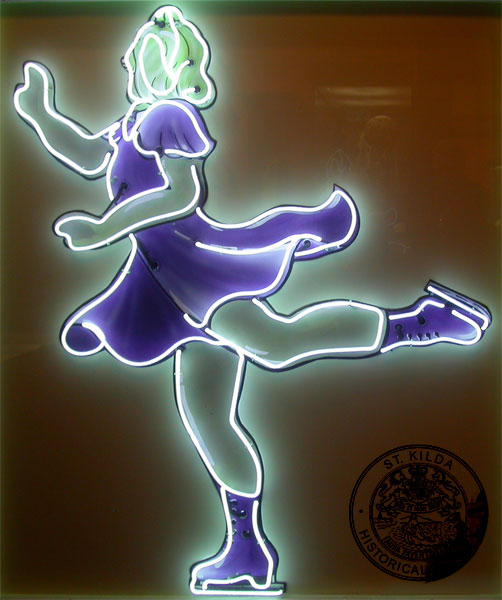 St Moritz Ice Skating Palais, one of two Skating Lady neon signs, image courtesy of St Kilda Historical Society.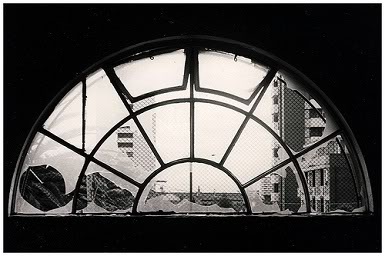 St Moritz Ice Skating Palais (and Earls Court) under demolition, 1982 (5 images).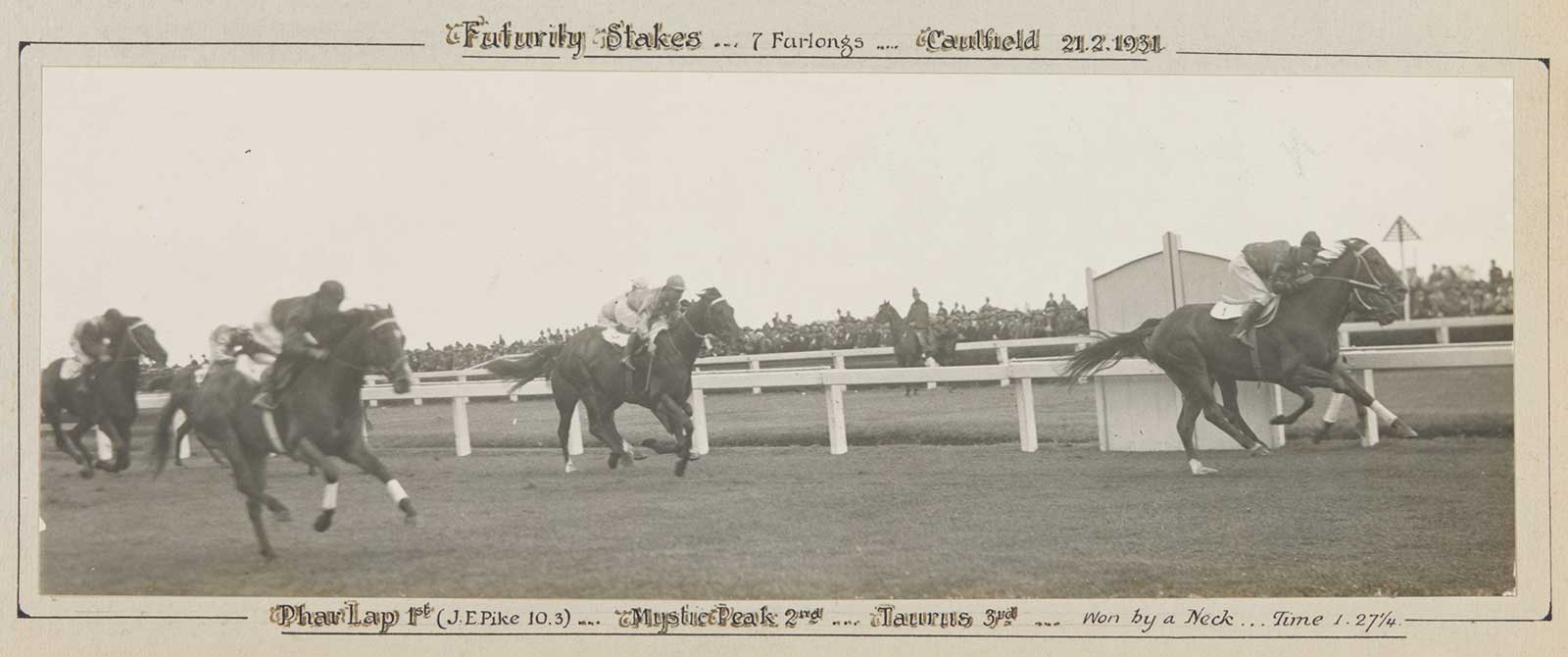 Mystic Peak, Futurity Stakes, Caulfield, 1931. David Davis Phar Lap Photograph Album, National Museum Australia
Citations:

[1] The Argus Melbourne Tuesday 8 May 1934 p 8. Fair In Exhibition. Ideas From Overseas

[2] The Official Guide Book of A Century of Progress Exposition Chicago, Streets of Paris, 1933

[3] The Argus Melbourne, 5 Oct 1932 p 9. Letters Witheld at Inquest

[4] The Corowa Chronicle NSW 6 June 1925 p 3. Obituary
[5] The Argus Melbourne, 27 Dec 1935 p 8.

[6] The Argus Melbourne, 27 Sep 1934 p 13. Opening of Joyland

[7] Table Talk Thursday 29 Jun 1933 p 5 Famous Dance Hall as Studio

[8] The Argus Melbourne 5 Sep 1938 p6

[9] Referee Sydney, NSW 16 Mar 1939 p 23. Ice Hockey Rinks Springing Up. Two IHA Referees At Each Match
[10] The Argus Melbourne 26 Nov 1938 p 10. St Kilda Ice Rink

[11] The Argus Melbourne 11 Mar 1939 p 31 Ice-skating Rink

[12] Referee, Sydney, NSW 16 March 1939 p 23. Ice Hockey Rinks Springing Up. Two IHA Referees At Each Match

[13] Williamstown Chronicle, Vic, 17 August 1940 p 5. Spills Ahead by KEM.
[14] The Argus Melbourne 30 December 1939 p 11. St Kilda Programme

[15] Referee 9 Mar 1939 p 21. Team Likely To Be Sent To Next Olympics

[16] Referee 11 May 1939 23. Victoria Boosted By New Rink

[17] The Argus Melbourne 5 Dec 1947 p 21. £529 for Olympic Fund