Pat Burley of the rink owners association interviewed on the Mike Walsh Show with Sydney All-Stars players in 1980. Burley's daughter Sharon appeared on the show early in 1980 when touring with the American Ice Capades. Mike Walsh, a Melbourne boy, had grown up ice skating on weekends. Burley made a rink especially for the show and it was transported up from Melbourne and erected at the Sydney Nine studios. In April the Mike Walsh Show did a week's programmes on ice with dancers from the Ice Capades. Even Mike was on skates and the show was such a success that another week's programmes went to air on ice in August that year. Geoff Harvey, the MWS musical director, volunteered to be goalie and surprised everyone by staying on his feet and even blocking a goal. [5]
[ HOCKEY ] Missionary Man
Sandi Logan and the NIHL

In the early-1970s ... it bombed out because of poor administration, drunken players and brawls. It was just poor hockey. I consider it to be a five-year program to institute any sort of sane and sensible organisation into ice hockey in Australia... to train the native-born talent flooding the sport's lower echelons, the hockey program will have to import more people to coach, referee, manage arenas and play at the higher levels.
— Sandi Logan, secretary, Australian Ice Hockey Federation, 1980. [4]

It's a dream come true. With teams in Newcastle, Sydney, Melbourne and Adelaide we have an almost national sport of ice hockey.
— Pat Burley, Manager Ringwood Rangers IHC, Melbourne and rink owner-developer, 1980. [1]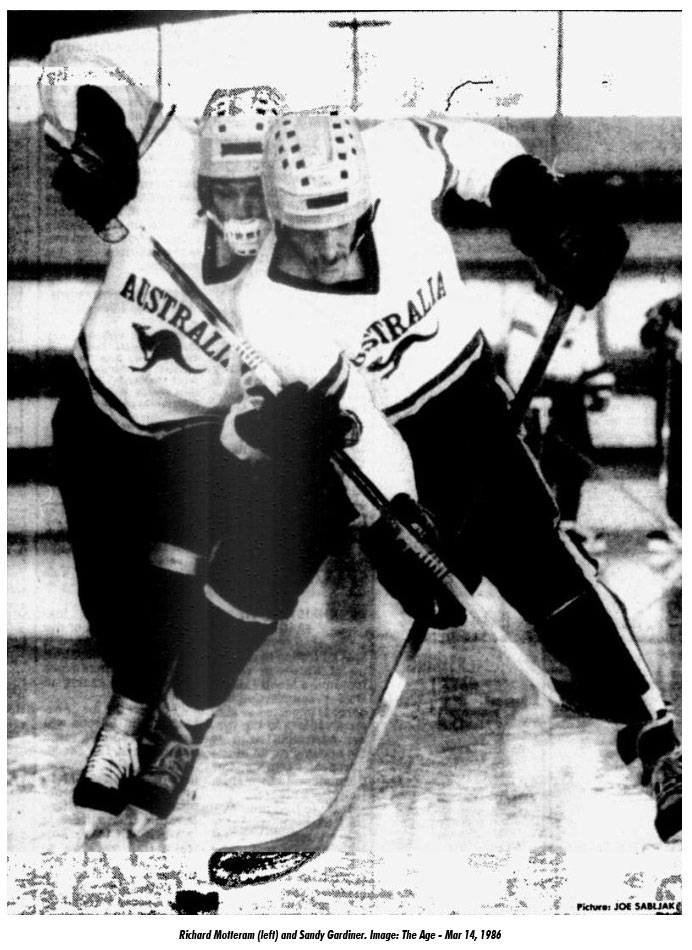 Sandi Gardner (right) and Richard Motteram, 1986. Gardner was captain of Australia in Perth in 1987. [15]





IN THE SWANK END OF THE NORTHERN HEMISPHERE lies a large well-regarded continent. Orbiting this far south in uncharted backwaters at a distance of roughly sixteen thousand kilometers is an utterly insignificant red-yellow island whose natives are so amazingly primitive that they still think cricket balls are a pretty cool idea. This island had a problem — most of the people living on it couldn't play ice hockey and those that could were drunk for pretty much all of the time. Many solutions were suggested but most were largely concerned with the movement south of northern hemispherians who could play hockey, which was odd because on the whole it wasn't the northerners who were inebriated.

Canadian Sandi Logan, a 26 year-old former journalist with the Toronto Sun, arrived in Sydney in 1978 to find two dozen top teams playing in loosely organized beer leagues in major cities. [4] At that time in New South Wales a new rink was opening almost every year. It was a decade of ice rinks popping-up in suburban tin sheds and fizzling out without a whimper like the dud firecrackers they were.

Queensland had just won its first Goodall Cup but the interstate competition was still dominated by Victoria with local homegrown players such as Sandy Gardner, Ian Holmes, Gary Croft, Ron Sullivan and Steve Duncan, along with a smattering of Canadian expats such as Barry Harkin, Charlie Grandy and Grove Bennett. Logan joined Glebe Lions at left defense in the Sydney league but he later told Peter Young of the Windsor Star newspaper in Canada that it was "a dismal scene — poor administration, drunken players and brawls". [4]

With professional contacts in the Australian media, Logan hounded television and radio stations with promotional ideas and blitzed the press with news releases. He organised the Trail Blazers and the Terrace Bulldogs — two commercial league clubs from British Columbia — to tour Australia for pre-season exhibition games. In those days initiatives such as these and a commitment to making ice hockey a major sport in Australia seemed to not go unnoticed. In March 1979, within twelve months of Logan touching down in Sydney, he was appointed national secretary. [4]

The next year Adelaide hosted the ice hockey nationals for the first time on the first ever rink suitable for competition ice hockey in that city. Located at Payneham in Adelaide's north-east, it was owned by Brian Grove and managed by his step-son, Peter King. A similar rink opened this same year at Phillip and the Australian Capital Territory's first ice hockey association was formed. At the national level, John Purcell was president. Sandi Logan was secretary and the first official development officer. [3] It was a time of maybe fourteen full-size rinks, four in Melbourne, four in Sydney, two in Brisbane and one each in Adelaide, Perth, Newcastle and Canberra. There were also six small rinks unsuitable for competition hockey.

The rink operators formed an organisation that went by the inspired name of the Australian Ice Rink Operators Association (AIROA). In June 1980, four of those operators launched the National Ice Hockey League (NIHL), bankrolled by a $400,000 commitment in today's money, and sanctioned by the Australian Ice Hockey Federation (AIHF) run by Purcell and Logan. [4] Melbourne iced the Oakleigh Aces (later Oakleigh Golds), Ringwood Rangers, Dandenong Blackhawks and Footscray Pirates; Sydney iced the Newcastle Northstars and Sydney All-Stars; and Adelaide iced the Adelaide Flyers (later Payneham Flyers). In Melbourne alone between June and August, eleven NIHL matches were played at Ringwood, six at Oakleigh and seven at Footscray. That was more than half the league's 42-game schedule.

In a bid to improve the quality of ice hockey on this utterly insignificant little red-yellow continent, and so educate the heathens on the evils of football and cricket, Logan cajoled the now defunct Vancouver-based CP Air (Canadian Pacific Airlines) into supporting a hockey development program. Coaches and players were shuttled here and even billeted in his own home. [4] His lobbying paid off when the ABC televised a hockey game nationally in June 1980 followed by Ice Hockey Showdown '80 with teams from Melbourne and Sydney competing in "lightning mini matches" with special rules for television coverage.

It was to be launched on July 2nd at Pat Burley's Iceland rink at Ringwood, 23km east of Melbourne's CBD, and screened over eight weeks by ABC television. Logan described it as the second major television coup for "local ice hockey officials and ice rink managements". [2] The awe-struck natives admired this missionary zeal, suspecting the favoured one who walked among them was descended from the hockey gods.
The Sydney All-Stars sponsored by the bottlers of Coca Cola won the best of three final series over the Dandenong Blackhawks on September 6th, 7th and 8th to become the first NIHL champions. The 'City of Sydney' team consisted of players from local clubs including Sandi Logan and overseas players such as captain George Kenning, Darrell McDonald and state goalie, Burke Thornton. Not surprisingly, they were considered the strongest team to represent Sydney for a decade but next season each rink planned to enter its own team as Victoria had done. [14]

The Dandenong Blackhawks were coached by American, Dan Reynolds, a resident of nine years who had coached the Mighty Roos. They were captained by 26 year-old local defender, Gary Croft. Other locals included Steve Duncan, Alan Robbins, John Thomas, John Sutton, Kevin Madden and Paul Brockwell. Most players who were not born in Australia were natural migrants who had been residents for six years or more. Several of these had represented Australia at least since the 1974 Worlds, including Mike Boileau, goalie Barry Harkin, and Charlie Grandy. Grandy was a veteran of the 1964 Olympic qualification squad. [13]

In that year there were 2,800 registered players in Australia, two-thirds of today's total, yet Canadians made up about forty percent of the top-level and Europeans were thirty percent. [4] A whopping seventy percent of the top Australian players were now imported from the northern hemisphere. Not even one in three were Australian.

Logan said, "I consider it to be a five-year program to institute any sort of sane and sensible organisation into ice hockey in Australia. To train the native-born talent flooding the sport's lower echelons, the hockey program will have to import more people to coach, referee, manage arenas and play at the higher levels". [4] Australia imported players alright but rarely the appropriately-skilled coaches, referees and managers of Logan's Promised Land.

On the odd occasions that did occur the sport usually progressed but, despite Logan's new junior structure based on the Canadian amateur system, there was no new development program at the elite level, no divine intervention inside five years, and the little red-yellow continent at the ass end of nowhere had again dropped out of the IIHF Worlds, this time for six years. The Australians had to wait for an invitation because they did not perform well enough in 1979 to qualify automatically. [15]

The next year Melbourne's flagship rink at St Kilda closed and the rot set in the Victorian game. In Adelaide, the second edition of the renamed Payneham Flyers was even less Australian. Coached initially by Kevin Brown and managed by the rink manager, Peter King, forty percent of the squad of twenty-one were from North America and forty percent from Europe. [6] For the 1981 season the national association ruled only five import players per club plus an import goaltender, yet a meagre twenty percent of the team was Australian. One does not need much of an imagination to arrive at a reasonable estimate of their actual ice time. Twelve imports regularly turned up to training and as coach Kevin Brown proudly put it, "Not only are the local players fighting for a spot in the team but, from the amount of imports we have here in Adelaide, they also are competing for selection". [10]

The NIHL expanded to nine teams that year and Adelaide's Payneham Flyers finished on top after winning just two games and the wooden spoon in the inaugural season. The Melbourne teams had been eclipsed by Sydney and now Adelaide and for decades this set the shape of very fast things to come. NIHL imports filled more and more spots on the South Australian State squad, including Canadians such as Orville Hildebrand, John Botterill and Wayne Kerry, Czech Vladimir Mihal, and Finns Arto Malste, Kary Pynonnen and Ari Pullinen.

In 1986, South Australia finally won the first of nine Goodall Cups with these and other imports. A new ruling limited local clubs to five foreigners to improve development of local players yet more than half the twenty-man South Australian squad was imported from the northern hemisphere. New South Wales followed suit with players such as David Turik, Garry Doré, Glen Foll, Ryan Switzer, Adam McGuinness, Dave Emblem, Art Shaw, Jim Kinlough, Joey Delisle and many others. [9]

In 1982, player registrations rose sixty-six percent over the previous year, with a total of 3,500 players, coast-to-coast. More than one-third were North Americans, all but a handful were Canadians, and none were pros. [11] The NIHL was shut down by the national association on the grounds that it was violent and rising from its ashes was the second coming of the Victorian Ice Hockey League led by Mike Michelson.

The VIHL Mk II was a professional league that began on April 29th after a swish media briefing at the Hilton Hotel of the forty-five North American imports it had contracted to play in six teams. [12] The promoters hoped to attract record crowds to its 15-round season but in a matter of months it too was outlawed on the same grounds by the national association in Sydney. "Their promotions are based on thuggery and violence," said the new national president, Phil Ginsberg, from a safe distance. Almost every match in the league had reportedly featured ugly brawls, [8] but some of the resentment also arose from long-standing state sporting rivalries.

Pat Burley closed Iceland at Ringwood that year and like a house of cards Footscray and Dandenong collapsed in quick succession a few years later. Only Oakleigh endured and a new rink at regional Bendigo, 90-minutes distant. Victoria lost half its local clubs from the domino effect although the state association doggedly persisted with its Development Council operating from the city's only rink. It was two-thirds the IIHF standard and becoming increasingly dilapidated. The State that prided itself on developing its own players to Olympic level by the 1950s, won the Goodall Cup only once during the three decades from 1980 when the NIHL began and imports flooded the local sport, especially in South Australia and New South Wales.

In the next four Worlds teams — 1986, 1987, 1989 and 1990 — at least one-third of the twenty-man international squads had been imported to play hockey in the NIHL or local and State competitions. Yet, in that decade from when the NIHL began, Australia rose two places in the world rankings and fell three. Then in the 1990s, the national team again rose two places and fell thirteen to an all-time low in 1995. "They don't come for the competition," said Logan. "The teams have meetings and say, 'Let's take a vacation in Australia and arrange some light hockey games while we're on the trip.'" [11]

Today, the natives of the littlest continent are still ranked at their all-time low and Northern hemispherians are still imported to play hockey for them, although ostensibly these are now limited to four per team, not six. But in reality there are no limits and they usually stay as long as it takes to learn that cricket balls and beer are pretty cool ideas.
---
Payneham Flyers Ice Hockey Team — Adelaide 1981 [6]
Notes and Citations:

[1] Sunday Telegraph, Sydney, 22 June 1980, 'All-Stars hot on ice'

[2] The Canberra Times, 24 Jul 1980 p 27. 'Ice Hockey Showdown'

[3] The Canberra Times, 6 Aug 1980, p 30. 'Association to be formed to use new rink'

[4] The Windsor Star, Windsor Ontario, Canada, 25 Jun 1980, p 20. Australians learn about hockey, thanks to enterprising Canadian.
[5] The Australian Women's Weekly, 3 Sep 1980, p 8. 'It's the Mike Walsh Ice-Capades' by Jenny Cullen

[6] South Australian Ice Hockey Federation NIHL Programme, July 1981

[7] The Age, Melbourne, Apr 28 1982 p 32. 'Ice hockey warms up' by Lindsay Murdoch

[8] The Age, Melbourne, Aug 13 1982 p 23. ''Violent' league banned' by Gerry Carman
[9] The J E Goodall Cup Centenary Souvenir Publication (1909-2009), Ice Hockey Australia

[10] South Australian Allsports News, April 1981, p 24, 'Imports Give Flyers a Lift'

[11] The Christian Science Monitor, Sydney, 17 May 1982. 'Alien sport of ice hockey gains Australian beachhead', by Chris Pritchard.
[12] Canberra Times, 28 Apr 1982 p 36.

[13] Flyers vs Blackhawks program, 1981.

[14] Flyers vs All-Stars program, 22 Jun 1980.

[15] The Age, Melbourne, Mar 14 1986. 'Peak near after years on ice' by Fiona Capp