A Cool Tradition. A Dream of Champions. Legends of Australian Ice.
Organised ice hockey has been played in Australia for over a CENTURY.
In fact, the ice hockey tradition here is so richly steeped in EMINENCE,
And the earliest EMERGENCE of the sport internationally,
One wonders how on earth its STORY
Was ever able to be LOST for one whole century,
Like DUST between the cracks of history.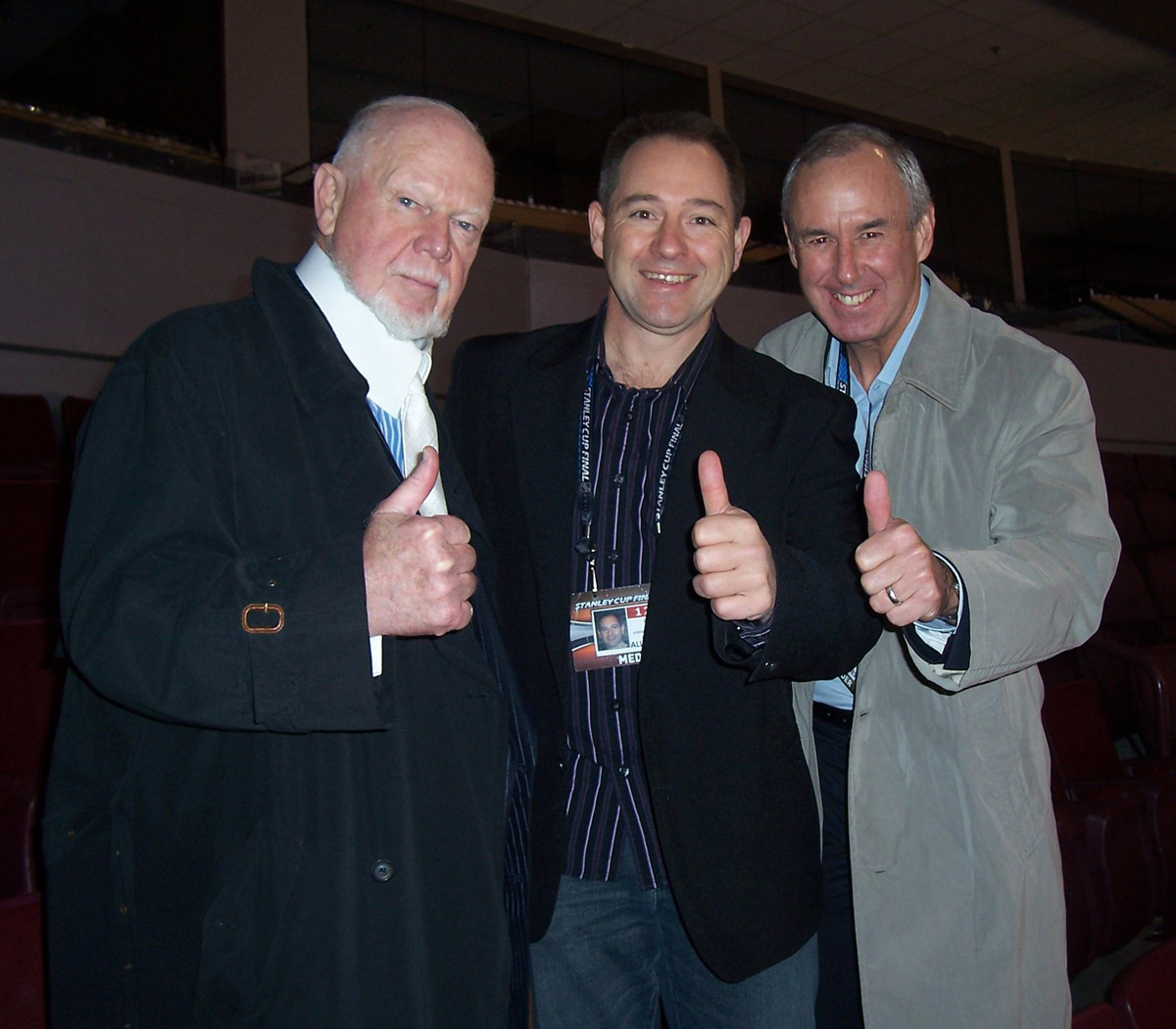 Glen Foll with Don Cherry and Ron MacLean from Hockey Night in Canada at the 2011 Stanley Cup Finals in Vancouver.
[5]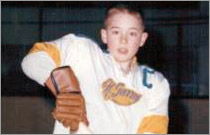 North Surrey Rep Team, 1970, BC Canada [13]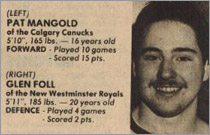 Shuswap Totems, Salmon Arms Arena, BCJHL, 1983 [13]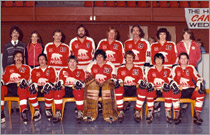 First year of the Macquarie Bears, Sydney, 1982 [7]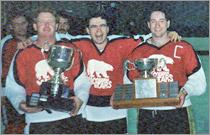 Macquarie Bears, NSW Super League Champs, 1989. [7]
[ HOCKEY ] Blaze of Glory
Glen Foll and the higher level

Since coming to Australia in 1982, I think one of the biggest differences now is that there are way more younger kids playing the game. Also there are way more top-end Australian players. The AIHL has a lot to do with this. I think Australia does very good in ice hockey considering the number of rinks and the number of players we have. The number of rinks is the biggest thing holding us back. If you build the rinks the players will come!
— Glen Foll, 2016 [5]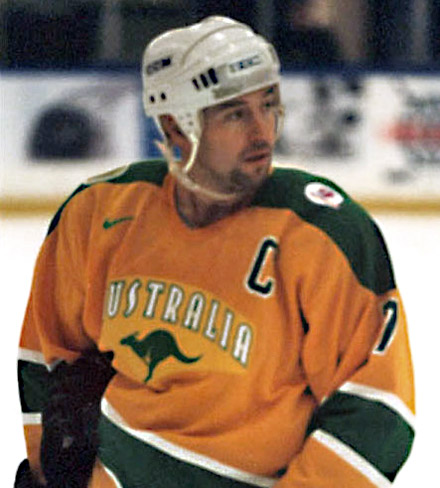 I STAND IN TORONTO on the corner of Yonge and Front peering at the building that once housed the head office of the Bank of Montreal. Here and there a horn honks nervously at the distracted pilgrim teetering on the kerb. The detail of the Beaux Arts style is blurry through fog and my own breath in the brittle air, but not enough to mask this old school attempt to project a prosperous and secure image in an ornate and ostentatious way. Still, it may be quite the look if you are the first bank in Canada and you issue your own paper money.

Although this building remained a bank for a century after it was built, today it houses the historic silverware of the Hockey Hall of Fame. Like countless pilgrims before me, I cross the road glaring at the faces of the honkers and still smiling at the re-appropriated symbolism. Hockey artifacts installed in the grand hall of the Dominion's grandest architectural gesture of the time. I'm through the doors still undecided whether on that occasion the priceless relics from King Tut's tomb turned green with envy, or just turned in their grave.

Inside, its enormous 45-foot height has a great dome crowned with stained glass windows that soar impressively above the former banking hall. I cross through it to the World of Hockey Zone beyond, the IIHF Hall of Fame, and over to the Australian national team jersey on display there. Each member-nation had been invited to contribute a jersey to this new hall created to celebrate the 90th anniversary of the international hockey federation in 1998. The one chosen by Australia's national association was now draped before me. [3] Emblazoned on it is the name Glen Foll, but when I look more carefully I see it really reads "persistence". The triumph of the human spirit over rejection.

He was born Glen James Foll on September 19th 1962 in New Westminster BC, Canada, to parents Ken and Irene Foll. Although his family liked sport, they were not particularly sporty and as it turned out his hockey experience there was all in the minor leagues. Four years in juniors, first in the North Surrey Minor Hockey Association where in his final year he was selected to the All-star team of the Lower Mainland midgets. Then the Surrey Saints in the Junior B-grade of the Pacific Junior Hockey League in British Columbia where he was again selected to the All-star team. Still today, that league's main focus is player development and education with strong ties to the local hockey community. [1, 2]

In the British Columbia Junior Hockey League he played for the Bellingham Blazers in 1979-80, the Vancouver Bluehawks in 1980-1; and the New Westminster Royals in 1981-2. [1, 2] The Blazers hailed from Bellingham in Washington during the regular season, and Langley in British Columbia during their 1970s playoff runs. The Bluehawks junior A hockey franchise had just been transferred to Burnaby while the Jnr A Royals played on-and-off from the late-1960s. For his final year in 1982-3, Foll played 22 games with the Langley Eagles and 17 with the Shuswap Totems, Salmon Arm's first Junior A team, where he averaged just under a point a game. [9]

Then one day everything changed. A friend happened to mention ice hockey was played in Australia, just when Foll was planning to holiday there. He wrote to the national association for more information and they sent him an overseas player form. In less than no time, March 1982 to be precise, the Macquarie Bears had contacted him and transported him to Sydney. That club became the Sydney Bears in 1997, but back then they had just been formed at a new rink in the Macquarie Shopping Centre at North Ryde. They were busily recruiting overseas players for their team in the NSW Super League, among them Adam McGuinness, Dave Emblem, Art Shaw, Jim Kinlough, Garry Doré and Joey Delisle. David Turik, the import goaltender for the Bombers, later became their coach. Doré later went to the Newcastle North Stars and there were many others. [4]

"I had no idea what to expect when I first went to Australia," says Foll. "I was worried about making the team. But that wasn't a problem when I got there. The level and organization was nothing compared to Canada". [3] For three years he played the Super League of the Australian ice hockey scene, returning home to play in the North American winters. Then a tryout in the Atlantic Coast Hockey League turned into a defining moment for him at the very beginning of his senior career. The ACHL was a minor-pro league founded by Bill Coffey in 1981 at the bottom of the pro hockey ladder. A 5-team league with no major affiliations, it had a rigid salary structure and a rule that mandated half the players be US citizens. [8] Rookies were paid $150 a week plus $35 for a victory and veterans could earn double that. Foll was cut after the first two games. He returned to Australia and this time for good. [3]

Between 1982 and 1989, with the exception of 1985, he played six seasons for the Macquarie Bears. Although the Super League in the eighties was dominated by the Warringah Bombers playing out of Dick Groentemann's rink at Narrabean, the Bears had assembled enough talent by 1989 to win the championship. Foll was a defenseman on the premiership squad, he was the League's scoring leader in both 1988 and 1989, and he also played his first world championship in Sydney that year. "I think it was the best attended tournament I have played in. The people came out to all the games, not just the games that we played in. In all the tournaments I have been to, the people only come to watch the home team, and sometimes not even them". [3]

He was also there when New South Wales won back-to-back Goodall Cups in both those seasons. But they were to be his last for that state for quite some time. A former player of the Adelaide Falcons club had been luring him there for some years and he made the move in October 1989, although it turned out he lined up with the Adelaide Tigers A-grade team, not the Falcons. They won back-to-back premierships in 1990 and 1991 with Foll on the blue line. In the next three seasons, 1992 to 1994, he played for the Red Wings, returning to the Tigers in 1995 where he has remained up until the present day.

He has won seven premierships with the Tigers — 1990, 1991 and 1998, then again in four consecutive seasons, 2011 to 2014. He was the League scoring leader in 1991, 1993 and 2014. He won his fifth Goodall Cup in 1995 as playing coach; his sixth in 1997 as captain; his seventh and eighth back-to-back in 2000 and 2001 with Adelaide Avalanche; and his ninth and final Cup with the Adelaide Avalanche in the 2005 season of the AIHL. Foundation captain of the Avs, one of the original three teams of the AIHL, he was thirty-seven years old when he played their inaugural season, the first of six with the Club.

That year was also his tenth outing with the Mighty Roos, equalling the record set in 1997 by New South Welshman, Howie Jones. Glen Foll had represented Canada in baseball, but never ice hockey, and it was as if that somehow added fuel to his ambition in his adopted country. "One of the main reasons that I stayed in Australia was the chance to play for Australia. It was a lot easier to get residency back then. The chance to play against other national teams was a great opportunity. My motivation to keep playing for Australia is to be able to play at the highest level possible. To get the chance to play against some European and old Soviet countries is a big thrill". [3]
Most of us don't dare dream of playing one World Championship, yet Foll represented Australia at the IIHF World Championships from 1988 to 2006, except 1996 when his son was born. In 1988 he played with the national team in two tournaments held in Australia, but not the Thayer Tutt, the invitational for countries that did not make the Olympics. In 1989 he was an alternate captain of the Mighty Roos and then captain from 1990 to 2006. All up, he played seventy-six games in sixteen World Championships, scoring a little under an average one point a game (22 goals, 46 assists) — an offensive performance in defense that would satisfy most forwards. When you run a marathon, you run against the distance, not against the other runners and not against the time.

Only two players, both retired, had fourteen appearances in the top pool of the IIHF World Championship when Glen Foll played his fifteenth tournament in 2005. Czechoslovakia's Jiri Holík who had played on a line with brother Jaroslav, father of retired NHL star, Bobby. From 1964 to 1977 he totaled four Olympics and twelve World Championships for Czechoslovakia and also the 1976 Canada Cup. Sweden's Sven Tumba who had started in the IIHF World Championships at fourteen and played in four Winter Olympics (1952-1966). He was named best forward at the 1957 and 1962 World Championships and top scorer at the 1964 Winter Olympics. He also captained the national team and his club Djurgården retired number 5 in his honor. [6] Foll was then tied with Japan's Toshiyuki Sakai, another Olympian who had fifteen appearances, 1985 to 2002, divided between the top pool and Division 1 (B-pool). [10] He surpassed that in Auckland in 2006 when he captained Australia for a record 15 times.

* * * * * *

In his first year in Adelaide, Foll met his future wife, Lesley. She played state league netball and competition tennis including doubles with former AFL footballer, Steven Stretch, at the club that produced Darren Cahill and Lleyton Hewitt. [5] It is fair to say she is from a sporting family. Her father, Max Puckett, played representative baseball and cricket for South Australia. He played in Australia's first Olympic baseball team in 1956, in front of 110,000 at the MCG in the game against the USA. He represented Australia again in 1957, 1961, 1964, and 1965. The Max Puckett Memorial Award, the Max Puckett Medal, and the Max Puckett Junior Scholarship in South Australian baseball are all named after him.

Her grandfather, Charlie Puckett, was a baseball captain of South Australia (1931-1935), Victoria (1937) and Western Australia (1938-1954) and the first player inducted into the Western Australian cricket hall of fame. In 2005, he was an inaugural inductee into the Baseball Australia Hall of Fame. Father and son often played alongside each other in both sports. Her mother played state basketball, her uncle played and coached Australia in basketball, and a cousin married former Essendon Bomber, Kieran Sporn, brother of Australian basketballer, Rachel Sporn. The Foll's 19 year-old son, Ryan, played his first ice hockey games in 2015 for both the Melbourne Whalers in the AJIHL and the Adelaide Adrenaline in the AIHL. Their twelve year-old daughter, Renee, plays netball, volleyball and figure skates.

When Sydney won the Brown Trophy (U21) in 1987 and 1988, it was 25 year-old Glen Foll in charge at the very beginning of a long coaching career. In Adelaide he became player and Head Coach of the Tigers A and B grades (1990, 1991 and 1995 to the present) and the Red Wings A-Grade team (1992 to 1994). He was coach of the two national championships won by the state's Tange Trophy (U18) team in 1990 and 1991; Head Coach of the National Youth Team (U18) in 1991; and a player-assistant coach of the national men's team between 1990 and 1995. He capped that off coaching the 1995 South Australian Goodall Cup champions, then became Assistant Coach of the National Junior Team in 1997 and 1998. He was assistant coach while a player with the Adelaide Avalanche in the AIHL between 1999 and 2002. He also coached the Roller Sports Australia national team at the World Championships in Chicago in 1995, and the national inline hockey team at the Worlds in Slovakia in 1998.

After a break of twenty-two years, Foll returned to coach the SA Tange squad in 2013. "I still do some local coaching", he says and that leaves you wondering why he is no longer a driving force in Australia's international campaigns. He did the scheduling and stats for the state association in Sydney in the years before moving to Adelaide. He found the association's secretary position vacant and so his time as an administrator continued there as secretary (1991), vice president (1992), and president (1993, 2011, 2012). More recently he was club president of the Adelaide Tigers (2009, 2010). [5]

An accredited IHA referee, he has been officiating ice hockey games since 1982 and inline hockey since 1984. "Since I was a kid I was always organising games and tournaments. I always thought I would step into coaching or managing the national team when I finished playing but politics to a certain extent got in the way of that. I have not been involved at the top level now for ten years and the game is always changing. I think you need to be involved at that level to keep up with the game. For me to get back to coaching at national team level I would want to be an assistant for a couple years with a top level coach". [5]

If you were to ask Glen Foll about Australia's most difficult international opponents he might mention the 1989 squads of Holland and Yugoslavia before the break-up of that country; or Great Britain in 1992; Kazakhstan and Slovenia in 1993; or perhaps Estonia in 2002. But he'll also tell you Kazakhstan was toughest and his best moment for Australia was winning the bronze medal at the C-Pool championships in 1992. The Mighty Roos were not expected to do so well but they stood up and beat Hungary 8-1 and Belgium 6-2. [3] This finest of moments was later eclipsed by winning a national tournament alongside his seventeen year-old son, Ryan. [12]

The many who have played hockey with Glen Foll will each tell you he is a great player. They might mention the great hockey mind and his passion for the game. They'll probably say he rarely loses his cool and they'll certainly add he's a real leader and all round good guy. They have enjoyed the experience of playing with or against him in the local A-grades, win or lose. They have not forgotten that his teams in national tournies were always fun and the internationals were little different. The level mattered not.

Back out on the gentle slope of Yonge Street it is all black night slashed red by CN Tower. The air is damp, and I pull my collar up around my neck and set off with my head down against the chill, heading south of Front Street where water once lapped the shoreline of Lake Ontario. Thankfully one structure at this intersection remains from the 19th century, secured by Canada's game. Whatever it is that distinguishes the strong soul from the weak, I know the strong keep trying when all hope seems gone. I also know some battles have to be fought more than once. I thrust my hands deep in my pockets and merge with the other pilgrims and the night, glad to have met the green and gold jersey that left home in a blaze of glory and returned triumphant.



Citations:



[1] Biographical notes from Glen Foll, May 2016

[2] HockeyDB.com entry for Glen Foll, last accessed 28 May 2016, online

[3] Interview with Glen Foll by Marc Branchu of passionhockey.com, Sep 19 2003, last accessed 4 May 2016, online

[4] Goodall Cup Centenary Souvenir (1909 - 2009), Ice Hockey Australia, p 23.

[5] Interview with Glen Foll by Ross Carpenter, May 2016

[6] 'Foll is the Aussie marathon man', article from unidentified magazine

[7] The Montreal Gazette, 2 Oct 1985, p 39. 'Schultz out of sin bin and into front office,' by Bob Morrissey

[8] The Schenectady Gazette, 22 Feb 1986, p 18. 'Kermit Salfi back in hockey' by Mike Kane

[9] HockeyDB.com, Salmon Arm Shuswap Totems all-time player roster

[10] IIHF Newsletter, May 2005 vol 9 no 2. 'Foll is the Aussie marathon man'

[11] A History of Australian Baseball: Time and Game by Joe Clark

[12] Messenger News, Adelaide, 'Chip off the old block, father and son team up brilliantly", Matt Turner

[13] Glen Foll archive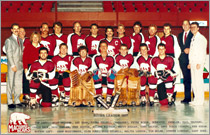 Macquarie Bears, NSW Super League, 1987 [13]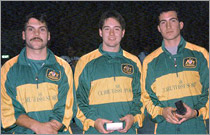 World Championships, Sydney Australia, 1989 with Scott Davidson and Damian Holland, best players for Australia. [13]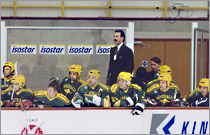 World Championships, Cardiff Wales, 1990 [13]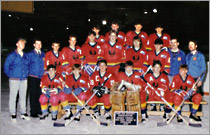 Coaching SA in Sydney at Tange 1990, first ever Tange title for SA [13]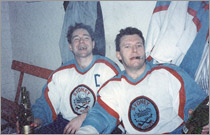 With Kevin Sands after winning the Goodall Cup, Oakleigh, 1989 [13]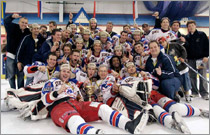 With Newcastle North Stars, 2005 [13]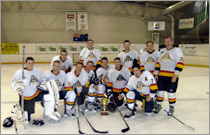 Winning the Adelaide Tigers Challenge Cup tournament, 2012 [13]