From a desert, from the driest continent, from this land at the opposite end of the globe ...
... as remote as could be in the hockey world ...
... came one of the world's oldest winter sports trophies.
A cool tradition, a dream of champions, and a story we owe it to our children to tell.
Legends of Australian Ice.

[ ICE HOCKEY ] The First Bombers
Player-coach Emil Buchatsky (1918 - 1997)

If we want to make our contribution to the pacification of the world, it is our duty to present to the world the spectacle of a rich country with a great people, with an adequate population — with a population which may justly say to the rest of the world: "We are here; we propose to maintain our integrity as a nation; and our warrant for that is that we are using the resources which God has given into our hands." The case for immigration on a grand scale is, indeed, an irresistible one. — Prime Minister Robert Menzies, Citizenship Convention, Canberra, 23 January 1950.

This was Australia's age of expansion and prosperity. And it was also an age of suspicion and manipulation. Our population, driven by the post-War Baby Boom and 1.68 million new settlers, rose from 7.5 million to 10 million by 1960. The second installment on the history of New South's most successful club profiles the foundation player-coach, Emil Buchatsky, who played more hockey here than in his homeland or anywhere else in Europe. Most information about Buchatsky's hockey career was kindly provided by historian Birger Nordmark of Sweden, with assistance from Dick Groenteman. The first article in the Bombers series focused on the Club's foundation president, Viv Chalwin, which you can read here. Next up is the Club's foundation captain, Dick Groenteman, who succeeded Buchatsky as coach.
HE WAS BORN ОМЕЛЯН БУЧАЦЬКИЙ (Omelyan Buchatsky) at the town of Lviv, Western Ukraine on March 20th 1918. The Polish writing of his surname is Buczacki. His parents were Rev Alexander Buczacki (1887 - 1940) and Maria Sosenko (1890 - 1943). His father was a Ukrainian Catholic priest and counselor born in the town of Rymanow (now in Poland) to Ukrainian parents. He had two younger sisters — Maria and Olexandra — and a brother named Roman who were all born at Lviv. Maria was born on September 21st 1921 and died in July 2002 in Lviv. She had married Lev Pidlysetsky. Olexandra was born on March 31st 1920 and died in the town of Kalush in 1997. Roman was born on January 1st 1933 and died at Ivano-Frankiwsk in 1999. [1, 4]

Buchatsky was introduced to ice hockey by his father, a sports fanatic, who took him to a local game in 1928 when he was 10 years-old. Their hometown was under Polish rule between the wars, and 6 to 8 ice hockey teams had been competing in the first grade for just the second year since inception. Two of the best from each region qualified for the play-offs of the Polish championship. Most teams in Lviv were Polish, but a few were Jewish and Ukranian, including ST Ukraina which the 16 year-old Butchasky was to join 6 years later in the 1934-35 season.

The ST Ukraina was a sports society of ethnic Ukrainians founded in 1911 and modeled on the Ukrainian Sports Club (USK). Liquidated twice by the Soviet regime, it had a Polish association football team named Ukraina Lwow and an ice-hockey department. In 1936, the Polish Ice Hockey Federation (PZHL) invited Buchatsky to a 1-month training camp in Katowice in southwestern Poland. It was home to the country's only artificial ice rink.

In February 1938, the club became vice-champion of the Lviv region. [3] Under normal circumstances, ST Ukraina would have gone on to compete for the Polish Championship, but the tournament was cancelled because the PZHL had decided to create a league system. That too had to be abandoned due to the war and, in fact, 17 years went by before the current Polska Liga Hokejowa began in 1955.

Buchatsky played with ST Ukraine until the last winter before war interrupted in 1939; about the time he had also completed his schooling. Germany invaded Poland on September 1st that year and a fortnight later Lviv was completely encircled by German units. A few days later the Soviets invaded Poland and the town of Lviv capitulated to the Red Army on September 22nd. During the years of Soviet rule, Buchatsky played for Spartak Lviv in the Soviet regional league.

Alexander, his father, died at the early age of 53 in December 1940. Emil was invited to play for one of the leading Moscow clubs in 1941, but the Germans had occupied his town before he had left, following on the heels of their invasion of the USSR earlier in June. The Germans did, however, allow the old clubs to resume. Buchatsky and ST Ukraina were once again able to return to the ice and his club was subsequently invited to play in Krakow and Krynica in the southern parts of occupied Poland. In 1943, his mother Marija died and he and his sisters and brother Maria were without parents for the first time.

On 22 February 1944, in his mid-twenties, Buchatsky married Alexandra (1919 - ). The Soviets recaptured Lviv soon after and dissolved the ST Ukraine sports society for the second time. Buchatsky moved his family to Bratislava, Slovakia, which had remained independent during some of the war years. He played a season with VS Bratislava then in February 1946 his hometown of Lviv became a part of the USSR, and most of the Ukrainian Catholic clergy burrowed underground for the duration of the Communist atheist regime. On March 5th 1946, Churchill said from Winston College in Fulton, Missouri: "From Stettin in the Baltic to Trieste in the Adriatic, an iron curtain has descended across the Continent." Many thought he was exaggerating, but the term stuck.

Ukrainians were to be found on all sides during World War II. The political agenda of most nationalists — an independent Ukraine — positioned them in opposition to both Germany and the Soviet Union, the two main adversaries of the region. At the end of the war some 120,000 Ukrainians registered themselves as displaced persons, either Polish or Russian, depending on which country dominated their portion of Ukraine.

Most enslaved Ukrainians who survived the war in Germany, and even those among the veteran Polish troops who fought under British command, were forcibly sent back to the USSR because of agreements reached at the (still) controversial Yalta Conference. Ukrainians knew returning home meant death or exile to Siberia.

Many of the local clergy relocated to the USA and Canada, but the Buchatskys went to Mittenwald in Germany, in the foothills of the Bavarian Alps. The town was 16 km south of Garmisch-Partenkirchen on the border with Austria. Emil was 28 years-old when he and other local Ukraine players formed a team there named Lev (Lions). In 1947, the family crossed the border to nearby Innsbruck. Buchatsky played in the Austrian Hockey League for Innsbrucker EV for several seasons from 1948, then departed Europe permanently.

Finally, the family immigrated to Sydney Australia in September 1950. Emil was 33 years-old when he played the 1951 season with Glebe Lions and represented New South Wales in the 1951 Goodall Cup, won by Victoria. The following season he was foundation player-coach of the Bombers ice hockey club in the New South Wales senior league. He remained there until 1969, although there was no ice hockey in Sydney for 3 of those seasons — from when Sydney Glaciarium closed in 1956, until the opening of the outdoor rink behind the swimming pool at Prince Alfred Park on June 2nd, 1959.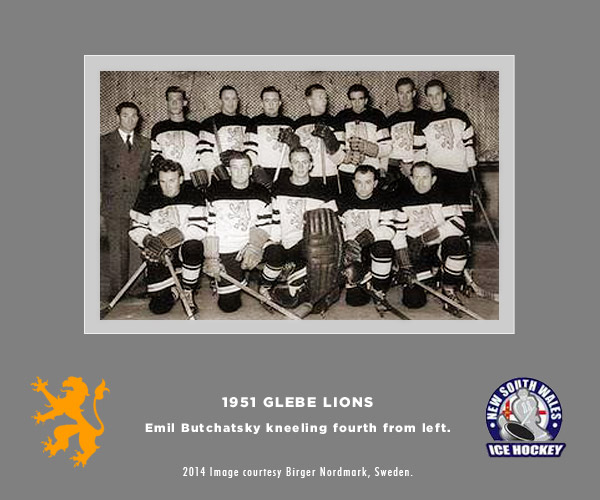 1951 Glebe Lions, Buchatsky kneeling fourth from left.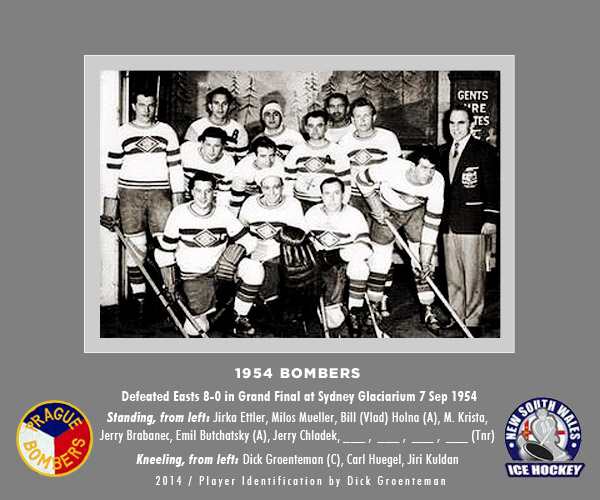 1954 Bombers, their third season

Buchatsky was by then in his early-fifties, having played first-grade competitive hockey in Poland, USSR, Slovakia, Germany, Austria and Australia for three and a half decades. He was a talented player, regarded as one of the best in both VS Bratislava and Innsbrucker EV. He had lived about half his life in Sydney and died there at the age of 79 on 1 September 1997, survived by his wife and two sons, Roman and Oleh. He is interred with his wife in the Ukrainian Section of Catholic Cemeteries and Crematoria at Rookwood NSW.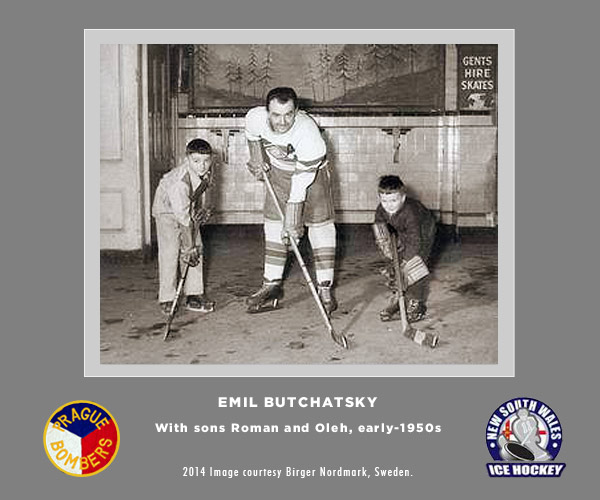 Early-1950s, Buchatsky and sons, Sydney

In 1975, Oleh Buchatsky was selected to represent Australia at the inaugural Asian volleyball championships [2] where Australia placed fourth. Oleh is also the co-author of "Leadership: Australia's Top CEOs: Finding out what makes them the best" (1996) and "Paris tragics: two Aussie blokes tackle the art, food and history of Paris" (2014).

The ST Ukraina Sports Society was re-established in Canada after the war by former members.



References:
[1] Ancestry.com courtesy of Birger Nordmark, Sweden. Emails 6 Jan 2015.
[2] The Canberra Times ACT 23 April 1974 p 24
[3] Ukraina, Wikipedia article
[4] Private correspondence from Stanislaw Buczacki, a relative of Emil Buchatsky in Ukraine, 15 November 2015.