Legends
home

[ HOCKEY ] Prague 20
Ivo Bohumil Vesely (1926 - 2002)

Although further research will be necessary to get the complete figures, we also found that Dave Cunningham with over 160, Noel Derrick over 140, Keith Jose over 110, and Bud McEachern also over 110, are the only players to have scored more than 100 goals in local hockey. These figures are compiled from all games played under the Victorian Association or League control, except lightning premierships and Autumn Cups. Ice Hockey Guide, VIHA, Sep 14th 1958, p 4.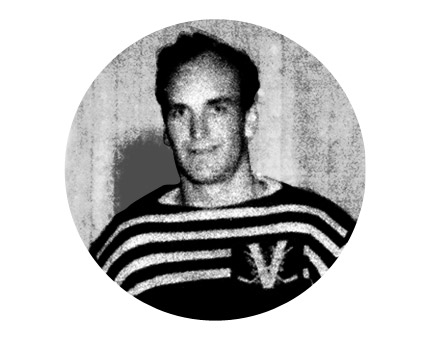 HE IS PRACTICING ALONE on the Yorkshire moors with a second-hand trombone, only the black hollows, bleak hilltops and bilberry bushes bebop along, the moors of Wuthering Heights. "Jazz is restless", someone once said, "it won't stay put". As remote as the moors are, he catches a bus each way. He joined one of the many brass bands around Halifax, and his music is now gradually helping him earn a living. They call him 'Tommy' after Tommy Dorsey, because 'Ivo' does not come easy there. He finished his engineering degree by correspondence from London with the help of the Czech Relief Committee and the Czech Refugee Trust Fund. But perhaps I should first explain how the young Czech national from Horní Pocernice even came to be in the desolate north of England.

Ivo Vesely was born April 1st 1926 in Prague Czechoslovakia to Rudolf Vesely and Vanda Jones. The youngest of two boys, he was baptised at the Roman Catholic Parish Church and given a silver angel medallion. His brother Rudolf was born on the 27th June 1922. The family lived not far from Prague at Horní Pocernice, a small town known today as the Prague 20 district in the city's east. The Veselys also had a house near the Tatra mountains. Both parents played tennis, fished, skied and encouraged both sons to follow suit.

Vesely also took piano lessons for twelve years along with competition ice hockey and soccer, and was still studying classical music when he enrolled in the Engineering degree at Charles University in Prague. He graduated to double bass and trombone, switching to jazz as it became popular. Graeme Bell and his Australian Jazz Band toured Czechoslovakia for four-and-a-half months in 1947, including the World Youth Festival in Prague, no doubt influencing many other students.

Vesely's teens were spent in Nazi-occupied Czechoslovakia and he had just turned nineteen when Prague was taken by Soviet troops on May 9th 1945 during the Prague Offensive. Many were opposed to extreme political regimes and their oppression of families, whether it was Nazism or Communism. He was just twenty-two when he walked over the border into Germany in May 1948 and claimed political asylum. He lived in a refugee camp, subsisting on a milk-like liquid made in a large vat with everything mixed-in, vegetables, raisins, the lot. Assisted refugees had a choice of only two placement destinations and so after three months he transferred to England on the condition he worked in a brick yard up north near Halifax in West Yorkshire. He didn ?xt like the job at all because it involved working in underground tunnels, but he was otherwise a free man.

After graduating, Vesely planned to work in the engineering company owned by the Dolezal family in Ohio USA, but another Czech family intervened. They were emigrating to Australia and he decided to follow. After much paperwork securing the various travel visas, he was finally able to buy his ticket through the travel department of the National Union of Students. In 1951, he made his way to Marseilles, boarded M/V Chang Chow to Sydney via Panama Canal, arriving September 16th, then completed the journey to Melbourne by train. Onboard he met another Czech couple, Joe Kopetcsky and his wife Hilda. Joe became well-known as a local butcher in Kew and Hilda was a hairdresser.

In Melbourne, Vesely first lived with Czech friends, then in a boarding house run by the Eccles family at 24 Wellington Street in St Kilda. It was there he met Czech-born Danny Kindermann, who married a daughter of the Eccles, and later became Vesely's best man. In 1952-53, he played B-grade Australian association football (soccer) for the defunct Slavia Melbourne which was founded in 1950 by Czech migrants. The club went on to become a leading light in Australian football during the 1960s.

He first played ice hockey for the powerful Raiders ice hockey club, transferring to the Monarchs when they folded in 1956. He played centre for almost his entire playing career, peaking in his mid-twenties with the Raiders and three premierships. His line with Steve Tikal and Geoff Henke was among the best in the league. [2] He won three consecutive Goodall Cups representing Victoria — 1953, 1954 and 1955 — up until the interstate series lapsed for five years when Sydney Glaciarium closed and New South Wales were without an ice rink. Vesely shocked the local hockey community when he was elected captain of Raiders in 1954, ending a term of three seasons by Tommy Endrei in which time the Club had won three premierships. [4]

At the Monarchs in his early thirties, he returned to something approaching his best form when Bud McEachern was unavailable for most of the 1958 season. He stepped in to lead the attack and quickly became the keystone. The Blackhawks dominated the A-grade league competition in Victoria at that time, but his club finished high in the standings that season, with an enviable scoring record, and this was credited in large part to his skill and team spirit. In his first three seasons at Monarchs, 1956 to 1958, the club were three times runners-up, and three VIHA premierships followed — 1959, 1961 and 1962. [2] He was alternate captain when they became VIHA premiers in 1959.

The coveted President's Medal of the Victorian association was first presented by VIHA president, George Hewitt, in 1954. It was Victorian ice hockey's Best and Fairest as determined by the votes cast by referees, similar to the AFL Brownlow Medal. The Best and Fairest tradition had existed in Victorian hockey under various names since at least the 1920s, instead of the sport's Most Valuable Player award which is common today. [2]

The voting method had already changed several times since 1954. Vesely finished in the red in 1955, the year penalties were subtracted from the Medal votes! In 1956, referees recorded only a single vote per game, which resulted in that season's Premiers having no player with Medal votes. There were many who thought "referees have sufficient to do in a game without watching for best players", but the Medal system did not change. The two match referees submitted their combined 3, 2 and 1 votes after each game in 1958, the season Vesely won it. [2]

In those years, Vesely played trombone in a jazz band formed mainly from local ice hockey players — Colin Frape on guitar, Czech Danny Kempnie on Vibraphone, Carol Martin on trumpet, sometimes pianist, Ron Rosenberg, and later others. He transposed sheet music for the band and played with Cal Martin's Jazz Group and the St Vincent's Younger Set.

When Ivo met his future wife, Beryl, at a South Yarra party, they immediately connected and met every day for years. Beryl's father had arrived in Melbourne from England with his parents in 1913, and her mother ?xs family settled in Adelaide in 1878. It was Carol Martin who had invited Beryl to the party, along with assorted nurses from St Vincents, and Carol Martin who gave Beryl permission to leave with Ivo, later remarking "at least they married". They lived together at 273 Williams Road in South Yarra.
Vesely was works manager for the wire merchants, Greer & Ashburner, on the corner of Swanston and Franklin in Melbourne. While he was there, he formed Artex with Oscar Gimesi, a Hungarian architect living in Sandringham. They produced glass-topped, wrought iron coffee tables with a lower shelf for a plant, which were popular sold through Myer Emporium, and a special chair with a backrest that eased a little when leaning backward. The long wait for payments eventually took its toll on their finances.

Two other Czechs at Greer & Ashburner started the Bent Article Company with Vesely, making products from a wire-forming machine and spot welders, first from a small garden shed at the rear of a house, and later from a rented workspace, also at the rear of another house in Reservoir. They set the machine to automatically produce such articles as 25,000 toy potato mashers and belt buckles for Aertex. Vesely initially worked there full-time but the drain on finance was again too much, until he found a good job with Ralph MacKay Harvester. He designed a special plow in their factory north of Melbourne, near Essendon, and continued to work after hours at Bent Article while the remaining partner, John Hudecek, worked full-time.

In 1957, Vesely married Beryl, moved into their new Mt Waverley home, and dissolved the partnership in Bent Article Company at Reservoir. Now a design engineer at GMH, he worked at Bent Article on Saturdays when Hudecek moved the business to Box Hill. Czech-born Frank Prihoda, the champion alpine skier and 1956 Winter Olympian, ordered wrought iron serviette stands, mirrors, fire screens and hangers for garden pots.

Vesely was selected for the 1960 Australian Olympic ice hockey team scheduled to leave for California in February 1960 and soon after discovered a first child was on its way. Beryl worked in the accounts department of Glazebrooks Paints and the couple often dined together at an Italian bistro downstairs in Elizabeth Street before going to Reservoir to work. There was also much to do fundraising for the team, sewing badges on Olympic uniforms for team manager, Russ Carson, and helping wherever they could. Their son Ivo Greig was born in Melbourne on February 17th, the opening day of the Winter Games, when Vesely was in the USA with the Olympic team. At the christening when Ivo returned home, John Hudecech and Olympic teammate, Steve Tikal, were godfathers, and Joan Stewart was godmother. Twins, David and John, were born on July 28th 1961.

On April 27th 1960, Vesely was hit from behind by a car on the crest of a hill on the way home. Both tibia and fibia was broken and he required seventy stitches to his head and eighty in his buttock. A thick Harris tweed jacket and coat, plus a lot of luck, were the only reasons he survived. After Monarchs, he played ice hockey with Pirates, then Hakoah. He returned to skating and coaching Hakoah in 1962 and took them to Christchurch New Zealand in 1963 where they played the local team, and at Lake Tekapo and Lake Ida on the big expanse of ice used for speed skating. Vesely was coach in 1963 when the Club won their first premiership and the National as underdogs against Glebe Lions (NSW), coached by Australia's first Winter Olympian, Ken Kennedy. Hakoah also won a back-to-back premiership the following season.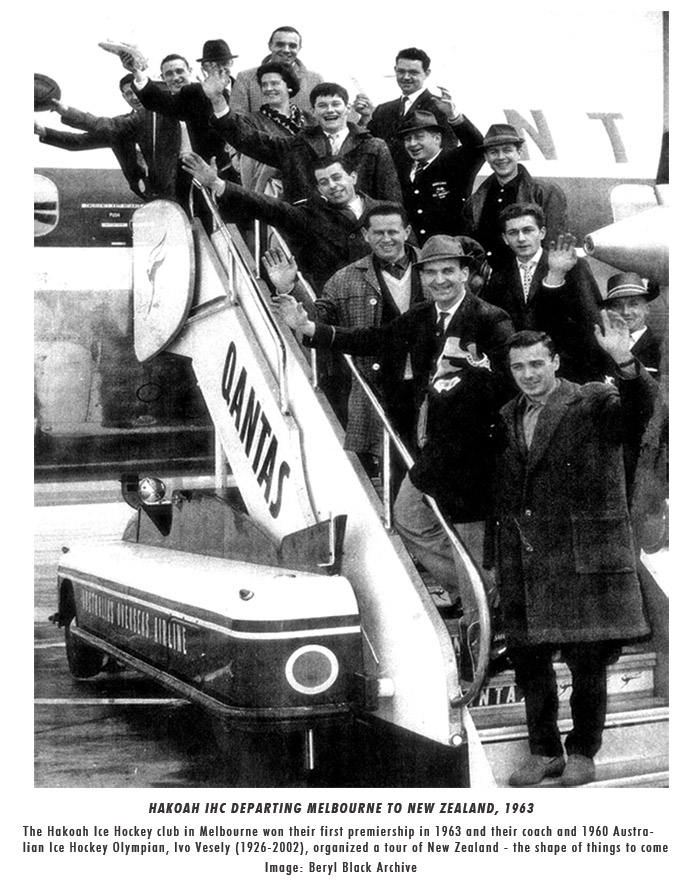 Departing for Christchurch, Coach Vesely and Hakoah IHC, 1963 The Veselys met Czech-born George Kren when he played for Hakoah IHC in Melbourne. Kren was a Swiss ice hockey coach and when he returned home, he set about arranging a coaching position for Vesely, initally negotiating with two German teams. Neither eventuated because neither could offer sufficient support for the family. Kren was however successful in negotiations with the president of EHC Chur in Switzerland. Beryl Vesely had long hoped to meet the Vesely family in Europe and in 1966, they moved their young family to Switzerland. Ivo coached and worked as an engineer during the day. EHC Chur were active in the Swiss National League B until 2008.

His wife taught children ice-skating there for two seasons for Monica Torriani, daughter of well-known Swiss Olympic ice hockey player, Bibi Torriani. The pair were runners-up in the 1968 Tennis Club Chur Championships. The Veselys spent their first Christmas in Switzerland at Davos with the Czech ice hockey trainer Jan Sobotkiewiz and his wife, Michelle. Beryl attended the Migros Klub Schule every week with Herr Otto Braschler who was a very good teacher of classic art. [3]

In 1967 in Switzerland, Vesely was reunited with his mother, Vanda, for the first time in twenty years. Similarly, he met his brother, Ruda, and family in Austria in 1968 but the Prague Spring uprising made it too difficult for them to return home, and so they returned to Switzerland where they were granted political asylum. Vesely and his immediate family returned home to Melbourne in 1969. Beryl resumed ice skating and was an announcer for the Victorian and Australian championships for seventeen years. She is an accomplished artist, book publisher, historian and ice skater. Friends from Chur visited twice and Beryl returned there in 1976, 2003, 2005 and 2012. [3]

Ivo Vesely died in Melbourne on December 4th 2002, survived by Beryl and their three children. He was acknowledged by opponents as one of the most difficult to beat centre men in the game. In his first seven seasons of hockey he scored over 87 goals and 22 assists, an average of 14 points per season placing him among the top scorers of his time. [2] He went on to became one of the few players of his time to score over 100 career goals.




Special thanks to Beryl Black who provided much of the biographical material for this story. Citations:
[1] Black, Beryl (2015) Biographical Notes on Ivo Buhumil Vesely.
[2] Ice Hockey Guide Sep 14th 1958, "President's Medal to Vesely", VIHA, p 10
[3] "Beryl Black-Vesely: ice-skating and a whole lot more", Swiss Club of Victoria, 8 Sep 2012.
[4] Sporting Globe, 21 April 1954 p 18.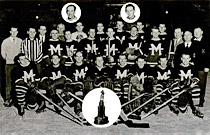 At Monarchs IHC, VAIHA Premiers, 1959.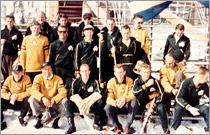 At Squaw Valley Olympics, California, USA, 1960