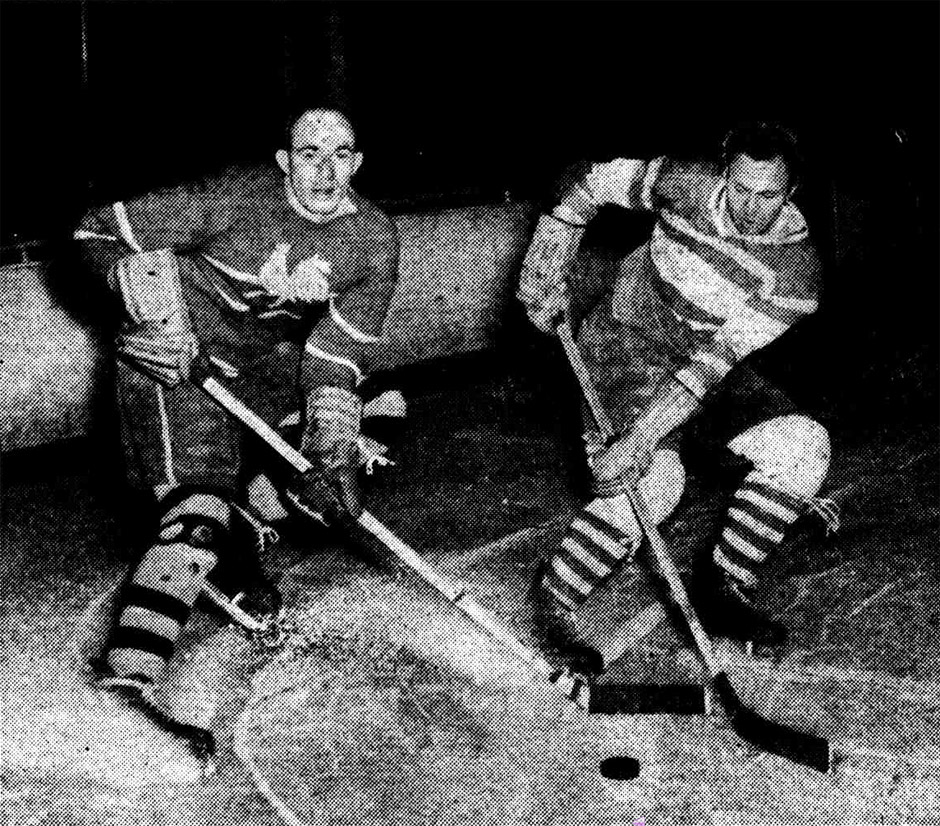 Oldrich Kucera (right) with Canadian international Mac Mulloy, Hobart Glaciarium, Australia, 1952. Image: The Mercury, Hobart, Tasmania. [18]
[ HOCKEY ] The Shooting Star
Oldrich Kucera (1914-1964)

I came in with Halley's Comet in 1835. It is coming again next year, and I expect to go out with it. It will be the greatest disappointment of my life if I don't go out with Halley's Comet. The Almighty has said, no doubt: "Now here are these two unaccountable freaks; they came in together, they must go out together".
— Mark Twain in 'Mark Twain, a Biography 1835-1910', Albert Bigelow Paine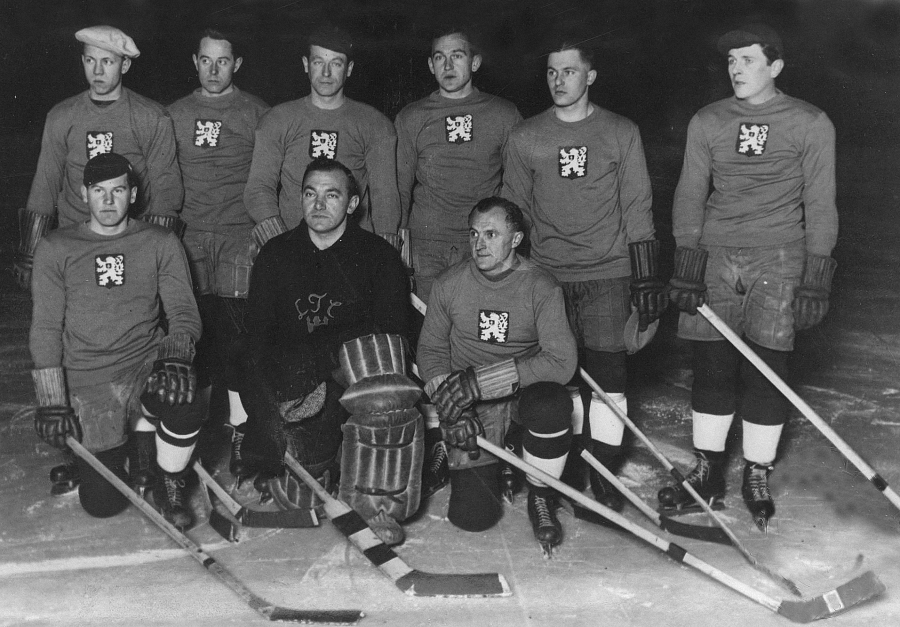 Czechoslavakia National Ice Hockey Team, 1933 European Champions. Seventeen year-old Oldrich Kučera standing far left. Image: World Hockey Classic



THE DIRTY SNOWBALL heated up as it passed the sun on the galactic tide, out gassing a beautiful tail and disappearing; a poignant reminder of the arrival in Melbourne of another icy Comet many years earlier. He migrated at the age of thirty-five with his new Swiss bride, Katharina, and became the first coach of the newly formed Raiders Ice Hockey Club in 1950. This Club was a new home for the wave of European players who immigrated here after the war, some of whom were highly skilled at both hockey and soccer. But this particular player nicknamed Čičerin (Chicherin) was a little different than most because he was a shooting star of Europe's pre-War hockey elite.

Around that time, a Tasmanian newspaper reported the "Aussies" had beaten the "Kiwis", 6-1, in an ice hockey game on the frozen Imjin river during the Korean War. The Maori Haka battle call chanted before the match by the 16-man New Zealand team may have failed to intimidate. Four hundred soldiers watched this first "International" between Commonwealth Division teams [7] and, earlier that same week, a game had been played between the officers of the Royal Canadian Horse Artillery and 'Van Doos'. [6]

If this was not sufficiently stranger than fiction, the global hockey community had lost some of its favourite sons to a little city called Hobart even farther south where the sport was capturing the imaginations of Tasmanians for the very first time. A new League had formed under the auspices of the State's first ice hockey association with the opening at Main Road Moonah of the State's first ice rink which had been modeled on an open air rink in Prague. The League consisted of the Mustangs in black and white, the Red Devils in red and gold, and the Comets.

In July 1951, shining brightly after back-to-back premierships in Melbourne, the Raiders coach and an expecting Katharina transferred to the Apple Isle to captain and coach the Hobart Comets under contract with Hobart Glaciarium. He played his first game for the Glaciarium Cup there against the Red Devils on August 1st. Their son, Peter, was born there late in 1951 and he had already built sandcastles in the sun at Long Beach by the Christmas of 1952. [8] Hobart was a thriving small city with a growing population and good combination of industry and primary agriculture. Tourism was about to increase, but the city in 1951 was still without the Tasman Bridge, the Princess of Tasmania ferry service and Laherne Airport, today's Hobart International.

The Hobart Mustangs were mainly New Australians and they had dominated Tasmanian hockey's first season much like Kučera's Raiders in Victoria. The Hobart Red Devils were mainly local skaters and they had fared better than the Comets in their first season. The next season the tables were turned. The rivalry between Kučera's Comets and the Mustangs escalated dramatically and only rarely did his team lose a game. [19]

Although it has been lost to official history, the first three matches of the 1952 Australian ice hockey championships were between Tasmania and Victoria at Hobart Glaciarium in July. This was the first time a city other than Melbourne and Sydney had gone after the Goodall Cup, and the Comets captain was well and truly in the hunt along with teammates Sorel and Jiri Kuldan, who were also his fellow countrymen. This trio generated most of the Comets' attack.

The Red Devils supplied Canadian international and former coach of the Dutch National Team, Mac Mulloy, along with Jim Hall, goalie Johnny Watt, Ring and Taylor. The Mustangs contributed Swiss internationals Wally Vaterlaus and Albert Metzler. [5] More than a few of the first Team Tasmania were world class players who were skating in the open air on the wrong side of the globe, and to properly digest the significance of this we must time-leap back twenty years to the Moravian metropolis of Brno.

It was one weekend like any other in the winter of 1931-32 that Czechoslovakia's second largest city was first visited by LTC Prague. They were led by Josef Malecek (1903-1982), the 5-foot 7-inch king of European hockey. He was already famous, having played for his country in the first winter Olympic ice hockey tournament in 1924, but even so most fans living outside Prague only knew him from newspaper reports and poor press photos in illustrated magazines. On Saturday, LTC played a team selected from various Czech clubs, winning eighteen goals to zero, and on Sunday they dispatched the Brno Germans, 17-0. It was there that hockey fans outside Prague first witnessed the brilliant moves of the Club's first line attack; Malecek and his wingers Jiri Tozicka and Karel Hromadka, the youngest Czech player at the 1928 Olympics in St Moritz.

It was also there that the LTC junior Čičerin first came to the notice of hockey fans outside Prague. The devil only knows why he was nicknamed after a Soviet diplomat, but he was seventeen years-old at that time and he played left wing on the second attack. LTC were almost unbeatable by then and they soon became known as the "terror of Europe". The Swiss club team, HC Davos, had the Cattini brothers and Bibi Torriani, but they were probably second in Europe to LTC.

As legend has it, Prague had lost only a single game in the Czech league during a thirteen-year span, and no other team in the world had so dominated their league. There were a few French and British clubs stacked with Canadians who could beat them, but no homegrown European team stood a chance. LTC had one or two Canadian players themselves, such as Mike Buckna, the son of Slovak parents, and they could hold their own against some of the strong Canadian teams.
Born on July 1st 1914 in Prague, Oldrich Kučera aka Čičerin had begun his playing career with LTC Prague in the elite Czechoslovakian league. In 1933, shortly before the World Championship hosted in his hometown, he played in the same spot for the first time in the National Team and became the European champion in his rookie season. Two years later in Davos he was "promoted" to the first offensive line in place of Stacks who was shifted to defense. His accurate shooting further capitalized on Tozicka's painstaking work around the rink and the extraordinary solo contributions and combination skills of Malecek, who was considered to be NHL standard. At Davos, Team Czechoslovakia scored 42 goals including 34 from this elite offensive trio. Kučera himself netted 13 goals, capably filling the spot on the wing of the best line in Europe. A few years later in 1937 he was Czech national men's champion, a feat he repeated in 1938.

By the winter of 1941-42 he was the most successful scorer for LTC Prague and second best in the League. The club at that time had two other promising left wings in Stanislav Konopasek and Viktor Lonsmína, and so it was a disgruntled Kučera who left LTC in 1943 and for a time played alongside Jaroslav Drobny in I CLTK Prague. Drobny could have become the first ever European player to start in the National Hockey League when the Boston Bruins had put him on their reserve in 1949, but he preferred to remain in amateur hockey and play tennis. He once practiced with the VIHA Blackhawks at Melbourne Glaciarium during a tennis tour [11] and the Victorian association had even offered him a position through "a friend". So too did the Tasmanian association when he visited. [12] He considered settling there, but eventually chose Britain and became a World No 1 amateur tennis champion. The Swede, Ulf Sterner, became the first European to play in the NHL many years later.

In the first season after the war interruption, Kučera finished second among League scorers to teammate Vladimír Kobranov. It was the second such occurrence and he donned the national team jersey for the last time in March 1946, the year before his country won gold at the Worlds. The next season he did not return from a trip to Switzerland where he had been offered a position playing hockey and coaching football, with tennis training thrown in. From 1947 to 1950 Kučera was player-coach at SC Bern. In the 1947-8 football season, he was the top goal scorer for FC Bern and ninth overall in the Swiss football Nationalliga B. His team were runners-up and promoted to Nationalliga A. [20] It was there in Bern that he met and married Katharina before immigrating to Australia.

The young family remained in Hobart after the city's first rink burned down and the State Association consequently folded. Kučera made do with competition soccer and golf. From 1953, he played Division 1 football with his hockey teammate Sorel in the newly formed Bohemians of the Southern Tasmania Soccer Association. It was one of the rash of migrant-community based teams in the post-war revival of football in Tasmania. The Kučera family eventually returned to Switzerland where Oldrich rejoined the senior team of SC Bern in 1962. [2] Once during a game there he collapsed from a heart problem, but recovered. He was head coach of EHC Olten for the 1963-64 season, [3] but died from heart failure in Gstaad at the age of forty-nine on January 2nd 1964. [2]

Oldrich Kučera did not just pass through Australia on his way to someplace else. He made his family home here for years. He played and coached three seasons of hockey during its boom years and competed once for the Goodall Cup. He first wore the jersey with the map of Tassie on the chest on his thirty-eighth birthday and finished with two goals from a 4-4 tie. It was the first game of the interstate series against Victoria. Tasmania lost the second, 3-4, but took the decider, 3-2, to tie the National in just its second season of local hockey. Kučera and Vaterlaus were Tasmania's top scorers on four goals apiece, equal with future ice hockey Olympian, Ron Amess, vice-captain of Victoria. [9]

Tasmania were to play the winner of the series between Victoria and New South Wales to decide the championship, but the three teams of the Tasmanian association lost their equipment in a blaze at Hobart Glaciarium the day after Victoria won its third clash against New South Wales. The fire was believed to have been started by an electrical fault. A few days later an appeal was launched to replace equipment worth £1,500, but there is no known record of the final series ever being played as planned and Hobart Glaciarium closed permanently later that year. With players and coaches of this calibre, we can only imagine how Tasmanian hockey might have evolved had the rink survived.

In his home country Kučera had played in the Czechoslovak First Ice Hockey League from 1932 to 1946, winning championship titles every season except 1941. He played 105 matches for his country, [16] the first on February 18th 1933 in Prague at the World Championship against Romania (8-0), the last on March 3rd 1946 in Zurich in a friendly match against Switzerland (1-5). He won the Spengler cup in 1932, 1937 and 1946 and represented his country in seven consecutive World Championships, 1933 to 1939, winning bronze medals in 1933 and 1938. Kučera, Malecek and Trojak were a prolific attacking formation in the national jersey, Kučera completing a career total of 37 World Cup matches, 25 goals and two assists. [4, 16] He competed in the 1936 Winter Olympics contributing six goals in eight games to become the top scorer of his fourth-placed team. [4]

It is said only Josef Malecek and Jaroslav Jirkovsky out shot Oldrich Kučera over his career, and then only by a little. He was inducted posthumously to the Czech Hockey Hall of Fame.







Historical Notes:

[1] Every year in South Korea there is an invitational ice hockey tournament spread over six weeks starting in April for what is now known as the Imjin River Memorial Cup.

[2] Drobny defected at a 1949 tournament and was eliminated in the third round of the 1950 Australian Championship at Kooyong. He was granted Egyptian citizenship, won the 1954 Wimbledon men's singles tournament, and eventually settled in Britain where he died in 2001.

→ Ice Sports in Tasmania: the foundation story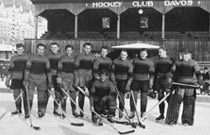 LTC Prague Hockey Club Spengler Cup Champions 1937. LTC Prague v Davos Swiss 2:1 (1:0, 0:1, 0:0, 1:0), December 31, 1937, Davos. Left to Right: Unknown, Oldrich Kucera, Alois Cetkovsky, Viktor Lonsmin, Frantisek Pergl, Josef Malecek, Vilibald Stovik, Jaroslav Cisar, Frantisek Pacalt, Bohumil Modry. Kneeling: Jaroslav Pusbauer. Image: World Hockey Classic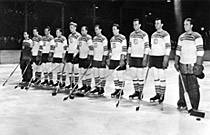 Team Czechoslovakia v Team Sweden, 0:0 February 13, 1938, Prague. Czechoslovakia National Team before the World Championship match against Sweden. Three periods and three overtime periods did not produce a winner. Left to right: Antonin Houba, Oldrich Kucera, Josef Malecek, Ladislav Trojak, Frantisek Pacalt, Jaroslav Pusbauer, Alois Cetkovsky, Frantisek Pergl, Drahos Jirotka, Zdenek Jirotka, Bohumil Modry. Image: World Hockey Classic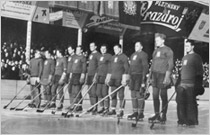 February 20, 1938. Prague. Czechoslovakia national team before the World Cup match against the German national team. Czechoslovakia won the match and the bronze medal. Left to right: Bohumil Modry, Alois Cetkovsky, Oldrich Kucera, Zdenek Jirotka, Josef Malecek, Drahos Jirotka, Jaroslav Cisar, Ladislav Trojak, Jaroslav Pusbauer, Frantisek Pacalt, Antonin Houba. Image: World Hockey Classic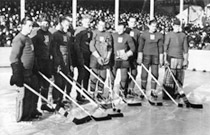 Czechoslovakia national team 1938. Left to right: Antonin Houba, Jaroslav Pusbauer, Oldrich Kucera (back), Alois Cetkovsky, Zdenek Jirotka, Frantisek Pacalt, Josef Maleсek, Ladislav Trojak, Drahos Jirotka, Jaroslav Cisar, Bohumil Modry. Image: World Hockey Classic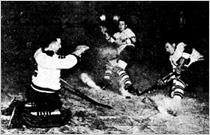 Jaroslav Drobney training with the VIHA Blackhawks at Melbourne Glaciarium, January 1950. Image: The Daily News, Perth.[11]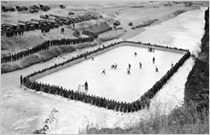 'Imjin Gardens' is the scene of a hockey game between teams of the Royal Canadian Horse Artillery officers and 'Van Doos' officers, Korea, 1 Mar. 1952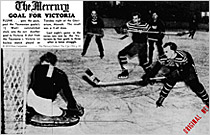 Victoria's Ron Amess scores against the Tasmanian minder, Johnny Watt, in the first series of 1952 Goodall Cup at Hobart Glaciarium. Image: The Mercury, Hobart.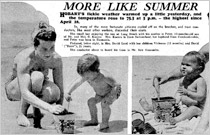 Katharina, wife of Oldrich Kucera, and their son Peter at Long Beach in Hobart, Tasmania, 1952. Image: The Mercury, Hobart. [8]
Citations:



[1] hokej.cz Redaktion: Historie hokejové ligy, sezona 1936-1937. hokej.cz, abgerufen am 21 April 2012

[2] 60 Jahre SC Bern 1931–1991, Henry Eggenberger, 1991, p 34

[3] 78 Jahre Eishockey in Olten. EHC Olten, abgerufen am 21. April 2012 (deutsch)

[4] IIHF Guide & Record Book, Andrew Podnieks, 2012 2011, p 489

[5] The Mercury, Hobart, Tas, 25 June 1952 p 23


[6] Toronto Sun, March 10 2012,'When Hockey Went to War' by Peter Worthington. Online

[7] Advocate, Burnie, Tas, 7 March 1952, p 10

[8] The Mercury, 16 Dec 1952, 'More Like Summer', p 10

[9] The Mercury, 1, 2, 3 and 5 Jul 1952

[10] The Mercury, 17 September 1951, 'Stars for Hockey', p 6


[11] The Daily News, Perth WA, 21 Jan 1950, 'From Court to Rink', p 4

[12] The Mercury, 14 January 1950, 'May be Ice Hockey Coach', p 28

[13] Ceskoslovenska hokejova liga 1936/1937 Online

[14] Ceskoslovenska hokejova liga 1937/1938 Online

[15] I. hokejova liga CSR, Online


[16] Oldrich Kucera at Elite Prospects Online

[17] Hall of Fame of Czech hockey (Czech language) Online

[18] The Mercury, 17 September 1951, 'Stars For Hockey' p 6

[19] The Mercury, 1951 and 1952, match reports of the Tasmanian Ice Hockey Association

[20] The Rec.Sport.Soccer Statistics Foundation, Online