From a desert, from the driest continent, from this land at the opposite end of the globe ...
... as remote as could be in the hockey world ...
... came one of the world's oldest winter sports trophies.
A cool tradition, a dream of champions, and a story we owe it to our children to tell.
Legends of Australian Ice.

[ ICE HOCKEY ] The First Bombers
Club Captain, Dick Groenteman (Mann) (1923 - )

Democracy means government by the people. If you think the people rule in our democracy you will constantly be disappointed. Our elected representatives rule over us. Ours is a representative democracy. We can influence what the representatives might do; but our best control is a negative one: we can throw out governments that we don't like and try the other lot.

Ours is also a liberal democracy. Its liberalism is the best part about it. A liberal state is one in which power is limited and checked and rights are preserved. So whether our vote counts for much, we enjoy freedom to criticise the government; freedom from arbitrary arrest; freedom of worship; the right to a fair trial; the right of assembly; and freedom of movement. There are many countries around the world where the people would be well pleased if they enjoyed these rights and freedoms'whether or not they had the right to vote. - Dr John Hirst, Australian academic, historian and commentator.

The third installment on the history of New South Wales' Bombers IHC profiles the foundation captain, Dick Groenteman, and some of the other first Bombers. Once again, historian Birger Nordmark of Sweden assisted with information and imagery from his hockey career. You can also read the story of the club's first player-coach, Emil Butchatsky, here. The first article focused on the Club's foundation president, Viv Chalwin, can be read here.
BORN RICHARD GROENTEMAN on June 18th, 1923 in Amsterdam in the Netherlands, he became a defenseman in the Eerste Divisie (First Division), the country's top level amateur ice hockey league, below which are the recreational hockey leagues. From the age of 16, he played for AYHC Amsterdam and Amsterdam Blue Six in the 1939, 1940 and 1941 seasons. [10]

He was 22 years-old when he joined Amsterdam Ijsvogels in 1945-46, for the inaugural season of the Eredivisie (Premier League). [10] This is the nation's top level of ice hockey, with teams at that time in Amsterdam, The Hague and Tilburg. The winners were crowned Dutch National Champions but, today, the Dutch National Championship is separate to the Dutch Cup or "Beker" currently contested between Eredivisie and Eerste Divisie teams. The tournament was first run in 1938, and again in 1939, after which it was disrupted by World War II and did not resume until 1971.

A representative player in the 1946 Dutch National team, he remained at the Ijsvogels Amsterdam for 4 seasons. An offensive defenseman in these years, he scored 1 of 2 goals for his team in the memorable 13-2 defeat of 1948, by Czech HC Ceske Budejovice. [5] The championship was not played the next season but he left the club to join the Tilburg Trappers (now Destil Trappers), the 1946-47 Dutch champions and the Ijsvogels arch rivals. In 1949-50, the fifth season of the Eredivisie, he was the highest scoring defender in his team with 11 goals and an assist from 19 games. Even today, Tillburg dominates its Eredivisie competition, although plans are afoot for the club to join the German Oberliga.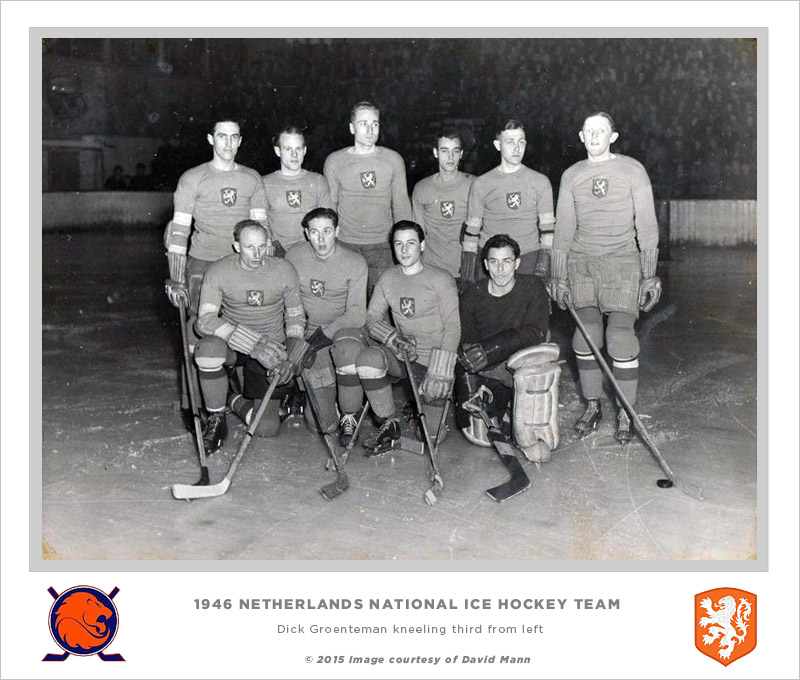 But, ironically, his former team won the championship, and the Trappers finished last of the three teams then participating in the league. Teammate Frans van Rijswijk, who also played for Tilburg this season, later played for the Pirates IHC in Melbourne, between 1962 and 1965. [15] [9] Soon after, in March 1950, Groenteman represented Netherlands in the World Championships in London, finishing 8th of 9 competing nations. He was also a pointscorer when Tilburg defeated a team from the American Air Force in London in 1950. [2] Unfortunately, the Eredivisie back home went into a hiatus from which it did not emerge for the next fourteen years.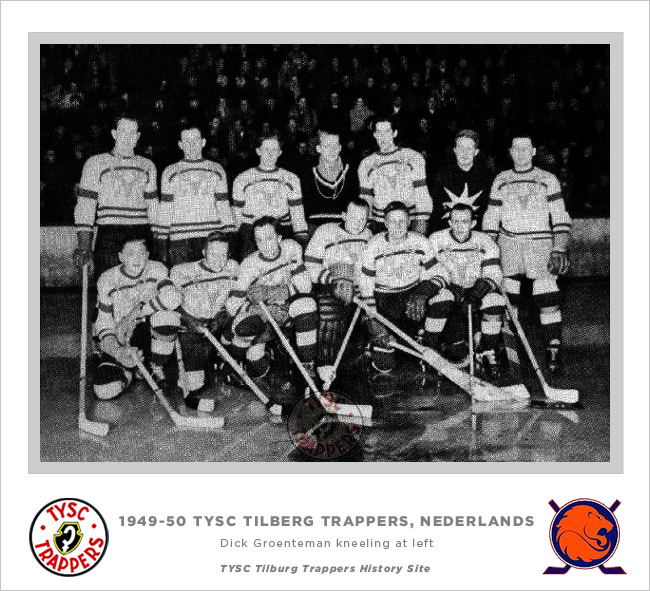 Manion Avenue at Rose Bay in Sydney Australia is surrounded by the Woollahra playing fields and The Royal Sydney Golf Club. It was here that Dick Groenteman chose to live when he immigrated later that year. He first played local club hockey for St George Dragons in the New South Wales Senior A-grade league. He played for New South Wales against a Canadian navy team on Wednesday evening, April 11th 1951. The visitors were from the Canadian cruiser Ontario and over 3,000 people turned-out for the game at Sydney Glaciarium.

Played over three 25-minute periods, the Canadians were held scoreless until the last 15 minutes but New South Wales lost, 4-2. Groenteman, Percy Wendt and Doug Russell ' Glebe's recent arrival from Scotland via Victoria, were reportedly the best players for the locals. A second match played the following Saturday was also won by the Canadians, 3 ' 1. Russell had represented Victoria in 1949 after moving to Melbourne in 1946 from the Paisley Pirates in Glasgow. England's Bob Hayes and Harry Jackson from Saskatoon in Canada also played for NSW.

Groenteman first represented his new state in the 1951 Goodall Cup, won by Victoria. Coached by Percy Wendt, the line-up also included Ukrainian, Emil Butchasky, who was to figure prominently in the Dutchman's hockey future. They became foundation captain and coach of the Bombers IHC that year, with club president, Viv Chalwin, goaltender Carl Huegell, Jiri Chladek, Milos (Mila) Mueller, Roman Drexler, J Berlicky, S Slavic and H Garden. They adopted their club's constitution on September 1st, 1951, only to lose 3-1 to a combined Australian team in Sydney on October 28th, 1951. [7] But that was not the shape of things to come.

Groenteman was 29 years-old in 1952 when the Bombers won the state championship in their inaugural year ' the first of six from their next seven seasons. Neither he nor Butchasky represented New South Wales again, but Carl Huegell had become the state's No 2 goalie by 1955. [11] He had arrived at Fremantle WA on October 4th 1950 onboard Hessen Surriento from Italy. Mueller, a 2-way centreman and prolific goalscorer, was also selected for the 1955 Goodall Cup squad, with Bomber wingers Jiri Chladek and George Ettler completing the power line. [11]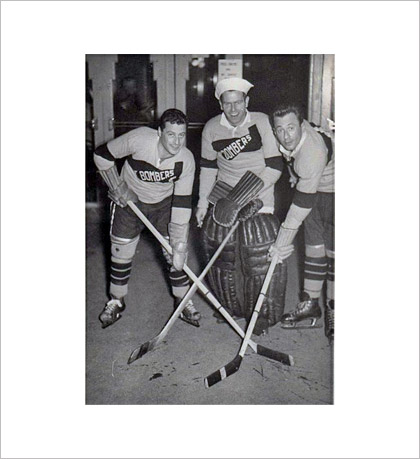 Left to right: Groenteman (Mann), Huegell (Huegle) and Tuller, Prague Bombers, late-1950s. Image courtesy David Mann.
Mueller was born Septermber 22, 1925 at Rohatec in the Czech Republic, a village in Hodonin District in the South Moravian Region. He was a 25 year-old driver when he arrived onboard the ship, Brazil, on November 11, 1950. Kuldan was born March 11th, 1926 at Sezimovo Usti in the Czech Republic, a town in the South Bohemian Region, about 83 km south of Prague. He first played in Czeckoslovakia for SK MAS Sezimovo Usti, and perhaps others before he emigrated to Australia. He represented Tasmania when that State first competed in the 1952 Goodall Cup and also New South Wales with Mueller in the 1953 Goodall Cup.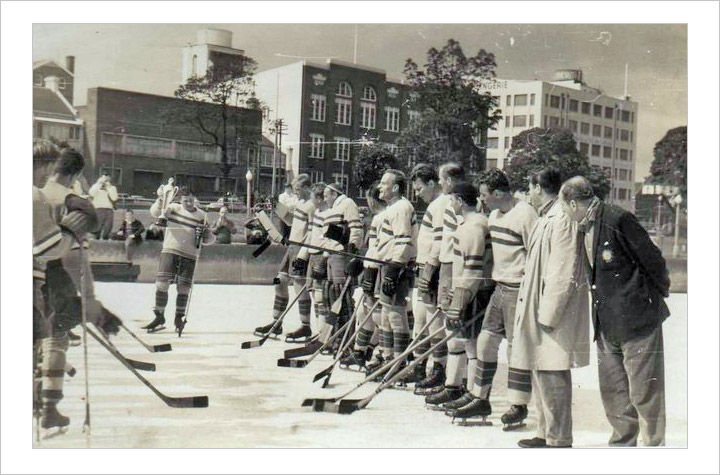 First Victory as Prague Bombers: Prince Alfred Park, Sydney, 1959. Image courtesy David Mann.

"Prague" was officially added to the club name in the late-1950s, perhaps in recognition of the contributions of foundation players such as Chladek, Kuldan, Mueller and the many others who had either emigrated or defected since the 1948 Czechoslovak coup d'etat. Among them were olympians and some of hockey's elite in pre-war Europe, such as Olda Kucera and Jaroslav Drobny, both of whom played ice hockey in Melbourne and Hobart. Prague citizens were oppressed and persecuted by the Nazis during the Nazi German occupation of Czechoslovakia. Many Czechs genuinely felt gratitude towards the Soviet soldiers who fought with the Allies (United Nations) and restored their capital. However, their intellectual community suffered greatly under the totalitarian regime the Soviets imposed.

Intended or not, "Prague Bombers" is also a poignant reference to several Allied bombings of Prague during World War 2, the worst of which occurred on February 14th 1945, resulting in the deaths of 700 people and the wounding of almost 1,200. The Americans voiced their regret over the accident many times, claiming it was the result of a navigation mistake when, at the same time, a massive bombing of Dresden in Germany was under way 120 km to the north.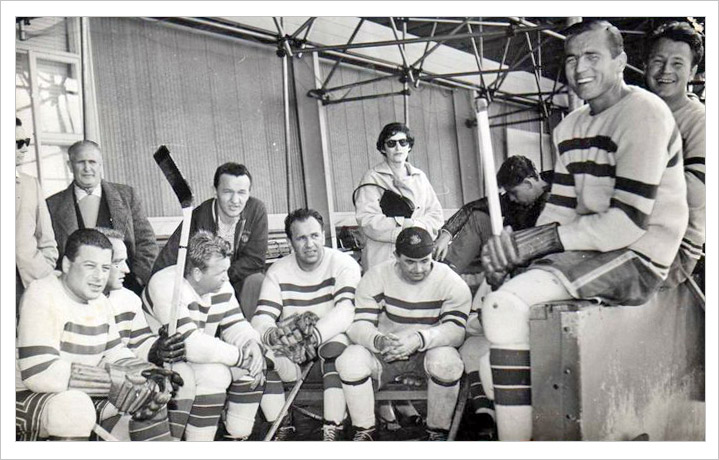 Coach Emil Butchatsky (right) and Groenteman with Prague Bombers, 1962. Image courtesy David Mann.

In 1963, Groenteman married Maria Emma Samethini [6] and lived in the outer south-west of Sydney. They had shortened their family name to "Mann". Their sons Ron, Elliott, David also played hockey. Elliott, born in 1965, won Goodall Cups in 1983, 1988 and 1989. David played for the AIHL Sydney Ice Dogs. Ron Mann became a captain and coach of the Bombers, playing coach of the first Newcastle North Stars in 1980, [14] and a two-time Goodall Cup champion representing New South Wales in 1970 and 1985. He played for Australia in 1979.

In those years, after club president Viv Chalwin had died, the Warringah Bombers played in the six-team CP Air Cup Super League. In 1981, they also soared from the bottom to the top of the standings in the second season of the National Ice Hockey League (NIHL), a forerunner of the AIHL. Player registrations in 1982 rose 66 percent over the previous year, with a total of 3,500 players, coast-to-coast. More than one-third were North Americans, all but a handful were Canadians, and none were pros. [12]

"It feels good for the ego," said John Heggie, a computer salesman from Toronto, then a goalie for Macquarie Bears, the Bombers' arch rivals. "Here we're superstars, while back home a social team that's only able to get access to the ice after 10 pm wouldn't want us messing up their chances." [12] Sandi Logan, the secretary of the Australian Ice Hockey Federation, admitted: "They don't come for the competition. It's part of the North American view of Australia as a kind of last frontier, something to see. The teams have meetings and say, 'Let's take a vacation in Australia and arrange some light hockey games while we're on the trip.'" [12]

The club became Warringah Bombers when they moved headquarters to the Warringah Ice Skating Centre, owned by Groenteman. About 500 people usually went to the games, with capacity crowds of "over a thousand" for the playoffs. [12] Located north of Sydney at 18-20 Lagoon Street in the beachside suburb of Narrabeen, this arch-trussed rink was purpose-built by Groentemann on the shores of Narrabeen Lagoon in the 1970s. It was offered for sale by public tender at the end of 1985 when its owner was in his sixties. [13] But even that didn't stop the Bombers. A rink was operating there in the early 1990s, by which time the Bombers had acquired sufficient silverware to become the most successful New South Wales ice hockey club of all time.

Groentemann was a president of the NSW ice hockey association and he was also involved with the national association. He built the first rink at Newcastle, the rinks at Narrabeen and Blacktown in New South Wales, and the ice suface of the rink at Thebarton in Adelaide. [16] The Bombers first captain, Dick Groenteman, may have represented Nederlands at the ice hockey world championships in London 65 years ago. But he has since lived most of his life in Sydney, and he is still living there, aged 92 years.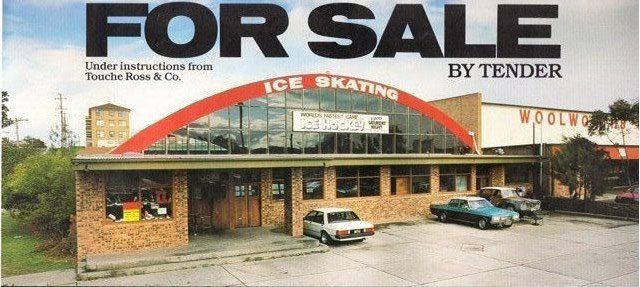 Bombers HQ: Warringah Ice Skating Centre in the mid-1980s. Image courtesy Dick Mann.



References:

[1] Birger Nordmark, ice hockey historian, Sweden
[2] Tilburg Closes With Victory: American Airforce beaten 7-4, Tilburg, 1950
[3] Heavy defeat for Tilburg hockey: beaten by Amsterdam, 6-12, Tilburg, 1949
[4] Tilburg let opportunity pass again: 5-7 defeat against Antwerp, Tilburg, 1950
[5] 2-13! Ijsvogels - Budejovice, 1948
[6] New South Wales Registry of Births Deaths + Marriages Reg No. 1641/1963
[7] The Sydney Morning Herald NSW 11 Apr 1951 p 8 and 12 April 1951 p 7
[8] Sydney Morning Herald NSW 29 Oct 1951 p 3 Goalies Save In Ice Hockey
[9] Birger Nordmark via TYSC Trappers history website
[10] Nico Groen Hockey Archives, Jan Groen
[11] Ice Hockey Guide, 1955
[12] The Christian Science Monitor, Sydney, 17 May 1982. Alien sport of ice hockey gains Australian beachhead, by Chris Pritchard.
[13] Auction Notice, 18-20 Lagoon St Narrabeen, Gilbert + Kennedy, 1985
[14] The Sydney Morning Herald, 2 May 1980, Lions to Star in Ice Hockey
[15] 1974 Goodall Cup Series Melbourne, Program, Pen Portraits
[16] Ron Mann email dated 23 May 2016.